Jessi Oberg has been through every emotional peak and valley during her journey to motherhood. Years of fertility issues? You bet. A miracle pregnancy? That too. The adoption process? Oh yeah. Her wild story of becoming a mom is one we had to share.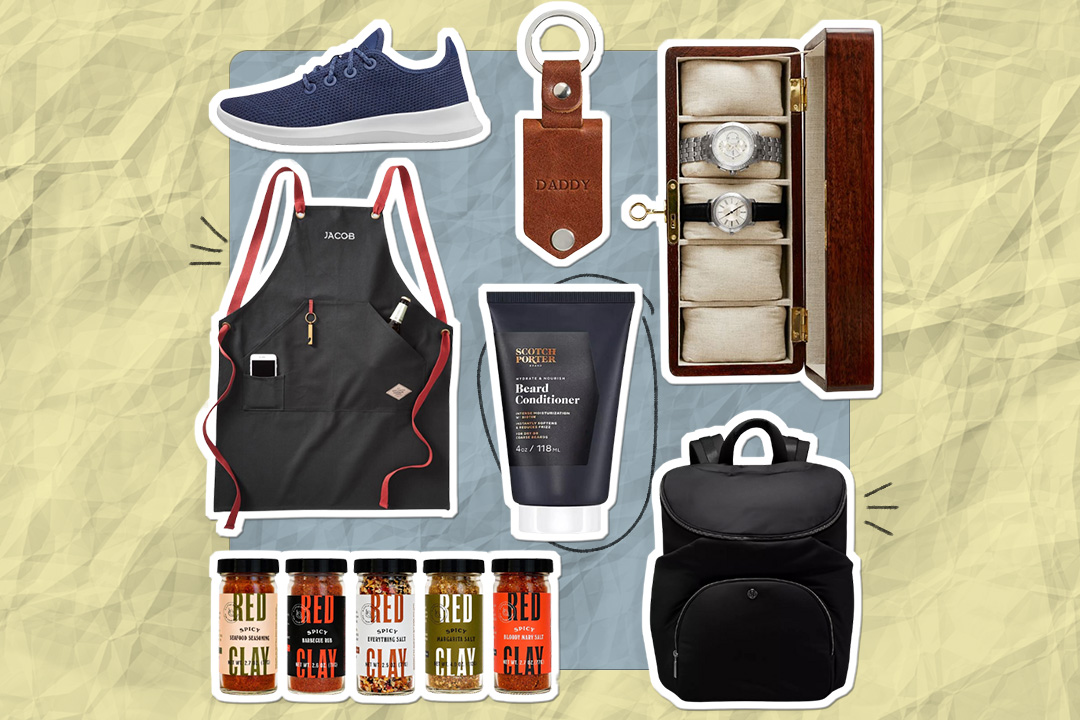 june 18 is coming up fast — have you started shopping yet? 😎
Now a stay-at-home-mom with two beautiful babies, Jessi is sharing her story of patience and blessings and frustrations; whatever motherhood moment you're currently in, Jessi can probably nod along and say that reassuring, "I feel you, girl."
Name: Jessi Oberg
Age: 26
Current Title/Company: Stay-at-home-mom
Location: Northern Utah
Education: Brigham Young University – Bachelor of Family Studies
Children: Elijah, 1, and Layla, 4 months
You and your husband, Jake, went through a very hard time trying to start a family. You tried to conceive and experienced six miscarriages within three years. We can't imagine the difficulty of those losses. Can you walk us through that time?
It is honestly one of those things you never anticipate needing to be prepared for. We found out we were pregnant in January 2015 and were OVER THE MOON. And then the baby was gone before I was really even able to process that I was going to be a mom. So it was this constant back and forth identity crisis – am I a mom or not? I feel like I am because gosh I loved that baby even though it didn't make it. But, nobody knows that. People can't see a baby in my arms – so am I a fraud? It was depressing. Literally. I struggled to want to get out of bed in the morning because WHO WAS I? I, being Christian, really struggled in my relationship with God. It was just a long process of rediscovering my worth as a woman – even if I couldn't do this one pivotal thing. For three years straight.
What have you found to be some of the most common misconceptions about miscarriage? What advice do you have for other women struggling with infertility?
I think a common misconception about miscarriage is that the woman must have caused it somehow. She was stressed. She was too active. Etc.
I think the biggest grace you can grant yourself as the mother of a miscarriage is to release yourself of the fault. You are not the limitations of your body! I repeat – you are not defined by the limitations of your body.
You went through a number of fertility tests that came back inconclusive. How did you handle those results?
It was initially incredibly frustrating. People kept telling me maybe if I stopped worrying about it it would happen. I needed to relax. Focus on other things. But they didn't understand. There was NO reason for me to not have a successful pregnancy — so how could I possibly just think about other things when my children were continually dying inside of me? How could I not think about that? A part of me wanted something to be wrong so I could stop their "problem-solving" on my behalf. But then I processed it and realized… although my track record is the WORST – maybe it can happen. I mean. There is no reason for it not to happen someday.
How did your journey to parenthood impact your marriage? What tips do you have for couples on a similar path right now?
Honestly, it was rocky. After our third miscarriage, we considered separating. Not for the lack of love for one another – but we were both a MESS. I couldn't love him or take care of him because just surviving took everything I had. And vice versa. Long story short: We didn't separate, in the true sense of the word. I was offered a performing contract at a theatre so I took it. Which meant we saw each other maybe 2-3 days a week for about a month straight and it was just what we needed. We just had to break down together and communicate A LOT more than we ever had needed to before as we worked through our grief.
I wouldn't call our marriage effortless but up until this point, we didn't have to work too hard to be happy together. The losses introduced a dynamic that was just new to us; having to be SO communicative about everything going through our minds. I would seriously consider counseling to others going through similar things if being really open and transparent is hard to initiate on your own.
When did you and Jake know it was time to adopt? What advice would you share with other families thinking about adoption? 
We had always known we would adopt even before we married. It wasn't a backup plan for us or there for "if we can't have biological kids." It was always a part of our parenthood plan. I assumed we wouldn't financially be in a place to adopt until we were older, but then things started lining up into place the winter before we adopted our son. Later – in the spring of 2017 – we went to church and someone spoke about the recent adoption of their son. I don't know how to describe it other than our spiritual selves were moved by her experience. We looked at each other and just said – it's time. We got to work and within a few months had been matched with and adopted our son.
Advice for people hoping to adopt: educate yourselves about adoption as much as possible. Listen to adoptees perspectives. Listen to birth mothers and first families experiences. Listen to what helped them or hurt them and make an educated plan on how to be prepared for the very unique situations that arise in adoptive parenthood roles.
Walk us through the adoption process for your adorable son, Eli.
It is a pretty short story. We felt inspired to start the adoption process. We got our mounds of paperwork together in May. The home study visits and assessment were officially complete in June. We sent our profile book to a couple agencies and after a couple weeks we were matched and two days later our son was born on the 1st of July!
Shortly after bringing Eli home, you found out you were pregnant with your daughter, Layla. What were your first thoughts? 
Honestly, I was extremely tentative. I just became a mom and based on my history I assumed I may be miscarrying soon. But then the pregnancy kept going, we went to our ultrasounds & heard a heartbeat and I broke down. Partially from gratitude that she was alive and well in there; and partially overwhelmed by the magnitude of it all. How would I possibly do this? But, as it turns out, it's all pretty amazing.
After multiple miscarriages, we understand your reluctancy. How did you stay positive throughout your pregnancy?
As simple as it sounds, I was so enthralled with my son and being a mom that it wasn't as thought-consuming as it had been before we had Eli. I just had this calm feeling that whatever was going to happen would be something I could handle. I mean, the worry for her safe arrival was real… but I couldn't allow myself to be consumed by it when I had my son to love and raise.
What was it like being a parent to Eli those first few months while pregnant? 
Eli is incredibly kind-hearted and joyful, and he made it easy on me. He's always been happy to entertain himself with independent play, so if I was too sick or exhausted he was very gracious about it all.
Your family now has two babies who are 8 months apart. Tell us about transitioning to a family of four within a year. What are some of the biggest challenges have you faced?
The hardest things are truly things I always dreamed I'd be experiencing back when I was going through my losses. I'm more exhausted, I'm always needed, I don't have much time for self-care. These things are definitely hard. But the hard stuff is accompanied with so much good. It's an odd thing: my current life is this beautiful realization of years of dreaming so although there are a lot of frustrating moments from feeling strung thin. I want this.
What advice do you have for new parents transitioning to a life with a baby?
Grant yourself what I call "the grace period." Be patient with yourself, your partner, and your baby. Remember this is a whole new world for all of you. Just take care of the basics for you and baby: eating and sleeping. For us: we took @takingcarababies sleep course and our babies were sleeping through the night so quickly. It's a total game changer!
As an adoptive parent to a child of color, what discrimination (if any) have you experienced, and how will you explain this potential situation to Eli and Layla as they grow up?
We haven't had any major experiences with discrimination. We have had some well-meaning people do some socially unacceptable things. Like people touching his hair when they aren't touching the hair of a Caucasian child his same age, etc. It's definitely uncomfortable.
I don't have the answers to how I'll explain this all to the kids yet. I hope they'll first learn from our example and then as they have questions we will go from there. We are open to advice here!
What is your current childcare situation?
I'm happy to report I am able to be a stay-at-home mother!
How do you and Jake divide parenting roles?
We both share similar parenthood roles. We both feed them, bathe them, change the diapers, put them to bed and calm them when they are sad. It's pretty wonderful having a partner who loves doing all of it with you.
What's the most rewarding and challenging part of being a parent?
The most rewarding is definitely the simple fact that they know you are their parents. There is a special look in their eye and fierceness in their embrace when they know that. It's so heartwarming.
The most challenging part for me right now is communication. I wish I could immediately know what each cry and grunt means. I usually know what they want but I definitely look forward to the day when they can use actual words to communicate… but for now, it's a fun trial and error game. 
When it comes to being a mom, what are you most insecure about and what are you most confident about?
I think my biggest insecurity is just wishing there were more of me to keep the house together and homemade meals on the table more. I feel a little lacking in keeping everything together; BUT I also know I'm doing the best I know how to mom right now and that is enough.
I'm pretty confident that my kids know they are fiercely loved and that's what I want most for my babies, so… I'm doing good, you guys!
Jessi Oberg is The Everymom…
Diaper bag essential?
Lily Jade Co. diaper bag and insert! Seriously – it keeps me organized with my two in diapers and bottles!
Guilty pleasure?
Dirty Dr. Pepper and Life Savers candies
Latest splurge?
All things Nena & Co
Your camera roll is full of…
Pictures of my babies. ??
Best mom-related advice you've been given?
Nobody knows better than you what your kids need. Take others advice – analyze – implement the things that work for you and toss the rest.
Favorite date night activity?
Eating a meal at the temperature it was meant to be eaten at, haha!
Most embarrassing mom moment?
Oh my gosh. MASSIVE diaper blow out in the car seat. He had never had a diaper blow out before. It went through his clothes into his car seat and I forgot the diaper bag that had EVERYTHING. Managed to find a diaper and wipes I had thrown in the car for *just in case* moments – so we drove home with a naked baby that only had a diaper on. Huuuuuuugest mom fail. We haven't forgotten it since.