Why is it that everyone expects you to have more than one child, but as soon as you go for more than two, they think you're crazy? I asked my husband this question recently, and neither of us had an answer, but we're about to find out how crazy it really is when we welcome our third baby this summer.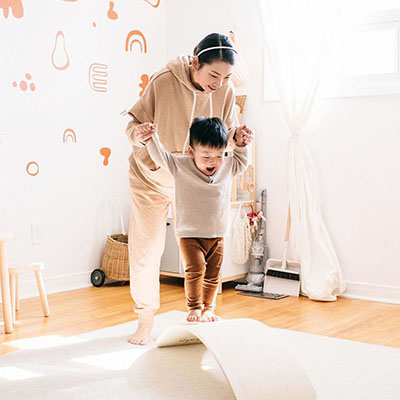 If your kid is turning 2, get ready for hilarious conversations, much more involved play, and lots of sweet, sloppy kid hugs and kisses. As for what you'll need? Leave that to us.
Having any number of children is a lot of work, of course, but adding more kids into the family adds new layers of complexity and difficulty. As we'll soon be navigating through life with a newborn, toddler, and preschooler, I'm starting to prepare and think through how we can make this life transition easier on all of us.
From going through my older kids' closets to sort clothes for hand-me-downs, to taking inventory of the baby gear we've packed away or loaned to friends, to arranging for care for my other two while we spend a few days in the hospital welcoming our new baby—there's a lot to think about. And this list doesn't even get into managing day-to-day life as we settle in back at home.
After bringing home a newborn a few times now, I've certainly learned a few things—namely, to expect the unexpected—and have a few favorite products and services that I know will help me stay (somewhat) sane during the process. Read on to check out 5 of the things I'll be leaning on as I transition from a mom of two to a mom of three.
Let's be honest: getting anyone fed besides the newborn during those first few weeks (months?) is basically impossible. Even as newborns grow into babies and babies into toddlers and beyond, meal planning, cooking, and feeding a household is hard work. I've said time and time again how it's one of my least favorite things within my ongoing mental load checklist.
Nurture Life
Use code EVERYMOM to get $75 off your first three orders of Nurture Life!
As with most moms, it's really important to me to set healthy eating habits early and give my kids the best nutrition I can. That's why I love Nurture Life, which delivers freshly made, healthy meals, made specifically with kids in mind, directly to my door. Nurture Life is a subscription service with fresh, never frozen, meals created by dieticians for babies starting at 10 months old, toddlers, and kids.
My favorite thing about Nurture Life is that every toddler and kid meal is made with clean ingredients and whole grains, includes a full serving of organic vegetables, and are made with antibiotic and hormone-free meats. A little more on the nutrition aspect because it's easy to find pre-made meals, but hard to find ones that are designed to meet kids' nutritional needs:
Nurture Life meals are designed to provide the right ratio of protein, fiber, carbohydrates, and fat for each age range
The meals can be filtered by dietary restrictions and allergies
Nurture Life keeps sugars as low as possible—and has strict maximums—for each meal. They never use low-calorie sweeteners, but instead focus on alternatives like fruit purees, honey, agave, and syrup.
Of course, we still cook in our house, but Nurture Life has been a lifesaver in helping me mix it up and get out of a meal rut, as well as give my kids nutrient-packed meals in a pinch. They're perfect for the days I just don't feel like cooking, as well as (the few and far between) nights when a babysitter comes. Side note: I don't do subscriptions unless they're flexible, and I can cancel with no strings attached—you can skip weeks, pause or cancel your Nurture Life account at any time.
Nurture Life
Use code EVERYMOM to get $75 off your first three orders of Nurture Life!
2. A Baby Lounger
Of the many (often unnecessarily) overpriced items you'll find on baby registry lists, this is the one thing I swear by. Having tried other fancy contraptions like swings and seats with multiple motion and speed settings, the only one that never failed me was a solid baby lounger—no electronics, no movement, no soothing sounds or nursery music, just a good old place for baby to lay (supervised) safely and comfortably.
3. Kids Toiletry Bags
I received one of these as a new baby gift for each of my kids, and it's now something I couldn't live without, as well as one of my go-to baby gifts for other new mom friends. Packing one diaper bag with one child in mind entails enough to remember, which is why I often find myself forgetting the must-haves for my other kid(s).
I keep each of their toiletry bags filled with whatever we'll need to leave the house—diapers, sunscreen, wipes, favorite toys, teethers, snacks—you name it, and I pop it into whatever bag I'm carrying on the way out so that I don't have to run through the checklist every time we're heading out the door.
Etsy | Gifts for the Girls
4. Electric Snot Sucker
If there's one thing I can count on, it's that someone in my house will have a runny nose at all times. There are a lot of gross things that go along with parenting, and I can get down with most of them. But I draw the line at me sucking snot directly out of my baby's nose with some of the other non-electric devices out there. I've done it too many times to count, and neither I nor my babies have felt great about the process. Of all the things I'm upgrading for baby #3 (none, really—babies actually need very little other than some love), this one is it.
5. A Wearable Baby Carrier
My wearable baby carrier came in handy with my firstborn, but it was a necessity with my second child. Not only did she refuse to nap unless she was held for the first 12 weeks of her life, but chasing a toddler with a new baby in tow is a whole lot easier when you can wear them.
This post was in partnership with Nurture Life but all of the opinions within are those of The Everymom editorial board. We only recommend products we genuinely love.