It creeps up slowly—innocently, even: $9 for the toddler tee, $15 for the cute pants, $12 for a pair of shorts, $30 for a sweatshirt, $25 for pajamas. It all feels deceivingly cheaper than what we buy for ourselves—at first. And it's not as if a single outfit suffices an entire childhood. Adorable nonessentials start creeping into the necessary shopping, and soon, you've spent a small fortune on clothes your baby or kid will quite literally outgrow in weeks or, sometimes, overnight. But beyond the financial strain, there's also the environmental consideration of constantly buying new duds.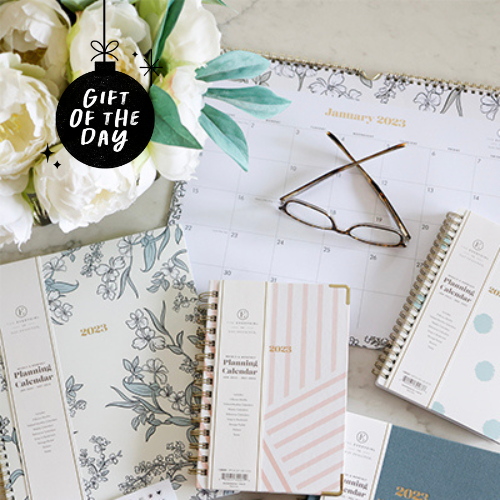 Help a mom stay organized and keep track of important doctor's appointments, playdates, and (hopefully) some scheduled 'me' time with this pretty wall calendar.
The concept of hand-me-downs is genius (and appreciated), but that doesn't address the money spent for buying those clothes in the first place. If recouping some of your serious investment is of interest, you're not alone. In fact, Tea Collection, the globally inspired baby and kids brand, knows there's such a market for this that they've just launched their very own branded marketplace, Tea Rewear, powered by preeminent resale site Kidizen. As Tea's sustainably minded founder and CEO Leigh Rawdon said, "This is the best thing we can do for the planet: Buy clothes that last through many children." She calls herself the "Tea fairy" for leaving bags of clothing on her neighbors' doorsteps that her kids outgrew and said she used ThredUp a few times for ease, despite the low ROI. 
If you're considering reselling your kids' previously-loved clothes, here are some key things to know to maximize your payout and minimize your time spent. 
1. Resale is great for the planet  
It's shocking but true: "Unfortunately, only 10-20% of donated clothes actually make it onto the racks in thrift stores," said Kidizen cofounder and CEO Dori Graff. Reselling outgrown clothes is the best way to assure they're actually reused by another family. It's also maybe one more reason to take care of those clothes a bit when they're in your care! 
2. Quality matters
This goes for both the quality of what you purchased new and also what you're reselling. Not all clothing is made equally—we've all had snaps that tear through fabric and onesies that stretch or shrink in funky ways. Tea prides themselves on making high-quality, hand-me-down-worthy pieces, according to Rawdon. You'll find that "gently used" is a buzzword when reselling clothes. Ideally, you want items to look lightly worn, unstained, and clean. Kidizen has a great seller guide to check, whether you're planning to resell or donate.
3. Decide how hands-on you want to be with selling
Sites like ThredUp don't require much effort; you can send in a big bag of clothes that they'll price and sell, though you likely won't get much in return—we're talking a dollar per item in some cases. Tea Rewear has multiple options. Customers can mail in clothing or drop it off at a local partnering boutique (in Austin, Charlotte, San Francisco, and Philadelphia) for trade-in credit on new items. To maximize the payout, however, they can also post items, sell, and ship them themselves, peer-to-peer.
Selling on social media sites like Facebook Marketplace or local online parenting groups tend to require a lot of effort: posting photos and descriptions, responding to comments, and coordinating pickup and payment for the items. Local consignment shops are another route that also help your local community—though with delayed reward since someone has to purchase that item in the physical store before you're paid out. 
4. Photography is important
If you're going the post-and-sell-yourself route, you'll want to hone your photography skills. Bad photos don't exactly entice buyers. Graff recommended using a neutral or solid white background near a window or another source of natural light. Flash photography in dark or artificially lit spaces is not advised! Include multiple photos of each piece of clothing and include close-ups of not only special details and fabric but also flaws that are worth disclosing. Include a shot of the tag, too, for sizing and care details. 
5. Pricing makes a difference
Naturally, everyone's looking for a deal. So you don't want to significantly overprice your items or they may not move. Look up something similar on Kidizen if you're unsure of what it might go for and also consider the item's condition, Graff said, like if it has stains or is faded from the wash. And factor in shipping costs, especially if you're selling something heavy that will cost more to send. "Keep in mind that on Kidizen, you can send offers to buyers after they put an item in their cart," she added.  
6. Consider seasonality
Precious Easter bonnets will likely not fly off the virtual racks in July. And same with a red velvet dress or plaid romper in May. People do like to plan ahead, but not too far. Our brains can only handle so much at once. For the best chances, list fall clothing and backpacks around mid-July when back-to-school shopping begins and sell those cute little Easter outfits in February and March. 
7. When buying, know what you're looking for
When you're on the other end of the deal, shopping for lightly used kids clothes, think about your goal. Is it functional in the sense of outfitting your kids without spending a ton? Or are you seeking certain statement pieces or styles to add to their wardrobe? An additional benefit of Tea Rewear is that you can shop "vintage" by destination, since each of their collections is designed around a particular country or place. "Want to shop our 'inspired by Japan' collections? You can! It's really fun to explore destinations to see what resonates: Bali, Peru, China, or the U.S.," Rawdon said.