With summer just around the corner, we're already mentally packing our bags for a tropical vacation! But you don't need a far-flung location to satisfy that itch; packing up for the beach for even a day can prove just as challenging. What's too much, what's too little? How many beach toys are too many? Do the kids need extra bathing suits? Do I bring a chair or will a beach towel work well enough?
Our secret to packing the perfect mom beach bag is to not overthink it and pack the essentials. Of course, those are the items we wouldn't want to be caught without! If there were no beach toys, the kids would find another way to entertain themselves. But without sunscreen, the day at the beach is over.
We rounded up the absolute must-haves so that your day at the beach doesn't end up being a bust. Below are our five must-haves for moms to pack in the beach bag.
The first thing every mom needs in their beach bag is a great nourishing sunscreen. But how do you choose the best one and avoid the trap of carrying four different sunscreens at a time for every family member? Look for a 100% mineral, non-nano zinc that has broad-spectrum protection, is safe for sensitive skin, and can be used on baby and mommy!
Pipette's lightweight and fast-absorbing clean formula is a major hit with families—it's blend-able enough (read: it won't leave a white film) and gentle enough for the little ones' sensitive skin. Plus, it features non-comedogenic ingredients, so it's the right fit for mom's skincare routine too. Imagine the freedom of just carrying one sunscreen to the beach!
Pipette
travel size available too!
Get 30% off bestselling Pipette items through 5/30. Plus, free shipping on orders $35+ and a FREE SPF with every $40 purchase!
2. A Multipurpose Wet Bag
How many times have you come home with a beach bag full of wet swimsuits and beach toys? Stash a few of these in the beach bag and it's easy-peasy to take the kids from beach clothes to dry clothes without getting everything soaked and musty. These also come in handy as phone and wallet storage to keep your valuables dry by the water.
3. Sunglasses
The last thing you want is to be caught without your sunglasses at the beach. After sunscreen, sunglasses are our #1 must-have. Not only do they make for a stylish beachside photo, but do you know how important it is to have protection against harmful UVA and UVB rays for your eyes? According to the American Academy of Ophthalmology, you should choose a pair that boasts 100% protection for both UVA and UVB (and if your kids will tolerate them, grab a pair for them too!).
4. Reusable Water Bottles
Keep the whole family hydrated by stashing a few water bottles in your beach bag. It's a great opportunity to also teach the kids about single-use plastic and how that can be harmful for the environment. If you're at a beach with some facilities, you can refill the bottles easily, so no need to spend extra money on water.
5. AirPods
You know those few minutes where the kids are playing peacefully with their beach toys and you get to sit there quietly (safely watching them, of course)? It's the perfect opportunity to throw in your AirPods and finish that book on tape, catch up on podcasts, or just actually listen to your own music for a change! Don't forget an eye-catching case so they don't go missing and are kept safe from sand particles.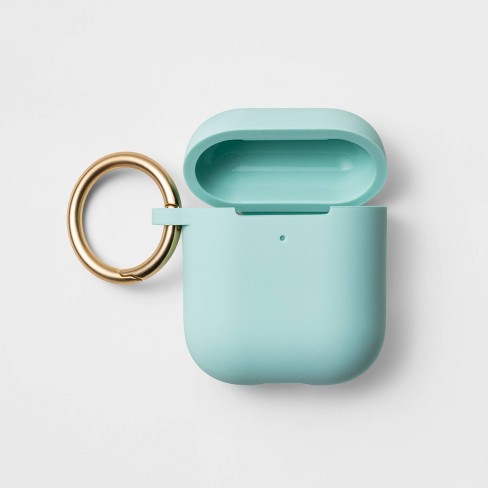 Target
multiple colors available
This post was in partnership with Pipette but all of the opinions within are those of The Everymom editorial board. We only recommend products we genuinely love.