Earlier this week, after filling our online shopping carts with gifts for our daughter, family members, and close friends, I gleefully checked each name off my list. Then, my husband asked, "But what's on your wishlist?"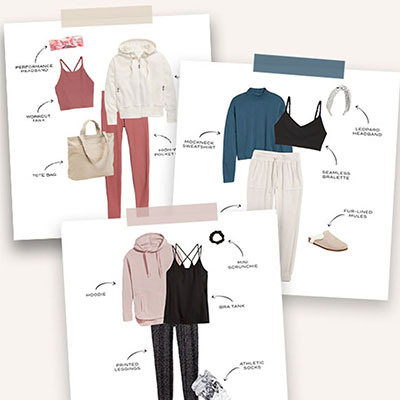 Shop 6 of Our Favorite Loungewear Outfits From Old Navy
Need to spruce up your at-home wardrobe? We've put together six cute, comfy, and budget-friendly loungewear looks from Old Navy.
This way to shop! —>
I had to pause—I hadn't made one this year! In the midst of list-making and planning for others, I'd entirely forgotten about my own wishlist. Granted, it isn't usually a high priority for me, but it touched me that my husband asked. 
As moms, we can spend so much of the holiday season taking care of others, but we've gotta look out for ourselves too. So, our editors took time to think about what they most wanted during this season of giving.
Take a look at their most wished-for items below—are any of them on your wishlist too?
---
Equilibria's CBD products make wonderful gifts any time of year but there's something extra special about the brand's new holiday boxes. I was immediately drawn to the Comfort of Calm Gift Set. I mean, who couldn't use an extra dose of calm and serenity after the 2020 we've had?!  At $99 (but worth $152!), this bundle is perfectly priced and comes with all of my go-to Equilibria products: the Relief Cream, Mindful Mineral Bath Soak, and their new Daily Treatment Oil. Plus, all of the holiday boxes come with a chic, artist-designed pouch that I plan to use as a makeup bag. 
The Relief Cream is truly my hero item. I suffer from painful migraines, and at the recommendation of The Everymom's cofounder Alaina, I started using the relief cream to lessen the severity when I'm hit with one. It's truly been a game-changer. The Comfort of Calm Holiday Gift Set also comes with the Mindful Mineral Soak. If you're a fan of baths to relax and wind-down before bed, you need to add this product to your nighttime routine. Lastly, this set comes with a mini bottle of the daily treatment oil which, to me, is a peak luxury self-care item. This oil can be applied to the face or anywhere on your body to help nourish your skin, which is especially useful for winter months.

Equilibria

SHOP EQUILIBRIA'S CYBER MONDAY SALE!

-20% off site-wide (No exclusions! Applies to both new and existing customers)

-Orders of $150+ will receive the new full-size Daily Treatment Oil as gift with purchase (a $68 value!)

-New customers can also get an extra 20% off with code THEEVERYMOM!
---
2. A Versatile New Tote
This summer, I stayed within a capsule wardrobe … when it came to handbags. I had my sporty catch-all, my summery straw tote, and a clutch for the very rare "fancy" occasion. It worked so well, with minimal purse switching, so I want to continue all year round. I've been eyeing the Madewell totes for a while, and since this year has helped solidify how little I really need, it feels like the right time for a classic investment bag I'll be able to use for a long time. 

---
3. Gardening Accessories
We just bought a house during the pandemic, and I couldn't wait to get my hands on the landscaping—that's why I'm hoping this toolkit is under the tree this year! When the ground finally thaws come spring, I can't wait to finally get into gardening and planting veggies, herbs, and flowers everywhere.
---

4. The Always Pan
We just renovated our kitchen, so the only items on my wishlist this year were new accessories and items to complete that space, including the popular Always Pan. We were in desperate need of a new pan after I ruined the finish on our last one, and I've heard a lot of great things about this product and its functionality! It also helps that it doubles as beautiful decor sitting out on the stovetop (the Steam color, which is a beige, matches our new cabinets perfectly).
---
5. Maternity Loungewear
It's very 2020 of me to be requesting new sweatpants, but here we are. It's winter, I'm pregnant, and I barely leave the house, so a super cozy pair of joggers seems like a practical gift to add to my wish list. I have my eye on this particular pair because they look a bit fancier than your typical jogger or sweatpants, and if I size up, will also accomodate my growing bump!
---
6. A Smartwatch
I say this every year, but I desperately want to focus on health in a meaningful way in 2021. (Sure, the minutes spent chasing my 4-year-old daughter around the yard count, but I don't want to be huffing and puffing the whole time!) For me, it's not so much about meeting specific numbers as creating more awareness around my habits. My hope is that an Apple Watch can help me track my physical activity, stay off my phone, and generally be more informed about my health goals.
---
7. Chic Outerwear
As a new mom of two under 2 who works full-time from home in a pandemic, it's an understatement to say that I don't get to flex my fashion muscles very often. Getting dressed and feeling like I look nice is an instant mood booster for me, which is why I've added this adorable vegan leather puffer to my list. With a cold winter ahead of me, I know that this jacket will make me feel a little bit chic even when I am just in my backyard on the swingset.
---
8. A Special Self-Care Item
I've had my eye on purchasing a Himalayan salt lamp for about a year now and finally remembered to put it on my Christmas list. This year, I've really been working on creating a better sleep routine, and at my therapist's recommendation, I think this will be the perfect addition to my bedroom, especially with its calming properties.
---
9. New Sneakers
I've been really hesitant to get all-white sneakers because, you know, kids and messes. But I've had my eye on these or a similar all-white style for a while now and can't get them out of my head, so I'm adding them to my list this year. I plan to wear them with athleisure while I'm running errands or taking casual walks to the park (when there's no rain or snow). I love how they make a very basic outfit look put together. After all, if you can keep white shoes white, you have your life together, right?
---
10. A Cozy Sweatsuit
If I'm being truthful, the only thing I want for the holidays are hugs from the people I can't even safely be around. I miss my parents, my 96-year-old grandma, and my tiny nieces and nephews. That's truly all I want for Christmas. But because that's nothing anyone can wrap for me beneath the tree, I'll settle for this outlandish sweatsuit, which let's face it, is the closest approximation I'm getting to a hug this year. 
---
11. New Headphones
So, my family isn't doing any lists or gift exchanges for adults this year (YAY!!!!), but if I see these on sale, I might just go for it myself. I have been spending the year doing a lot of household work, and when my husband is working, I have to use my headphones instead of a speaker and the wired ones always get caught on something as I'm moving around. I also hate earbuds because they irritate my ears after some time. Love a classic look, so I've been salivating over these for a while!

This post was in partnership with Equilibria but all of the opinions within are those of The Everymom editorial board.