Prior to having a kid, I used the term "five-minute makeup" loosely. Honestly, it would have been more accurate to measure those five minutes in dog years for how long it really took me to get ready. However, when you have a kid, you quickly realize that free time is… well, nonexistent. If you want to have time to get ready and put a face on, there's no more playing fast and loose with the term "five-minute makeup."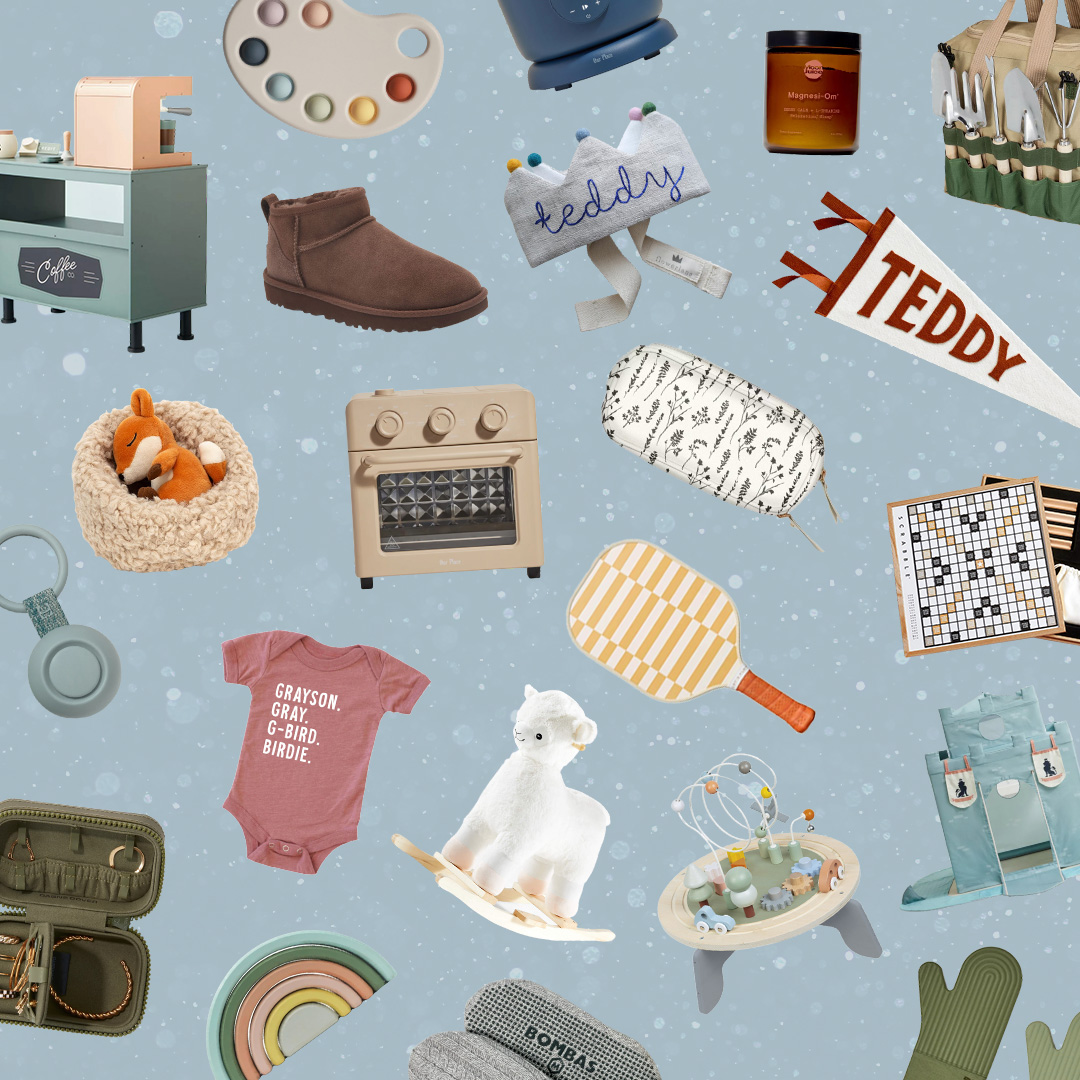 everything you need to ace holiday gifting this year 🎁
That's when I discovered the brand MERIT. The makeup line promises a curated collection of products that can truly be done in a matter of minutes. It almost sounded too good to be true: A makeup line that promised the dream for busy moms. However, after using the line over the course of the past year, I can honestly say that it lives up to the hype—and then some. Read on for my full review of MERIT Beauty.
About MERIT
MERIT was developed by Who What Wear founder Katherine Power while she was pregnant and sought to create a curated minimalist brand of makeup with clean, high-performing ingredients.
"I felt compelled to create a brand that would reimagine luxury beauty for modern consumers like myself by making it cleaner, well-edited, accessible, and beautiful," Power shares on the MERIT website. "MERIT is the antidote to the overwhelming, saturated world of beauty with too many steps and 50 shadow palettes launching every week. It's built around the concept of minimalist beauty and the fact that we just want to look like ourselves, but better."
The products are thoughtfully formulated and packaged, with many available in a tube or stick form that is easy to throw in your bag and have on the go. True to Power's initial idea, the brand is also well-curated and highly edited. Instead of having dozens of products to choose from, the brand currently offers just two complexion products, three cheek products, two lip products, and three eye products. You can use as much or as little of everything as you want to achieve your desired result.
MERIT Products
Currently, the brand carries products for your complexion, cheeks, eyes, lips, and two brushes. MERIT also released their first eyeshadow product, Solo Shadows, earlier this month.
Complexion Products
MERIT
A creamy complexion product that can be used as a foundation, concealer, or even for contouring. Provides light-to-medium coverage and is available in 20 shades.
MERIT
A lightweight serum that quickly absorbs into the skin and acts as the perfect primer for your makeup routine.
Cheek Products
MERIT
A lightweight, buildable cream blush that leaves a natural flush of color and glow on the cheeks. Available in nine shades.
MERIT
A dewy balm made with micro-fine pearls to illuminate the high points of your face. Available in three shades.
MERIT
A sheer cream bronzer that can be used to imitate natural warmth in your complexion or sculpt as a contouring stick. Available in five adaptable shades.
Lip Products
MERIT
A moisturizing lip oil that is available in both The Classics (eight buildable colors) and The Gelées (four sheer formulas that work with your lips' natural pH).
Eye Products
MERIT
A flexible brow gel that shapes and grooms brows. Available in three shades.
MERIT
A buildable cream-to-powder shadow that provides a soft matte color. It can be applied with your finger or with the accompanying Brush No. 2. Available in four neutral shades and four statement shades.
Brushes
MERIT
A densely packed brush that is made to work with The Minimalist complexion stick.
MERIT
Compliments the Solo Shadow, with one fluffy end for blending in the shadow and a tapered end for finer detailing.
Sets
Where to Buy MERIT
You can find the MERIT at the following retailers:
How I Use MERIT for a Five-Minute Routine
MERIT has become my go-to brand to use on a daily basis when I don't have a ton of time to get ready in the morning. I, of course, always start with an SPF. I love using the Supergoop Glow Screen for a bit of luminosity before applying the Minimalist Complexion Stick to the spots I need it. To buff it in, I use the No. 1 Blending Brush, which, I swear, is magic at giving the most natural finish.
The Minimalist Complexion Stick can be used as both a foundation and concealer, so on days I don't mind having my dark circles peek through, I'll use it all over. For days I do mind, I'll use a concealer for a little extra coverage.
For my eyes, I've been loving the Solo Shadow in Brun as a soft liner using the No. 2 Brush. It gives the perfect definition without ever looking harsh—and it's so stinking easy to apply. I follow that up with the Clean Lash Mascara, a tubing mascara that coats each lash. While not waterproof, I have found the tubing properties make this last all day without smudging, even in awful Florida humidity.
For my cheeks, I'll add a swipe of the Bronze Balm underneath the cheekbones, with the Flush Balm in Beverly Hills (a soft peach) right on top. I blend those both in using the No. 1 Blending Brush again because who has time for a third brush?!
To finish things off, I'll swipe a bit of color on my lips. While the Signature Lip lipstick in Baby is the perfect neutral pink for every day, my tried-and-true favorite is the Tinted Lip Oil in Marrakech, which is the most beautiful peach color.
Believe me when I say it took me longer to type this all out than it actually takes to apply. The steps are simple, and the formulas are so forgiving that they're impossible to mess up—even when you're in a rush.
Honestly, the term "five-minute makeup" may be overused, but in the case of MERIT, I'd say they've earned it. The curated line is perfect for busy moms or anyone looking to cut down their beauty routine to the essentials.