First things first, let's clear up a little misnomer in that title. You have kids, so you're not going on a vacation — you're going on a trip. But since family vacation just sounds so much better than a family trip, we can call it a family vacation as long as all of us moms are on the same page about understanding what this is really going to be. Honestly, though, I love traveling with my family, even at their very young ages and even with the long, sleepless nights that always seem to be involved.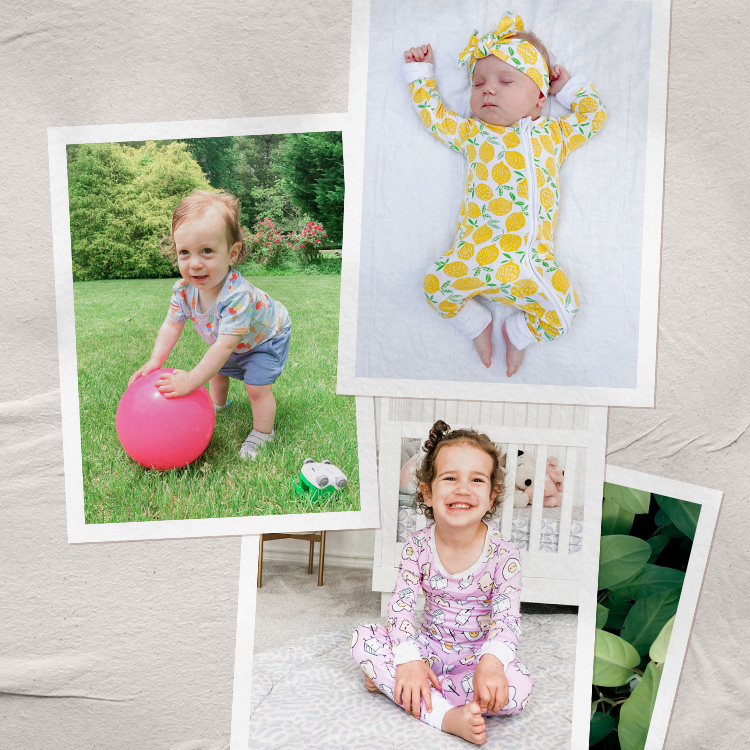 it's more than just their cute PJs... get ready to add to cart! 😍
I read recently that millennial parents value spending quality time with their kids more than any other generation in history. That characteristic struck me as quite extraordinary and also resonated with me. Quality time can range from short, simple, and completely free, like reading a stack of library books in pajamas; to several days strung together exploring or relaxing in a new place internationally, domestically, or even within a close radius to home. The point is the shared experiences that foster connection and memories. For me, there's little I love more than the version where we get to pack our bags and get away for a few days to experience the world through each other's eyes.
That being said, remember before we had kids and packing for a trip was a chaotic, multi-day, overstuffed-bag-feat, even then? I know some of you have hacked minimalist, streamlined, zen packing, but I also know there have to be some of you running last-minute errands on the way out of town that didn't get done, like me (my husband hates this). As in many areas, becoming a parent has forced me to become more strategic and efficient at getting prepared and out the door for a trip (now that there are five of us!).  
Recently, I've realized that while organization for a trip is more important than ever with a family, it's preparing/packing ahead of schedule that is perhaps the most strategic. Here's why: if anything unexpected comes up a few days before the trip (kids get sick, mom gets sick, mom has unexpected extra work deadlines, etc.), prep-ahead strategies can help stave off stress and even cancellations. Prepping ahead creates margin for life to happen; we all know just because we have a vacation in the books doesn't mean that those flu bugs will stay away from our kids or unexpected emails will hold off.  
In the book "Time to Parent" by Julie Morgenstern, the author reveals that longtime Cosmopolitan Editor-in-Chief Kate White's secret was, "Always get the predictable tasks done first (even if they aren't due right away), to leave room for the unexpected."
I typically work best at the last minute, but I'm learning to curb this tendency for the sake of ensuring that I can pull off something big — like getting five family members on the road — in the face of life's variables. Here are my five best tips for how to make packing ahead with a family work.
Mark your calendar with a pre-departure date.
This date should be at least one week ahead of your actual departure date. You now pretend to yourself that this pre-departure date is real, and you begin to work backwards to time all your other preparation tasks. The key is to truly operate as if that pre-departure date is when you're leaving. If you do, you'll be 90 percent ready with a full week to spare. That extra week leaves room for life to happen and gives you time to deal with it without being squeezed by trip preparation pressures.
Make a list of any trip errands.
Include any online shopping you need to do for the trip, and schedule yourself to have them completed two weeks ahead of your pre-departure date. This allows time for shipping and exchanges (5-10 business days slowly killing anyone else?), and downright simplifies your life to not have to run around town while you're trying to leave.
Do all the laundry before you pack.
The weekend before your pre-departure date, scrape the bottom of every laundry hamper in the house and get all laundry done, start to finish. Then get out the suitcases and pull from all that clean, folded laundry to pack for everyone with everything you can spare. If you're going somewhere with a different climate, it's much easier to pack at this point, since you're likely packing clothes that you don't currently use day to day.  
I've realized I can still make some great headway packing ahead for trips where we need our current seasonal wardrobes. For this scenario, I pack whatever we can possibly live without for a week, and then for the rest, I make an itemized list for each person of what will need to be added at the last minute (four more pairs of underwear for my 3-year-old, two more sleepers for the baby, etc). If you have a specific list for each person of what remains to be packed, it will be quick and easy to finish packing the night before and check off those lists. Bonus: with a specific list, your partner or even an older child can help you.
Don't forget to pre-pack day-of-travel bags.
Set aside an evening to gather and pack all items for the day(s) of travel, like books, activities, downloads, and snacks. I always underestimate the time this part can take, and yet the chaos of running around the house and throwing it all in our car the morning of is easily avoidable. Make a library run or simply gather the items from around your kids' playrooms or bedrooms that will help occupy the travel time.
If your kids can do it themselves, all the better, but for those of us who have very little ones right now, this is another item on our to-do list that has to get done. Put on your favorite album or a podcast and enjoy completing this step in peace for an evening versus a mad dash on the day-of.
Relish in your victory.
 You're now ready with a week to spare! Use those buffer days to fix anything in your preparations that didn't go off as planned, manage any unexpected variables that come up, prepare your home and/or workplace for your absence, or just breathe and enjoy the anticipation of upcoming quality time with your people.
As a final step, the night before you leave, you can do a final load of laundry and then quickly throw in everything remaining from your list. In the morning, add toiletries and you're done. Bon voyage, and way to go mama!
What are some of the most valuable tips you've learned about going on a family vacation?