August is upon us. And if your kids are old enough to be heading to school or preschool, you know the countdown for back-to-school is on. You probably also know that even with partners who split the school parenting duties, moms often handle a lot of the back-to-school prep. This very week, my husband took my girls on a trip to Target while I was out of town. "Hey," I said, "you could've done their school supplies shopping while you were there." To which he replied, "I didn't have the list." (Let it be noted that we're both on all the school emails with the supply list.)
So, with the school year fast approaching, we want to make things easier for ourselves and other parents. Especially because prepping early can actually mean a more relaxing and enjoyable end of summer. In addition to the official school supplies, fresh haircuts, and back-to-school clothes, here are 10 things to buy now to make the back-to-school chaos a little easier.
Have you ever browsed the school lost-and-found for a water bottle you spent too much money on or a beloved sweatshirt left on the playground at recess? It's not fun. And can feel just a little bit dirty. Help your kids keep track of their stuff this year with editor and reader-favorite name label brand Mabel's Labels. So many of our editors have been using Mabel's Labels for years to add their kids' names to backpacks, lunch boxes, daycare supplies, clothes, shoes, and more.
Why do we love Mabel's Labels? Well first, they are cute, customizable, waterproof, dishwasher, and laundry-safe. They also help keep our kids' stuff out of the lost-and-found, not to mention make things easier for our beloved daycare providers and teachers. Additionally, one of the ultimate back-to-school packs below will likely also last beyond the school year and take your kiddos to next summer's camp and beyond. Take advantage of their free shipping on all orders plus they offer 100% satisfaction guaranteed. Shop below!
Mabel's Labels
With eight available fonts, 63 designs, and multiple colors, you can customize your labels based on your kid's interests.
This combo includes:
- 40 Small Rectangle Labels
- 70 Tag Mates Stick-On Clothing Labels
- 16 Shoe Labels
Mabel's Labels
Perfect for pre-schoolers and kindergartners, the little kid school combo also includes split shoe stickers to help little learners know which shoe is their left and which is their right.
Name labels are available in three fonts with 23 designs.
This combo includes:
- 40 Small Rectangle Labels
- 70 Tag Mates Stick-On Clothing Labels
- 12 Preschool Shoe Labels (Six Pairs)
2. Baskets for a Closet Audit
Before buying anything new for back-to-school, it helps to know what you have. Check closets and drawers for clothes they've outgrown or outworn (hello, knee holes!), what can be saved, and measure their feet for new shoes. Laundry baskets make sorting easy into keep, pass on/donate, or pitch piles. Then make a list of their needs for the upcoming year.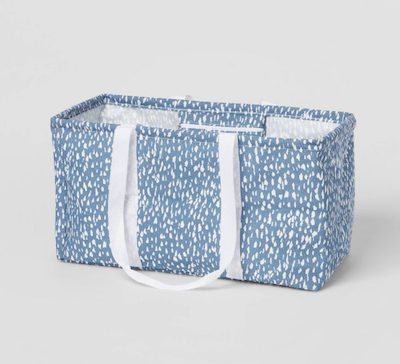 Target
This handy laundry tote can help you sort through clothes and be used during the school year to organize sports gear, toys, and of course, laundry.
multiple colors available
3. Routine Chart for Kids
Kids need routines, but it's normal for the summer routine to get a little relaxed. It's a good idea to prep kids in the days—or weeks—before school with clear expectations for their day once school begins.
Amazon
Customize your little one's morning routine with visuals to help them plan their day before and after school.
4. Big Academic Calendar for All the Activities
A shared calendar everyone in the family can see helps keep everyone on track—including the kids.
Target
Grab an oversized calendar that follows the academic year to keep track of all the important school dates and kid activities in a spot where the whole family can see them.
5. Subscriptions for Snacks
Automate as much as you can automate. If your little ones love Goldfish crackers, juice boxes, or Brainiac bars, you might as well set up a monthly subscription delivery to take one item off your grocery list.
Amazon
Subscribing in bulk can help save money—which can help this year when inflation has driven up prices for grocery items like lunch meat.
Brainiac foods offers healthy snacks for lunches and after school.
6. Sustainable Lunch Supplies
Buying in bulk also means it's easy to separate snacks into reusable packs, like editor and reader favorite brand Stasher bags.
Stasher
If reducing single-use plastics is on your list this year, grab a pack of Stasher bags you can use over and over again—and don't forget to label them with your child's name.
7. An Easy Meal Planner
Nothing dampens the after-school mood more than whines asking what's for dinner. Start the small habit of planning weekly meals in advance with a paper or electronic meal planner tool.
Rifle Paper
We love Rifle Paper for their pretty floral designs and their practicality. This meal planning pad includes space for every day of the week plus a shopping list.
8. First Day Picture Props
I've been the mom who remembers the morning of the first day of school that I want to capture a cute photo—it's why I used my toddler's magnetic alphabet letters one year. Don't add one more stress to the first day and buy any prop(s) you might want early.
Etsy | Bloom and Grow Co
These pre-made pennants can be customized with your child's school year, ribbon color, and star color for an adorable first day of school picture moment.
9. Homework Station Supplies
Older elementary schoolers might start to get daily homework assignments from their teachers. Help their homework routine by setting up a station they can sit at each day.
Amazon
Have homework supplies at the ready so little ones can grab what they need to get their worksheets and projects done each day.
10. An Updated Mask Stash
Of course, no parents want there to be a need for masks for this coming school year, but it can help to have some of the recommended kids KN-95 masks at the ready should you need them or your school require them.
Amazon
I bought these when our family got COVID last year. Wearing them meant my kids got to go back to school five days sooner.
They liked getting to choose their own colors and said they were comfortable for all-day use.
This post was in partnership with Mabel's Labels but all of the opinions within are those of The Everymom editorial board. We only recommend products we genuinely love.