We do not get to be human without feeling pain or going through the hard stuff. Losing a job, mourning a pet, trying to get pregnant, persevering through sickness, grieving a loved one—it's all part of the journey. And showing up for someone you care about when they're having a hard time can be one of those pivotal moments in a relationship, whether it be for a friend, neighbor, family member, or partner. In these tough moments, the clichés are all true: "the only way around is through," "people will forget what you said, but they'll remember how you made them feel," "the 'hard' is what makes it great." (OK, so maybe not that last one from the movie A League of Their Own. Tom Hanks movies are my coping mechanism).
What is great is feeling less alone in the journey, especially when it's hard. But many of us feel uncomfortable when we witness someone else's pain. We know we can't make it better and we can't fix it, so we get stuck. Maybe time passes and we still haven't said or done anything—which may hurt our friend more than saying or doing the "wrong thing." So if you want to help support a friend who's going through a hard time, these five ideas can get you started.
One thing no one will turn down is food. Spoonful of Comfort has been my go-to gift after receiving it as a sympathy gift from friends. I was grieving a big loss and trying to function like a normal person—it wasn't going well. When the Spoonful of Comfort package arrived, it felt like a warm hug. Not only is the packaging pretty and thoughtful, but the soup, rolls, and cookies inside were also delicious. It was like three gifts in one:
The package looked like a true gesture of care sent from dear friends
It took care of a meal (something on every parent's daily to-do list)
The soup literally warmed our whole family up during a particularly hard time
Since then, I've gifted Spoonful of Comfort for a number of life events. I've shipped it to friends who just had a baby, which is happy but also hard in a lot of ways, to friends going through chemo treatments. Spoonful of Comfort is the perfect gift for so many of life's moments.
Plus, something about soup just says "care." In fact, the founder of Spoonful of Comfort created the company as a way to honor her own mother. After Marti Wymer got the dreaded call that her mother had cancer—and was thousands of miles away—she says on the company's website, "I was so upset and felt helpless being so far away. I needed to 'do something.' … I wanted to show her how much I cared, and in some way comfort her. I immediately thought of chicken soup—it's what she (like many mothers) used to make to comfort me."
Marti and Spoonful of Comfort promises "to make and deliver a Spoonful of Comfort to loved ones with as much care as if I were sending it to my own mother." And once you receive a Spoonful of Comfort package, you'll understand how they keep this promise. Even my own friend—the one going through cancer treatment—texted me upon receipt, "that's probably the cutest package I've ever seen… I'm kind of obsessed." Here are some ideas and occasions where Spoonful of Comfort may be just what someone needs.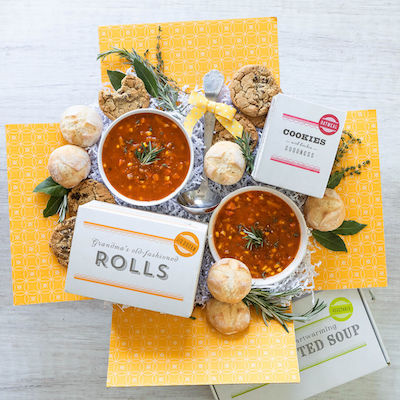 Spoonful of Comfort
Use code EVERYMOM10 for 10% off your first order!
Spoonful of Comfort
Use code EVERYMOM10 for 10% off your first order!
Spoonful of Comfort
Use code EVERYMOM10 for 10% off your first order!
2. Write Them a Note
Sometimes, it's tough to know what to say in the hard moments. But don't let worry over saying the wrong thing stop you from saying anything at all. Silence is loud. For those going through a hard time, acknowledgement equals care. And if you're worried you'll sound too awkward, a handwritten note or card is so appreciated. One of my favorite card brands says the things you won't typically find in a drugstore card aisle. Their cards help say what you want to say when you can't quite find the right words.
3. Give Them Options—Don't Say "Let Me Know if You Need Anything"
Someone going through a hard time doesn't have the mental energy needed to come up with a list of their needs. Instead, offer specific ways to help and give them choices. For example, you could text, "I'm headed to Costco. Would your family like the chicken Alfredo, ravioli lasagna, or the street tacos? I'll leave it on your porch at 12 p.m." (side note: these are all delicious options).
4. Check In
A text can go a long way. An "I'm thinking of you today" or "this made me think of you" is so appreciated. It's especially important in the weeks, months, and yearly anniversaries after a tough time. The overflow of support a person got at the beginning often trickles down to nothing as life moves on, like after the funeral, after a diagnosis, or when someone becomes pregnant after loss. Set reminders in your phone so you remember to reach out.
5. Invite and Include (Without Expectation)
Don't assume someone won't want to come because they're having a hard time. Always offer the invitation, but leave any expectations of them showing up behind. Eventually, joy will return to their lives—though you don't need to remind them of that right now (toxic positivity helps no one). Instead, stay alongside them and include them as you always would, and you'll be there when the joy comes back.
This post was in partnership with Spoonful of Comfort but all of the opinions within are those of The Everymom editorial board. We only recommend products we genuinely love.