I grew up in a family where Christmas was a really big deal. It was the time of year we all looked forward to — and it wasn't always because of the gifts.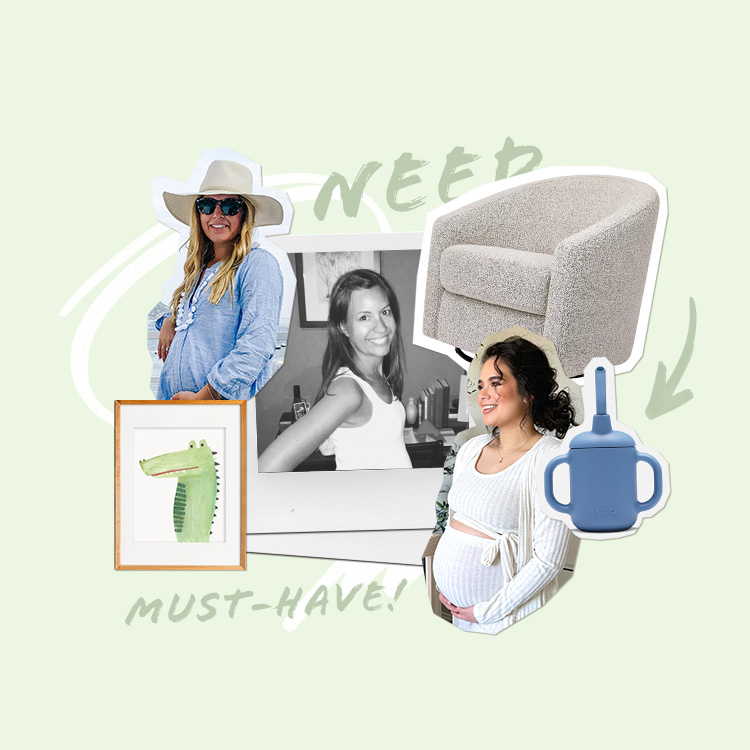 babylist has everything you need—and more! 💕
From the moment Halloween was over, our minds shifted a little bit to Thanksgiving but mostly to Christmas. Most of the conversations were around what kind of Christmas tree we were going to get, if we were going to do another gift wrapping contest (which I won, might I add), and when our votes had to be in for the different Christmas cookies my mom always baked. My vote always was and always will be for the peanut butter blossoms.
We'd make an entire event out of going to local tree farms to find the best Christmas trees. We'd come back to my parent's house to put it up, decorate it, and place each ornament evenly throughout the tree. This, of course, kick-started our holiday shopping, and wrapping all of the gifts and placing each one under the tree happened most days all the way through Christmas Eve.
On Christmas morning, we take our time letting one person open a gift at a time and truly enjoy the time together and watching each other open up the gifts we've bought for them. Because there are six of us, this can take a lot of time, but again, it's something we've always done for years.
So, it might come as a surprise to you to hear that recently I sent my family an email asking them to not buy our 9-month-old son any gifts for Christmas. Well, let me clarify because it's not that they absolutely, positively cannot buy him anything at all. But rather, we implemented very strong boundaries around what, if anything, could be gifted to him this year.
Before I dive into the boundaries and stipulations we set, I'd like to pull back the curtain a bit and explain to you why we went this route. During a season when so much is about gifts galore, it may seem odd that we went completely in the other direction. One reason we decided to really limit the gifts this year is because our son has no idea what Christmas actually is. He doesn't understand the meaning of the holiday, the reason behind the gift, or that it is in fact even a gift that came from someone he loves. Yes, this is technically his "first Christmas," but he doesn't know that. And while it's great, in a sense, to shower him with a ton of toys and fun things, we wanted to go in a different direction just for this first year.
So, here are the boundaries we set for our son's first Christmas.
Practical over everything
There is a running joke between my mom and me around this massive standing giraffe that she swears she's going to buy our son. Every time we walk around the store and she sees it, she begs me to let her buy it – but I stand firm in saying no because it's just not practical. Sure, it might look cute in his room or in pictures, but he doesn't need a life-size giraffe at 9 months old.
If my family chooses to buy him anything, we want the items to be practical and something he'll get a lot of use out of. This might be warm clothes for the cold winter months or a book that is developmentally appropriate.
Make his life better or ours easier
During the first year, a lot of taking care of a baby is just making sure they are happy and their needs are being met. What a baby needs throughout this time constantly changes and fluctuates, and there's no way you could've planned for some of it way back at the baby shower before you were even parents.
Because of that, we have mentioned that if family and friends are set on buying him something to ask us what we need for him that they could possibly gift. These items might include a warm cover for the car seat, a diaper subscription or clothes a few months out, so we're ready should the seasons drastically change as they so often do.
Focus on the future
This was the part of the email that we felt the strongest about and really was the driver behind our whole mission in the first place. While some take advantage of the baby's first Christmas and really want to go all out with toys, gadgets, etc., we wanted to use this year, when he doesn't really understand what Christmas is all about, and put the money toward his future.
Our entire family went to college, and while we obviously don't know right now what he'll want to do after graduating from high school, we want to have a savings account ready for him when he decides. While I'd like to keep up this tradition every year, we wanted to start it this year and get it going. My husband and I have already started a savings account, or college fund as some call it, that we add to every month, and we've suggested that my family forego the gifts this year and put that money into his savings account so that his future, not just his toy box, is full.
Realistically we know that we won't keep the boundaries so strong around gifts in the following years. But as a family, we felt this first year was important to try to make better use of money and gifts all around. Now, next year, I'm sure it will be a completely different story, and we'll go back to our normal Christmas traditions that we love and cherish.