I'm convinced that the person who invented the phrase "stir crazy" was actually a parent stuck at home with their kids during winter. What starts out as holiday fun in December quickly turns into a special kind of desperation by February. As a collective, we're all out of ideas for winter activities for kids, and we may have started relying more heavily on screen time as a result (no shame, survival is key).
We all heard some variation of the phrase "enjoy every moment" throughout our kids' lives from other well-meaning parents. The truth is that's impossible when you're going on day six of a winter storm and your child is on their fifteenth request by 10:05 a.m. If this sounds eerily familiar and you're in desperate need of new winter activities for your children, look no further—we've got you covered.
1. Try out a keep-them-busy subscription service.
Subscription boxes are the simplest option for bored kids and tapped-out parents. KiwiCo is our go-to because they have fun & educational crates and projects for every age from the newborn stage all the way to adulthood. Once you input your kiddo's age, KiwiCo will do the calculation for you and give you age-appropriate options. Then you select the delivery frequency and just wait for the magic to arrive at your doorstep. Both our kids go wild when they get their KiwiCo boxes, and we're guaranteed a few hours of fun for them and uninterrupted quiet time for us. Plus, you can use code EVERYMOM to save 50 percent off your first box!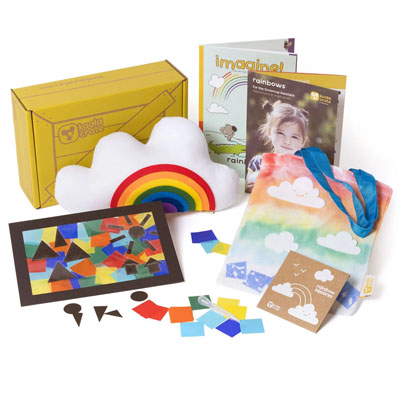 KiwiCo
Littles will discover how rainbows are formed and create a stained glass landscape using colorful squares and cut-out shapes of mountains and trees. The Koala Crate is ideal for ages 2 to 4, but KiwiCo's subscription boxes range from ages 0 to 100.
Use code EVERYMOM to get 50% off your first month!
KiwiCo
Make a splash with science and math! This Koala Crate comes with a fishing pole to catch felt sea creatures. Kids will be able to practice shape-sorting and color-matching skills.
Use code EVERYMOM to get 50% off your first month!
2. Use snow for a DIY sensory activity.
If you live in a place where it snows, use that to your advantage. Bring a few cups inside to pour in a plastic bin, add food dye, and let your kids go wild.
3. Bake a delicious treat.
If your kids are old enough to help in the kitchen, baking could be a good winter activity. Treat it like a science experiment to add to their entertainment.
4. Conduct a treasure hunt.
This may take a bit of pre-planning, but hide some snacks or toys around the house and watch your kids spend an hour scavenging the house. You could even take it a step further by creating a treasure map!
5. Build a cardboard house.
Most families have an overflow of Amazon delivery boxes at home. Turn them into forts or pretend boats to let your little's imagination run wild (bonus points if they can draw or paint on the boxes too).
6. Create collage art.
Have a bunch of old magazines or finished coloring books lying around? Use them to create collage art on poster board!
7. Make an extra-long race track.
My car-obsessed 2-year-old would lose his mind with this activity. Make a big project outt of using furniture or other toys to make the world's longest track.
8. Create sensory dough.
Activities like this one from KiwiCo are a perfect learning opportunity for kids. They get to have fun while discovering the science of smell.
KiwiCo
Stir together the flour-salt mixtures, scented oils, and colorful paints to create colorful, fragrant dough.
9. Put on a fashion show.
Some of my fondest childhood memories involved me dressing up in my mom's clothes and making the house my runway. Such a simple activity could turn into a core memory for your little one.
10. Have a dance competition.
We're big on music in our family, and turning an otherwise boring evening into a full-on dance party with makeshift microphones and outfits is a winter activity our kids would never forget.
This post was in partnership with KiwiCo but all of the opinions within are those of The Everymom editorial board. We only recommend products we genuinely love.