"And Ma in her kerchief. And I in my cap, Had just settled down. To a long winter's nap."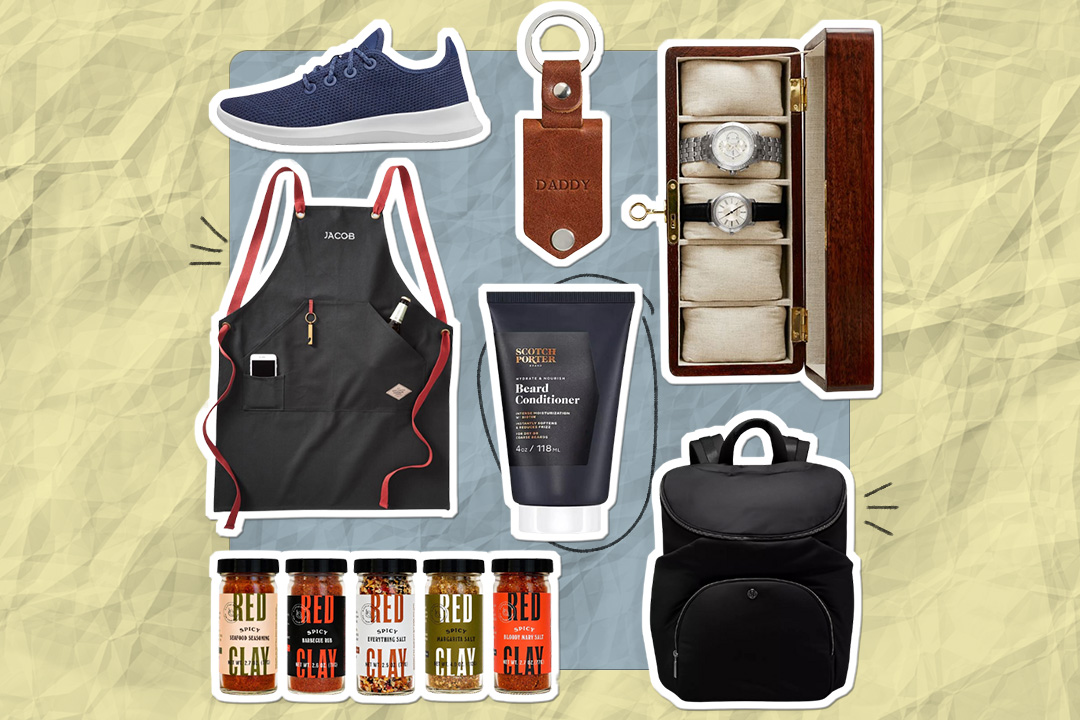 june 18 is coming up fast — have you started shopping yet? 😎
Now that I'm married and a mom, this line from The Night Before Christmas conjures up this mental image of myself and my husband in full-coverage winter pajamas, hunkering down on our sides of the bed, pulling the covers up to our chins, trying to make it through another cold, dark night. Now maybe that's just me (and hopefully I didn't ruin the story for you), but getting out of our proverbial "kerchief and cap" to reconnect is hard after having kids, especially during and after the winter holiday chaos.
To help, we put together a few ways to warm up with your partner when the nights are long and cold. Here's to reconnecting and finding that spark—kerchiefs and all.
1. Make a meal after the kids go to bed
Sip wine and chat as you chop the ingredients up for a special meal for two. Note: this date night idea works best if you can eat some appetizers while the kids are still awake or eating their dinner because no one wants to be meal prepping while hangry.
2. Do some DIY wine tasting at home
Head to the local wine store and choose a few options for you and your partner to sample with some cheese or chocolate pairings. (Better yet: consider a wine subscription box, so you don't even have to leave the comfort of home.) Make it more fun and Google the region and share tidbits about each one as you partake.
3. Have a fireside chat
Lighting the fire, literally, can be a good excuse to get cozy and talk over a cup of spiced cider or hot chocolate. Have a fire pit? Try bundling up and going outside. Have a fireplace? Great, share a blanket and a snuggle. No fireplace? Try lighting a bunch of candles to set the mood.
And if you're worried you won't be able to stop talking about the kids, we have you covered too. Check out "The Friday Five" on the podcast blog for Marriage and Martinis. Each post includes date night questions relevant to their podcast subject to help spark some great conversations between couples.
4. Get in on some friendly competition with game night
My husband and I have played the most competitive games of Gin Rummy I've ever experienced, but it only reminds us of who we were pre-kids, when everything was just a bit lighter and more carefree. Bring out your favorite video, board, or card games, and put out some salty snacks. Place bets to spice it up even more. The smack talk only helps fuel that friendly fire.
5. Create an at-home spa night
Pampering can be a relaxing way to wind down, especially if it's not something you normally do together. Get out your most luxurious face masks, massage oils, and beauty products, and take turns giving one another the royal treatment. Leave out some citrus-infused spa water to complete the experience. If your love language is physical touch, this idea only helps build that romance!
6. Plan a sexy reconnection
I'd be remiss in curating this list without adding a tip for building intimacy. We know it's not always easy to make time for romance, especially during a busy season—and maybe physical intimacy isn't top of your list right now, which is absolutely fine—but it can be so rewarding to put aside the phones and turn off the TVs in favor of some old-fashioned physical intimacy.
Everyone finds confidence and sexiness in different ways: maybe for you, it's dressing up in a beautiful outfit. Or perhaps you need to connect with a thoughtful conversation with your partner beforehand. Maybe you're someone who loves spontaneous interaction and mystery. Either way, figure out what circumstances make you and your partner feel best, and see if you can create that romance in your relationship. The name of the game is reconnection, after all.
This story was originally published at an earlier date and has been updated for timeliness.