Throwing a personalized birthday bash for your toddler might include mesmerizing color displays, adorable decor, imaginative themes, or sugar-spun cakes. At age 3, it seems like there is a never-ending stream of potential to get their eyes lighting up and hearts soaring. And if you've ever heard the Latin expression "omne trium perfectum"—everything that comes in 3s is perfect—it might offer some birthday party planning inspiration for your 3-year-old.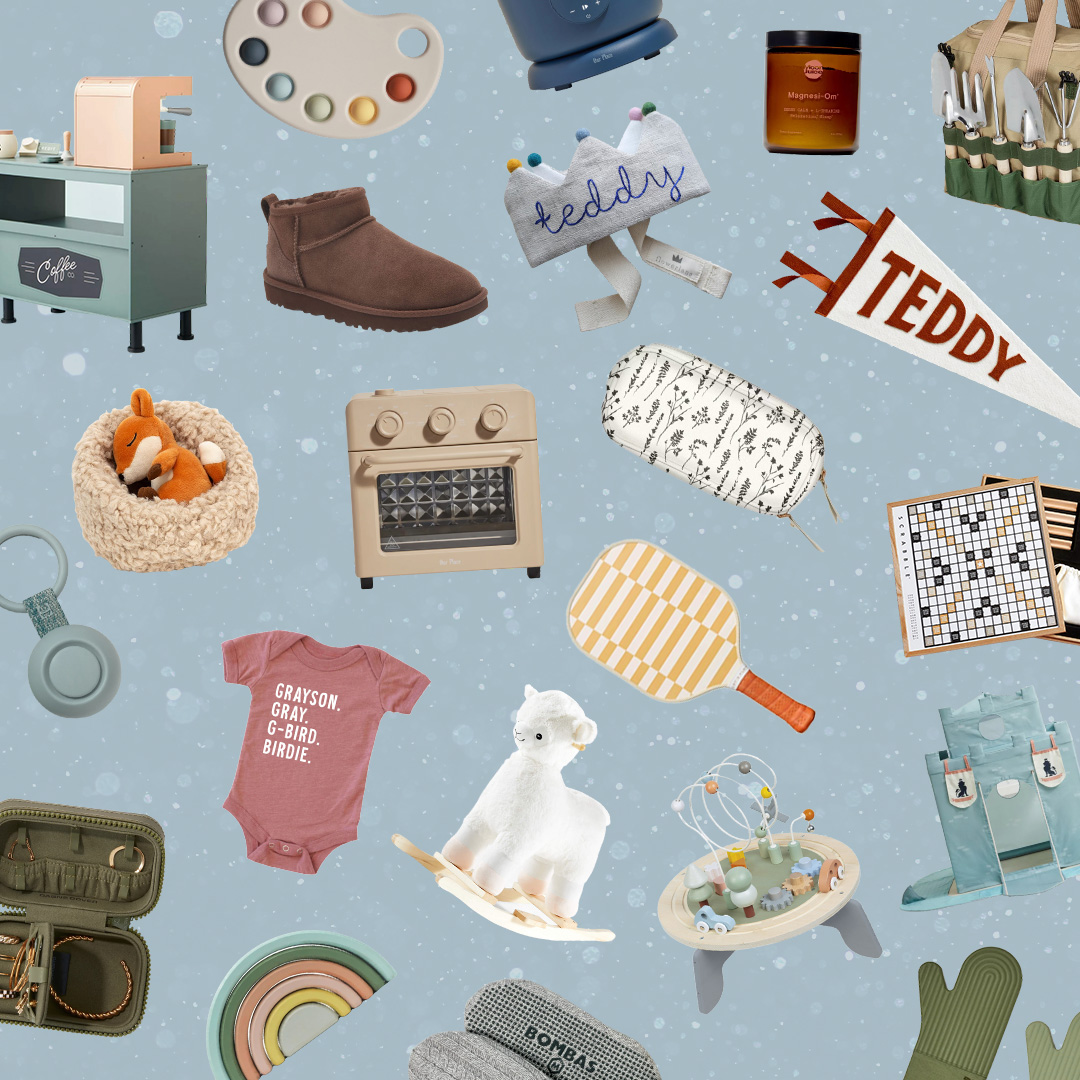 everything you need to ace holiday gifting this year 🎁
Maybe it sounds easier said than done—yes, we can come across a wonderful cache of inspiring birthday party ideas in places like social media, or at the festivities other parents are hosting—but what about when it's actually our go-time? After you've celebrated your little one's first and second years of life, you're ready to make it a third-time's-a-charm sort of occasion! So rather than having to dig back through your liked posts and reels, or mimic what you just saw someone in your child's preschool class doing, we've pulled together over 20 of the best 3-year-old birthday party ideas to ring their third year in with charm and joy! And while the following list is organized by girl, boy, and gender-neutral party ideas, naturally they're 100% customizable for your child based on their interests.
3-Year-Old Birthday Party Ideas
Birthday Party Ideas for a 3-Year-Old Girl
1. Art Party
Get hands-on with an art party where everyone can be set up with little canvases, paints, and other art supplies like glitter, glue-ons, ribbons, patterned papers, stickers, etc. Not only can the partygoers create something bright and original to take home, but you can add even more life to the party by giving them time to share their creations. In addition to the arts and crafts set-up, you can also incorporate art-themed cookies and treats to accentuate this theme.
2. Barbie Party
Whether it's to continue the hype of the recent release of the new Barbie movie, or because your kiddo just loves Barbie, it's easy to get decked out in Barbie party mode with all kinds of décor. There are so many bright and energizing possibilities to consider in your setup, which of course includes plenty of bubble gum pink accessories! With playful inflatables, shiny balloons, amazing cakes, and photoshoot displays, this is will be a third birthday party full of glam!
3. Hello Kitty & Friends Party
A Hello Kitty theme offers a sweet and gentle approach to planning your kiddo's party. With lovable characters and soft colors, you can create an adorable party scene. Hello Kitty herself has appeared dressed for just about every festivity under the sun, so you'll definitely be able to find celebratory decorations. Plus, Sanrio has designed so many precious little accessories through the years that you certainly won't be left wondering what party favors to decorate with or hand out!
4. Cupcake Decorating Party
A birthday party with arts and crafts you can eat! Plan your little one's party around cupcakes and creativity by presenting 'naked' cupcakes of various colors and flavors. Pair them with an enticing assortment of frostings, sprinkles, candies, and other tasty toppings for kids. And it doesn't just stop with the cupcakes themselves. There are incredibly cute cupcake birthday girl tees, piñatas, and jumbo balloons to go along with them!
5. Bee Three Party
Have your little one happily buzzing around with this Bee Three birthday party theme. Between bees, flowers, and honey, there are numerous decorative directions you can take for setting up an un-bee-lievable festivity! If you're trying to stray from overdoing it with artificial décor, you can place lots of fresh flowers around instead and adorn them with bee balloons. Consider cute bumble bee wings as party favors guests can wear. For sweet treats, you can explore around for custom frosting creations decorated with bees and have honey on hand for drizzling.
6. Little Miss Threenager Party
While they may be light years away from actually reaching the teenager milestone, you can offer your little teenager-in-the-making the thrill of being a three-nager for a day! Since being a teenager is to be the center of your own world, it will be a piece of cake (or a whole cake in this case!) to make your 3-year-old birthday gal the cherished center of her own celebration. From giving her a special crown to wear, to serving the treats she loves most, to displaying decorations of her favorite things, she'll feel like a three-naged birthday princess.
7. Let's Par-Tea for Three
Let little ones get fancy for a tea party! Take inspiration from a traditional high tea, or tap into Alice in Wonderland vibes for endless possibilities. Encourage party guests to dress up and serve finger sandwiches and tiny desserts. Instead of tea, little ones will love sipping water, milk, or juice out of teacups.
Birthday Party Ideas for a 3-Year-Old Boy
8. Three-Rex Party
For the dino-loving 3-year-old, plan the party around this clever Three-Rex theme. You can arrange for all different kinds of dinosaurs to be included in the set-up, and kids will love having the chance to get excited over their favorite types. Surely being in the presence of these imaginative prehistoric creatures will also encourage them to play around like dinos, too!  Using bold colors, animated-looking decorations, and perhaps a dinosaur costume or two, this party will definitely make for an exciting source of entertainment.
9. Spider-Man Party
Many a toddler's favorite superhero is Spider-Man, so throwing a birthday party completely dedicated to this web-spinning role model can't go wrong. And ever since Miles Morales made his debut in the Spider-Verse, this character has become even more adored by aspiring little heroes. Since there is a bounty of Spider-Man décor to captivate your little one's excitement, you'll absolutely leave them feeling like they've been gifted their own Spidey world where they're the hero.
10. Cars Birthday Party
Celebrate your very own little Lightning McQueen of a speedster by having a birthday party based on the movie Cars. Any kiddo fascinated with race cars will love having the uplifting crew of characters around to excite the inner driver in them. With spirited backdrops and invitations, spunky balloons and signs, and more, your little one will be racing around in birthday joie de vivre in no time!
11. Third Down Football Birthday
Send your 3-year-old's party toward the ultimate touchdown with this Third Down football-themed party. Alongside plenty of hearty decoration potential, you can set your little one up with a personalized jersey and football-inspired games to play. And when it comes to party food and balloons, fill an end zone with delicious football-decorated treats and a sporty balloon arrangement celebrating the occasion!
12. Construction Party Zone
For the construction-loving kid, this third birthday party theme is sure to be a hit. Building activities and sandbox digging are perfect party activities for this celebration—not to mention dirt cake treats! Plus, Etsy has tons of adorable invites and decor with construction truck party themes like "Dirty 3rd-Y" and "Digging Being 3".
13. Outer Space Party
Create an outer space party that's out of this world, and have your kiddo orbiting in delight! Besides incorporating the sun, moon, various planets, and rocket ships into your decorations, you can get aliens and UFOs in on the action, too. Setting up twinkle lights would be a great way to mimic the stars, and you'll likely be able to find additional party favors dedicated to this theme. If your child has dreams of going to outer space or adores cartoons and movies about it, this might hold them over a bit until they can get there.
Gender-Neutral Birthday Party Ideas for a 3-Year-Old
14. "You've Got a Friend in Me" Toy Story Party
Bring together the gang from the toddler movie favorite, Toy Story, to give your kiddo's party a no-fail, fun-loving group of company. Whether you're trying to decorate for a boy's, girl's, or gender-neutral party, Toy Story offers a whole roundup of characters and colors to emphasize. There's Woody, Buzz Lightyear, Jessie, and Bo Beep to Rex, Slinky Dog, Mr. Potato Head, the Aliens, and more. Not only are there plenty of party favors featuring them all, but the birthday guest of honor has lots of dress-up choices, too. One thing's for sure, this theme will no doubt take your 3-year-old's party "to infinity and beyond!"
15. Donut Grow Up Party
With so many donut possibilities to choose from out there, finding festive and tasty ones that your toddler will love shouldn't be too tricky. Plan a "Donut Grow Up" party by deciding what colors and flavors they prefer, and decorate accordingly. Besides finding a bakery or donut shop that can cater to your preferences, there are also adorable donut balloons, donut party favors, and donut activites to make this theme extra memorable. You can even get creative, like setting up a donut toss using these colorful donut beanbags or playing donut bingo!
16. Bluey Birthday Bash
What 3-year-old can't get enough Bluey? With beloved characters like Bluey, Bandit, Chilli, and Bingo around, your little one will feel happier than a pup as they celebrate their birthday. There is no shortage of Bluey-themed decorations out there, too–every detail from Bluey invitations to party food, to balloons, to games, to goody bags is covered. With tons of stellar options to choose from, you can really cater this theme to your child's preferences for a wackadoo birthday adventure!
17. Young, Wild, & Three
Bring out the wild child in your 3-year-old with this "Young, Wild, & Three" birthday party theme (or maybe they don't need the extra encouragement!). Have your child select their favorite wild animals, and let those set the stage for a roundup of party animal decorations. There is an abundance of both animal and animal print balloons, signs, cupcake toppers, and party favors to really give this theme its roar! Another play on this theme is to capture a sense of ultimate freedom with a hippie, flower-child focus instead.
18. Be a Hero Party
Rather than focus on a specific superhero or superheroine, create a birthday party where your little one is the inspiration. What's their alter ego's superhero name? What special powers do they have? What is their uniform to save the world like? As you party plan with them around these details, you can let that guide what colors you decorate with, how to display the cake, games to play, etc. One creative idea around this theme could be setting up a heroic-looking photo booth with different props so everyone can participate in the fun! Or giving superhero masks and capes as party favors.
19. Emoji Birthday Party
Nothing expresses the sheer euphoria and laughter destined to define a toddler's birthday party like a bunch of happy yellow emojis to greet you. Round up all kinds of emoji decor displaying the many amusing expressions we've all come to know and love, and set them to the tune of your 3-year-old's special day. Make their emoji extravaganza memorable by seeing how many different ways you can integrate these silly faces and icons into anything from cake toppers to signage to party favors.
20. Color Me Three
Many toddlers have a strong opinion about what their favorite color is, so take their preference and run with it. Fashion their entire party scene to have everything decked out in this color. Leave nothing immune to being colored with it! That way, as your kiddo surrenders themself to the fun of this noteworthy day, they will be completely immersed in a spectacle of the color that brings them joy.
21. Three-Ring Circus Party
Make your little one the courageous ring leader by throwing an enchanting circus-themed party. While you may not be hosting elephant rides or fire-breathing spectacles in your backyard, you can set up all kinds of entertaining games to be played at a party like this. With fun colors, confetti, a circus backdrop, circus snacks like popcorn or confetti, and other whimsical details, you'll have the double magic of visiting the circus and celebrating a birthday!
22. Three-I-E-I-O Farm Party
As so many toddlers giggle over learning the farm animals and the sounds they make, why not bring it to life with a farm 3-year-old birthday party idea? With some animal balloons, bandannas, red checkered tablecloths, cow-printed décor, and other cutesy additions, even if you're living in city or suburban surroundings, you'll still be able to bring a farm's charming ambiance to your little one's party.
23. Pancakes and Pajamas Party
For little ones who are early risers, celebrate their special third birthday with a pajama and pancake party! Guest can come as they are in PJs and make their own pancake plate with fun toppings like whipped cream and sprinkles. Better yet, all the little guests will be home in time for their afternoon nap.