One look at Kim Vargo's blog Yellow Brick Home will confirm that she (along with her husband, Scott) is a DIY queen. The pair moved into their first home in Chicago in 2006 where they started documenting their DIY adventures in revealing the potential in their 675 square-foot home. Kim took us on a tour of their new "forever home", a house more than twice the size of their first that they demo'd and DIY'd the heck out of, Fixer Upper style. Read on to see the gorgeous design that's classic, quirky, and – most importantly for this new mama – kid-friendly. 
Name: Kim Vargo
Age: 35
Current Title/Company: Creative Director and Owner, Yellow Brick Home
Square Footage: 2,000
Rent or Own: Own
City/State: Chicago, IL
Children: Lucy, 4 months
What was your first job and how did you land it?
I scooped ice cream at Young's Dairy, a local dairy farm in the small town of Yellow Springs, Ohio. (I still consider this to be the best ice cream in the WORLD. Yes, I said it.) Everyone working at Young's was between the ages of 14-18, and my goodness, do I have some fun memories! My parents always instilled a hard work ethic in me, and I remember the day my dad brought home an application when I was 14. I applied and I got the job!
You're currently the creative mind behind the popular interiors & DIY blog, Yellow Brick Home. With over 8 years of experience as a blogger, what's the key to growing an online following?
Consistency is key. Aside from holidays and, most recently, the birth of our sweet baby girl, we've been documenting our home renovation on the blog through 1-3 posts a week. Because our projects require a lot of tutorials and heavy photo illustration, we've never been a 5-day-a-week blog, and we're okay with that! We strive for quality over quantity, and for quick updates, we'll keep our social media updated. Engaging with our readers is very important to us, so we're also mindful to answer every question that comes our way, and we always encourage friendly conversation. We're always blown away at how thoughtful our readers are, offering suggestions we wouldn't have thought of or diving deeper into blog topics amongst each other!
Along with your successful blog, you were the owner and artist of The Pet Shop, which offered customers modern pet portraiture in acrylic paint. How did you come across this idea and what career lesson did it teach you?
I have a Fine Arts degree, so I've always loved painting. As a bit of a gag gift, before we had pets of our own, I painted a mini dog portrait for Scott as a birthday gift one year. We shared it on the blog, and slowly, we began to get reader requests for custom paintings of their own pets. If there's one thing we realized quickly, it's that people LOVE their pets (we totally get it!), and a quirky portrait in their honor is always a good idea! I painted pets as a business for almost seven years, and in that time, I created more than 1,300 portraits and raised $10,000 for animal rescue non-profits. I bonded with clients over the loss of their pets, celebrated with others, and painted countless crooked teeth and floppy ears. At the end of 2017, we made the difficult decision to close up The Pet Shop to make room for growth in other areas of our business and family life. Simply put, I've learned that hard work and doing what you love pays off in more ways than one.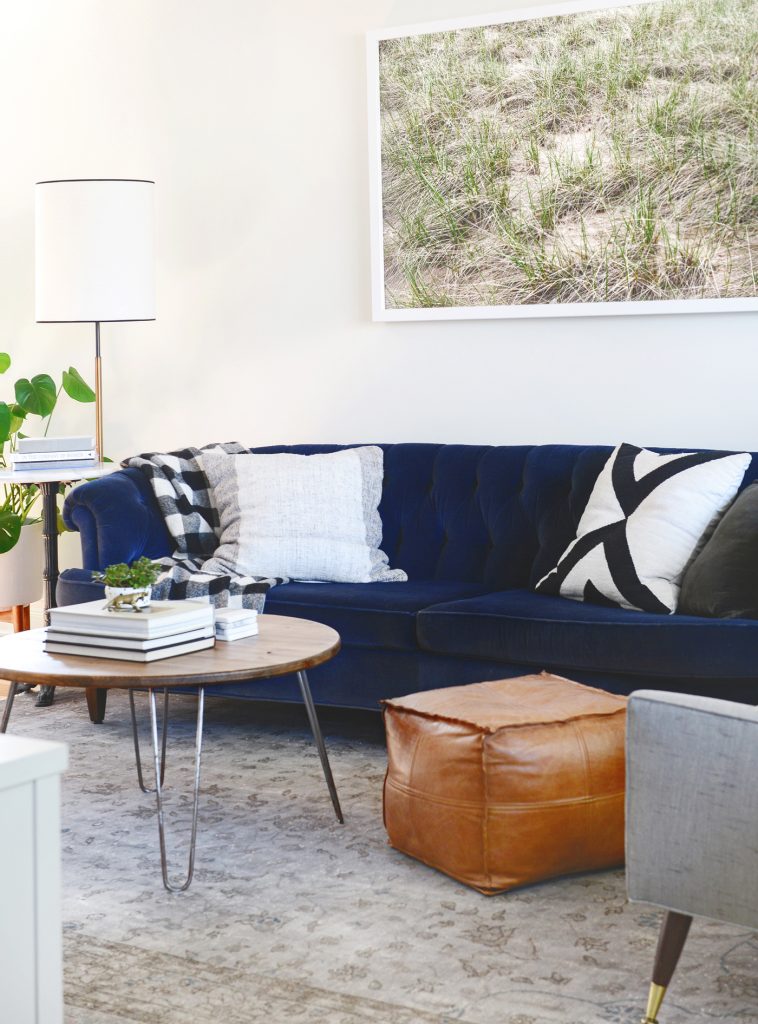 If your career experience wasn't already impressive, you also launched The Print Shop, a collection of your travel photographs that turned into fine art prints. Tell us about a favorite photo you've captured and why it's meaningful to you.
It's hard to narrow it to one favorite photo in The Print Shop, because they all have a special meaning to us! Scott and I have always loved traveling for our wedding anniversary (we'll be celebrating our 10th anniversary this fall!), but our favorite memories have always been the road trip vacations. We traveled down the California coast, took the train from Vancouver through the Pacific Northwest, and we rented a car from Chicago to California along Route 66. Please don't make me choose just one! We love when our readers leave a note at checkout, letting us know why one of our memories strikes them as extra special, too.
To say you're a creative jill of all trades would be an understatement — how do you remain inspired? What tips do you have for people who are trying to tap into their creative side?
I actually have a tendency to get burned out easily (we tend to push ourselves pretty hard on weeknights and most weekends), and I've always found that getting out of the house — and traveling, if possible — has brought back my creative energy. A walk down a new street in our neighborhood, even if it's just to clear my head, has always been a way to refuel my reserves. As much as we think Chicago is one of the greatest cities on earth, we gain so much insight from leaving our bubble. If you're feeling stuck, sometimes all you need is fresh air and a change of scenery.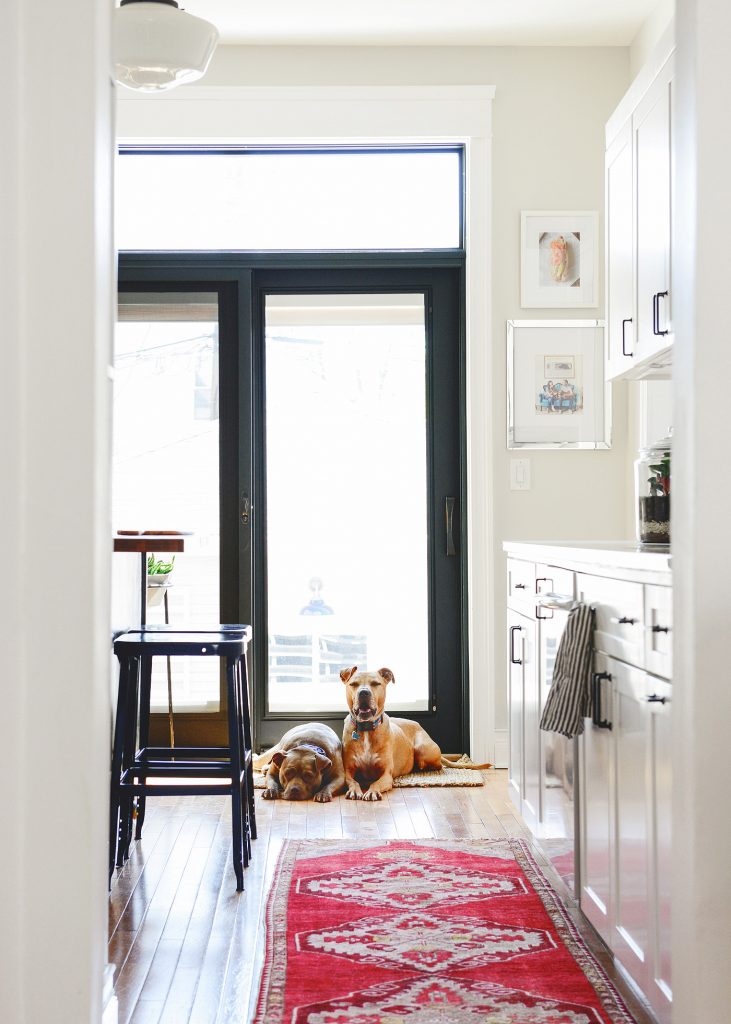 You packed a one-way moving van with your husband, Scott, and made the move from Cincinnati to Chicago. Why did you choose Chicago and what makes it home?
We moved to Chicago after a few weekend visits and falling in love with the energy and culture, but most importantly, we were surprised to learn that this city is made up of neighborhoods — each one as unique as the next. We were amazed that you could live in this big city, but still have a sense of 'place.' Our home is in Logan Square, and you can't beat the tree-lined streets, grassy boulevards, and tacos! We're so grateful to call this nook in the city our home, and we can't wait for Lucy to grow up in such a diverse and lively neighborhood.
The home that started your blog happened to be the first one you moved into. Through your 6 years of DIY-ing this home, were there any rooms with unique challenges?
The whole condo was a challenge! It was 675 square feet, and every room was teeny, tiny. We learned how to live small in that place, and because of it, we've lived as minimally as possible ever since. The transition from our first small condo into the home we live in now was oddly tough; more than doubling the space meant more than doubling the 'stuff.' Sometimes it's hard for us to break out of the small-space mindset, maybe because we embraced that challenge. To this day, we don't like to take in more than we need. Just like blogging, it's quality over quantity, no matter what size home we live in.
You're now living in an almost 130-year-old house across the street! What aspect of the home were you most excited about and what was the first step in fixing it up?
Phew, we were probably in over our heads when we purchased our current home! It seemed like a cosmetic fixer upper during that first viewing, but once we signed the closing documents and really started diving in, we found more problems in this old lady than we would have liked. First and foremost, we fixed a cracked foundation and reinforced a load bearing wall (that was improperly supported), and from there, we turned an illegal three-flat back into a two-flat. We live on the first and second floor, and we rent out the garden apartment below us, which we recently renovated this past summer!
How would you describe your design style?
Classic but quirky.
The hues of blue around your home give it such a fresh look! Do you have any generalized "rules" to follow when pulling off an eclectic home?
We use navy as a neutral throughout our home, and we think it works because it makes an appearance in almost every space! We have a navy couch in the living room, a navy rug in our home studio and deep navy/black walls in the bedroom. My biggest tip would be to think of your home as a 'whole,' rather than each room being its own separate space. By carrying one similar element throughout each room, your home will feel connected and intentional, rather than chaotic and frenzied.
Congratulations on the arrival of your beautiful daughter, Lucy! Her nursery is so cozy – what influenced you to use a neutral color palette?
We had no idea how this big life change may affect us. Will she be an easygoing baby? A fussy baby? Luckily, we think she turned out pretty perfect (says every mom ever!), but in preparation, we wanted a room that felt peaceful. We wanted to create an environment that felt soothing and calming, and we haven't regretted choosing whites, ivories, and creams for one second. It's our safe haven. One day Lucy is going to ask for hot pink and green walls, and until that day, we're embracing the cozy neutrals!

The nursery was originally a storage space that was less than 7 feet wide. Walk us through this renovation process and how it was different from your other makeovers.
We're used to small and skinny rooms in Chicago — it's pretty common with the lot sizes in the city. Even still, it was quite a challenge! We started by creating an extra deep closet with storage above. The goal was to have enough space in the closet that it would be an extension of the room, and our plan unfolded beautifully. Lucy's closet is now where her changing table is, which doubles as a dresser, and we created rows of shelves with baskets for more hidden storage! We painted the inside of the closest the softest shade of blush pink, and we were very mindful in the materials we used for the shelves and baskets so that the whole space felt seamless with the rest of the nursery. The main room is pretty minimal — a small rocker, a crib, and a bookcase. We're thrilled with the overall functionality!

What's your favorite part about Lucy's nursery?
My rocking chair. It's where I spend time with our little peanut, whether I'm nursing or making silly faces or soothing her to sleep. In the early days during Scott's paternity leave, he would sit on the ottoman while I held Lucy, and we'd just talk to her endlessly while she took in her surroundings. It's such a special memory for both — all three? — of us.
We love her adorable bookshelf with the splashes of greenery. Where are your go-to places for baby decor and furniture?
Every room can use a splash of greenery, we think! We're so new to the baby game, but we've loved Land of Nod and Pottery Barn Kids for clean-lined furniture and minimally designed toys and games, but we're also not afraid to pull in pieces we regularly shop at as well. Our ottoman is from CB2, the rug is from Crate and Barrel, and our changing table/dresser is a custom piece from our friends at MegMade that Lucy can easily grow into. A lot of the special trinkets on her bookshelf are vintage treasures from friends and family, and you really can't beat that.
What tips do you have for people who want to design their dream nursery?
We started by gathering inspirational photos, but the key is to REALLY hone in on those photos and pinpoint what makes them speak to you. Is it the color of the walls? The use of textiles? The shape of the furniture? Refer to those photos and consider all those questions as you shop for your nursery. Remember that loved, layered rooms take time to unfold, so although Lucy's room is 'finished,' we know it will only get better as we continue to add to her stuffy collection and pile more books on the shelves.
Kim Vargo is The Everymom…
Home essential you can't live without? Candles
Decorating trend you love? Natural wood elements
Best way to comfort a crying baby? Milk, a clean diaper, and all the nuzzles
Coffee order? Black
Perfect vacation spot? Our current renovation project, Tree House (in Harbor Country, Michigan)!
Favorite part of being a mom? Seeing Lucy with Scott. Heart. Burst.