Podcasts are more popular now than ever before. In fact, as of this year over 464.7 million of us, globally, will listen to one, and it's expected that number will grow to 504.9 million by 2025. Currently, there are over 5 million podcasts with over 70 million episodes, and within the United States the industry is expected to be worth over 4 billion dollars in 2024. Yep—that's with a "b".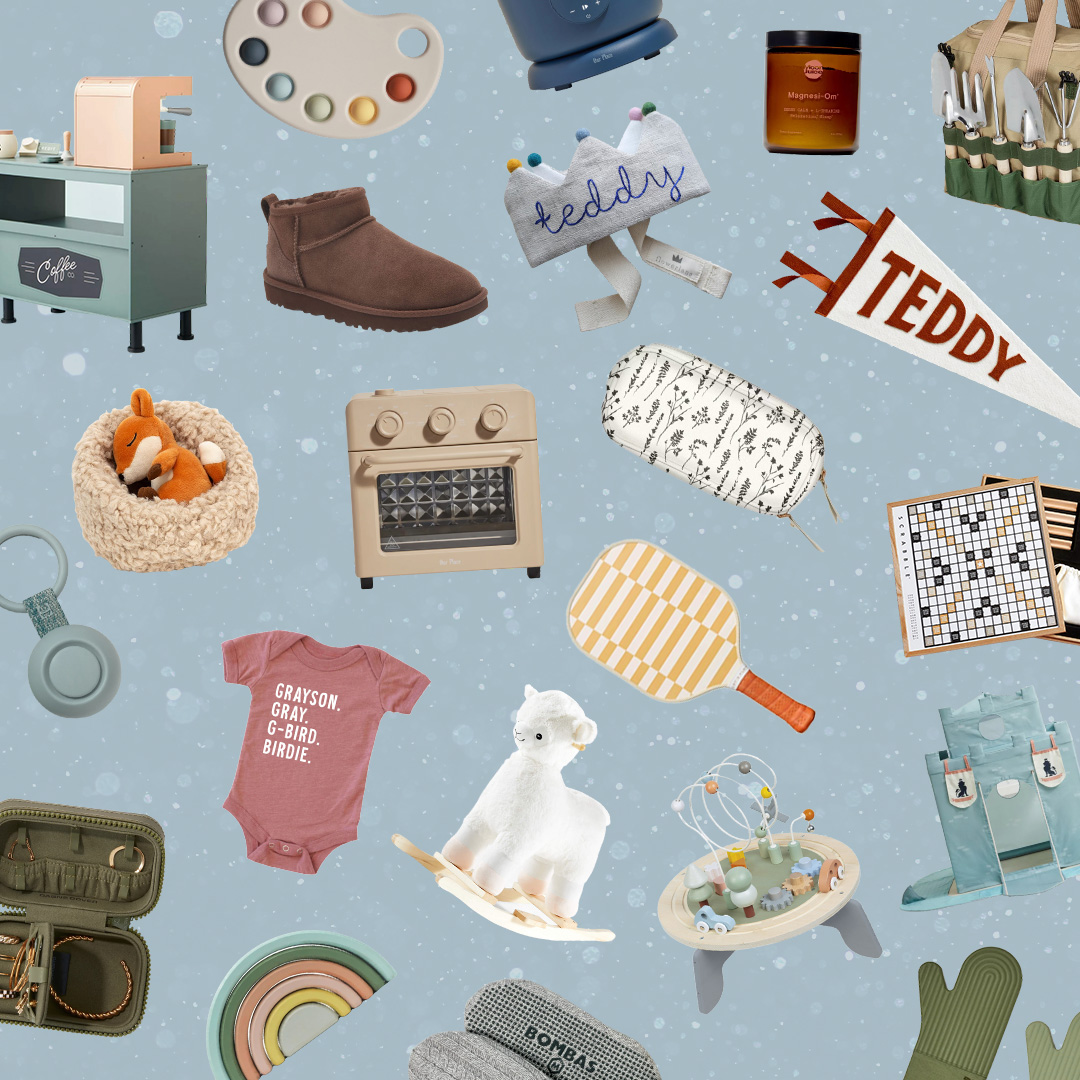 everything you need to ace holiday gifting this year 🎁
When it comes to podcast themes or content, you might prefer informative, funny, relatable, or a combination—whatever engages you the most. But when you first think of podcasts, it's natural that adult ones come to mind (there are many, many out there not suitable for kids.) But, there's a whole niche out there dedicated to kid-friendly podcasts that both you and your kiddo will love, including stories, mysteries, educational themes, sports talk, and much more. Here are 18 of our favorite kid-friendly podcasts to check out.
18 Best Kid-Friendly Podcasts
Educational Podcasts For Kids
This history podcast for kids tells unknown stories of our world in an exciting, uplifting way. The episodes focus on inspirational stories of historical achievements—like Nelly Bly's record-breaking trip around the world and the story of the Mary Celeste, a supposed ghost ship. The episodes are typically less than 30 minutes, making them perfect bite-sized tales to promote further research and discovery.
This podcast is a STEM-loving kid's dream come true. Hosts Guy Raz and Mindy Thomas explore current science stories in the news while encouraging scientific discovery and wonder. Each episode is about 30-45 minutes long, so it's best for kids who can hold their attention for that long, or can split it into a few listening sessions!
Hosted by two women, Susan and Beckett, this decade-old podcast covers famous and lesser-known female figures throughout thousands of years of history. This one is best for middle and high schoolers with a knack for learning about the women who made major contributions to our world.
Considered to be the longest-running and first professionally produced audio drama, this podcast stars Dr. Floyd, a fictional scientist. Through his adventures and conflict with enemy Dr. Steve, the podcast covers people and events in a half-educational, half-entertaining way.
Sports Podcasts for Kids
This Audible original, sports-centered podcast series discusses famous athletes, popular and lesser-known sports, interviews, sports history, and more. The series is by popular podcast Story Pirates and Unanimous Media (NBA star Steph Curry's media company!)
Ideal for young sports fans who want to hear real-life stories from athletes and others in the sports industry, Good Stuff Sports led by Mike Mason speaks with pros in the field highlighting inspiring stories of resilience, hard work, teamwork, and stand-out moments in athletes lives.
Story Podcasts for Kids
Each engaging and entertaining episode of The Alien Adventures of Finn Caspian is a 15-20 minute treat centered on an 8-year-old boy on the Interplanetary Exploratory Space Station. Together with his friends Abigail, Elias, and Vale he solves mysteries, helps aliens, and explores the unknown. It's great for elementary school-aged kids, as the writer's 7-year-old son serves as the editor!
The Story Pirates Podcast turns original stories, submitted by kids like yours, and turns them into hilarious sketch comedy and songs. The podcast is award-winning and top-downloaded, with all story ideas and plots coming from the creative minds of kids around the world. While exploring the podcast you may recognize some celebrity voices including Sara Bareilles and Kristen Bell!
Ideal for ages 2-6, this calming podcast features immersive, original stories that are ideal for car rides, bedtime, or any time. Podcast creator Rhea Pecheter writes and performs imaginative and engaging stories, with lovable characters.
This podcast is connected to the PBS Kids show of the same name (which is excellent, and you must watch). In short 7-12 minute episodes, we learn more about 10-year-old Molly Mabray, an Alaskan native, and her life in rural Alaska. Every episode sets up the next, so listening in order is best.
Funny Podcasts for Kids
Have a kiddo who is constantly laughing, looking for fun, and playing games with others? This is the podcast for them. In Dr. Gameshow, podcast hosts Jo Firestone and Manola play through kid-created, original games that are fun and family-friendly. Listen along with your kids and get ready for some serious fun and games!
Winner of a Parents' Choice Silver Award this silly, joke-filled podcast for kids is hosted by best friends Hillary and Larry. Together, they share their best jokes, stories, riddles, and more.
Creepy Podcasts for Kids
For kids who like a bit of spook and scare, there's nobody like R.L Stine—creator of the incredibly popular Goosebumps series, and more. Recommended for ages 7 and up, the entertaining new series is part of the GoKidGo universe. Listeners join Ivy, the Story Club's president (voiced by Modern Family's Ariel Winter) as they enter the spooky, strange world of the hidden vault of R.L. Stine.
Recommended for ages 8 and up, Unspookable was recently called one of the "7 Podcasts Big Kids Will Love" by the New York Times. In this podcast, each week host Elise Parisian looks at the history and science behind spooky topics like Ouija Boards, the Bermuda Triangle, and Bloody Mary with a focus on the actual story behind the legends.
Mystery Podcasts for Kids
Inspired by the successful children's book series by Ron Roy, A to Z Mysteries: Clue Club is hosted exclusively on Pinna (meaning it's subscription-based.) Pint-sized listeners can enjoy the short episodes as they become a part of the story, spotting clues, and trying to solve the mysteries. It's a great option to listen to for travel or on road trips since it will keep kids engaged until the very end.
Created with her then 5-year-old son Porter in mind, this kid-friendly podcast by Tess O'Driscoll is a bit like a PG version of Unsolved Mysteries, allowing listeners to explore the weird happenings in the world. Episodes include classic folktales like the Yeti, and current phenomena, like Roanoke: The Lost Colony.
Bedtime Podcasts for Kids
Like their book series, Good Night Stories for Rebel Girls has a library of over 100 empowering bedtime stories that encourage girls to dream big. Downloaded over 200 million times, the award-winning podcast showcases inspiring stories of remarkable women. It's also a great option for parents looking for kid-friendly podcasts on diversity and inclusion.
Featuring relaxing mindfulness stories for kids, Peace Out is a great podcast option for kids to enjoy as they begin to wind down for the day. With visualization exercises and breathwork techniques focused on kindness and fun facts, young listeners can practice self-regulation and prepare their bodies for bedtime.