"If you don't stop fighting, we're stopping the car and leaving you on the side of the road!" As a child, I distinctly remember this threat on more than one family road trip. The good news is, it was an empty threat. Though it seems that my brother and I may have been somewhat of a nightmare during long car rides, we were never left on the side of the road.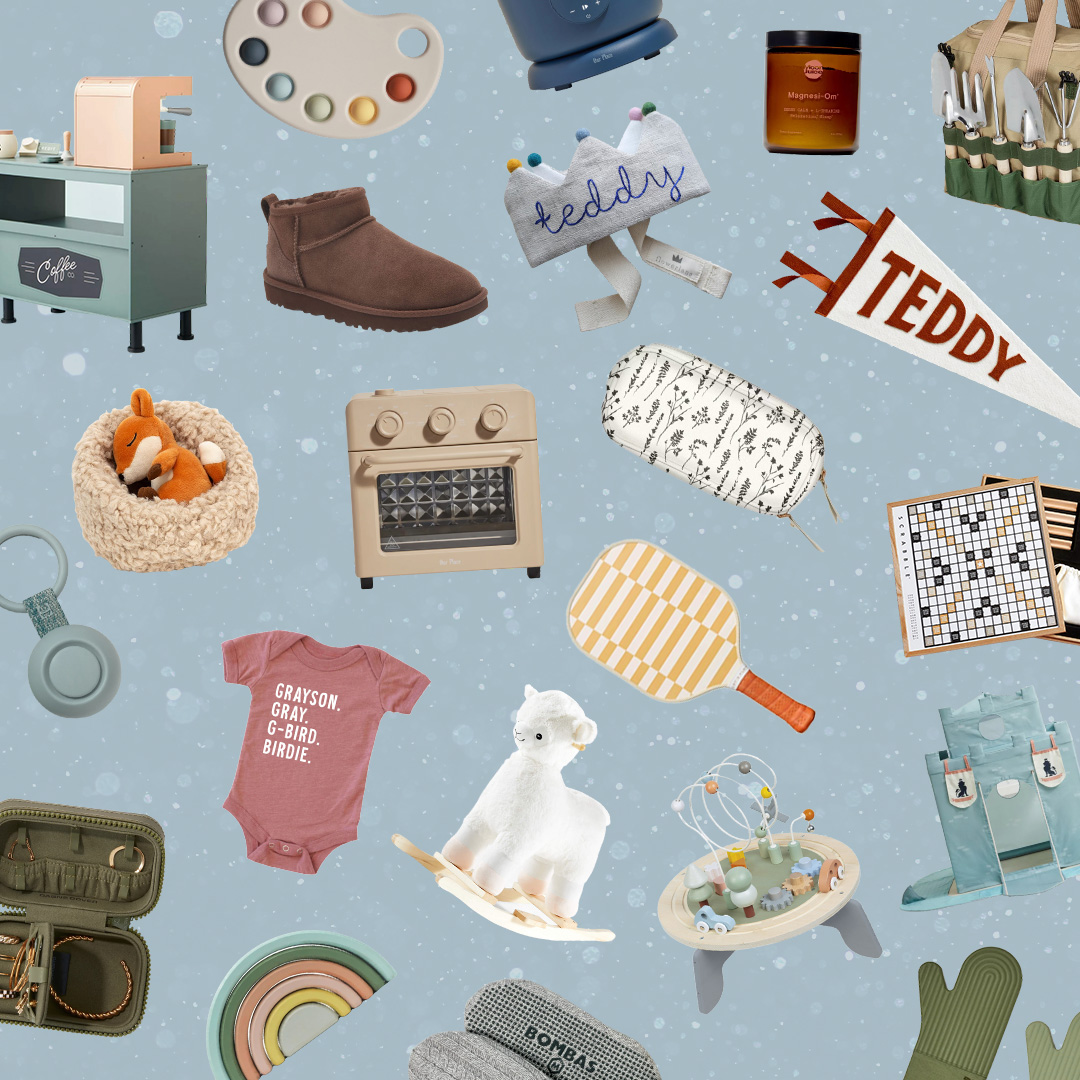 everything you need to ace holiday gifting this year 🎁
I've come a long way since those early car rides, and as an adult, I love road trips. I love them so much that when my husband and I were moving from New York City to San Francisco, we opted to pack all of our belongings and our dog into our car and embark on a three-week road trip instead of flying.
Now that we have a baby, I want to continue our road-tripping ways. I'm not naive. I am aware that traveling with kids can be challenging. Long car rides won't be quite as easy with a little one in the back seat, though I do hope our daughter is a road trip fan like her parents and our dog. Either way, we know that flying with kids has its own set of hurdles as well.
If you're hitting the road with kids this summer like we hope to, throwing poorly packed bags in the trunk and heading out probably isn't your best bet. I've asked seasoned mom travelers to share their best road trip safety and sanity tips. Here are the most popular responses I received.
1. Plan ahead
Prep should begin well before you step foot into your car. Ahead of time, map out rest stops along your route. Whether you need to stop to nurse or to let your kid run around for a few minutes, it will make for a much smoother ride if you know exactly how far away your next potential stop is. Don't try to wing it, and don't go too long in between stops. Better to stop on the early side than to push your luck waiting for the next rest area.
2. Give yourself extra time
Perhaps the overarching theme of motherhood, everything will take longer than you expect it to. Budget extra time for packing up the car, each stop, and the overall drive. Best case scenario, things go smoothly and you arrive ahead of schedule!
3. Time it right
For many, the ideal time start your road trip is right before a nap. Fingers crossed, your little one dozes off as you set out, leading to a calm start to your trip. Bring a noise machine for the backseat to preserve that precious nap while still being able to maintain a conversation in the front seat.
Target
The Everymom editors swear by this portable sound machine. It's perfect for travel or even strapping onto your stroller for everyday walks.
Walmart
At under $20, this adjustable backseat car mirror is great for keeping an eye on baby while driving. Reviewers say it's an ideal size and stays secure, which are major perks.
Target
Keep your LOs protected by the sun during long drives with this portable car window shade that includes a White Hot® heat alert system to indicate when the car is too hot. It has a dual attachment system for a better fit (choose adjustable clips or suction cups) and has a one-push retract button for easy roll-up.
4. Keep things accessible
Avoid digging around the trunk for necessities and keep important items in arms' reach. Think diapers, a changing pad, wipes, extra clothes, burp cloths, toys, snacks, etc. And it's worth reminding you: always pack plenty of extra diapers. You can never have enough!
Walmart
Our editors love all of Skip Hop's baby products and this portable changing mat is one of our favorites. It's easy to open and small enough to stash in the car, plus it comes with a plastic wipe holder and pockets to carry diapers and a change of clothes. The material is also super easy to keep clean because you can wipe any messes right off.
Target
Trust us and buy this "mega value pack" of 720 water wipes, especially for traveling with babies or toddlers. With only two ingredients (water with a drop of fruit extract), these wipes are fragrance-free and hypoallergenic—AKA ideal for sensitive skin.
5. Remember car seat safety
Bulky layers should not be worn in a car seat as it leaves the harness too loose upon impact. Remove bulky layers before strapping your child in and instead use blankets on top if needed. Double-check that the car seat is properly installed and harnesses remain tight.
6. Think about what's in the backseat and trunk
Here's another safety tip to consider when packing your car. If you were to stop short, loose items may move around. Take a look at all items in the backseat and trunk (if in an SUV or van). Think about what items could possibly move and be dangerous for backseat riders, this even includes toys for your little ones (soft ones are best!).
7. Keep everyone entertained
Don't expect one toy to entertain your child for the long ride. You probably played the license plate game as a kid, and while still an enjoyable option, be armed with more. Be prepared with options like sticker and puzzle books, download kid-friendly podcasts or tune into fun Spotify stations (it's OK to admit you love the Moana soundtrack just as much as your toddler!).
Amazon
These Melissa & Doug sticker books are perfect for keeping little ones entertained during long rides and come in several different fun themes from princesses to safari animals.
Amazon
This paperback Look and Find book is recommended for kids age 4+ and includes facts about each animal in the zoo. Similar books with different characters and themes are available on Amazon, too.
8. Pack snacks
Ample snacks for everyone is a road-trip must for kids and parents alike! Always overestimate how hungry you'll be. No one has ever complained of having too many snacks in the car. Also, make sure to have lots of water in a spill-proof bottle.
Target
Our editors love these reusable Stasher snack bags for everyday use (perfect for packing kids' lunches or toting around snacks on-to-go) because they're dishwasher safe and come in several sizes and cute colors.
Amazon
The most important function of a kids' water bottle is that it's spill-proof and this Camelbak one definitely is! Plus it's BPA-free, easy to clean, and comes in several fun colors and styles.
9. Be patient
Don't expect your road trip to be as smooth as it was before your tiny travel companion joined the picture. It's likely your trip will be longer and perhaps more frustrating than you're used to. Be OK with that, have patience, and enjoy the journey.