My husband and I recently took our two girls on a getaway to Florida. Our kids are three and six years old now, and the flight was about three hours. As we settled into our seats on the airplane, my husband and I had a moment where we looked at each other and thought, "Wow, traveling like this used to be so hard."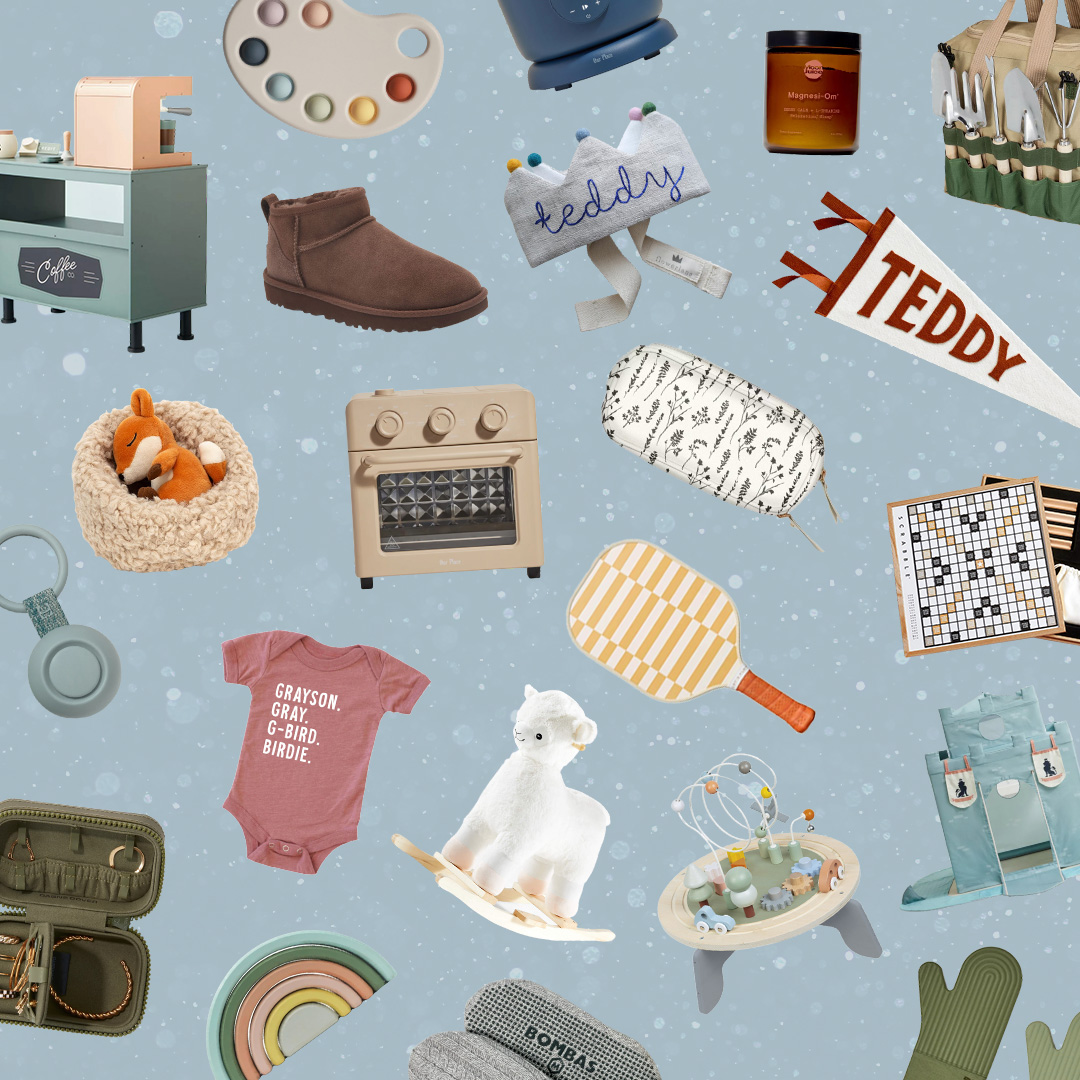 everything you need to ace holiday gifting this year 🎁
Our carry-ons weren't full of diapers or wipes or preparations for every possible scenario. In fact, we had room in each of our bags to spare! It wasn't always like this, however –  traveling with a baby can be pretty daunting.
So, The Everymom team pulled together a list of products we've used and travel hacks that have helped us when flying with babies. From packing your suitcase – and your diaper bag – to getting through TSA security and having a semi-pleasant flight experience, we've got you covered.
Packing Your Suitcase and Baby Gear
Pack enough diapers for one to two days, then buy more wherever you are traveling so you don't have to waste precious suitcase space. Bring your baby's comfort item that can emulate sleeping at home as much as possible – a crib sheet from home and their usual sleepsack help, as well as a lovey for older babies. We always also made room for our oldest's turtle nightlight to help add something familiar to an unfamiliar room.
Our cofounder, Danielle Moss, recommends packing an outfit for each day plus two extras, as well as bringing your babies' toiletries so their skin doesn't react to a new product. When it comes to baby gear, Danielle brings it all. She shared, "I loved having a full-size stroller and car seat and would 100% recommend this. It's the most comfortable and easy way for a baby to travel, and I did not find it even a little inconvenient."
Note, you'll likely have to purchase a separate seat if you want your baby to stay in their car seat for the flight, but both the stroller and car seat can be gate-checked otherwise. Because the stroller can become a helpful carryall and you'll need your car seat for driving anywhere (unless you're borrowing or renting one when you arrive), we'd consider both to be travel must-haves.
Packing Your Carry-On
Here's where preparation becomes paramount for a smooth flight experience. Easy access to the essentials is key: changing pad, diapers, wipes, bibs or burp cloths, blanket, bottles, formula, and snacks. Keep the bottles and formula on top because you will have to take them out of your bag at security. You'll likely want some anti-bacterial wipes to clean off the seat and tray table because your baby will want to touch (and sometimes eat) it all.
Pack at least one spare outfit for the baby, and one for you in your carry-on, as well. We've heard countless stories of moms regretting that step. A water bottle can double as both hydration and a baby toy, but remember to fill it up after you get through security.
Also, pack some other small toys and lightweight books for entertainment. Load up on some podcasts or audiobooks for yourself, in case your little one decides to snooze the whole time (lucky you!). Earbuds are easier to pack and less cumbersome than trying to hold a book or magazine and a baby.
What to Wear
Comfortable layers for both you and your baby work best for air travel. Airplane temperatures can vary between hot and cold all in one flight, as can your temperature if you're pushing a loaded stroller through the airport or trying to furiously calm your baby mid-flight (stress sweat, anyone?).
If you're breastfeeding, you'll want a nursing top that makes it easy to feed your baby in a cramped space. Slip-on shoes will make security easier and a baby carrier is good to have within reach. You can even wear your baby through the security scanners in a carrier.
Getting Through Security
For check-in, note that not all airlines will require a birth certificate to prove a lap child is under 2 years old on a domestic flight, but it's still wise to bring one. It's better to have it and not need it than the other way around, and a copy usually works just fine.
Remember though, even babies need passports for international travel.
Check any large bags or baby gear to make getting around the airport as unencumbered as possible.
When you arrive at security, you can carry your baby through the scanner in your arms or in a baby carrier. Car seats and strollers will need to be put through the X-ray. If they don't fit, they will be manually inspected.
According to the TSA website, baby formula, breast milk, and juice are allowed through security (in a reasonable amount). They are still subject to screening but do not need to adhere to the 3.4 oz or lower rule. You will need to remove them from your carry-on bag to be screened separately from the rest of your belongings.
Additionally, TSA states that ice packs, freezer packs, frozen gel packs, and other accessories required to cool formula, breast milk, and juice are allowed in carry-on. You may also bring gel or liquid-filled teethers and canned, jarred and processed baby food in carry-on baggage.
If traveling internationally, you likely will not be able to bring fresh fruit or vegetable snacks through security, but pouches, purees, and dry snacks should be fine.
At the Gate
Check baby's diaper, then head to the bathroom yourself. If you hit the air travel jackpot and the baby is sleeping on you on the plane, you're not moving for the duration of the flight, so it's best to pre-plan bathroom breaks.
Most airlines allow families to board first, which is helpful to ensure you have overhead space and feel settled. But if your seats are assigned and you have a baby who wants to move, sometimes it's best to split up the duties between parents. One parent can let the baby move and roam outside the gate, while the other gets the bags situated on the plane.
If you're traveling solo, accept help. I've been refreshed by the humanity of helpers that surround a mom traveling alone with children. I've even been borderline embarrassed by a well-meaning good samaritan who essentially pushed people out of the way so I could get my stroller through the gate line to board first.
I still thank her for her effort and try to pay it forward for other moms. We're all in this together.
On the Plane
Once seated, assess your snack and entertainment situation, and ensure you have access to those all-important essentials. If you're baby-wearing, even a sleeping baby will have to be removed for take-off and landing due to guidelines. But, once the seat-belt sign is off, you can strap them back on.
Finally, accept there may be blowouts or throw-ups, tantrums or spills, but preparing can hopefully make for a more pleasant trip.
And remember, if all else fails, hand the baby to their dad. I once read strangers are kinder to a man holding a baby, because, of course, they are.
Traveling with a toddler? Read this.