When she was 20 years old, Allison Evans suddenly began suffering from chronic pain and experienced a loss of motor skills — and her doctors couldn't diagnose the cause of her debilitating health turn. Not knowing what to do or how to help her symptoms, the college student called her Aunt Marilee (more on her later!), a dedicated healthy-living advocate who helped Allison identify that her toxic living environment and chemical-filled body care products were taking a toll on a well-being.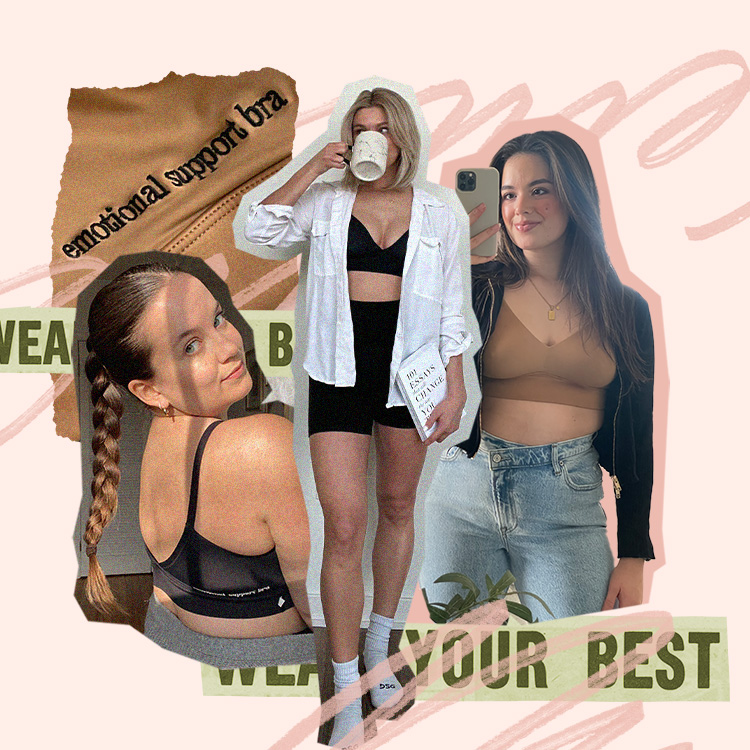 After a lifestyle overhaul, Allison finally found physical relief, healed her infertility, and turned her newfound passion into a business by cofounding the organic cleaning products company Branch Basics. Today, Allison spends her days running a successful business while raising two little girls — a mix she lovingly refers to as "pure, sweet chaos!" Keep reading to learn more about Allison's incredible wellness journey, step inside her busy daily routine, and check out her best working mom hacks.
Name: Allison Evans, Cofounder of Branch Basics
Age: 33
Location: Houston, Texas
Education: Public Relations Degree from University of Texas
Children: Sloane, 2.5, and Frances, 8 months
What was your first job and how did you land it?
My best friend/cofounder, Kelly Love, and I worked at Premier Research Labs in Austin, Texas just after college. We wanted to dive headfirst into the natural health world and had experienced awesome changes using this company's food-based supplements.  
After living in a chemically toxic environment, you were afflicted with chronic pain and loss of motor control. How did that inspire the launch of your company, Branch Basics?
I had no idea that conventional building materials, body care products, and my "healthy" low-calorie diet were full of chemicals that were taking their toll on my body. Then, I went to live with and learn from my aunt (and third cofounder), Marilee Nelson. This experience was truly life-changing, as it opened my eyes to the power of a pure environment and the body's innate ability to heal and reverse chronic pain, illness, and disease. This simple idea of getting back to basics by removing everyday toxic chemicals from my life and personally feeling the "power of pure" inspired us to launch our company. I wanted a mountain and a megaphone so I could tell the world of my experience! 
What's it been like to found this company with a family member, your Aunt Marilee?
It's magical. Marilee is my hero, having pulled me from the depths of chronic pain, helping me heal from infertility. She opened my eyes to my body's physical potential as well as guided me spiritually. She is the smartest woman I know, and being able to call on her daily and grow a company with her is a dream come true. 
How did you grow your product from a prototype to an actual business? What advice do you have for women wanting to start their own companies?
With lots of help and mistakes and perseverance and, most of all, passion! Remain mission-minded or the grind and the valleys will definitely get you. Perfection is the enemy of success because so many people stumble while trying to get it all perfect. Just start somewhere! 
What challenges did you face while starting up your business?
Oh, just the fact that we had ZERO business background or wherewithal! 🙂 We wanted to build an e-commerce business and truly had no leg to stand on beside passion for our mission and message. We faced challenges in the funding, hiring, and — most of all— formulating processes. And without remaining grounded in our mission to help others remove toxins from their lives, there's no way we could have kept going!
In 2015, you took two years to completely restructure your company and your product after discovering your product wasn't aligned with your original values. What have you learned about honest and persistence through that time?
We've learned that there is such freedom in transparency and that picking ourselves up again and again was worth every fall. The cleaning product industry does not require ingredient disclosure, but for us, the ability to have our own formula (versus private labeling which is what we did with our original one) is everything. There were so many days we thought we'd give up; how could we — with no chemistry or formulating background — create our own cleaning product? We were told our standards were too high and that what we wanted couldn't exist. But we kept going, kept believing, and alongside an amazing team of chemists were finally (after 100+ iterations!) able to create our dream product. 
You're now a mom to two beautiful girls — can you share a bit about your fertility journey?
Both of my girls are my little miracle angels. 🙂 I had my period once in 6th grade and then it never came again. As mentioned above, in high school I was diagnosed with Polycystic ovary syndrome (PCOS) — my ovaries were covered in cysts — and told I wouldn't get pregnant naturally. I was put on birth control indefinitely. After switching to a real-food diet (and getting off birth control!), removing all the toxic pesticides, cleaners, candles, etc. from my home, and using only natural body care products, my chronic pain came to an end. Living this lifestyle for just two years, I went back to my OB/GYN to find that my cysts were gone! My second natural period happened in my late twenties, and we conceived our two healthy girls naturally. 
What do people need to know about  PCOS, and how can we as mothers be aware of the disease, prevent it, and heal from it?
PCOS is a hormonal disorder that is now affecting 1 in every 10 women. It shows up in many different forms, but for me, it meant thousands of cysts on my ovaries and being told I wasn't able to get pregnant without fertility treatment. What I wasn't told was that I could do something about it. And what I want to tell other women is that we have more power than we think. Just changing the products we use in, on, and around our bodies every single day can make a HUGE difference for our endocrine health. Many cleaning and personal care products like candles, dryer sheets, lotions, shampoos, etc. contain synthetic fragrances that mimic our natural hormones and wreak havoc on our endocrine system. Same with pesticides used in our homes and in our food. Simply removing these things and replacing with non-toxic products and food can reap HUGE benefits for our hormonal health. 
How did your career change, if at all, when you had your first daughter?
Oh gosh did it change! Branch Basics had been my only baby for years, and overnight, she became my No. 1 priority. I am fortunate enough to live near both sets of parents, so I get help from them, but the truth is, I had to step back from work a lot, and I will never step back in the way I was before children. I am so grateful to be able to work from home, breastfeed on demand, and do most of my work on my own schedule. But there is always a tension between Branch Basics and babies, and I honestly haven't found that sweet spot of managing it well. It's important to me to keep my girls home as much as possible, but I am also so passionate about my work and the mission of Branch Basics. So, how do I handle it? Not perfectly, but we working moms are all just doing the best we can every day, right!?
What does your family currently use for childcare? How did you decide that situation was the right fit for you as a working mom?
When we became parents, it was important for us to be with the kids and keep them home with me as much as possible. Thankfully, our company is in a position that has allowed me to work part-time during this season while my girls are so young. My role is very social-media focused, so many times mommying and working overlap, as I share health tips and tricks throughout my day. We put Sloane in school Monday-Wednesday mornings and hired a precious woman named Rita to care for Frances during those mornings. If Frances' naps allow, she cleans the kitchen, does some laundry, and helps prep for dinner. My mom and mother-in-law are also in town and will help with Sloane sporadically throughout the week. For us, the weekends are for family, especially for my husband who craves time with his girls and doesn't see them much during the weekdays. We have learned to be OK with what this can mean: laundry and emails pile up, the house is disheveled, and our social lives are put on the back burner! It's a season of total chaos, but we wouldn't have it any other way. 
Can you walk us through your daily routine?
Oh geez. These days with an almost 3-year-old and an 8-month-old are pure, sweet chaos! Frances is my alarm. She usually wakes up around 6:15am and I bring her into bed for milk and cuddles. (I nurse her twice during the night, so I'm usually dragging a bit in the mornings). By 6:45am, Sloane starts calling "MAWW-MAYYY!!" from her crib and we all head downstairs, me usually carrying them both per Sloane's begging. 🙂
Between 7am and 7:30am, my husband, Will, is off to work. During this time, I make breakfast for Sloane and me, put Sloane's lunch together, and pump to increase my milk supply. Our household helper, Rita, arrives at 8am and I take Sloane to her Waldorf school down the street. From 9:30am to 11:30am, I work and join Branch Basics conference calls, record podcasts and videos, and take pics for the brand's Instagram. At noon, I eat lunch (hello leftovers!) and pick Sloane up from school. Rita leaves at 1pm and I put Sloane then Frances down for naps. 
I then use this unknown amount of nap time to catch up on as many emails as I can as well as throw veggies in the Instant Pot for dinner. Later in the afternoon, from 4pm to about 5:30pm, I go on a walk with both girls, usually stopping at the park and an organic juice spot. Then comes the craziest part of my day: dinnertime. I put Frances in the highchair with some sliced cucumbers or steamed carrots/peas (we practice baby-led weaning so she feeds herself solids) and elicit Sloane's "help" in the kitchen while I put dinner together. 
Will gets home at 7pm, eats his dinner, and plays with Sloane while I put Frances to bed. Around 7:30pm, Will and I both put Sloane to bed. After that, from about 8:30pm to 10:30pm, I finish any work I need to and read parenting books (currently, The Montessori Toddler). Just after 10:30pm, I nurse Frances and head to bed until her next feeding at 4am!
What are some of your favorite activities to do with your kids or as a family right now?
Going to the park and watching my fearless toddler climb, hang, and slide while my baby sleeps on me is one of my favorite things. I also love how curious and independent my 2-year-old has become, so I try to lean into that by allowing her freedom in the kitchen. She "prepares" dinner and is so proud of her creations! As a family, we adore time spent at my family's place in the country, hiking, feeding the horses, and relaxing. 
How do you and your husband divide parenting roles? How has parenthood changed your marriage?
He is the world's best dad. He happened to be in between jobs when our baby arrived, and he did everything but nurse her! I tend to be the one to handle grocery shopping and meal prep, but he's quick to clean up our mess while I nurse, nurse… and nurse! (Something I've done for over two years non-stop!) Our marriage is so different since we became parents. We live and breathe our children, and we wouldn't have it any other way. We don't like to travel or be away from them for more than a night or two and admittedly are bad at carving out alone time for ourselves. It's something we need to work on! 
When it comes to motherhood, what are you most confident about? What are you still insecure about?
I am most confident in how much of myself I give my girls. Next to my husband, they are my everything, and I am always trying to learn and grow in my role as a mother — everything from how to best discipline to what type of education system we think is best. There are times every day that I am insecure in my parenting: how do I handle this tantrum? This food pickiness? This sickness? I think it's normal and healthy to question ourselves as moms because it forces us into a place of humility and openness to learn from others and lean on our faith. 
How do your daughters inspire you, in your career or otherwise?
My toddler is absolutely fearless, full of life and independent. She puts things into perspective for me every single day. The little cares I used to get hung up on hardly have space in my head when I witness her belly laughing over something like blowing a bubble! She also keeps me on my toes because I know everything I say and do will be repeated in some form or fashion! 
If you have to choose just one, what's been your favorite moment from motherhood so far?
Well, I can't choose one, because I have two babies. Hearing their little cries as I pulled them up to me for the very first time (I chose to have natural home births) have been the most life-changing, amazing, miraculous moments of my life. 
How has your career path shaped how you parent? Do you find any skills from motherhood are helping your job now?
We have been through very difficult times as a company, and there were days I didn't think we would survive. So it is with motherhood. I have found that in both, it is all just a season, and after a stint of sleepless nights and daunting days comes the breakthrough and the best of days. 
What's next for you and Branch Basics?
For me, just adapting and growing into the next seasons of life as a mom and business owner. It's always changing, and that's what keeps life interesting. For Branch Basics, we are always working to make our customer experience better and better, create new content and creative ways of sharing it with as many people as we can, as well as expanding our product line. Our standards are incredibly high, so adding to our current products is a slow process but always worth it in the end because we are so proud of everything we offer. 
Can you share with us three mom hacks you rely on to make things work in your day-to-day life?
1. Buying as much as I can off Amazon. From supplements and diapers to bulk nuts and organic onesies because I truly have no time to run errands these days! 
2. Having Rita, our household helper, wash, chop, and cook vegetables. If her time allows, of course, but it makes my dinner prep so much quicker and less stressful. (Sloane always wants dinner an hour ago!)
3. Using the Instant Pot! I usually use it at least twice per day, sometimes much more! Hard-boiled eggs, a whole chicken, any veggies, a pot of rice, and beans… the machine is always working for me in the background while I play with my kids or answer emails.
Allison Evans is The Everymom…
Favorite Branch Basics product? The Laundry Bottle because it reminds people of my favorite use 🙂
A secret talent you have? I can swallow about 12 supplements at once. I can also smell someone's dryer sheets on their clothes from across a room!

The last book you read? Heartfelt Discipline

A woman you'd love to have lunch with and why? Katie Wells (WellnessMama.com) because she inspires me so much as a mom and health advocate

Weirdest pregnancy craving? Kombucha all day every day

Most embarrassing mom moment? Looking out my bedroom window as I pumped milk to find the young cable guy staring at me, merely three feet away, wide-eyed and forever changed, haha!