For many parents, time slows down to a painful creep during the hours between dinner and bedtime. Known by many as "the witching hour," it tends to be marked by fussiness for no apparent reason. Some days, it feels like it will never end.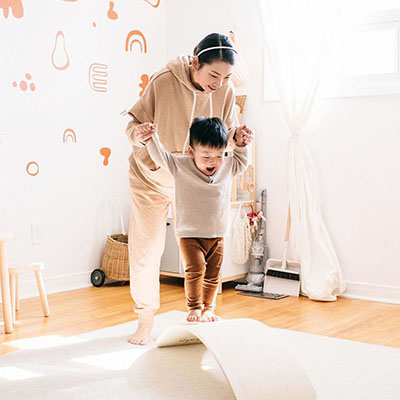 If your kid is turning 2, get ready for hilarious conversations, much more involved play, and lots of sweet, sloppy kid hugs and kisses. As for what you'll need? Leave that to us.
One of my favorite cures for the early evening chaos is bath time. There's something about the water that settles my kids and helps them transition into a peaceful pre-bedtime mood. Of course, not all kids love the bath, but there are a few essentials to help make it a place that everyone can enjoy at the end of the day. To help make bath time the best it can be, we're sharing five of our favorite bath time essentials for kids—read on to check them out.
The first thing on my mind when it comes to bathing a toddler and a preschooler (and soon-to-be newborn, too) is finding a natural and gentle shampoo and body wash that I can feel good about putting on their skin. All Burt's Bees Baby bath care products are specifically formulated for baby's sensitive skin so it's gentle enough to use across all ages—from newborn on. That's one of the many reasons I love Burt's Bees Baby Calming Shampoo & Wash: it's a natural formula made without phthalates, parabens, petrolatum or SLS, so I don't have to worry about what's in it.
Plus, it's a 2-for-1 product perfect for baby's body and hair—did I mention it's a tear-free formula?—making it one less thing I have to remember to stock up on for bath time. The calming blend of vanilla and lavender scents is my favorite way to ease my kids into relaxation after a long day and before bed.
Burt's Bees Baby
A gentle and natural formula that is tear-free and specifically formulated for baby's sensitive skin.
Use code EVERYMOM15 for 15% off your first Burt's Bees purchase!
2. Non-Slip Bath Mat
Along with ensuring I'm using gentle and natural products on my kids, keeping them safe during bath time is at the top of my priority list. When my daughter was about 10 months old, she loved practicing her budding balancing skills by standing up during bath time. We quickly put a stop to that habit, but a non-slip bath mat was a must have during that time, and it remains a must-have today, as kids can still slip and slide when sitting down.
Target
This non-slip, textured bath mat has suction to keep it in place and help keep baby and kids safe during bath time. Comes in two cute colors.
3. Bath Spout Cover
Sticking with the safety theme for a second, I can't say how many times I've been thankful to have this bath spout cover save the day. With a preschooler who loves to splash around in the bathtub (with less attention to his surroundings than I'd like), a bath spout cover has prevented a number of would-be head bonks. If you don't already have one, go ahead and add a bath spout cover to your cart—you won't regret it.
Target
This tough rubber bath spout cover does wonders to help protect baby and kids during bath time.
When it comes to wash cloths and bath towels for babies and kids, the material matters. It needs to be soft enough for their delicate skin, yet durable enough to clean up their major messes. Burt's Bees Baby organic washcloths are a hands down favorite in our house because the knit terry material is the perfect combination of super soft and absorbent, making it ideal for scrubbing the most sensitive of skin. And while sometimes super soft can also mean pilling, holes or not holding up after a few washes, that's not the case with Burt's Bees Baby wash cloths. These have been on a regular wash cycle in our house for a long time and are still in as great of shape as when we first bought them.
Often, we only think about organic when it comes to soaps and lotions that we put on our kids' skin. But organic also matters when it comes to other products that touch our kids, too, like wash cloths, towels, sheets, and bedding. These 100% organic wash cloths are GOTS certified, meaning they have met specific criteria that limits the use of toxic bleaches, dyes, and other dangerous chemicals during the production process. I feel good about using Burt's Bees Baby organic wash cloths on my kids knowing that they've met the very highest of international organic textile production standards.
Burt's Bees Baby
Super soft and absorbent, these wash cloths are gentle enough for the softest skin and tough enough for even the messiest of kids. Comes in many colors and patterns.
Use code EVERYMOM15 for 15% off your first Burt's Bees purchase!
5. Boat Bath Toys
The best bath time needs to be two things: safe and fun. While some bath toys have gotten a bad rep for collecting mold or other dangerous bacteria, these boats are easy to drain so they don't harbor any still water to collect bacteria. Bonus: they double as pool, lake, and beach toys, too. With three boats, no one is fighting over who gets to play with them—it's a win for everyone.
Amazon
Purchase this toy boat trio that includes a sail boat, speed boat, and fire boat made with food-grade durable plastic. Plus, they're easy to drain of water when bath time is done.
This post was in partnership with Burt's Bees but all of the opinions within are those of The Everymom editorial board. We only recommend products we genuinely love.