A woman's breasts can experience a wide array of changes from pregnancy through postpartum. For many women, the very first symptom of pregnancy can even be breast tenderness. And while that might be the first sign that motherhood is about to change your world, the physical changes that your breasts undergo are just beginning.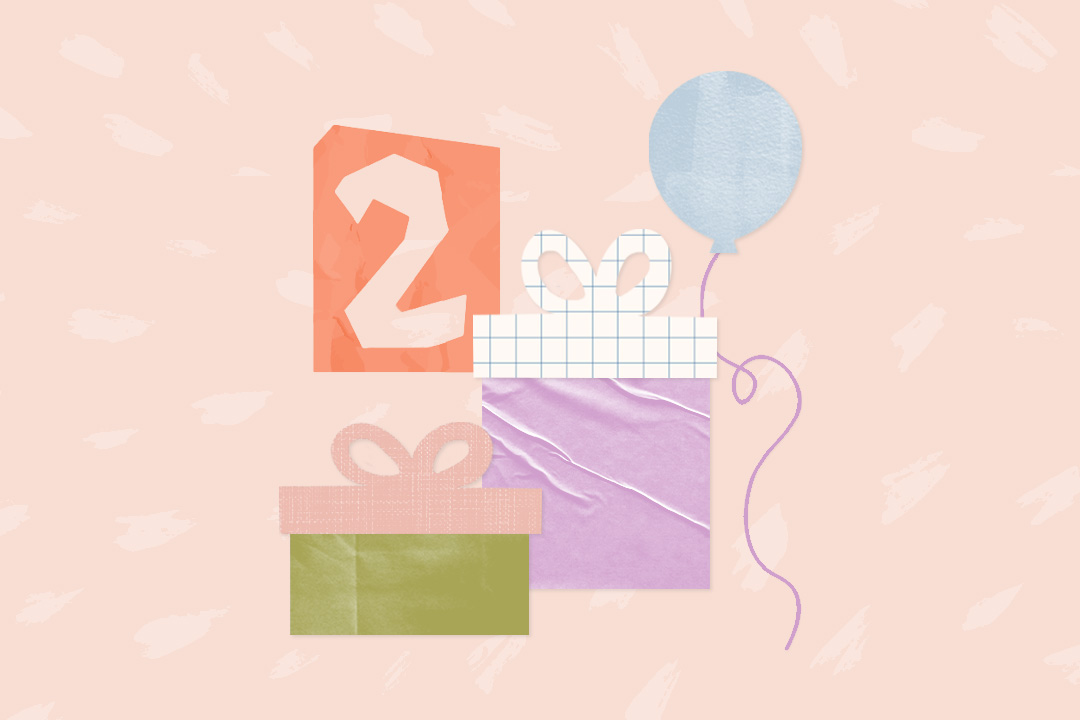 a LO in your life will love these! 🎁
As your body is flooded with hormones, your breasts can experience any (or none) of the following symptoms:
Growth from weight gain and an expanding rib cage

Increased sensitivity as milk ducts fill

Itchiness from skin stretching out

Color changes, including the color of the areola and the veins in your breasts as blood flow increases

Colostrum leakage
All of these changes are preparing your body to breastfeed your child, should you choose to do so. In the meantime, they can make you extremely uncomfortable. The first step in easing that discomfort is to find the best bras to support your changing breasts from pregnancy to postpartum. Here are some things to consider when looking for maternity, nursing, and postpartum bras:
Maternity Bras
The goal of maternity bras is to support your breasts as they grow heavier and to provide you some comfort as your body changes. This is often done through comfortable, breathable fabrics and extenders that allow you some extra room to grow without frequent bra purchases. Here are some additional considerations when shopping for the best maternity bras:
Comfort is king
"It is so easy for moms to put their comfort last, and I always try to remind them that they matter; their comfort matters," said Denise Smith, the resident "Fit Fairy" at Kindred Bravely, a maternity and nursing apparel line. She recommended maternity bras that are comfortable enough for an afternoon nap but supportive enough to wear throughout the day. Smith also suggested stretchy fabrics that accommodate growth.
Listen to your changing body. If you begin to experience increased sensitivity, look for bras made of gentle materials like cotton. If you feel more back pain as your breasts grow, look for wider and more supportive straps.
You can also skip this step
Many women opt to skip maternity bras completely and just jump headfirst into nursing bras. Finding a true maternity bra that doesn't have drop-down clips, a defining feature of nursing bras, is extremely difficult. If you do choose to skip maternity bras but start to outgrow your regular bras early in your pregnancy, consider sizing up in the regular bras that you already love. Alternatively, you can purchase a band extender that will give your regular bra's band a bit more room to grow as your rib cage extends.
Our Favorite Maternity Bras
Proclaim
Made of super-soft and stretchy Tencel™, this pullover style bralette is designed for everyday comfort.
Sizes: S - 3X
True & Co
A pullover style and wire-free bra is comfortable enough to wear all day.
Sizes: XS - 2X
4 colors available
Nubian
Made of organic cotton, this bralette can be a good option if your breasts are experiencing increased sensitivity.
Sizes: 30B - 38F
4 colors available
Nursing Bras
Nursing bras are similar to maternity bras in that they prioritize comfort and support, but now you have the added benefit of easy access to the breasts for nursing or pumping. This access is usually through the use of drop-down clips that fasten the outer layer of fabric to the strap area of the bra or through a wrap style that can easily be pulled aside to expose the breast. Read on for a few more tips to find the best nursing bras.
How many nursing bras should you buy?
Smith recommended having at least three nursing bras on hand. "We recommend three nursing bras—one to wear, one to wash, and one to spare. [Breast] leaking and spit-up are going to happen! Having a backup ready to go will save you from having to do another load of laundry."
Make your nursing/pumping bra multitask
Nursing, pumping breastmilk, or pumping to increase your milk supply take a lot of physical and emotional effort. If you're nursing, you will have to feed your baby every few hours around the clock in the beginning of their life. If you're using a traditional pump, you will need to plug the pump into the wall, attach all the flanges, tubes, and storage containers, and then hold the breast shield up to your breasts as the pump works every few hours.
Luckily, there are ways to make pumping easier. Multipurpose bras, which have extra layers of fabric to support the breast shield and storage container, can be used to pump hands-free (if you're using a traditional breast pump). The extra fabric can make the bra a bit more bulky, but it gives your hands the freedom to answer emails or make dinner.
We recommend three nursing bras—one to wear, one to wash, and one to spare.
Krystal Duhaney, a Registered Nurse, IBCLC, and owner/founder of Milky Mama, a leading lactation and breastfeeding support company, stressed the importance of a comfortable and not-too-tightly-fitting bra when nursing and pumping. She warned that you may have to massage the breast during nursing or pumping sessions, and unrestricted access to the breast is crucial.
If you opt to use a pump like the Elvie or Willow, which boast sleek, cordless styles that allow the pump to nestle into your bra, you'll have to consider that when purchasing your bras. The wearable design means you may need to size up to allow the pump to fit comfortably inside your bra and work properly.
Proper fit is key for breast health
Duhaney advised that "your breast health and comfort are the top priority when selecting a nursing bra." In order to best avoid breastfeeding complications like mastitis, clogged ducts, or issues with your milk supply, Duhaney suggested a professional bra fitting for your changing breasts and making sure that your nursing bra is wire-free and not too tight, which can put pressure on milk ducts.
Don't forget that even though you've become someone's mother, you're still allowed to feel confident in your body at all stages. If you're looking for a stylish nursing bra, there are options that are sexy while still comfortable and efficient.
Our Favorite Nursing Bras
Postpartum Bras
Now that you've made it through pregnancy, birth, and breastfeeding, you might be ready for your breasts to go back to normal. Actually, think again. The last curveball in this journey is that your breasts will probably not go back to "normal."
Like with most things surrounding motherhood, your breasts will experience a "new normal." They might not be as perky or as full as before, or they might be fuller. Your post-breastfeeding body is now the body you have to support.
This stage of the journey will send you back to middle school when you were first discovering the basics of bra-wearing. In addition to the basics—like the band of your bra shouldn't be so tight that you can't breathe and the straps shouldn't be falling off your shoulders—there are some more detailed suggestions to consider when finding a well-fitting bra after the baby is born.
Support for different breast shapes and sizes
The shape of your breasts is determined by where your breast tissue is located, which can change after babies. Differently shaped breasts are supported by different styles of bras. If you notice that your breasts have changed shape after pregnancy or breastfeeding, consider new styles.
For example, large, round breasts that can cause serious back pain benefit from fuller coverage style bras (think T-shirt bras) with thicker straps for support. On the other end of the spectrum, a bell shaped breast that doesn't sit as high and has a larger concentration of breast tissue on the bottom can benefit from an underwire style that supports the chest from below.
In addition to shape, your band size can also change. Remember, your rib cage expanded and your body grew to create a home for your baby. Snugly wrap a measuring tape around your rib cage. Round down to the nearest even number to determine your new band size.
Understand sister sizing
Keep in mind that the measurements and the size you determine yourself to be are not set in stone. Kim Caldwell, an undergarment educator and self-love coach, stated that understanding sister sizes for bras may help you find your perfect fit. She explained that "calculating your sister size is the result of changing the band size, which then affects the cup size. This basic knowledge will help you change bra band sizes and know how to adjust the cup size in order to get the fit you're looking for."
The cup size of a bra is relative to the band size, meaning that a size 40C bra cup does not have the same volume as a 34C bra cup. Based on materials and styles, you can be different sizes in different bras. Caldwell said that the basic rule of thumb is "up in the band, down in the cup or down in the band, up in the cup."
However, Smith advised women against using sizing charts exclusively when purchasing bras since there are no industry standards on bra sizes. "Bra sizing is more of an art than a science. How a bra fits and feels is so much more important than what the size chart says." Use size charts as a jumping-off point, then let your comfort guide you to a perfect fit.
Our Favorite Postpartum Bras and Bralettes
Third Love
Third Love's OG, the T-shirt bra comes in half cup sizes for a perfect fit.
Sizes: 32A - 44H
10+ colors available
Soma
Can you say comfy? Pamper your postpartum breasts with this super soft bralette with unlined and wireless cups.
Sizes: 32A - 42DDD
10+ colors available
How to best care for your bras
Don't forget that purchasing the bra or bralette isn't the last step. Proper cleaning and care of your bras will increase their longevity. Smith said, "Factors that impact the life of a bra include how large your cup size is (bigger busts stretch and wear out bras sooner), how often you wear it (spandex needs time to bounce back—bras must be rotated for optimal life), and most importantly, how you care for it (hand wash/line dry)."
Choosing a bra that makes you feel good
Above all else, experts recommend the bra that makes you feel comfortable and supported, both physically and mentally. Here are some tools and tips to help you find the most comfy and properly fitting bra for yourself:
Take a look in the mirror and

determine your breast shape

. Understanding your breast shape will help you determine what kind of support your chest needs.
Make sure you're using your arsenal of weapons before deeming a bra to be the wrong size. Bend over when you hook the bra clasps to ensure the cups are filled. Adjust straps so that they stay in place but don't dig into your skin. Make sure you can only fit one finger between the band and your skin.
When you first purchase a bra, it should fit best on the loosest hook. As the bra ages, it will naturally loosen, and you can use the tighter hooks for a better fit.
If all of this is overwhelming and sounds like something you would like to outsource, Nordstrom, Victoria's Secret, and Soma Intimates provide free bra fitting services.