As you continue to do your part to support the Black Lives Matter movement, you might be finding your Instagram feed isn't as diverse as you'd like it to be. In order to adequately educate ourselves on the different cultures, interests, and voices of those around us, it's important to pay attention to who you're following and perhaps add a few more accounts and perspectives to your list.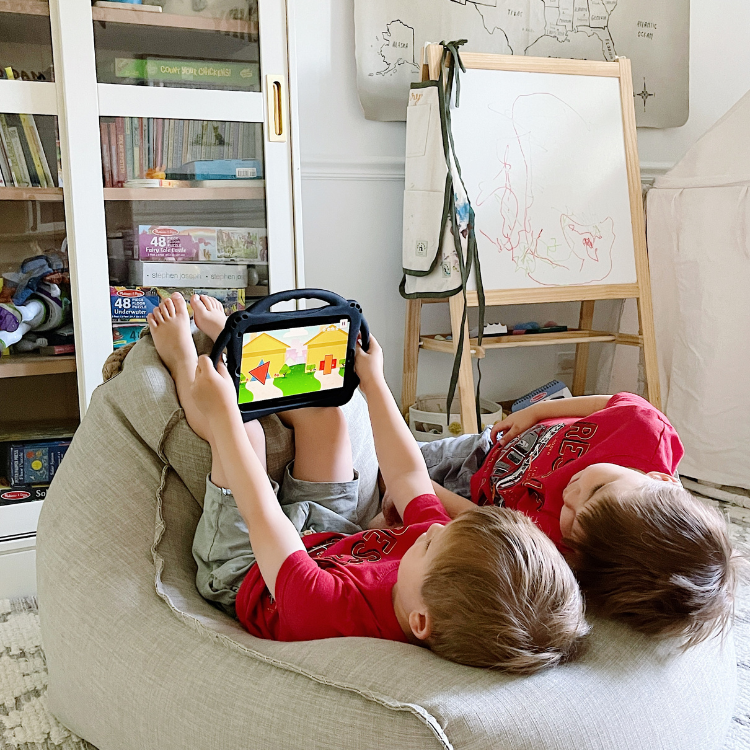 a pediatrician shares what she *really* thinks about LOs and screen time
If you're a mom (or not!), we encourage you to follow these smart, successful, fashionable, and endlessly talented Black mamas on Instagram. From influencer business coach Matties James and photographer Karris Farris to style maven Bev Adams and DIY-er Shakira Patterson, check out these impressive moms below—and give them a follow too!
Mattie is a mom of three who works as a full-time influencer and content creator. She also coaches other influencers on how to run their business—check out her Influencer Business Plan here!—and successfully promote their brand online through social media. Follow her for expert business advice and a raw and honest look into the life of a busy, working mom.
Mom-of-two Kariss—with another on the way!—is based in Dallas and works as a blogger and photographer. On her blog, she often writes about DIY projects, home decor, being a working mom, and her experience parenting two young kids. She also writes inspirational daily devotionals on her Instagram and is candid about the role faith plays in her family's day-to-day life.
Amara is a motherhood, beauty, and fashion blogger whose love of positivity and happiness radiates from every photo posted to her Instagram. Based in Norway, the mom-of-two often writes about the power of positive thinking and mindfulness, how to find motivation in daily life, and how to practice gratitude. If you're a fan of color and bold patterns, you'll want to copy her fun yet mom-friendly style too.
This Florida-based mom-of-two is a blogger and photographer. On her blog, she writes about motherhood, kids' style, and "mompreneurship," AKA her advice and favorite resources for being a working mom running a business. On her photography Instagrams, @chrisitinajonesphoto and @colorjoystock, she works with female-led lifestyle brands to provide stunning stock images primarily featuring Black women.
Mom-of-two Onyi is not only a successful motherhood and lifestyle blogger, but she also works as a Physician Assistant. With a jam-packed work schedule and parenting her two boys while her husband works out of town two weeks per month, Onyi juggles it all like a pro but always keeps things real for her followers on Instagram.
If you're looking for workwear and maternity fashion inspiration, then look no further than Bev's account. This mom-of-two—who lives in Columbus, Ohio—is a lifestyle, fashion, and motherhood blogger who puts together the most gorgeously-styled looks for nearly every occasion on her blog and Instagram.
A new mom to baby girl London, Enocha is an LA-based blogger who writes about all-things lifestyle on her blog, Locks and Trinkets. We especially love following her for her interior design style (how cute is little London's nursery below?!), fashion, and travel content. She's also the creator of the online shop Locks & Trinkets, which features one-of-a-kind, vintage pieces from all over the world that have been up-cycled or re-designed.
Laura is another working mom based on Columbus, Ohio who uses her Instagram and lifestyle blog to have open and honest discussions with her followers about motherhood, marriage, and mental health. If you're a mom looking to follow someone who always keeps it real when it comes to the ups and downs of parenting, then Laura is your go-to gal.
https://www.instagram.com/p/B9dLT1UptFo/
Shakira —a mom-of-two with another little one due next month!—calls herself the "memory making mama" because of her love for parties, holidays, crafts, and DIY. Her Instagram and blog, Occasions by Shakira, are filled with adorable ways to bring magic to everyday activities with kids that are sure to inspire you to do a little DIY'ing yourself.
Denise is an NYC-based mom who often posts about self-care, wellness, and homeschooling her two young kids. She also works as a doula to provide birthing and postpartum support to other moms. Follow her for more on her work, a look at her awesome style, and what it's like to raise little ones in the Big Apple.
Jessie is a Chicago-based blogger and mom to a toddler son who, in addition to sharing candid looks at her everyday life as a busy mama, loves posting cooking demos and cocktail recipes. She's additionally one of three women behind The Marketing Greenhouse, a marketing agency helping budding businesses amplify their work.
Noelle is a mom of two, a military wife, and a blogger based in North Carolina. Follow her for an honest and unfiltered look at raising military kids, how to coordinate cross-country moves, how to handle deployments as a family, and so much more.