After years of working in Chicago's catering and marketing industries, Ashley Ortiz decided to combine her love of food, design, antiquing, and event planning and open a restaurant with her husband, Rick Ortiz, back in 2012. Fast forward to today and Antique Taco has expanded to three locations, and Ashley manages a team of 75 employees (among a lot of other things!) while raising two adorable little girls, Scout and Luna, in the Windy City.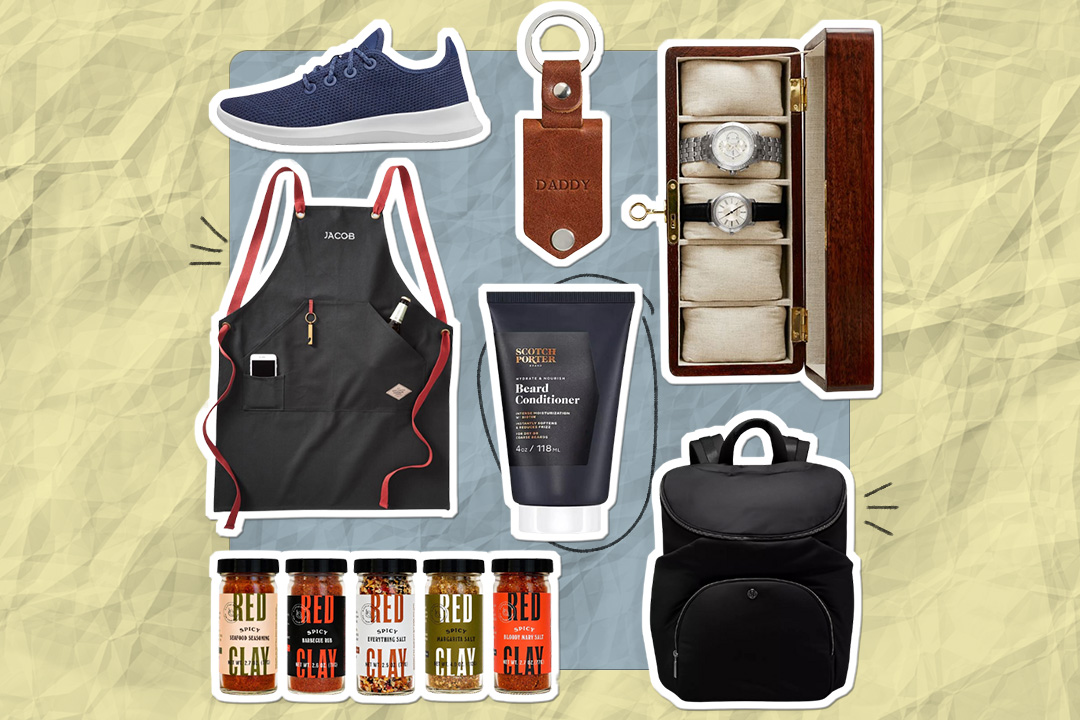 june 18 is coming up fast — have you started shopping yet? 😎
During our conversation with Ashley, the working mom candidly opened up about what it's really like running a business with your spouse, why she's fostering a love of antiquing in her girls, and how she specifically designed the Antique Taco restaurants with other moms in mind. Keep scrolling to check out an inside look at Ashley's typical workday, find out how she manages child care for her girls, and see why she can't wait to take a family trip to Greece!
Name: Ashley Ortiz, Creative Director at Antique Taco
Age: 37
Location: Chicago, IL
Education: Communications Degree from Illinois State University
Children: Scout, 5, and Luna, 2 
You and your husband, Rick, are restaurant owners! Tell us about how you got to this point in your career.
When I graduated from college, I really wasn't sure what I wanted to do, but I really loved design and event planning. I started doing window design and working at the Merchandise Mart in Chicago, and that was a really great, creative outlet. After that, I worked at Nordstrom in the visuals department. I learned a lot about displays and setting up windows and creating a feeling — you're hoping people react in a certain way when they pass by — which I now do a lot with our restaurants. 
I've also worked as a server in the restaurant industry since I was about 15 years old — waiting tables has always my side hustle. The food industry has always been a big part of my work experience, but after college, I thought I had to focus on finding a career that matched my degree. After Nordstrom, I worked at a radio station as a marketing assistant. I was really just trying to figure things out. I really wanted to plan events, and the more research I did, the more I realized that work was related to catering. Often times, a caterer will also order tables and linens and help with decor, and I loved how that work mixed the food industry with creativity, planning, and design. 
Next, I worked at Soldier Field as the catering director. I was totally under-qualified for the position — someone was going on maternity leave, and she never fully came back. I was really just learning on the job. I was planning huge, $50-60,000 parties. Soldier Field is where the Chicago Bears football team plays, but they also host a lot of private events on non-game days, and I was in charge of hosting huge corporate holiday parties or galas. During that time, I kind of looked in the mirror and was like, "How did I end up here? I'm so not qualified for this right now!" But it was a really good experience for me. I've always had a strong work ethic, and I just figured out how to get the job done and do it creatively and people really liked that. I also met my husband while at this job — he was the executive sous chef. He's helped me so much when it comes to learning about cooking and understanding the behind-the-scenes aspect of planning events. 
My husband, Rick, always wanted to open a restaurant, and I always wanted to do something on my own — though I wasn't really sure what that would be — so a month after we got married, we decided to leave our jobs. We never took a honeymoon, and we wanted to travel, so we spent a month in San Miguel, Mexico. We also went to London, Italy, and Paris  — we went all over! While we were traveling, people told me I should start a blog, and after working 60-hour weeks for so long and then suddenly having a bunch of time off, I realized I needed a creative outlet. So, while we were in Mexico, we were trying to come up with a blog name and came up with Antique Taco and that stuck. We didn't intend for that to become our restaurant name — it was just two words that described our travels and the fun things we were doing. 
We opened our first Chicago restaurant in 2012, and three years ago, we opened our second location. We also recently opened a third Antique Taco location in Revival Food Hall! 
Can you walk us through your typical day at work?
As an owner, you often have the things you want to do and then the things you have to do. At this point, with three restaurant locations — we're also in the Chicago White Sox stadium, so that was something new this year! — I still have a big hand in the events we plan including food truck nights, farmer's markets, a kids' market, and a car show. I'm always looking at our calendar and trying to figure out how we're going to promote events, what needs to get done with planning, and I spend a lot of time reaching out to local artists to help with our Antique Taco marketing materials. I also run our social media accounts.
We meet weekly with our teams at each location to review numbers, look ahead, and deal with staffing issues. Staffing is such a big part of the business — we've grown so much and now have 75 employees. We're always trying to find the right people and put the work into training them really well and working productively with our managers. A lot of the things that Rick and I do, funnily enough, is taking care of the maintenance of our restaurants. We have to make sure everything is working properly and our primary job is to make sure everyone else can do their jobs.
We handle everything from setting up health insurance for our employees and making sure we have sick pay to making sure the toilets are working. Everything we do is to make sure we're providing a good working environment for our team. Our work changes all the time, but a lot of things I take care of are financial-based — I look at our numbers every day and make sure we have enough money in the bank account to make certain decisions like buying a new fryer. We also work hard on making sure the culture of Antique Taco is strong — we'll always continue to educate ourselves and educate our team on new things. No one taught us how to be owners or know the answer to all the questions that come to us on a daily basis, but we are the type of people who will always continue learning and figure things out and make things better! 
What is it like working with your spouse? What perks and challenges does that situation come with?
When we met, we really connected on many levels and would often host parties at our apartment and our friends would always say, "You guys should do something together, you're both so creative." The food element is, obviously, such a big part of throwing a party, and the fact that I had a personal chef who could bring my vision to life was so exciting. We had so much fun planning things together and having experimented with the menu when we worked at Soldier Field, being able to run with our ideas gave us so much confidence. 
Opening a business together is… kind of weird. Sometimes when I talk to my friends, I think, "Oh, so in the morning, you and your spouse leave for work separately and then when you come home you talk about your jobs and your day?" That's such a foreign thing to me! We are so immersed in our business and our lives. Since I was working with Rick when I met him, it's almost like we don't know any differently — we've always had this lifestyle. It comes with some challenges. It's hard to turn off work mode, and we talk about work all the time. But I justify it because we're in the food industry, and food is not something you turn off — our work is more of a lifestyle than just a job. It's definitely not a 9 to 5. We love food and love this industry and the life experiences that come with going to restaurants. 
How did your personal passion for antiquing play into your restaurants' decor?
It wasn't something that I grew up doing — I never went to antique stores or flea markets when I was younger. But while I was styling events through work, I started using vintage props and items in displays. I always seemed to gravitate towards an older, rustic, farmhouse look, especially when I was planning weddings and parties, and it became really clear that my husband and I both really loved that style. When Rick and I were running our little catering company before opening our first restaurant, we realized that it was better to start buying antique decor than renting the items, so we started going to flea markets and picking things up.
We got to know a lot of antique dealers in Chicago and got lots of good deals on items and started collecting. When it came time to come up with a concept for our restaurant, we knew we wanted to pair our food with an antique feel. I think when you go into a lot of fast-casual restaurants, they can seem sort of sterile — a lot of metal tables! — but we thought vintage and antique decor really gave things a warmth that we wanted for our restaurant. We're still very passionate about collecting and do all the decor buying for our restaurants. 
You and our husband are parents to two young daughters! How much do Scout and Luna know about your work?
It's funny, just a few months ago, I was asking Scout, "What do you think dad and I do when we go to work?" And she said, in a very clear-cut manner, "Dad cooks and you clear the tables." In theory, we definitely do that, and we certainly did it a lot when we first opened. Scout understands what the restaurant world is like, and we bring her to our restaurants often. Luna gets it too, but Scout has been more immersed in our work since she's older. 
My girls have definitely inspired me to think differently at work. Even designing the flow of our restaurant, for example, I now think about what that feels like for someone coming with a stroller. What I love about our restaurant is that it's fast-casual dining. When I think about bringing the girls somewhere, I always worry about them lasting through a seated meal. At Antique Taco, you order at the counter and pay, and if things go crazy with your kids, you can leave! It's a really great set-up for families and parents of young kids. 
When it comes to the decor and design of our restaurants, they are definitely going to grow up with childhood memories of antiquing — we always bring them along! Often times we go on road trips to Wisconsin and Michigan or places throughout the Midwest to find antiques, so they enjoy scouting with us. Scout is definitely getting into antiquing more, and we sometimes give her some play money to pick out something she likes. She understands our love for antiquing and is starting to love it too. Antiquing is history, and I think a lot of people can connect to it. 
Can you walk us through your daily routine with the girls?
One thing that is really nice about owning your own business is some of the flexibility we have. I often think about what our life would be like if my husband and I both had 9 to 5 jobs and how different that would be for us. Right now it's summer, so we have the kids staying out later and sleeping in a bit. First thing in the morning, I check my email and work messages, look at the calendar, and get ready for what's going on work-wise that day. Scout and Luna typically wake up between 8 and 8:30am, which is really nice. Rick usually makes breakfast while I get them dressed and brush their hair.
Our sitter, Tiffany, comes three days a week at 9am, and she's a really big part of our life. She's also super flexible, which is really nice because sometimes we have work events in the evenings, and she can adjust her schedule to be with the girls. When she comes in the morning, she takes over with the girls, and they figure out their plan and activities for the day while Rick and I get ready for work. My work schedule changes a lot, so I might start the day at our Wicker Park location, and then I'll move over to the Bridgeport restaurant for our 3pm team meeting. 
I sometimes find myself having a hard time turning off work mode and jumping into mom mode at the end of the day, so I give myself a buffer of about an hour to finish up some work after our restaurant meetings before heading home to the girls. Tiffany usually stays until 6pm. We're pretty relaxed as a family when it comes to our schedule — it's not super structured. Sometimes we'll go for a walk with the girls after work and put off dinner until 8pm. Or we'll bring the kids to evening work events and they'll be out until 9:30pm. They definitely adapt to the things that we need to do, but when the school year starts, we are more mindful of schedules. Tiffany can keep them on schedule, but Rick and I are definitely more laid-back! 
I typically put the girls to bed between 9 and 9:30pm in the summer and read books with them and do their whole nighttime routine. After they're asleep, I go back to work. I'm a bit of a workaholic, but I'm really passionate about what I do and I'm lucky that I still going to work. There are certainly things I don't like about my job, but after the girls go to bed, I often work on the fun stuff like event planning. During the day, things are in motion, and I'm super busy at the restaurants — we're open to the public, so you never know what's going to walk through your doors — so, at night, I'm able to focus more on design and marketing. My husband is better at relaxing. I don't watch TV, but he does so he can zone out and watch cooking shows at the end of the day while I'm getting inspired by social media and blogs. 
This year, Scout will be starting kindergarten. Her first year of preschool, she was there for half-days — I had the flexibility to pick her up midday and drop her off at home with Tiffany — and I was really glad we did that schedule, but it was also stressful. I felt like my workday was cut in half, and I wasn't sure if it was the best use of my time to pick her up, so I might do things differently with Luna. Scout was definitely ready for full-day preschool by her second year so I might try to find a preschool that's closer to home so Tiffany is able to pick them both up. This fall, Scout will be gone the full day at school, but Luna will still be home since she's only 2. 
How did you and your husband decide having a part-time babysitter was the best childcare situation for your family?
We also have family nearby. My mother and Rick's mom also watch the girls about once a week, so with Tiffany, we have childcare for Scout and Luna about 40 hours a week. I don't think we could do it without family nearby because there are so many times when the restaurant is flooding and we have to run somewhere. Or I've forgotten the keys to the restaurant before, and Rick's mom has run over and opened the place for me, so they're very much a part of our business too. My mom does accounting work for Antique Taco, and she's always helping wherever she can. They really help with the kids, but overall, they really help me and Rick, and we really need that support system. 
How do you think becoming a mom has impacted you both personally and professionally?
Personally, it's given me so much joy. Being a parent, you just get so much love from your child and being able to shape their childhood experiences is a blessing. It's given me a different sense of purpose and put things into perspective. When we opened our first restaurant, we were super naive. We had no idea how to be bosses. Being open to the public is a very vulnerable thing. Reviews and all these things that you're immersed with right when you open takes a little bit of an emotional toll on you — as any job could — and having a child allowed me to not sweat the small stuff and realize I had a lot of things to be grateful for.
I didn't have the best pregnancies. I had to have two c-sections and also experienced a lot of nausea, and it was hard to be at the restaurants. It was something that I didn't think I'd have to deal with, and it forced me to delegate because I was always doing everything on my own. Having kids and having three restaurants has taught me if I don't delegate, I'm going to miss moments with my children and that's not something I want to do. It's taught me to trust other people and focus on training people and let them have their own creativity and hand in things. 
Working in the restaurant industry, what did your maternity leave look like after both girls were born?
I didn't have maternity leave. During my first pregnancy, we only had one restaurant, were two years into it being open, and we lived right next door to it, so things were a bit easier. With my second pregnancy, I had a very traumatic experience because I had been training someone to take over my work so I could take some time off and take a maternity leave for a few months, and the day I got home from the hospital, my general manager told me that person was leaving. I was heartbroken, but it reminded me that you just can't always predict or plan everything as a business owner. That experience taught me a lot about delegating responsibilities to several people instead of just one. I had invested a lot of time in one individual, and when someone leaves and you're planning on them filling your shoes, that's hard. You just never know! In those moments, I think it must be really nice to work for someone else, but that's not our situation. Thankfully, because Luna was our second child, we already had Tiffany in our lives, and her support was really nice to have from day one with that pregnancy versus my first. 
When it comes to being a mom, what are you most confident about? What are you most insecure about?
I'm most confident about the fact that we are giving our children a really unique life. Rick and I have been able to have some really cool experiences being in the restaurant industry, and we've been able to bring our kids along too. Rick and I feel like everything doesn't have to be so cut and dry or cookie-cutter, so we think the experiences that we're giving our kids will positively shape their outlooks on life and give them different perspectives. We've been able to do a lot to help the homeless, and we've taken Scout — and we'll bring Luna when she's older! — to different charity events around the city. I hope those will be lasting experiences in their minds. 
I'm most insecure about school. Are we making the right decisions on where to send them? There are so many options in the city. Do you send them to Catholic school? Public school? Private school? You don't really think about school when they're little, but when you get immersed in that part of their childhood, it's a lot. In the suburbs, it's a little different, but in the city, you have so many options. I'm still working on figuring all that out. Scout has already gone to three schools because we've moved and also made the decision for her to switch schools. I think by the time Luna gets to that age, we'll have really figured things out. 
Can you share with us a five mom hacks you rely on to make things work in your day-to-day life?
1. Use a meal subscription service for kids. We still sometimes struggle to get lunches packed and get the girls to school on time, but when we have some help in the meal department it really makes things much easier.

2. Teach the kids how to clean the windows. Have a contest of who can clean all the smudges the best. This tactic is key when company is about to come over.
3. Incorporate veggies into your kids' diet by making mushroom and squash lasagna. After baking with really good pasta sauce, gluten-free pasta sheets, and cheese, they cannot tell the difference. It's delicious and freezes well for yet another crazy dinner time.
4. Make frittatas or soup out of leftovers. My wonderful husband loves to grill, and he always makes too much. Whether its grilled meats or veggies, those make for a nice smokey finish of your favorite comfort food, and the kiddos love it.
5. Download ABC Mouse. Showers and baths require some strategy in my household, and a little iPad time is allowed when trying to tend to two kids. ABC Mouse is both entertaining and educational!
Ashley Ortiz is The Everymom… 
Favorite family tradition? Outdoor movies in the park during the summer. We bring a picnic and love movies, so this has become a fun family tradition. 
Dream vacation spot? I really want to go to Greece with the kids. I went with my mom after college, and it was so memorable. We just got Luna her passport, so we're ready to travel! 
Last antique item you splurged on? We recently got an old mail truck that we're turning into a food truck. It's a really cute, boxy, old mail truck that will soon be a margarita truck — it's been really fun to work on that project. 
Most embarrassing mom moment? When we were out to dinner once with friends, Scout peed at the restaurant under the table. It was fine, our friends understood, but it was one of those potty training things where we thought she was good, but she wasn't! 
Proudest career achievement so far? Opening our second restaurant. After we opened our first restaurant, I remember feeling like, "Oh my gosh, this is so much responsibility — we can't do this!" But then we opened up our second restaurant and had a child and then opened our third location and had another child. It just reminded me of my potential and that we can do what we put our minds to. We've accomplished so much in the last seven years. 
Favorite date night activity? Trying new restaurants! We love going to friends' restaurants and supporting different events.
Best mom advice you've ever been given? We were leaning towards sending our daughter Scout to our local public school for kindergarten, and I was unsure about the decision, but when I recently saw a post from her possible principle that was just the advice I needed during this stressful process. "It will be fine. Your kids will be fine. You will be fine. You live in a wonderful diverse community full of extraordinary public schools. Choose a childhood of walks to school and friends down the block. You'll never regret it. I'd say good luck, but you don't need it. You're lucky already." It was everything I needed to hear at that moment. As moms, we are just trying to make the right choices for the little ones in our lives.