When Bree Pitluk became a first-time mom to her son, River, she searched high and low for a cool, neutral, and minimalist hat to give her little boy's style a little flair while also protecting him from the California sun. After realizing what she was looking for couldn't be found, Bree — with the support of her firefighter husband and family — decided to start designing her own hats for babies and kids and soon, Rad River Co. was born. Since then, the mom-of-one's company has grown into a successful online shop, and Bree has learned how to best juggle a budding business while also being a parent to an adorably rambunctious toddler. Keep reading to learn about her daily routine, best mom hacks, and plans for adding baby number two into the mix!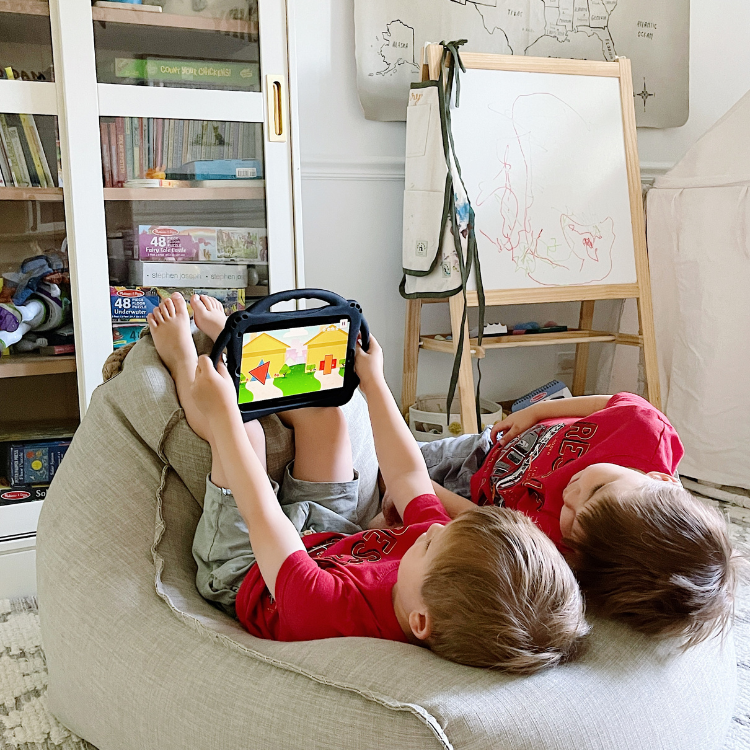 a pediatrician shares what she *really* thinks about LOs and screen time
Name: Bree Pitluk, Owner of Rad River Co.
Age: 31
Location: Ladera Ranch, California
Education: Bachelor's Degree in Journalism and Public Relations from San Diego State University
Children: River, 2
You're the founder and owner of Rad River Co. Please tell us about your company and why you started it!
I actually just started Rad River Co. a little over three months ago, and it's a baby and kids hat line. I went to school for public relations and never really got into anything degree-specific once I graduated — I kind of bounced around from different jobs. Then, most recently before I went on maternity leave, I was a program manager for a production company in Costa Mesa, California. I learned a lot in that position and loved that job so much, but it ended up being a situation where I wasn't able to have a flexible schedule or stay home part-time and I was really committed to staying home with my son, River, after he was born. I didn't have that plan going into that job but once he arrived, I realized there was no way I could go back to work full time. I was too stressed out about missing his milestones! So, my four-month maternity leave turned into a forever-long maternity leave.
When my son was about 18 months old, I started looking into starting a hat company. I'm obsessed with hats. I would always put hats on my son when he was little, and I never found ones that I absolutely loved, I just kind of made do with what was available for babies and kids. Because of that, I toyed around with the idea of making my own hats. But, at the time, I was like, "I don't sew, how do I do this?" So, I just Googled the heck out of everything and ended up realizing that I could design them myself and have them made by someone else. So, that's what I did!
I'm not usually a person who just goes for something, I over analyze things to death. So, this was definitely out of my comfort zone, but it's been the best thing. I ended up launching the company in the middle of February this year, and I got a really good response and everyone has loved the hats for the same reason why I created them. They are super neutral, really minimalist, they fit well, and they're not bulky or full of bright patterns. My idea was to have kids be able to wear them over and over again without it being super obvious — that's how I curate my day-to-day style, so I wanted to bring that to my son and other kids. Right now, I have my own website where I sell the hats, but I'm looking to expand and hopefully get into retailers soon too.
You're a working mom running a company as a one-woman show — what's that like?
Yes, it's just me! The experience has been both intimidating and exciting because I've never run my own thing. I've had a blog in the past and I have a blog now, but that never felt as big as a company. So being a one-woman show has been awesome. I love not having to check in with anyone else before I make an exciting decision. It's certainly intimidating being the only person touching every single thing that we create, but it's also forced me to learn all aspects of running a business. I just dove right into the deep end, and the company is still in its early stages but so far, so good.
Was your husband and family supportive of you starting your own business?
I'm married to the boy that moved in across the street from my family when he was 10 years old, so I've known him for a long time. He's a firefighter and doesn't work a normal 9 to 5 schedule, so that's allowed me to be more flexible during the work week. When I had my son in  May 2017, it was a whirlwind, obviously. I took four months of maternity leave, and it was never the plan for me to not go back to work. I never thought there would be a way for us to survive on just one income. My husband, Sam, and I never even really talked about that possibility because I liked my job and wanted to go back to work. But that was all before my son was born, and now, my motivations are so different.
In our household, we crunch numbers and budget so hard. I think things would be a lot different if we had family members who could take care of our son full-time, but we don't have that — all of our parents work. So, it's been up to us to find childcare, and where we live, the cost is crazy expensive and the waitlists are insane. I did not know I needed to look into a childcare waitlist two years in advance. So, I did a little bit of soul-searching and my husband — who is super, super supportive — said, "Look, if you don't want to go back to work, if you want to stay at home, I completely support that. We'll just have to cut back in some areas." And we've been able to make it work, but it's funny because I never intended on starting a company — at that point, it was just like, "OK, we'll see what happens."
At first, I did a little bit of independent contract work for my previous company, but it wasn't something that lasted. Then, deep into one night while I was breastfeeding, I was literally Googling "flexible stay-at-home mom jobs," just trying to find a way to make a little bit of money but still be at home with my son and be able to experience all the fun and excitement that came with the early stages of his life. I ended up doing a few odd jobs — little things here and there — and then I started focusing on my Instagram and my blog.
About a year in, I realized that if I wanted to start a company, I had a built-in audience with the amazing community I created through Instagram. I felt a little bit more confident with that but still didn't know what kind of company I could possibly create. When I realized there was a void for kids in the hat realm, I brought it up to my husband — he's the do-er in our partnership and I'm the over-thinker — because I was coming up with 1,000 excuses for why the business might not work, and he was like, "What? Of course it's going to work, you know what you're doing, let's do this!" So, he was the one that ultimately gave me the motivation I needed and I talked a lot with my mom, who was super supportive, too, and it was really exciting because everyone I mentioned this idea to was very excited about it. That just led me to believe this company could happen. 
Your company is named after your son, River. Why did you decide to include him in the business?
That process was the funniest thing. Coming up with a company name and doing all of the backend searching, you need to do to make sure the name isn't already taken in some way was quite the work. I knew I wanted to play off of River's name, but I didn't know in what way. I had a lot of different ideas, but I love alliteration and I love the word "rad" — I use it a lot! — so it just made sense and I think it fits him and the company perfectly. 
Since you're a working mom, what does your family use for childcare for River during the day?
Before starting Rad River Co., I was River's full-time childcare as a stay-at-home mom. One of the best things that has happened for me, my company, and my son is me finding a facility about 15 minutes from our home that is part gym and part restaurant/cafe and includes on-site childcare. We've never had Riv be babysat by anyone other than family, so it was a big deal for us to move him into daycare. But it's been the best thing. He's able to be in daycare three hours every day of the week. I'll typically work out at the facility's gym for 30 minutes to an hour and then go to the cafe onsite and work for two-ish hours. Then, I get to pick him up and resume my mom duties, which has been really awesome. 
I'm lucky that I also live about 30 minutes from my mom and she is just as obsessed with Riv as I am. She does work, but any chance she can babysit, we take advantage. Our neighborhood also has a great community Facebook group where I can search for local date-night babysitters and find young women who have referrals from trusted people. We haven't taken advantage of that just yet because we haven't had to — we don't do a lot of date nights. Between the daycare during the day and my mom helping out whenever she can or my husband Sam's parents stepping in too, that's the combo use for childcare for our son on a regular basis. 
Can you walk us through your daily routine?
My schedule looks a bit different depending on if my husband is home during the day or not — he works shifts as a firefighter that can be 48 or 96 hours straight, and he sometimes sleeps over at the station. If I'm doing solo mom stuff with Riv, on a good day, I get up around 7 am to prep for the day before River wakes up. He luckily goes to bed really late and sleeps in, which is the best thing ever. I'm currently trying to get pregnant again, and I'm wearing a fertility bracelet, so the first thing I do when I wake up is sync my Ava bracelet to get all the analytics. I put on gym clothes, brush my teeth, put on a little toner and moisturizer, and get my gym bag together.
Then, I head downstairs and pack Riv's daycare bag with snacks and make myself a latte. By that time, Riv's usually sitting up in his bed, reading books, and just chilling in his room. I'll go up to get him, change his diaper and, depending on the day, I may or may not change him out of his pajamas. He sometimes eats in our kitchen or sometimes we'll just grab his breakfast and take it in the car. He typically eats a piece of toast, yogurt or some cottage cheese. I've been on an overnight oats kick, so I'll eat that before he's awake or grab a banana and a bar on the way out the door.
When we get to our gym facility, I drop River off at daycare, and I'll workout, shower there, and then get to work. After I pick up River, we'll either run an errand, go to the beach, or head home for lunch. In the afternoon, we'll read or play in the backyard. He'll head up for his one nap of the day around 2 or 2:30 pm. If I haven't eaten yet, I'll eat lunch during this time or get back to work or sometimes, I just sit in silence and enjoy the quiet time at home. Riv usually naps for two hours. We'll then go to the park or hang out in the backyard, paint, color, or do anything to keep active and avoid watching TV.
We make dinner around 6:30 or 7 pm and always eat at the dinner table together. We go upstairs to start our bedtime routine around 7:30 or 8 pm. River gets a bath, we brush his teeth, read a book, and sing before he goes down around 8:30 pm. I'm a total night owl, so I'll work some more, clean up the house, catch up on laundry, or watch some TV after he goes to sleep. On a good night, I might go to bed around 10 pm but it's usually closer to 11:30 pm or 12 am. 
You mentioned you're trying to get pregnant  — how will your job and workload change when baby No. 2 comes?
I haven't really thought through that just yet! Luckily, 99 percent of my work can be done from my computer or phone. But if my maternity leave with Riv was any indication, I know that I'll be really, really focused on the baby and not as much on work. Since this is my own company, I'm way more motivated than the last time I took maternity leave, so there might be more focus on work the next time around. Who knows when I'll get pregnant or what point my company will be at. I can definitely foresee looking for outside help to handle social media or pack and ship all our orders because that's a big part of my job, and I need to be hands-on as a mom and as the owner of a company. I keep all of our inventory in our garage and have taken over everything from my bedroom desk to our kitchen table with stuff for the business, so having another child will be a lot of chaos and I'll definitely have to think more about how it'll all work!  With one kid right now, one parent is usually getting a breather when we need a break and then we switch back. With two, there's no time for a breather — we're both in this at all times. The balance will definitely be a little bit trickier. 
How do you think motherhood has impacted you both as a person and a professional?
In general, motherhood surprised me big time. I never thought motherhood would be easy, but I don't think I realized how hard it would be. Every day is full of unknowns, and every day I get a little more confident. I think I gained confidence in all aspects of my life after becoming a mom. I don't think I would have had the courage to start my own company or do half the things that I'm doing if I wasn't a mom. Having a little person that looks up to me and makes me feel like I can do no wrong and do anything is the best — he thinks of me as a superhero. I was also surprised by how excited I was to be leading this little kid through life. I was never one of those people who thought "I was born to be a mom." So, when I became a mom and I started having thoughts like, "Wow, this is what I was meant to do, this feels so natural and right," I was surprised at how organically it all came to me, and I'm just super grateful to be this little kid's mom.  
As a mom, what do you feel most confident about and what do you still feel insecure about?
I've always said, "I'm such a rookie mom!" which, literally, I was — and still am. I just feel like I have no idea what I'm doing sometimes, so I get insecure about how I'm stacking up. In the world we live in, it's easy to compare yourself and how you're doing as a mother or how your child is progressing. I'm lucky to have a lot of close mom friends. It's amazing, but it's also tricky to compare everything you do to others and it can be hard to avoid. I've never been amazing at any mom stuff: my kid hates vegetables, I give into his tantrums, and we're still working on sharing. I'm the most confident about my fierce love for him. No matter what, I'll always have his back, and he'll always be able to count on me. I'm really making it my life's mission to make sure he knows that. 
What has been the most rewarding aspect of being a mom for you? And what's been the most challenging?
This is probably cheesy, but my son's really into talking right now and the most rewarding thing lately has been when he says "I love you" out of nowhere. It makes me feel like I've done something right and reminds me just how pure his little heart is. The most challenging aspect of parenting is his relentlessness and my impatience. Some days, I swear he's out to get me — and I've never been known for my patience. In those moments, I have to remind myself that he can't help himself and he does love to test me but it's not because he's evil, it's just because he's a toddler! 
Can you share with us five mom hacks you rely on to make things work in your day-to-day life?
1. Prep the night before. Getting out the door always takes forever, so packing things up (bags, waters, snacks, etc.) and setting out clothes the night before always makes the mornings less hectic.
2. To-Do Lists. When I'm done working for the day, I try to write down a list of to-dos for the following day. I can review them the next morning and feel more focused. There's nothing worse than knowing you have a million things to do and then not being able to remember half of them.
3. Shared calendars. My husband and I have a shared calendar. Whenever we plan something (nights with friends, doctor appointments, work things, etc.), we put it into the shared calendar. We get a notification when something is added, and it keeps us on top of our schedules/helps us avoid miscommunication issues.
4. Daniel Tiger on PBS. TV isn't always the answer, but sometimes it's just necessary. The characters are all sweet, there's always a lesson being taught, and it's not completely annoying to have in the background while I'm trying to finish up work.
5. Get outside. Even if it's just 15 minutes sitting in my backyard or a quick walk around the neighborhood with Riv, I always feel refreshed. It's easy to stay behind the computer screen all day, but I'm always more productive after some fresh air. My son appreciates it too.
Bree Pitluk is The Everymom…
Favorite family tradition? My husband playing the guitar (usually during bath time), and my son and I attempting to sing along.
Easy go-to family meal to prepare? Tacos. Always.
Your dream vacation? I wouldn't be opposed to a kid-free week in Bora Bora.
Last home item you splurged on? King-size bed. Changed our lives.
Guilty pleasure? Over-priced coffees and Love Island.
Most embarrassing mom moment? When my son grabbed my hot curling iron on Halloween. I felt so guilty/ashamed and was convinced I ruined the holiday for the rest of time. Luckily, it completely healed within a week, and he never held it against me.
Proudest career achievement? Going live with my online hat store. It was scary and amazing all at once.
Favorite date night activity? Extra dirty martini and dinner on a patio. If we can find live music, that's even better.
Best mom advice you've been given? Every kid is different. Don't waste your time comparing.