As if being a working mom and the COO of a big company isn't impressive enough, Michelle Jubelirer is the Chief Operating Officer at Capitol Music Group. Yes, that Capitol Music Group AKA the famous Hollywood music label responsible for launching the careers of celebrities like Katy Perry, Niall Horan, Halsey, and Maggie Rogers, just to name a few!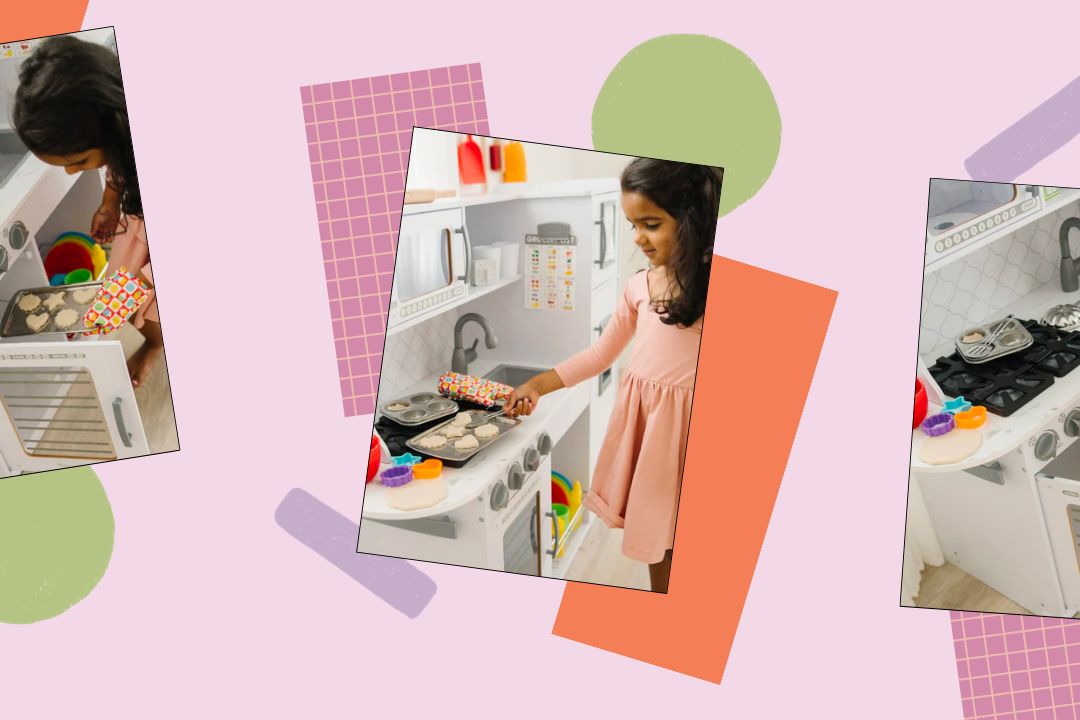 Earlier in her career, Michelle worked as a lawyer on the East Coast before getting a job at Sony Music, a move that ultimately started her new path in the music and entertainment industry. Then, in 2012, the mom-of-one got a call that changed her life, and she took on an exciting new role helping to run Capitol with its new Chairman and CEO. Fast forward to today and this hardworking mama has collaborated with mega-stars including Paul McCartney, Lionel Richie, Pharrell, and Sam Smith. How cool is that?!
Keep reading to take a peek at Michelle's busy daily routine, find out her best mom hacks, and learn the expert advice she'd give her 22-year-old self today.
Name: Michelle Jubelirer, Chief Operating Officer at Capitol Music Group
Age: 45
Current Location: Los Angeles, California
Education: Law School
Children: Stone, 5
What was your first job and how did you land it?
I was a lifeguard and waitress in my hometown of Altoona, Pennsylvania for several years starting at 15 years old. I did very well in school and found myself working at a prestigious New York law firm, Simpson Thacher & Bartlett, during my second year of law school. It was mergers and acquisitions as opposed to music and entertainment, but I knew this was a great start. I was there for four years before moving to Sony Music and beginning my path in music and entertainment.
In 2013, you left your job as a successful artist lawyer. Can you tell us more about what lead you to make a career change?
After two years at Sony, I moved to Los Angeles and began a great nine-year run at King, Holmes, Paterno, a major entertainment law firm. I became a partner and developed an amazing group of clients: Frank Ocean, Pharrell, Kesha, Marilyn Manson, MIA, Odd Future, Avicii, Damian Marley, and many others.
Then, in 2012, I got the call that changed my professional life and allowed me to achieve my career objectives. Steve Barnett was the current head of Columbia Records and was about to be named Chairman and CEO of Capitol Music Group. He called and asked if I would be interested in leaving my firm to come to CMG and help him run the company. After four months of spending a lot of time together and really getting to know each other, I made the leap and joined Steve at CMG as Executive Vice President in 2013. Leaving my law firm and joining CMG and the Universal family was a big leap, both professionally and personally, and I have [UMG Chairman & CEO] Lucian Grainge and Steve to thank for being so convincing and true to their word. We've been given tremendous latitude to rebuild and reinvigorate Capitol Music Group, and the support continues to be unwavering.
There was a steep learning curve as the job responsibilities were varied and vast, but Steve is a fantastic teacher, and I've really been able to thrive here. I was promoted to COO in 2015, and I am thrilled to walk into this historic Tower (the 13-story, round Hollywood landmark that was built in 1956) every day and work with an array of artists that run the gamut from cultural superstars who helped build the company, like Paul McCartney, to the next generation of superstars like Katy Perry, Sam Smith, Halsey, Migos, Niall Horan, Lil Baby, and so many more.  
You are now the COO of Capitol Music Group! Tell us a bit about your current role and how your career has developed since you first started.
The COO position enables me to be involved in virtually every area of the company and work closely with both our artists and the incredible team of people we've assembled in the company. Every day is different, and it's always exciting. I am not an "operations" person who's in charge of making sure the computers are working and that the elevator doesn't break down. I say that humorously, but I think the COO role is perhaps the most misunderstood in the corporate world.
My first year here was about working with Steve and his other senior executives to build the right team and infrastructure that were going to enable us to excel as an artist-friendly, music-centric, 21st Century entertainment company. At the same time, we were building and refining our artist roster and working with the CMG labels to define their individual identities and broaden our appeal to the artist community. Our early success with Sam Smith and Beck really put us on the map and gave us momentum that's been of great benefit to our artists and our company. We've grown every year and lead the way in breaking new artists within the industry.
The music business continues to evolve, and we've been quite successful in staying ahead of the curve for our artists and our company.
Looking back at your career, what would you consider to be your greatest achievement?
I'm very proud of having joined Steve Barnett here at the beginning when the company was moribund and with only one or two artists who were keeping the lights on. We worked our way out of the cellar to become one of the most successful label groups in the entire industry. I'm sometimes in awe of how far we've come, but we make no secret of the fact that we want to be the #1 label group in the business and won't rest until we do.
What is your favorite aspect of working in your current role?
It's been especially gratifying to play a role in helping young artists like Halsey, Lil Baby, and Maggie Rogers connect with their ever-growing and passionate fan bases. These are true artists whose music, visuals, and performances are truly distinctive. They work so hard and are completely committed to their art, so I'm thrilled when I can use my position and experience to help them achieve their dreams.
Part of your professional passion is making music companies more friendly to artists — can you tell us a bit more about that?
Steve told me that one of the key attributes in my career experience that he thought would be an asset to CMG was my longtime role as an artist's advocate. I could help make the deals more "artist-friendly," but in a way that would still make sense for the company. Unlike others in the industry who have often championed this approach, Steve was 100 percent sincere, and our success and range of deals really bear this out. We've been able to establish really strong partnerships within the artist community, as artists and their teams know how truly flexible we can be in deal-making. 
I am here, as we all should be, to help artists achieve their creative goals and dreams. Helping to put music and art into the world is extremely important, and it is indeed my mission to bring my skills and tenacity to the fore as an advocate and supporter of our artists. I do NOT take it lightly that we're dealing with people's hopes, dreams, and ambitions, as well as their livelihoods.
You've worked with some big names during your career in the music industry. Who has been your favorite artist to work with?
I work for the best company with the most incredible team in an industry that I love. And I'm beyond fortunate to work closely with some of the most talented artists in the history of popular music. From Paul McCartney to Katy Perry, from Sam Smith to Halsey, from Lionel Richie to Migos—Capitol has enriched the culture for more than 75 years and continues to do so. It's an honor to even walk into this unique building every day.
Tell us a bit about your family! How has motherhood impacted you personally and professionally?
I have a very supportive partner in my fiancé, Keith. He's a musician and has been in this business longer than I have, so we both have a good understanding and empathy for what each other is going through on a daily basis. Our son is the light of our lives, and raising him certainly helps to see life and work through a more informed perspective. Motherhood has certainly made me realize that if I had a magic wand, I'd give myself a few extra hours every day.
As a working mom, what did your maternity leave experience look like?
It was brief, but that was my personal choice. I could not have had a more supportive boss than Steve, who was so encouraging of my and Keith's decision to have a child and has remained so over the past five years. He and his wife have raised four beautiful boys, so he certainly understands everything my family goes through.
How did you decide what childcare situation was best for your family?
Keith and I knew that we needed someone who was with us full time and available whenever Stone needed someone—whether he was sick or had a vacation day at school—and one of us wasn't available for one reason or another. Fortunately, we have an incredible nanny who is very much a part of our family. We're also incredibly fortunate that my mom moved to Los Angeles and is a loving grandmother and a big part of our family.  
Can you walk us through your daily routine?
No day is the same as the next, but a typical weekday starts with a 5:30am workout before Stone (hopefully) gets out of bed at 6:30am. Stone has breakfast after he wakes up, and we start his morning routine which consists of distracting him and creating fun moments until we get out of the door to drive to school. Most of the time, I drive Stone to school, and we're out the door and on our way at 8:15am, and I'm usually in the office a little before 9am. Unless I have a show or a work dinner, I try to be home around 6:45pm to enjoy some quality family time with Stone and Keith. We try to get Stone to bed at around 7:30pm, and then I re-engage with work and spend time with Keith.
When it comes to being a mom, what are you most insecure about?
Like almost all working parents, I'm most insecure about the amount of time I get to be with my son.
What are you most confident about?
The loving relationship all three of us share and the quality of the time we spend together.
What advice would you give to your 22-year-old self?
Make sure you are doing this for the right reasons. Being an executive in the music business can be financially rewarding, and it does have its perks, but there are no guarantees. If you venture into this industry because you are inspired by the artists and the music they make, there is a good chance you will be able to forge a career path forward. But I do not recommend getting into this for anyone looking for 'easy money.' You pay a lot of dues on your way up, and you have to love the process and the grind in getting there. 
Be unapologetically yourself. You can both be authoritative and approachable at the same time. I promise you, it's possible.
Can you share with us a few mom hacks you rely on to make things work in your day-to-day life?
1. Use a family calendar to stay organized. We keep an overly detailed calendar in our kitchen!
2. Video games can be a great activity when needed. We have Stone's Nintendo Switch on hand at all times with a plethora of games.
3. Give kids a morning to-do list. We complete a morning checklist for Stone each day, so he knows what needs to be done before he leaves the house.
Michelle Jubelirer is The Everymom…
Coffee or tea? Coffee … and lots of it!
What is your idea of a dream vacation? Skiing with my family and friends. Skiing allows me to temporarily turn my brain away from work and focus on the great sensory rush.
What is your ideal way to spend a Sunday? Snuggling with my little man or doing any activity that makes him happy, but also ensuring that I get a work-out in before the day starts.
Most embarrassing mom moment? Trying to figure out how to swaddle Stone when he was a baby. I never mastered the burrito swaddle. It always fell apart right away.
Best mom advice you've ever been given? Every kid is different. Don't compare.
What's your guilty pleasure? Reality television and modern art.
If you could have lunch with any woman, who would it be and why? Hillary Clinton. She has been through so much and speaks with the wisdom of her vast experience. And I would treat!