You could say Elizabeth Rees has paper in her blood. Chasing Paper, the wallpaper company she co-founded with her brother Mike, makes the pair the third generation in their family's printing company.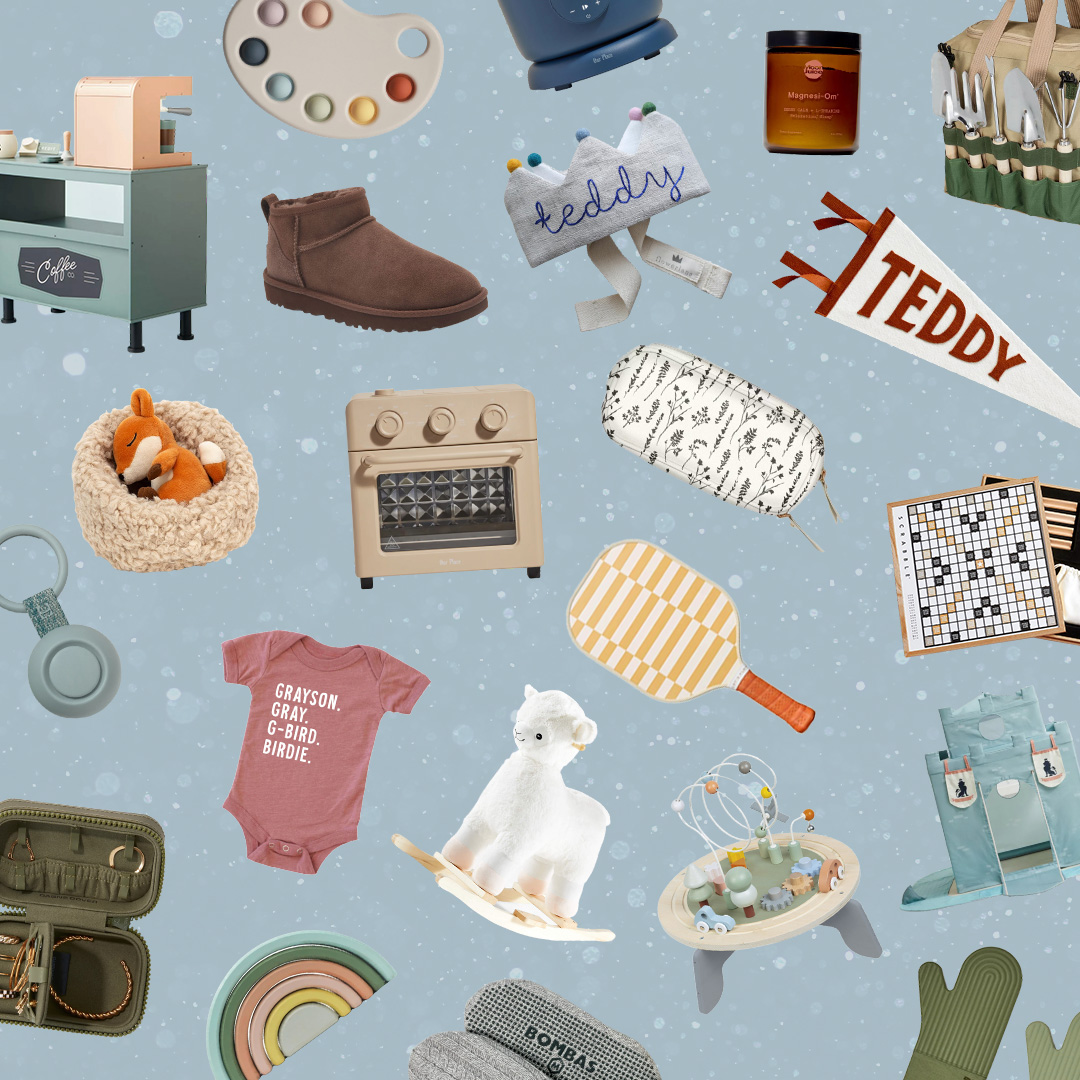 everything you need to ace holiday gifting this year 🎁
If you've scrolled for home decor inspiration on Instagram, you've probably come across Chasing Paper. The company works with artists to create curated collections you can't find anywhere else (Confession: I have multiple Chasing Paper wallpaper samples just waiting for the perfect spot!).
On top of running a business, Rees is also a mom of two daughters—Uma and Marlow— living in Milwaukee, Wisconsin after moving from New York City a few years back. Read more about how she knew Chasing Paper was going somewhere and the fellow women who supported her along the way. Plus, she shared some of the year's biggest nursery trends and what inspired her own daughters' rooms.
Tell us about the early days of Chasing Paper. Was there a moment when you felt like, "yes, I know there's something of value here"?
I had some early validation from some really smart women I knew that helped me recognize that this was more than an idea or a project; it was an actual business. Those women are still my biggest champions and are the ones I look to for advice often.
Living in NYC for so many years really pushed my creativity daily, my commitment to success, and my ability to always be adaptable (something I think anyone who has lived in NYC would say is a must-have trait).
You made a move from NYC to your hometown of Milwaukee a few years ago. How do you feel about the move now, looking back?
It was the right move, no question. I look at my two beautiful daughters and know the way I want to raise them. I loved my childhood in Wisconsin; it's such a big part of who I am. But I feel very lucky to have cut my teeth in NYC and to have built my brand there. I am not sure it would be what it is today or if there would be a business at all had I not been surrounded by so much creativity and innovation. Having lived there almost 10 years, I felt a chapter closing on my time there and a new chapter in my life opening, so no regrets.
How do you see your identity as a mom and as a creative business owner intersect?
Raising a brand was my first foray into motherhood. I always say that Chasing Paper is my first baby. There was so much overlap, but of course, also so much that is diametrically opposed! I think that I am still settling into my life with both job titles. My girls are still little (1 and 2), so we are very much still in the thick of it, and the post-pandemic year has been the biggest challenge of my professional life.
I am trying to be the best version of myself so that my girls can see what strength, vulnerability, and tenacity looks like.
The biggest intersect comes when I am trying to recenter myself and come back to the reason I am doing *insert mom or business task here*. I come back to the idea that I am trying to be the best version of myself so that my girls can see what strength, vulnerability, and tenacity looks like.
Where's the most creative spot you've seen people use Chasing Paper?
Definitely love when a renter wallpapers an ugly fridge for an instant upgrade! I also love wallpapered built-ins for just a touch of color and pattern.
Any new collaborations or designs we should keep on our radar as we get into next year?
We have an amazing collection releasing in November with Shadé Akanbi. She is an unbelievable talent and her collection feels so fresh and fun!
We read you wallpapered your daughter's room while seven months pregnant. Any tips for those who want to try it themselves?
I wallpapered my first daughter's room seven months pregnant and my second daughter's room when she was only 3 weeks old. For me, it was a great experience both times: the first time because I was anticipating becoming a mom and having everything done and ready way before she arrived.
The second time around, we didn't quite have everything together, but getting to know my daughter while creating her space was such a great experience. While wallpapering, I was able to think about her and all the memories she would create there, which made it special. I would not suggest any pregnant or postpartum mama do anything they don't want to do, but for me, nesting felt so good. Mostly I just took my time and rested a lot, and I definitely did not finish either project in a day.
What inspired your daughters' nursery designs?
I designed my oldest daughter's room with really one thing in mind: that I wanted it to be serene with a touch of femininity and include modern art and pieces I had picked out just for her. My second daughter's nursery is all green with touches of maroon. I love the colors together—it makes her room feel like a cozy treehouse!
Both girls' rooms have art I found while pregnant that I thought was inspiring or special in some way. I also wrote notes on both girls' walls under the wallpaper; hopefully, they will find them one day.
What are some of the top nursery trends you're seeing this year?
1. Wallpapered ceilings
We have been hearing from our customers that it's a way to have a big impact in a nursery without wallpapering all four walls. As the accent wall trend has lessened in popularity, for some, wallpapering the entire space may be out of budget, and ceilings require less paper. We typically encourage customers to use traditional stock wallpaper, which can be hung by a professional in just a few hours, instead of peel-and-stick for longevity.
2. Painted trim
When paired with wallpaper, painted trim can be an amazing way to highlight and reinforce a color within the print. I also think painted trim is just fun! To me, it makes a wallpapered space feel very complete and thoughtful—and it's a detail that everyone notices.
3. Color trend: marigold
We have seen this trend in the fashion industry for quite a few seasons now, which was a great introduction to this color palette. The transition from fashion to home feels like a natural progression, and marigold creates such an inviting space for any room in the home.
4. Mixing traditional and modern elements
With the grandmillennial trend continuing to be popular, we are definitely still seeing a great mix of old and new. Using modern wallpaper with a nostalgic feel is a great place to start. A ditzy or fresh floral paired with vintage or heirloom pieces can help a space still feel modern. The opposite works as well—choosing a very traditional wallpaper like a chinoiserie and pairing it with sleeker, more modern furniture offers a beautiful way to have both!
5. Maximalist walls
Children's spaces are where adults can let their imaginations run wild, which makes them so fun to design. In these spaces, we tend to want to have them feel colorful, fun, and imaginative, so creating a story or theme through wallpaper allows for a big impact.
Where do you recommend parents begin when designing their nursery? In other words, what's the best first step?
Many times, our customers and parents speak to the idea of starting with a wallpaper print. They often have an immediate feeling about a particular print and then want to build around that theme or color palette.
We have also been seeing recently that parents want continuity from their children's spaces or nurseries to the rest of the home using similar color palettes or families of color. Furniture and soft goods will have similar lines and aesthetics that will help achieve this look.
Do you have any tips for designing a kids' space that fits with your home's overall style?
My favorite way is to approach a kids' space just like you do the rest of your home but with a bit less restraint and a bit more of a confidence to try things you might not in more common spaces. My design aesthetic shines through in kids' spaces with the lines of the furniture, silhouettes of lighting, and the textural elements that are seen throughout my home.
Elizabeth Rees Is The Everymom…
Favorite coffee order? Iced coffee with half and half.
What's on your nightstand? Cell phone charger, book, and hair ties!
Favorite stay-at-home date night activity? Watching TV, laughing, and hanging in the backyard with a fire.
Best trip you ever took? I took a seven-month trip to backpack Asia alone when I was 25, and it set my life on a completely different path. I was a very different person when I returned from that trip.
Favorite Chasing Paper pattern? I could never pick a favorite, but I'm currently loving Seaweed by Lewis Home and Ladder by New Hat!
Best mom advice you've ever received? That it's OK not to love every stage. I didn't love having newborns and thought something was wrong with me because everyone else seemed to love tiny babies. Now, people say, "oh you have a terrible 2!" but I love this stage! Uma is communicating, and I feel like I am getting to know her in a whole new way.
You are a survivor of "two under two." Any tips for moms about to welcome their second baby? Let others help you! Having more people love my girls is such a joy and true gift. Be kind and give grace to yourself and your partner if you have one. It was very difficult trying to make the transition to two, and it can be a time of a lot of self doubt, so just keep in mind that you are doing the best you can and that you are doing a great job.