As parents, we want the absolute best for our children, and this is especially true when it comes to their health and well-being. There are so many things out of our control, and the last thing we want is to see our children or other children suffering. Unfortunately, this is the case for many families faced with the unthinkable: childhood cancer.
It's impossible to wrap our heads around what it's like to see your own child or a child you love battling cancer, but it is the reality for many families. We may feel helpless in the fight against cancer, but we can lend support in the form of donations that truly do make a difference.
According to the National Pediatric Cancer Foundation, currently, only 4 percent of the government's annual spending on cancer research is directed towards treating childhood cancer. This number is staggering and upsetting, and children deserve so much more.
September is Childhood Cancer Awareness Month, and it's a time for all of us to lend more than just our thoughts and prayers to the children and families facing such difficult times. It's an opportunity for us to support pediatric cancer research in the form of donations. Whatever amount you can give makes an impact.
Here are five places where you can donate to help in this fight.
Through their extensive work, St. Jude has helped shift childhood cancer survival rates from 20 percent up to 80 percent. Families dealing with childhood cancer have enough to deal with, and St. Jude ensures no family receives a bill from St. Jude for anything.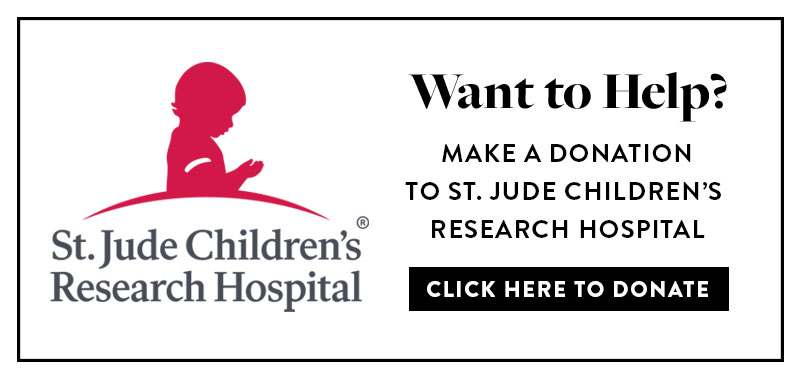 Alex Scott was diagnosed with childhood cancer before her first birthday. At age 4, she decided to set up a front-yard lemonade stand to raise money for cancer research. On that first day in her front-yard, Alex and her brother raised $2,000, and she continued her efforts each year.
Sadly, Alex passed away in 2004 at the age of 8, and her powerful message and strength still continue today, with Alex's Lemonade Stand Foundation. Since her first lemonade stand, the foundation has raised more than $200 million that has helped to fund cutting edge research projects and helps to support families of children receiving treatment.
The NPCF was founded by two mothers, Melissa Helms and Risa Tramel, who met at a children's hospital while their infant daughters were undergoing cancer treatments. Fortunately, both daughters survived and Melissa and Risa have gone on to continue to the fight against pediatric cancer. The two founded the National Pediatric Cancer Foundation, a non-profit that works to collaborate with leading hospitals across the nation and funds clinical trials to help find a cure for pediatric cancer.
With chapters located around the world, Ronald McDonald House Charities focus on keeping families together when fighting childhood cancer. The programs are located near top children's hospitals, allowing parents who are far from home to stay close to their child without having to worry about hotel and food costs. Families should be able to be together during such challenging times, and this foundation makes that possible for families who might otherwise not be able to make this happen.
Lurie Children's Hospital of Chicago is one of the top children's hospitals in the country as well as one of the highest-ranking pediatric cancer diagnosis and treatment centers in the U.S. The non-profit medical center relentlessly works to provide the best care and support to both patients and their families in the greater Chicago area.