Creating a nursery for the first time is a sweet and fun way for new moms to celebrate this special time in their lives. When Ciara Self was pregnant with her son Cooper, she knew she wanted this room to be just right for when he arrived. As the owner of the wedding and event company BASH + Co, Ciara has always had a keen eye for decorating and design. That's why it's no surprise that when it came to designing a nursery for the first time, she was able to put together a room that perfectly fit her aesthetic. It did take some of her husband's handy work, renovating, and DIY to get it there first though!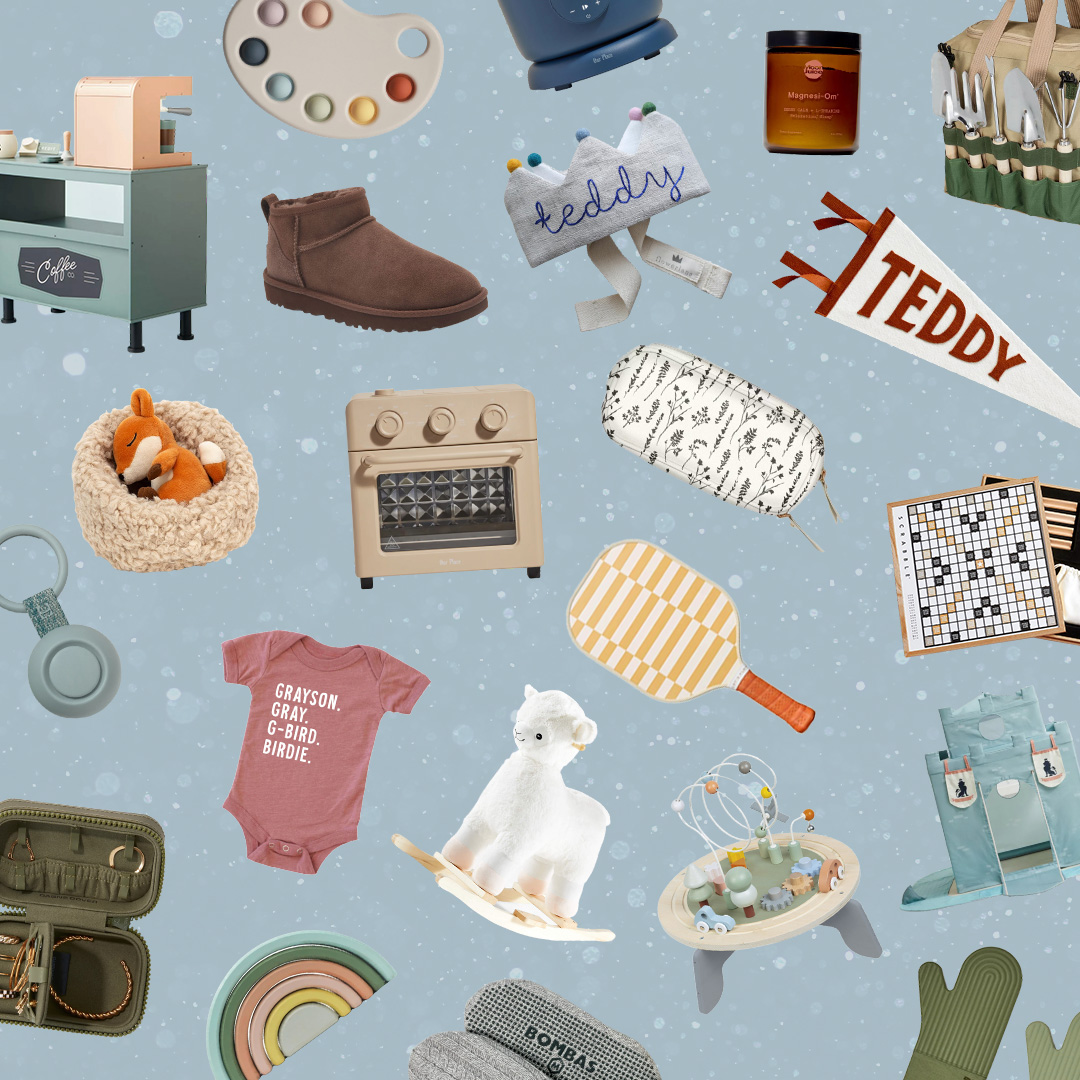 everything you need to ace holiday gifting this year 🎁
We had the opportunity to sit down with Ciara to get her advice on sticking to a budget and finding a statement piece to build the room around. We also delve into more controversial topics of motherhood, such as the judgment that can be around formula feeding.
Keep reading to discover why the nursery is now Ciara's favorite room of her home!
Name: Ciara Self, Owner of BASH + Co Events
Age: 29
Square Footage: 1,525
Rent or Own: Own
City/State: Dallas, Texas
Children: Cooper, 9 months
How would you describe your decorating style?
Scandinavian Boho
You and your husband run a wedding and event design company, BASH + Co Events. How did creating a nursery differ from your other projects, and what were some of the challenges?
Yes! Weddings and home design are very different. Funny story: I went to school for interior design and my husband works in commercial building, so naturally it's in our blood. What was so hard was finalizing a style, which in the wedding industry is not hard for me. It took me forever to decide what I was going to do in the room. We actually completely gutted it too — sanded the floors, painted the walls, installed wallpaper, painted the windows, and built his closet. Labor of love!
SHOP THE LOOK
What is your process when designing a space that also needs to be highly functional? How do you balance creativity with practicality?
My process with designing a space is always picking one key thing you have to have in the room and designing around that. For babe's nursery, it was the wallpaper — we had to have it! We also do a lot of DIY projects to help with the practicality — my husband had to remind me 100 times that it was for a baby.
What provided your inspiration for the nursery, and what was your first step in creating the design?
The wallpaper. I always knew for our nursery (even before babe) that I wanted to do statement wallpaper. I sourced for months until I found The One. It's everything!
How did your vision of the nursery evolve from start to finish of the design process? Is the outcome what you had expected?
It's way better than I expected. It's my favorite space in our home — and not just because it's my babes. Honestly, I thought we'd never finish. It was SUCH a slow process since we started gutting the room. There were even times where I cried because it still wasn't done. But the process of picking everything out and sourcing and buying was so much fun. I created a design board for what I wanted for babe and started from there, always going back to the fact that I really wanted it more gender neutral.
We love your minimalist style and neutral color palette. How do you maintain this clean look in a nursery that undoubtedly experiences messy moments?
You should see it on laundry days! Lol. We never add new pieces (until he gets bigger), there is a spot for everything, and it's well organized. We also have a plan for when he does get bigger where more things will go.
SHOP THE LOOK
As Cooper continues to grow, how do you envision this space will transform? Are there any transitional elements in the nursery?
Yes! One thing I love about his space is that he can grow with it. The crib will transform into a little bed and then eventually we will get a big kid bed. I've also dreamed up of adding a window seat, bench, and little toy shelf underneath his book shelf.
What is your favorite piece in the nursery, and how did you find it?
Wallpaper! Etsy from Livettes. It's so good.
Can you share some tips for designing an elegant nursery while sticking to a budget?
Splurge on a few must-have items, but source until you find something you can either DIY or that is within your budget. For us, the crib and wallpaper was a must. Everything else was either a DIY project or fairly priced.
What are some of your favorite, bargain-friendly resources for nursery and home decor?
Target and Ikea. The majority of his pieces are from one of these places.
SHOP THE LOOK
Which nursery piece were you most willing to splurge on and why?
The wallpaper, because I knew I had to have it. My husband almost had a fit, but I didn't back down.
When it comes to motherhood, what are you most confident in? What do you still feel insecure about?
Motherhood — it's such an amazing thing. I literally never thought I would love someone more. I actually feel this is exactly where i need to be if that makes any sense. One of the most things I'm confident about is just my love for him, and his love for me. The biggest thing I still feel insecure about is that I'm not breastfeeding anymore. Even though he's almost 8 months, I still feel so guilty! I had such a low supply from the beginning that I had to stop super early (2 months) and we switched to formula. I remember being at a birthday party and everyone had kids and babies. I made his bottle in the bathroom because I thought I would be judged, but everyone is different and everyone has to do what is best for their family!
How did your vision of motherhood change once you became a mom?
I didn't know it would be so so beautiful, and yet the hardest thing I've ever had to do. Literally shoutout to all the moms and dads.
What is one piece of advice you wish you knew while you were pregnant for your first child?
Document your belly — even if you feel silly.
Ciara Self is The Everymom…
Favorite self care ritual?
Sleeping in, bath, Instagram scrolling, desert in bed.
Best way to end a long day?
Last nap of the day is always on mama and it's my favorite part of the day — and also wine.
Most recent book you've read?
The Very Hungry Caterpillar. Lol.
Favorite holiday?
Christmas!
Favorite family tradition?
Weekend cuddles in bed and cutting down our own Christmas tree at the farm.
Your dream vacation?
Greece — take me there.
Most embarrassing mom moment so far?
Almost left the house with my pants inside out… my brain is for real.