When Elise Fox and her husband moved their family from Denver to Chicago a few years ago, they wanted to bring their Colorado home's Tudor cottage style to the Midwest. So, when they started building, Elise made sure their abode's exterior featured a gorgeous window tower and swooping roofline in addition to bringing a chic mix of vintage and modern to the interior with black accents and bold colors.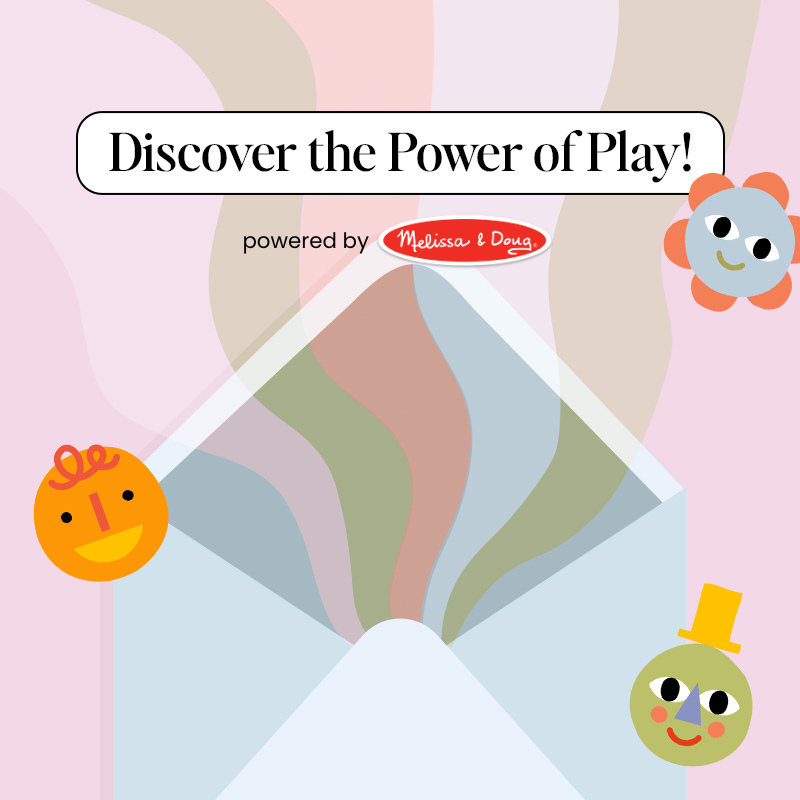 make the most out of every moment with your little one
Keep reading to see how Elise perfectly styles her home's ample open-shelving (wait until you see the rainbow library!), find out the decor inspiration behind her toddler son's fun bedroom, and see how she repurposed an old Chicago church pew in her dining room.
Name: Elise Fox, Stay-at-Home Mom
Location: Downers Grove, IL
Sq. Ft.: 3,200
Years Lived In: Less Than 1 (7 months!)
Rent or Own: Own
Children: Jack, 4, and Leo, 2
What was your first job, and how did you land it?
I studied policy in school but really felt jaded by the time I was graduating and wanted to do something fun. I got an internship with a local fashion designer, Lara Miller, my senior year at Northwestern. When a full-time position opened at the Chicagoland Entrepreneurial Center to run the Stitches Fashion Program, Lara threw my name in the ring for me. They provided business services for fashion companies, and she knew I would be a great fit. The program and Lara's company are both no longer in business, but to this day, Lara is one of my great friends, and I am so thankful for all of her help and for believing in me. 
SHOP THE LOOK

You previously worked in operations for fashion and consumer products before becoming a stay-at-home mom. Can you tell us a little bit about how this transition was for you?
I worked as the Operations Manager for a company, Uncommon, in Chicago that manufactured iPhone cases (custom cases and large batches for customers like Apple and Target). We moved to Denver in 2012, and I continued the position remotely. Working from home in a city where we knew no one was really tough and isolating, especially overseeing our manufacturing in Chicago. When people are on a factory floor, they aren't always available to answer phone calls, and I felt stuck. I did it for about two years before I decided I needed a change.
We were moving back to Chicago, and my feelings about my position had evolved too much while I was away to go back to the office. As soon as we moved back and I started looking for work, I got pregnant. I knew that I needed to take some time to decide what my next steps were, and I was in no rush to start a new career while figuring out motherhood. It was a whole lot of change at once, and I am so grateful I've been able to stay home, but I certainly lost a bit of myself in the process. I have always been a hard worker from a career perspective, and I feel like I have lost that a bit. It's been almost five years now, and I am just now coming up for air to figure out how I can balance motherhood and something more because I know that is what I need. 
Your family moved from the city a couple of years ago now. What is your favorite part of living in the suburbs?
We moved to the suburbs recently, and there are a few things I miss a lot from the city and a few things I was happy to leave. I miss the food, especially the delivery options. I miss the noise weirdly. I do not miss the traffic. I love that I can drive a mile in a few minutes instead of the 30 minutes it took in the city. And I don't miss worrying about crime. 
SHOP THE LOOK

After moving to the suburbs, you built your dream home and moved in this year! Congrats! Let's start with the outside of the home. Can you walk us through the design process and the concept you were going for?
In Denver, we lived in a little Tudor cottage that we loved. We always said if we could pick up that house and move it here, we would have. Needless to say, it was a huge inspiration for us. Our style swings a little more modern, so we knew we needed a current version of that sweet cottage. We worked with our builder and architect to come up with the plan, mixing the traditional with the modern. From the window tower to the swooped roofline, we tried to strike the balance with clean lines and modern finishes. But I always knew I needed that round door. I love it so much.
Let's move to the inside! How would you describe your design style?
Vintage, collected, modern? We both have a real love of vintage but also clean lines. We've tried to add character with elements like our beams while keeping the feel of the house clean and modern. We also both love mid-century modern a lot, so you'll see vintage and recreation pieces throughout.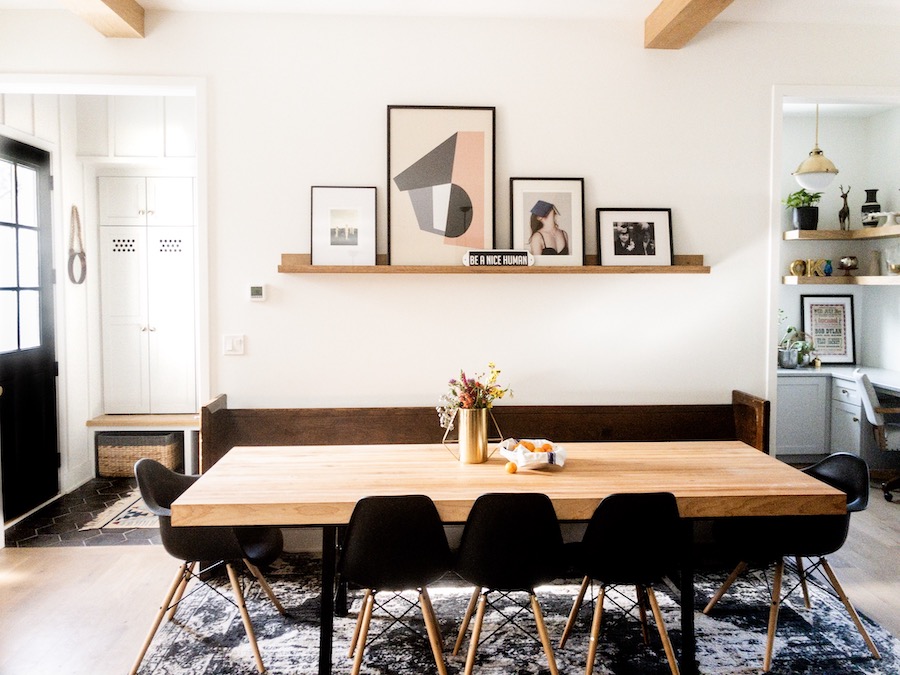 SHOP THE LOOK

There's such a bold use of dark colors throughout the home. How do you manage to have features such as black stairs and cabinets without the home becoming too dark?
The Rolling Stones song, "Paint It Black," became kind of a joke for us. Anytime we were debating paint colors, I constantly said black. We would get looks from our builder, but they believed in our vision, and I think ultimately, we won them over. I love the richness of black and how it can feel modern and classic at the same time. For the most part, using a bright white wall and warm wood floors has helped each room feel comfortable and livable. But you will find black in every room of our house. Black does show every little speckle of water and finger print. We quickly had to do a stair runner we weren't planning for with our black stairs. I would get to the bottom of cleaning the stairs, and the top would look dusty already. Our doors need a little extra cleaning being black, but I totally stand by using black. 
It was important to you for the home to be very functional. How did you accomplish this?
We really wanted an efficient home with spaces that we would use and love. We had a dining room in our original plan and cut it. The kitchen is the center of every party and every day for us, and I knew I wanted it to be the real center of our home. We also have a massive book collection so we needed a home for that. Our library is our one real luxury of a room — not needed but so special to me and where I find myself at the end of every day.
SHOP THE LOOK

How do you want people to feel when they are in your home?
Comfortable and inspired. I want them to want to take their shoes off and stay awhile and always have something interesting to look at. I kind of want people to feel so comfortable like they can go in the fridge or pantry themselves. 
You've found the perfect balance of vintage with modern touches. What are some of your favorite vintage pieces?
Our church pews in our kitchen were a Facebook find for $75 from a church in Chicago. We've cut them down to fit our kitchen table. They've got a sign on the end that says "reserved for families with small children," and they are just such an important piece in our home. Our boys have one of each of a set of mid-century modern dressers in their rooms that we found when I was pregnant with Jack, and I love them so much and love that they both have one. 
Where are some of your favorite places to shop for modern home decor pieces?
Our bar stools are from Rove Concepts, and there are so many pieces on there that I would love. We've got a crazy cozy chair from Six Penny Home that is so delicious, and I never want out of it. Our bed is from Room and Board, and I love the clean lines and the statement it makes. And you can never go wrong with Restoration Hardware. 
SHOP THE LOOK

Do you have any tips for styling open shelving in the living room?
For me personally, open shelving is such a way to show who you are — your favorite books mixed with travel and vintage finds and art can all really demonstrate your style and tastes. I love groups of similar items — candlesticks, bowls, small figures balanced by something strong on the other side, boxes, baskets, books. I also love odd numbers — groups of three things clustered always works and play with height to create balance. And I mess with mine on a weekly basis — don't worry if you aren't happy with them. Walk away for a few days and play with them again. 
You and your husband have done a lot of DIY projects throughout the home. What project has been your favorite so far?
My son's nursery in our old house was really hard to leave. My husband, Bill, painted mountains using tones of gray, and it was so beautiful. I am still jealous that the new homeowners inherited that one. I did a faux wallpaper design in our butler's pantry that I am pretty proud of — everyone is always touching it asking if its wallpaper, but it's just sharpie and a couple of glasses of wine!
SHOP THE LOOK

Your master bathroom is literal goals! What made you want to go with the green patterned flooring in this space? What are some of your other favorite details in this bathroom? 
That tile for me was love at first sight. I couldn't move on. Even when I saw the price tag. I smile at it every morning. They are handmade Moroccan tiles and just so gorgeous. I'm a big bath girl, and having a freestanding tub with the brass tub filler is such a dream for me. Our master bath is a work in progress — we could use some blinds, and I want to switch out the sconces and add an accent wall of some sort behind the tub. Our project list is kind of endless. We'll never be done with this house. 
Jack's room is so cute! What was your inspiration? How does his room fit his personality?
We definitely got some major inspo from Camp Wandawega. I wanted that room to feel like a cool old man lodge. He loves fishing, boats, and animals, and that's all reflected in the art. I let him pick the light fixture. I find it slightly oppressive and medieval, but he loves it. My mom made the Hudson Bay-inspired quilt, and it's so beautiful. It's full of collected art from both of our parents and grandparents, including a large photo of my Grampy posed on a rocky beach in Hawaii. That room by far feels the most complete to me, and it totally isn't. You just feel good hanging on his bed. 
SHOP THE LOOK

We have to talk about the library. Tell us more about this space and how you organized the book collection!
I knew I wanted that room to just feel like my little getaway and rich colors do that for me. I love light and bright, but I also just love the comfort of dark — give me all the blackout curtains. We both are big readers and had a massive collection of books that needed a home. Bill has been playing with color-coding books since our condo in Lakeview in 2007. He had a vision for our library, and I just let him go full throttle. It was our first room unpacked. I love what he did in there. He is such an artist and loves to change things, and I am so scared he will want to revamp those books in six months — they are such a beautiful rainbow. 
Now that you've been in the home for seven months, is there anything you wish you would've done differently with the design?
This is such a tough question because I feel like we are still in the honeymoon phase with our house. Picking lighting was really overwhelming for the whole house. We needed modern lights that were still clean looking that didn't cost $10,000 each. I made a few choices, like our master bath sconces or the boys' bathroom light, that I would change. Otherwise, I really am happy with our house. We spent a lot of time and emotion on this house, and I'm just so lucky to get to live in it. 
SHOP THE LOOK

Do you have any advice for other moms building and designing their own homes?
Bring your children to as few meetings as possible 🙂 We lived with my parents for the whole year that it took to build because we sold our house in the city fast, and it helped us save money to not have rent or a mortgage for a year. I relief on them and our babysitter a lot. Try and not make any decisions too fast — take your time, make folders on Instagram or Pinterest, and focus one room at a time. It can be really daunting to walk into a tile showroom and just have them look at you to get started. But if you spend real time deciding what you want each space to look like, you can then work with experts to tell you what the best performing modern tub is or what is the cheapest, most interesting tile you can throw in your laundry room. 
How involved was your husband with the design process?
He and I both have a lot of opinions. And he really wanted his say in specific things but a lot of it, he trusted me to do. He really wanted wide plank floors, wood beams, inset cabinets, solid kitchen hardware. He really wanted well-performing items in our house. He basically drew our floorplan up because he wanted an efficient use of space. And he was really set on this one Brizo set of faucets for our master bath. But he knew that I had a vision and let me run with it. Paint, tile, lighting — he leaned on me to get that done. We've been together since high school and our style has grown together. For the most part, we are on the same page which makes trusting each other for these decisions easier. 
SHOP THE LOOK

What's your favorite part of being a stay-at-home mom? What's the hardest part, and how do you overcome it?
My favorite part is being able to be there with my boys when they need me — sick days, sad days, happy days. I don't miss much of their lives. The hardest part is feeling like it's me 24/7. My husband travels a bunch. This week he is gone Monday through Friday, and I just don't get a lot of time to feel like myself and have time for myself. So, I have a sitter for a few hours a week, so I can breathe and run errands alone. It's kept me sane. 
What're your plans for going back to work?
Well, this question is a doozy 🙂 I just don't know what I want to be when I grow up. And that has gotten in the way for me over the past few years. I know that I would have a hard time going back to work full time right now, coming off of being at home full time for so long. And I am truly grateful that I can say this – I need to find a job that I love if I am going to leave my kids. So, I am trying to figure out what that is. If it's back in policy or if its design related. My Instagram account has been such a good outlet for me. Feeling like I give myself deadlines to share and working with brands on projects its been so fun and feel like there's a light on in a part of my brain that hasn't been accessed in a while. I've got my first design consult client I am working with right now — she approached me, and I decided to try it out and see what happens. Just trying to be open to what is next and see where it all takes me. 
SHOP THE LOOK

What are some of your favorite things to do as a family?
When we lived in the city, I loved waking up early and getting to the beach with bagels before the crowds. I miss that. Lately, we love a Saturday morning walk into town and the farmer's market. We go out to each a lot — I love watching my 4-year-old order his drinks and food. 
If you had to pick one, what is your favorite moment of motherhood so far?
Our little guy, Leo, had a rough start. He had breathing issues at birth and a few seizures,  all related to oxygen being cut off at some point in delivery. They didn't know what was wrong, and we feared meningitis or something else scary. He had a spinal tap and was on an EEG for days in the NICU, and we couldn't hold him or feed him. When we got our answer that he was going to be OK and come home after 10 days, I will never forget walking in the door and putting down his car seat and having his brother come rock his car seat and feeling like we were just bringing home a healthy baby, and everything was going to be ok. I hope I can have that memory burned in my brain forever. 
Elise Fox is The Everymom…
Go-to meal to cook? Whole Roasted Lemon Greek Chicken over potatoes (recipe by Defined Dish — so amazing)
Kids show you secretly love? Peppa Pig
Coffee order? The biggest latte I can get, slightly sweetened
Dream vacation? I like a mix of beach and exploring. I'm dying to go to Morocco and Japan when my boys get a bit older
Best way to end the day? A glass of wine, a book, and my bathtub
Best way to blow off steam? Yoga, shopping, or a good cry
Favorite restaurant in Downers Grove? Pierce Tavern and Every Days a Sundae
Favorite Chicago summer activity? Early morning beach trip 
Most embarrassing mom fail? It's a toss-up between the time that I fished a long sticker out of my older son's poopy diaper that had the words written in caps, "CHOKING HAZARD." Also, recently, we were leaving his soccer class and he screamed across the parking lot to his friend, "Don't forget, snitches get stitches!!!" Every week seems to bring new cringe-worthy moments.