When you think of endangered species, my hunch is that a 5-year-old child doesn't spring to mind. But my nephew — sweaty little body covered in dirt and grass clippings; pockets perpetually weighed down by rocks and twigs — is exactly the type of creature that bestselling author Richard Louv would rocket to the top of the vulnerable list: the child in nature.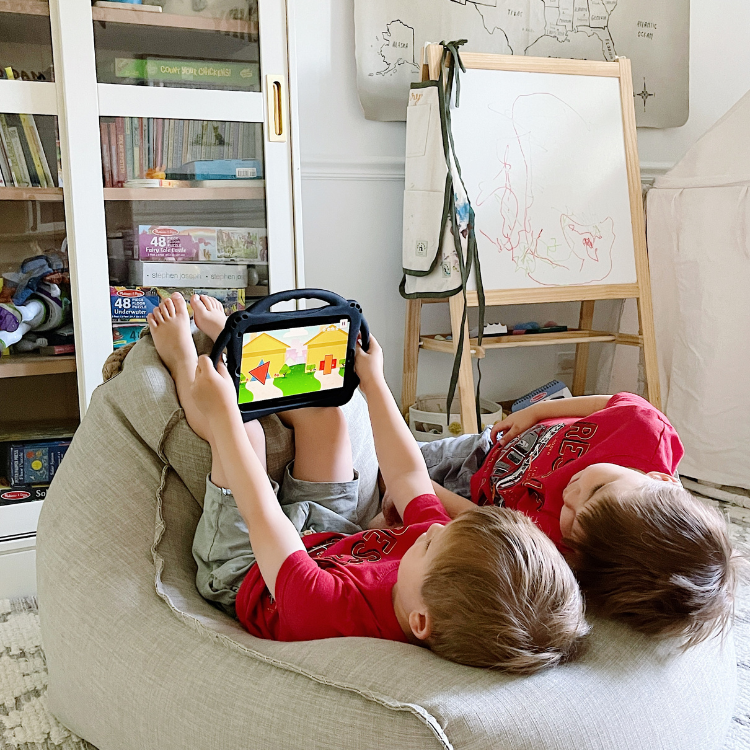 a pediatrician shares what she *really* thinks about LOs and screen time
It's Louv's latest initiative, The Children & Nature Network, that found our little ones now spend nearly 90 percent of their time indoors — racking up 50 hours each week glued to an electronic device. While it may seem just a clever turn of phrase to equate outdoor-loving kids with say, snow leopards and black rhinos, Louv and his team have a point: Spotting a young boy or girl soaking in unstructured outdoor play is about as rare as catching sight of a bald eagle in the city.
But what's the harm in shifting our ideas of what constitutes healthy childhood play? As it turns out, plenty.
In the last decade, a growing body of international research has linked the break between kids and nature to attention disorders, higher instances of physical and mental illnesses, obesity, vitamin D deficiency, and more. It's what Louv has coined Nature-Deficit Disorder, and, while it's not a medical diagnosis, parents and educators alike should take note. When kids are denied access to nature they struggle physically, emotionally, and academically. When they're encouraged to play in green spaces, they thrive.
As research scientists are quick to state, there's no magic bullet. But connecting your kid to the great outdoors in any capacity only helps in his or her development. But can your child really reap the benefits of outdoor play by simply stepping out into the backyard? Well, that's the idea.
Maggie Gale, an early childhood educator and nature preschool advocate, encourages parents to keep outdoor play open-ended and imaginative. "The idea is to let kids explore freely outdoors and lead their own play. Let them be messy, loud, and independent. Give them a sense of wild freedom. At the end of the day, they're definitely going to need a bath— but the benefits to their confidence, creativity, and overall well-being are well worth that hassle."
She suggests providing tools for discovery and then standing back and allowing your child to lead the way. "Any activities that are too structured almost defeat the point," she says. "Think simply: give kids shovels, buckets, bug nets, rain boots, and magnifying glasses and they'll have a great explorer's kit to get going."
Need more ideas to encourage outdoor play at home? Read on to find a list of child and family-friendly activities to inspire your little one to embrace his or her greener side.
Set Your Child up With a Nature Collector's Box
Encourage him or her to gather beautiful leaves, flower petals, pebbles, and more to examine later. Include a clipboard, outfitted with paper and masking tape, and a few peeled crayons. When the day is done, your little one can create leaf, flower, and bark rubbings and turn his or her outdoor adventures into art.
Bring on a Big Mess With a Mud Kitchen
Keep it simple with a few play pots, cups, and spoons, and encourage your child to put together an imaginative feast. Don't forget the water supply! If your little one's mischievous, a half-full watering can may be a wiser choice than handing over the garden hose.
Start a Nature Journal
With a few colored pencils or crayons, your son or daughter can record his or her favorite wildlife sightings, memories, and discoveries. For younger children who are still learning to read and write, encourage them to draw — or invite them to dictate their experiences to you.
Encourage Your Child's Senses
Inspire a little one to get hands-on outside by outfitting him or her with funnels, colanders, measuring cups, eye droppers, spoons, buckets, and bowls. Go all out with a sand and water table, or keep it extra simple with — sorry, germaphobes — a plot of mud.
Set out a Tent
Whether you ever plan to camp or not, pitching a tent in the backyard offers kids a multitude of ways to play. Whether it's a pirate's hideout or a shaded place for a good snack, a ready-to-go tent sets the intention for a day of outside play.
Coax Your Child to Find His or Her Inner Wildlife Photographer
Can't break the lure of something electronic? Hand over your old digital camera. Whether you set your kid free in the backyard — or embark on a family hike — there are creatures, flora, and fauna aplenty to capture your little one's eye.
Be Your Child's Assistant as He or She Plants a Tree
Bonus points if this new sapling marks a special occasion, say the birth of a new sibling or death of a beloved pet. Snapping photos throughout the year of your kid alongside this growing tree is also a sweet way to mark the passing of time.
How much do you incorporate outdoor play into your parenting? What would you add to this activity list? Share your thoughts in the comments below!