As a mom, I often put self-care on the back burner since my focus is on taking care of my kids. Between making healthy meals, organizing bath time, and driving around to extracurriculars, it feels like a miracle when I can get a few minutes alone to use the bathroom. But as my 30th birthday creeps closer, I can't help but be a little more conscious of fine lines and sun spots on my face that are a constant reminder that I need to give my face some daily TLC.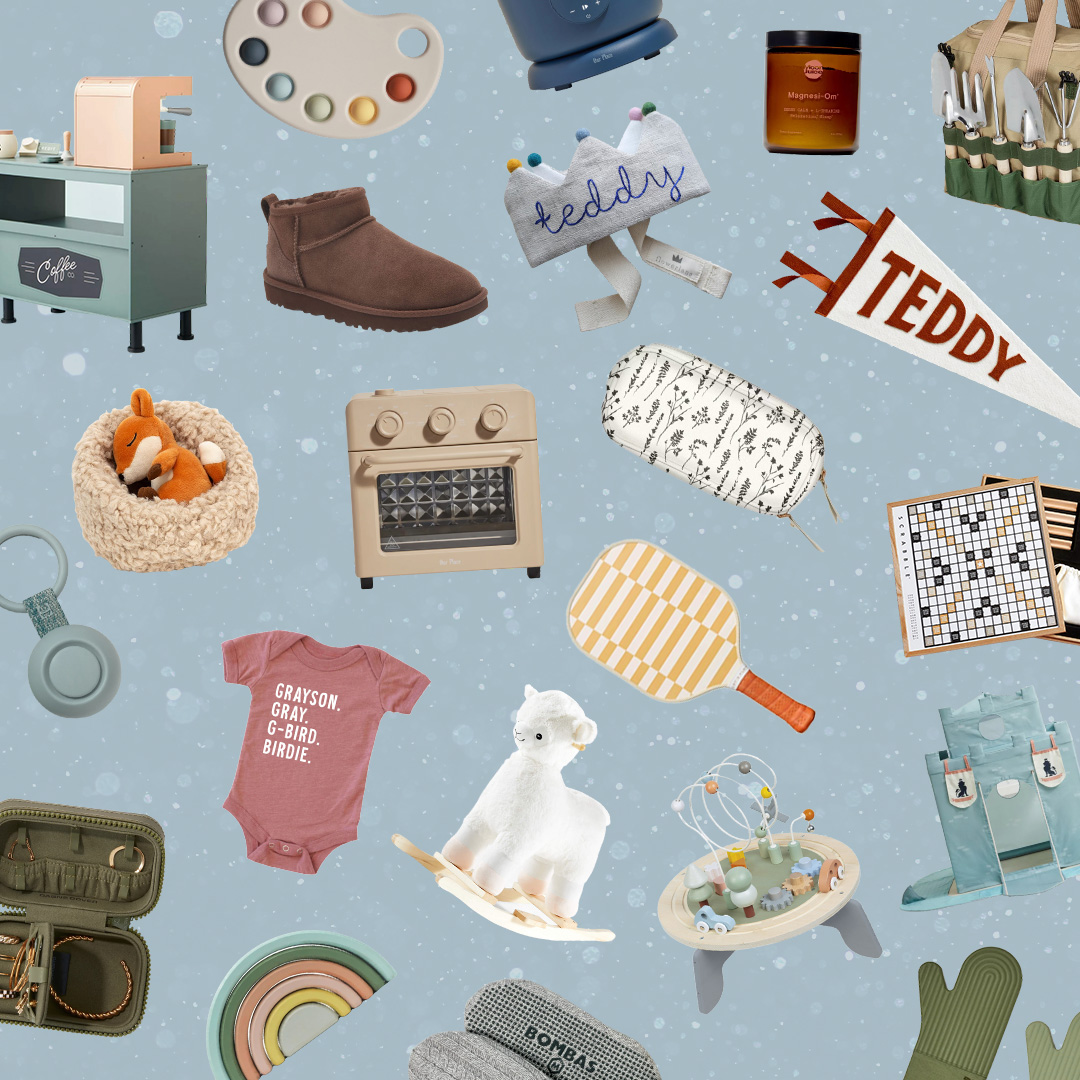 everything you need to ace holiday gifting this year 🎁
Skincare helps you protect the most important barrier your body has. While I typically love to research the dos and don'ts online, it can be overwhelming to try and find skincare advice with a busy mom's schedule. But when I talked to my favorite esthetician (coincidently my sister-in-law!), she assured me skincare doesn't have to be overwhelming.
Here are five of her best skincare tips that are easy for busy moms to follow.
Meet the expert
Amanda Zoe Richards
Licensed Esthetician
Amanda is a Lead Esthetician at one of the most advanced facial bars in New York City, Silver Mirror Facial Bar. Her mission is to make skincare effective, approachable, and accessible to everyone.
1. Start double cleansing
As a mom, particularly to babies and toddlers, you can almost guarantee that your face is going to be touched by cute, albeit dirty, and/or sticky, little hands. While most of us know we should be washing our face with a different soap than we use on our body, we can forget that the face wash we used in high school is not necessarily what we should be using now.
"Double cleansing is everything," said Amanda Richards. "Utilize a cleansing oil or cleansing balm at night to break down makeup, and remove it all in a quick and easy step. One product I recommend is the DHC cleansing oil. It is perfect for most skin types. Apply to dry hands and dry face, massage onto skin for 60 seconds, and rinse the day away!"
Typically double cleansing involves a first wash with an oil-based cleanser and then a second quick wash with a water-based cleanser. The first wash will break down SPF and makeup and the water-based cleanser will remove residue, sweat, and dirt.
Dermstore
This cleansing oil removes excess oil, makeup, and dirt, and it hydrates as it cleans. The best part is that you only need a little bit of this product for it to be effective.
Amazon | Cetaphil
Cetaphil is a great option for those on a budget. It is perfect for sensitive skin and leaves skin feeling fresh.
2. Reach for spray-on toners
Toners are typically an in-between skincare step to help prepare the skin to absorb moisturizers. If you are like me and have really dry skin, it can make all the difference in the efficacy of your moisturizing products. 
"Stop reaching for the cotton pads, and instead utilize a quick and easy spray-on toner to help keep your skin balanced," Richards said. "The Sanitas Moisture Mist toner includes two forms of humectants to help bind moisture to the skin, helping to keep skin hydrated and plump."
Amazon | Sanitas
This spray serum is formulated to hydrate skin with hyaluronic acid and doubles as a setting spray for mineral makeup.
3. Exfoliate while you sleep 
Richards suggests busy moms apply a nighttime exfoliation serum to freshly clean skin and follow up with moisturizer, so they can get all the benefits of exfoliating while sleeping. As we age, our natural cell regeneration slows down, so it's crucial to do this step at night since our bodies take more time to shed dead skin cells.
"Exfoliation is an essential step in any effective skincare routine to help reduce congestion and improve product absorption," said Richards. 
Derm Store
The Clinical Active Serum is a great overnight treatment that can be applied three times a week. It utilizes natural derivatives of Willow Bark and Sugarcane as natural alternatives for Salicylic and Glycolic acid, and it is not systemic, so it is safe to use while pregnant or breastfeeding!
4. Skip viral products in favor of effective clinical skincare 
While it can be easy to fall for ads on Instagram and TikTok promising amazing results from our favorite influencers, Richards suggests investing in clinically effective skincare. She goes on to suggest trading all the hype for effective skincare like a Vitamin C serum in the morning to help brighten and increase collagen production. 
Derm Store
The iS Clinical Pro-Heal serum is perfect to brighten and soothe stressed out skin.
5. Use a moisturizer with SPF
I typically have avoided moisturizers with SPF because I hated the smell, but after talking with my favorite esthetician, I can't ignore the importance of this necessary morning skincare step. She reminded me that not using sunscreen can lead to sun damage, hyperpigmentation, and wrinkles, and it can increase the risk of developing skin cancer. She suggested that moms make things a little easier by using a combo moisturizer and SPF like the Supergoop! Superscreen because it is lightweight and hydrating with SPF already added in. 
Sephora | Supergoop
This moisturizer nourishes your skin while protecting it from harmful UVA/UVB rays and pollution.