Summer was always my favorite season, but fall has become magical in recent years. Seeing the leaves change colors and gather in neighbors' yards is comforting. Maybe it's nostalgia from my childhood or perhaps knowing that Halloween and Thanksgiving will be here before we know it.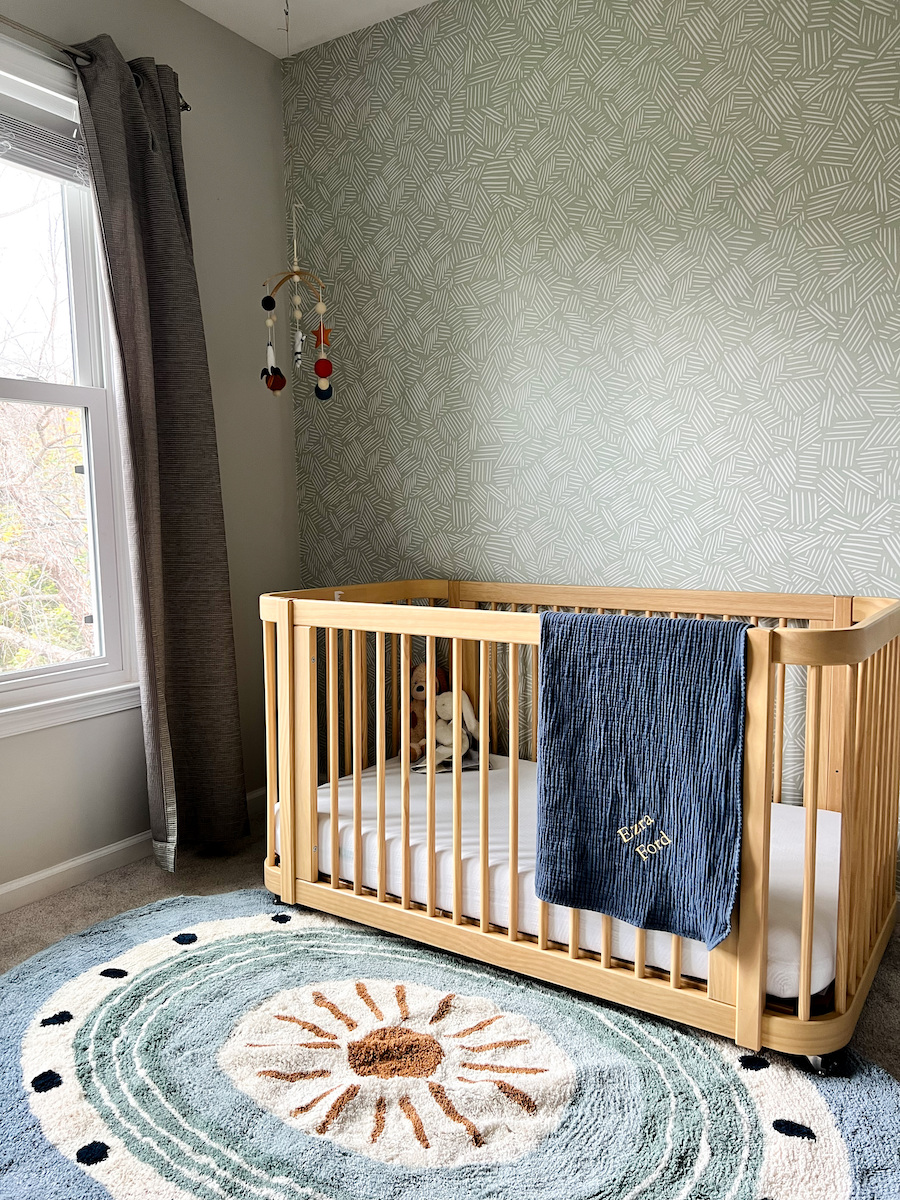 editor-favorite crib brand Nestig just released gorgeous new wallpapers that will easily transform any space 😍
My partner knows it's mandatory to bring home pumpkin muffins during the fall. We started this tradition last year to be more intentional about dating each other after our son was born. Since fall is just around the corner, we've been making date night plans that feel perfect for the season.
Maybe spending quality time together after the kids go to bed is all you can muster the energy for right now. And that's OK. But if you're extra excited about fall and are looking to be intentional about date night, here are 10 fall date ideas to spark a little connection.
1. Visit a Local Fair
The best part about a fair is that there's something for everyone. Remember when you used to get excited about the local fair that only came to town during the fall? If you can't remember the last time you rode the Ferris wheel or indulged in funnel cake covered with powdered sugar, try going on a date to your local fair.
While exhibits at fairs vary by state, you may find that your local fair has an array of entertainment options. These can include BMX stunt shows, concerts, carnival rides, and food trucks. The best part about it is that no matter what you choose, you'll create new memories with your partner.
2. Visit the Pumpkin Patch (Without the Kids)
If you love pumpkins because they remind you of Halloween or because you can make delicious treats out of them, visit a pumpkin patch with your partner. Depending on where you live, various businesses, farms, or local churches will host pumpkin patches. If you're unsure where to look, Pumpkin Patches and More has compiled a list of pumpkin patches based on state, region, and county for your convenience.
3. Pick and Bake Your Harvest
Maybe it's a southern thing, but home-baked apple pies are something I look forward to during the fall. Apple-picking is a classic autumn date. It's a great time to walk hand-in-hand as you search for apples to put in your basket.
After picking apples, you and your partner can take them home and make tasty treats. Aside from apple pie, there are many recipes to make with apples—like apple turnovers and salted caramel apple bars.
4. Have a Campfire Night
If you don't have time to go camping together, you can opt to have a campfire. You can choose classic campfire food, like hotdogs or corn on the cob. Or you can add s'mores to get the full camping effect. This is also the best time to drink something warm and soothing, like homemade hot chocolate, apple cider, or pumpkin spice lattes.
5. Visit a Corn Maze
Fall classics, like pumpkin patches and corn mazes, often make for the perfect date. The corn maze date is all about allowing your inner child to run free—literally. Some of our local corn mazes in Georgia have mini petting zoos, hay rides, wagon rides, and more (so the kids could come, too).
6. Sample Local Ciders or Brews
Instead of going to a wine-tasting event, take a trip to your local cidery or brewery for a tour. See how beers or ciders are made, and sample different flavors.
Once you find a cidery or brewery to visit, check to see if there are specific requirements for the tour. For example, the SweetWater Brewing Company in Atlanta requires that closed-toe shoes are worn during the tours. Participants also have to be at least 21 years old.
7. Enjoy a Drive-In Movie
Drive-ins made a bit of a comeback during the pandemic when we had to social distance. In the spirit of Grease, you and your partner can enjoy a night under the stars while watching a film on a big screen from your car—and as they said back in the 1950s, maybe do some necking too.
8. Attend a Costume Party
If you and your partner are up for it, dressing up and attending a costume party can be a memorable date. You can coordinate a matching Halloween costume or create your own if you're feeling crafty. You and your partner can dance the night away, drink some adult beverages, and enjoy the other guests' costumes.
Think of it as a fun way to celebrate Halloween with your partner that isn't all about your kids. Grown-ups should enjoy Halloween too!
9. Game Night After the Kids Go to Bed
When was the last time you and your partner played games without the kids? Don't worry if you can't remember! A late-night game night gives you and your partner a chance to unwind while stirring up a bit of healthy competition. I'm not sure about you, but the endorphins released during our game nights have led to amazing sex in my household.
Since there are many games, you and your partner can decide on a few that suit your interests. Scrabble, Payday, or Monopoly are sure to ignite some positive memories if you're into board games. Or, if either of you is a gamer, enjoy some friendly video game competition.
10. Volunteer Together
Date night is supposed to be about you and your partner, but there's something special about volunteering together that can make you feel closer. Not only will you be able to give back to your community, but it can lead to conversations about gratitude. Considering Thanksgiving is a few months away, this is an excellent time for the two of you to start thinking about what you're grateful for. Not sure where to begin? Volunteer Match is a great resource that allows you to search for volunteer opportunities in your area.