We at The Everymom love Halloween. Maybe it's because the holiday sparks a little creativity in all of us—from pulling together the perfect fall recipe roundup to adding a little festive fall home decor. Plus, we love planning out costumes for our babies and kids. Some of our editors have even been dreaming up family Halloween costume ideas since their babies were in utero.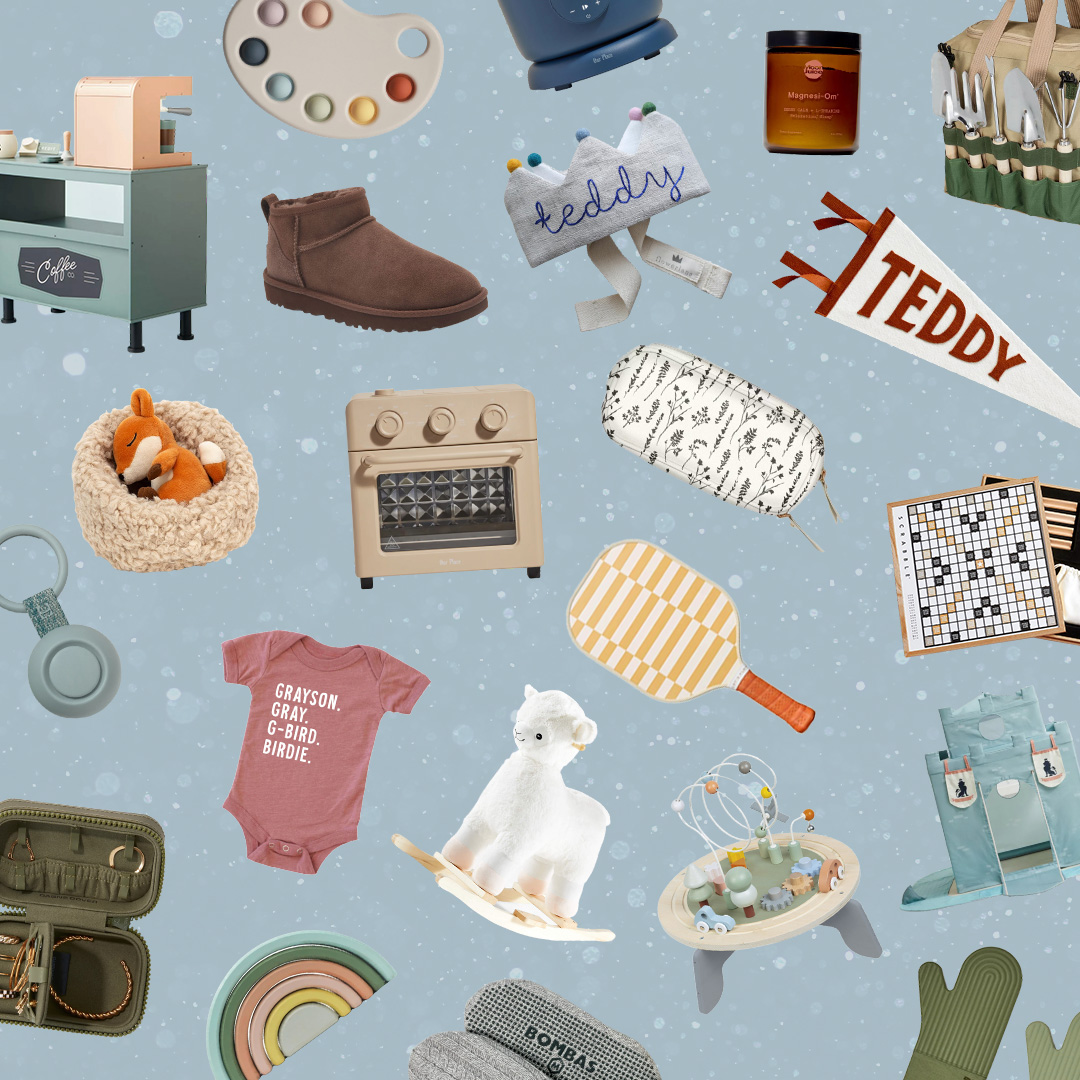 everything you need to ace holiday gifting this year 🎁
Other editors with older kids were just lamenting about how our youngest children now insist on picking out who or what they are going to be for Halloween. While it's fun to see what they come up with, we're secretly still hoping a coordinated family Halloween costume isn't off the table—and this roundup is a great place to start for some inspiration.
We pulled together a ton of creative family Halloween costume ideas (with adorable inspo photos!) that include throwback movie references, recent pop culture ideas, and some staple classics. Plus, we did the legwork to find costume options that are both affordable and cute. We hope this list sparks some fun Halloween family costume ideas for your crew—check them out below!
1. Under the Sea
The ocean opens up so many possibilities for family costumes—including pets! Plus, with the recent release of Disney's live-action The Little Mermaid, this is sure to be a 2023 hit costume.
2. Up
Few movies are as heartwarming this Disney Pixar's film, making Up costumes a favorite family Halloween costume year after year. We can't help but love little ones dressed as crotchety Carl Fredrickson or eager do-gooder Russell. Those who love a DIY-Halloween moment can craft a cardboard house, add balloons, and other whimsical touches.
3. Harry Potter
It's been more than 20 years since the original books came out, and Harry Potter costumes are still going strong, especially now that some of the original fans are having kids of their own.
4. Classic Halloween
For a timeless and easy family Halloween costume, dress each family member as a different Halloween icon like black cats, bats, ghosts, witches, pumpkins, or skeletons.
5. Star Wars
With so many characters to choose from—from the original Star Wars movies to the Mandalorian series on Disney+—you can find a costume everyone in the family is excited about.
6. Peter Pan
This year's live-action film Peter Pan & Wendy on Disney+ brought the beloved tale back. Families can go with costumes inspired by the original animated characters or lean more into Hook vibes (Rufio faux-hawk anyone?)
7. Toy Story
With four Toy Story movies, family members can choose from the OGs—Buzz, Woody, Rex, Slinky, and Bo Peep—or add Jessie, Bullseye, and more from the later films!
8. Mary Poppins Family
With so many iconic characters, this family costume needs a Mary, but could also include Burt, children Jane and Michael Banks, dancing penguins, or suffragettes.
9. A League of Their Own
Many '90s kids may have the Rockford Peaches on their Halloween costume bucket lists. Inspired by the 1992 movie A League of Their Own, a family costume could include baseball players, coach Jimmy Dugan, and little Stillwell Angel in a sailor suit.
The Wishing Elephant
sizes 2T - 8
Grab red knee socks and a red baseball cap to complete the outfit!
HalloweenCostumes.com
inclusive sizes available from XS - 6X
kids sizes available too!
HalloweenCostumes.com
inclusive sizes available from XS - 7X
kids sizes available too!
10. Mario Kart
Like A League of Their Own, Mario Kart also came out in 1992, making it a fun throwback and a timely costume thanks to the new Super Mario Bros. movie. Repurpose your kid's push car for Mario, Luigi, or Princess Peach's ride.
11. The Heeler Family from Bluey
Everyone's favorite Aussie pup Bluey is sure to be a popular toddler costume this year—and is a perfect costume for families of four!
12.

Paw Patrol
Little ones looove Paw Patrol, so why not dress up like your kids' favorite TV characters and channel Marshall, Chase, Skye, Rubble, Ryder, and even Mayor Humdinger with a fun family Halloween costume this year?!
13. Sesame Street
There are enough Sesame Street characters for the whole family to be involved. From Big Bird, to Elmo, to Bert and Ernie, the gang can be all together. For a creative take, dress your little one as Cookie Monster with parents dressed as chocolate chip cookies.
14. 1950s Grease Style
Family members can choose to be a Pink Lady (think all black with a pink coat), a T-Bird, or just go classic 1950s with a poodle skirt.
15. Superhero Family
Whether Marvel or D.C. Comics heroes are your family's favorite, there are so many characters to create a truly epic squad.
16. The Madrigals from Encanto
Another sure-fire family costume winner: the Madrigal family from Disney's Encanto! It will just be hard to choose which characters to be because they are all so great. The Incredibles or Gru and the Minions could be other fun animated movie-themed family costumes.
17. Moana
With this year's announcement of the new live-action Moana movie, we anticipate this family costume will be popular for years to come. Especially with how cute a baby Hei Hei costume is—as Maui would say, you're welcome.
18. The

Princess & The Frog
Princess Tiana and a little frog make the perfect "Mommy and Me" costume. Or add more family members in on the fun with characters like Louis the gator or Mama Odie.
19.

Disney Villains
Now that we shared some Disney princess costume inspiration, let's move on to the villains! Whether your kids are fans of The Descendants movies or like to be "the bad guys"—think Cruella de Vil, Ursula, Jafar, and more—this could be a fun family costume!
20.

Top Gun
Grab a Hawaiian shirt and a faux mustache to be Goose from the original movie or Rooster from the 2022 sequel. A bomber jacket and aviator sunglasses or a navy uniform for kids or adults will celebrate the epic return of Maverick in last year's top movie.
21. Jurassic Park
So many little kids love dinosaurs. Parents can complement their costumes by dressing up as the original characters from the 1993 version or 2022's Jurassic World: Dominion. It'll be a hit for the kids and fellow parents who will appreciate the movie reference.
22. Welcome to the Circus
The circus theme gives so many costume options for your family. You'll need a ringleader, but trapeze artist, strongest man (or woman), performing lions (perfect pet costume?), and more are all other fun ideas for the rest of the family.
23. Into the Woods
Woodland creatures make for some pretty adorable costumes—think deer, skunks, rabbits, squirrels, birds, and more!
24. Farmer Family
The assortment of cute farm animal costumes for littles goes on forever. Parents can wear a pair of overalls and a straw hat to create an easy farmer or scarecrow costume to compliment the ensemble.
25. Backyard Garden
Find inspiration right in your own backyard. This cute and creative family costume could come together with flowers, garden gnomes, fairies, and butterflies.
26. Chef's Kitchen
While parents might have been watching the restaurant kitchen drama The Bear on Hulu, kids might be more excited about a Disney Ratatouille-themed family costume. Whatever theme you choose, we love that a chef's hat makes an easy DIY costume for the parents.
27. Starbucks Baristas
Barista costumes have become super popular and a quick Etsy search will uncover many adorable Starbucks costumes from "Tall" newborn baby options to "Venti" adult options.
28. Bee & Beekeepers
The perfect costume for a family of three, parents just need to buy or DIY a beekeeper's hat to coordinate with their little bee.
29. Construction Zone
If your little one is all about construction equipment, lean in for a fun family costume with bulldozers, reflective vests, and more!
30. Football Player & Refs
For an easy family costume, little ones can dress as their favorite player and parents can be the refs by adding a striped shirt—and maybe a whistle for good measure.
31. Outer Space
For anyone reading the headlines lately, non-human "biologics" could be inspiring some outer space family costume ideas this year. Plus, strollers and wagons can be DIY'd into spaceships for easy trick-or-treating transportation.