We at The Everymom LOVE Halloween! Maybe it's because the holiday sparks a little creativity in all of us — from pulling together the perfect pumpkin ensemble to adding a little festive fall home decor with some spooktacular details. Plus, we love planning out costumes for our babies and kids – some of our editors have been brainstorming their baby costumes since their little ones were in utero.
Others of us with older kids were just lamenting about how our youngest children now insist on picking out who or what they are going to be for Halloween. While it's fun to see what they come up with, we're secretly still hoping a coordinated family costume isn't off the table, and this roundup is a great place to start for some inspiration.
We pulled together 12 creative family costume ideas that include throwback movie references, timely pop culture ideas, famous people, and some staple classics. We also included some easy homespun ways to get in the spooky spirit (i.e. black shirt plus black leggings plus a cat ear headband, and voilà, you're a spooky Halloween kitty). Plus, we did the legwork to find affordable options and ways to create certain looks without shelling out the money for the full store-bought costume. We hope this list sparks some ideas for your own family this Halloween too.
1. Game of Thrones
You don't have to be from a house of Westeros to have fun with this Game of Thrones-themed family costume. While it's likely your kids haven't seen the show (unless they snuck out after bedtime), other parents and GoT fans will love this costume's homage to the show's final season.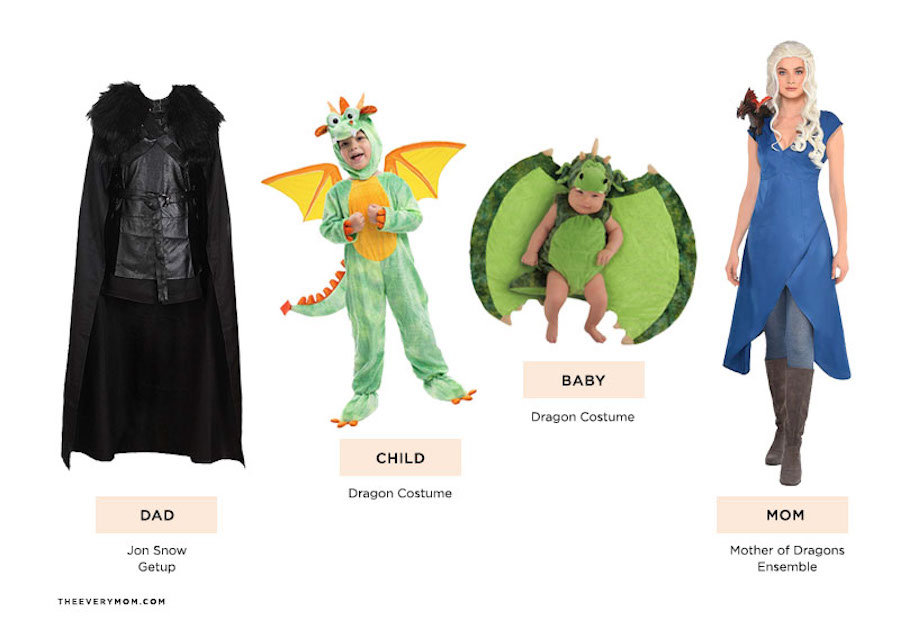 Jon Snow / Child Dragon / Baby Dragon / Mother of Dragons
2. The Greatest Showman
The circus theme gives so many costume options for your family. You'll need a ringleader, but the bearded lady, trapeze artist, strongest man (or woman), performing elephants, lions (perfect pet costume?), and more are all other fun ideas for the rest of the family.
Dress / Beards / Baby Elephant / Trapeze Dress / Hat / Blazer / Black Trim Blazer
3. Ghostbusters
Whether Stranger Things Season 2 or the Ghostbusters movie remake helped bring this costume back (maybe it's just the timelessness of ghosts and Halloween), Ghostbusters are an easy-to-find family group costume. And what is cuter than a tiny Stay Puft marshmallow baby?
Adult Ghostbuster / Child Ghostbuster / Baby Stay Puft / Mom Ghostbuster
4. Harry Potter
It's been 20 years since the original books came out, and Harry Potter costumes are still going strong, especially now that some of the original fans are having kids of their own.
Scarf / Baby Owl / Child Harry Potter Uniform / Tie / Glasses
5. A League of Their Own
This is on my family Halloween costume bucket list if only I can get my girls to dress up as the Rockford Peaches with me one day. I'd love to make my husband be Stillwell Angel or borrow my little nephew (and give him a chocolate bar) to make the costume complete.
Mom / Child Uniform Skirt / Child Uniform / Baby / Sailor Shirt / Hat / Dad
6. Mario Kart
Like A League of Their Own, Mario Kart also came out in 1992, making it a fun throwback yet still a timely costume for a video game still going strong today on Nintendo Switch.
Luigi / Child Mario / Princess Peach / Crown / Mom Princess / Kart / Mario
7. The Wizard of Oz
This movie classic has so many fun options for the family — from the classic trio of the cowardly lion, scarecrow, and tin man to the star of the show, Dorothy, and the witches. Let your kid chose their favorite and fill in from there!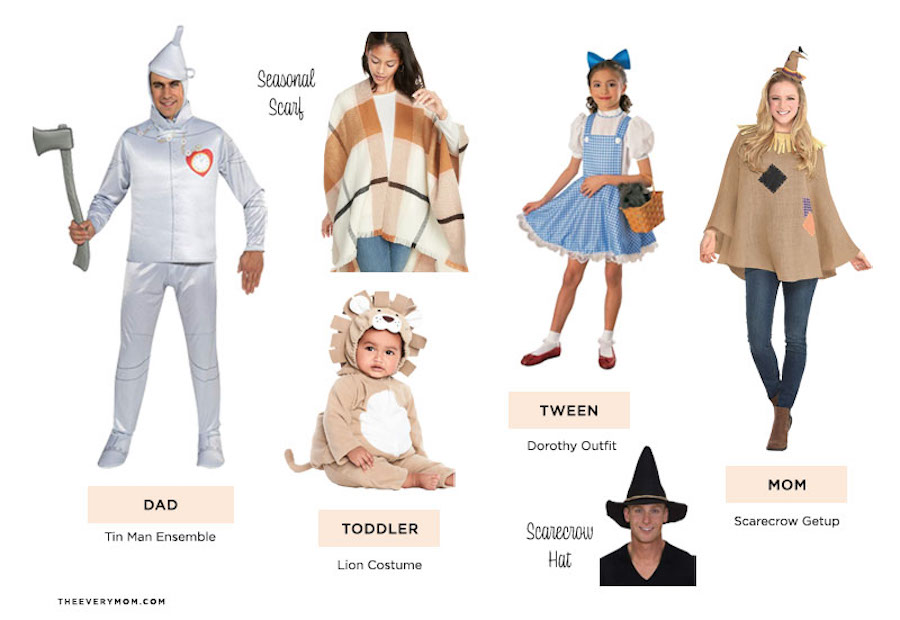 Tin Man / Scarecrow Scarf / Lion / Dorothy / Scarecrow Hat / Scarecrow Poncho
8. Chefs & Lobster in a Pot
This is an easy-to-execute and Instagram-worthy option for parents with babies who can sit propped happily in a pot.
Parent & Baby / Lobster Toddler / Pot Prop / Chef's Outfit
9. From the Garden
This costume can be easy and homespun or super creative, depending on your crafting ability. Plus, the garden has tons of inspiration beyond those pictured here — think mother nature, toadstools, flowers, or other insects, like Target's hilarious praying mantis costume for kids and adults.
Baby Snail / Pet Bumble Bees / Gnome Beard / Shirt / Belt / Butterfly
10. Jane Goodall
Make a baby monkey costume even more creative by getting parents and/or siblings in on the fun by going as Jane Goodall, the famous primatologist, and her animal entourage.
Adult Monkey / Baby Monkey / Monkey Prop / Safari Gear / Dress / Safari Shirt
11. "Baby Shark"
Is the song in your head already? We're sorry. But if your kid loves "Baby Shark," they're sure to love this family costume.
Daddy Shark / Baby Shark / Mommy Shark
12. Classic Halloween
One Halloween, I was nine months pregnant and went as The Great Pumpkin by taping a black-construction-paper-crafted-jack-o-lantern face to an orange T-shirt. It wasn't perfect, but it was quick and easy, just like many other classic Halloween options.
Cat Ears / Tail / Pumpkin Shirt / Baby Bat / Toddler Witch / Vampire