The changing of the weather outside may be inspiring you to make some at-home changes as well to celebrate the fall season. It's hard to believe that we're still spending a lot more time at home than we're used to, but here we are. So, you might as well love the space you're living in. Fortunately, you don't need to spend a lot of money, and you don't need to make any major interior changes to give your space a little seasonal refresh for fall.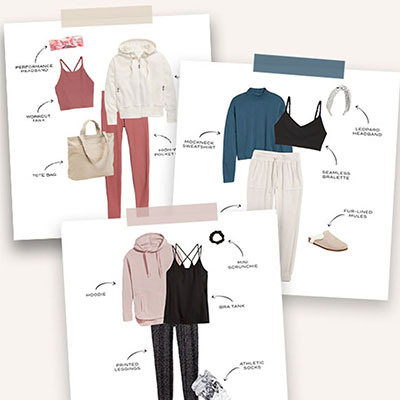 Shop 6 of Our Favorite Loungewear Outfits From Old Navy
Need to spruce up your at-home wardrobe? We've put together six cute, comfy, and budget-friendly loungewear looks from Old Navy.
This way to shop! —>
Fall is all about warm neutral tones—not too bright and not too muted. The autumn colors and tones often reflect those of the changing leaves, with colors like rusted reds, olive greens, light browns, and camel tones. It's not just about tossing pumpkins in every room (though let it be said, we're not opposed to that!). Think cozy throws, amber vases, and neutral florals. Whether you live in a part of the country that actually has these colors outside your door, or you live in an area that lacks seasons, you can still embrace the fall vibes inside your home.
So, grab your homemade pumpkin spice latte and take a scroll as we share our favorite budget-friendly items to add to your home and front stoop this fall.