Most of my favorite childhood memories are set on my grandma and grandpa's farm: summer days playing outside, helping with the animals, and riding on a tractor with my grandpa. While I loved the sunny days I spent outside, I also have fond memories of rainy days stuck indoors thanks to my grandma's extensive Disney VHS movie collection.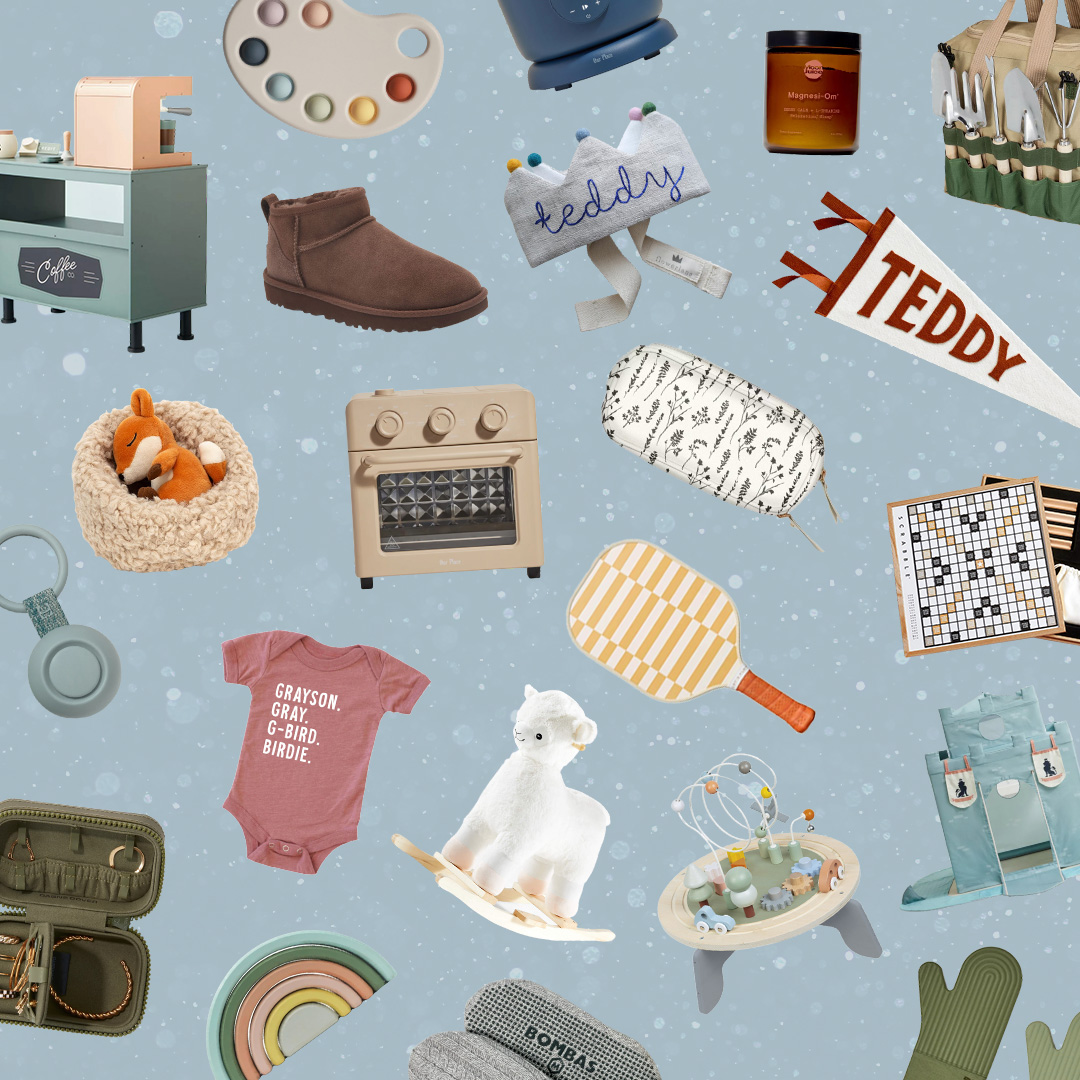 everything you need to ace holiday gifting this year 🎁
My sister and I always vowed to keep her Disney movies—and her VCR—to share them with our own kids one day. I know my grandma would be so excited to know that not only do we cherish the collection, but Disney is actually remaking some of those classic movies in live-action revivals. It's so exciting for all of us who grew up watching Disney movies to share in the magic with our own kids.
Several Disney live-action remakes are already available on Disney+, with more in the works. Plus, a few are set to hit the theaters in the future. For anyone as excited as we are about this trend, we pulled together a list of Disney live-action remake movies you can watch now, those coming soon, and new ones in development.
Coming Soon to Theaters
The Little Mermaid
Rating: PG
Release date: In theaters May 26th, 2023
Finally we're all getting the remake we've been looking forward to for years! Based on the 1989 animated movie comes the new movie-musical starring Hailey Bailey as Ariel. Much like the animated film, a young mermaid becomes curious about humans after saving a sailor from drowning. In exchange for her beautiful voice, a wicked sea witch offers to give her legs. Little does she know, the deal she's made will put her at risk of losing more than just her voice. With its star-studded cast, we simply can't wait to be part of Ariel's world this May.
Disney Live-Action Remakes Available to Stream
Rating: PG
Where to stream: Disney+ on April 28th, 2023
We've seen a couple of renditions of the story of Peter Pan in the past (think, Finding Neverland and Hook), but something tells us the newest, coming to Disney+ this April, is going to be one of the best. With some familiar faces like Jude Law, and new actors, including Noah Matthews Matofsky, the first actor with Down syndrome to land a major role in a Disney feature film, comes the beloved story of growing up. We can't wait to be a part of the adventure with all of our favorites, like Peter Pan, Tinker Bell, and the Lost Boys.
Rating: PG
Where to stream: Disney+
Starring fan-favorite, Tom Hanks, as Geppetto is a remake of the 1940 film based on a classic Italian novel from the 1880's. A master craftsman, Geppetto, creates a boy made out of wood and treats him as if he were his real son. The boy, known as Pinocchio, has big dreams of becoming a 'real boy.' A fairy grants his wish under the condition that he lives a virtuous life.
Rating: PG-13
Where to stream: Disney+
In the last few years, we've seen Disney live-action remakes step outside of the box and offer stories from a villain's perspective. (Anyone else have a little one in their life that can't get enough of Descendants?) Since then, it would be difficult to find a role quite as iconic in a Disney film as Emma Stone playing Cruella de Vil. Based on the 1961 animated film, 101 Dalmations, comes the tale of a young designer looking to make a name for herself in the fashion industry of London. In the film, we see the series of events that make her become so notoriously wicked.
Rating: PG-13
Where to stream: Disney+
Thanks to Mulan, we all learned from a young age how powerful we can be when we set our minds to something, no matter the obstacles we face. This remake from 2020 stars Liu Yifei as Mulan, who fights for her family and country, and becomes one of the greatest warriors China had ever seen. Taking the place of her ill father, she must pretend to be a man and serve in China's Imperial Army, defending her country against northern invaders.
Rating: PG
Where to stream: Disney+
In 2019, Disney gifted us a film that all but put us physically in the heart of Africa with the beloved characters from the 1994 animated movie. Young Simba is looking forward to one day he gets to take his father's place as king, but his Uncle Scar is less than thrilled about the succession. He starts a deadly battle over the kingdom and changes Simba's life forever. With an all-star cast of Donald Glover, Beyoncé, Seth Rogan, and more, this is one to not miss.
FYI—there's also talk of a prequel entitled Mufasa: The Lion King coming out in 2024!
Rating: PG
Where to stream: Disney+
After the devastating loss of Robin Williams who played the celebrated role of Genie in the 1992 animated version of the movie, fans found it hard to believe that anyone would be able to fill his shoes in the live-action remake. Most viewers were pleasantly surprised to hear Will Smith would be taking on the role and making it beautifully his own. Like the original, in the film we follow along with 'street-rat' Aladdin, the charming Princess Jasmine, and the out-of-this-world Genie.
Rating: PG
Where to stream: Disney+
Drawing inspiration all the way back from 1955 is the story of our favorite hounds and their epic love story. Lady, a prim and proper American Cocker Spaniel, is the center of her owners' world. That is until they bring a newborn baby home. After a series of unfortunate events, Lady finds herself on the streets, scared and alone. That's when she meets Tramp, a stray who knows the streets all too well. The two form an undeniable connection that eventually is tested by the realities of their separate lives.
Rating: PG
Where to stream: Disney+
A quick rewatch of the original film tells us that this story was born to come to life in a live-action remake. Plus, seeing Emma Watson play Belle is some of the best casting viewers can only ever hope for. When attempting to rescue her father, Belle becomes captive to a Beast in a castle. Before long, her good heart draws her to befriend the Beast and she soon learns more of his history than in the animated movie and the kindness he hides within.
Rating: PG
Where to stream: Disney+
One of the bare necessities of a perfect family movie night is watching this remake together. Raised by a wolf-pack from a young age, Mowgli has made a home for himself in the jungle. But when a fearful tiger who has encountered humans before sees him as a threat, he is forced out. As he sets out to find where he belongs, he's accompanied by a wise panther named Bagheera, and a lovable bear named Baloo. With beloved voices like Bill Murray and Scarlett Johansson, this is sure to be a new family favorite.
Rating: PG
Where to stream: Prime Video
If there's one story that can be told again and again and not lose it's charm, it's Cinderella. We loved seeing Hillary Duff's modern spin on A Cinderella Story, and couldn't get enough of Rodgers and Hammerstein's 1997 Cinderella remake with Brandy. And while I'm a sucker for the original, the 2015 live-action remake brought the classic tale to life in a whole new way. Lily James stars as Ella who lives with her harsh stepmother and step sisters. Escaping for one magical night, with the help of her fairy godmother, she attends a ball hosted by the Prince. Little does she know, the magic of that night may just change her life forever. The best part? This remake offers some valuable life lessons we can all take with us like, have courage and be kind.
Rating: PG
Where to stream: Prime Video
Angelina Jolie set the bar incredibly high for villain-focused Disney live-action remakes in her role of Maleficent. In this unique spin on the classic Sleeping Beauty, a young girl is determined to protect her home in the forest kingdom from an invading army. When she is betrayed, she transforms from a girl with a pure heart to a fierce villain who places a curse on the King's daughter Aurora.
The sequel, Maleficent: Mistress of Evil, is available to stream on Disney+.
Rating: PG
Where to stream: Disney+
There's nothing quite like a trip down the rabbit hole, and this time around is even more exciting than the original—probably because it was directed by Tim Burton. This time, Alice is an adult who hasn't experienced Wonderland since she was a child. In the magical world, she must uncover her true destiny. In a highly theatrical role, Johnny Depp plays the iconic Mad Hatter, accompanied by Anne Hathaway as the White Queen.
Rating: G
Where to stream: Disney+
Inspired by the same animated film that brought us Cruella, is a remake of the 1961 story, 101 Dalmations. Proud new parents to 15 puppies, Pongo and Perdy feel threatened when a fashion designer sets her sights on Dalmatian fur. The duo, along with other local animals, set out to protect their own from the evil Cruella de Vil.
Disney Live-action Remakes Currently in Development
Bambi
Expected release: December 2023
I'm already preparing to stock up on Kleenex for this one. We expect the live-action remake, about a young deer and his adventuress in the forest, to be really special. Seeing it now from a parent's perspective will be all the more harrowing. The 1942 film will get a live-action revival likely late this year and is said to be directed by Geneva Robertson-Dworet and Lindsey Beer.
The Hunchback of Notre Dame
Expected release: July 2024
Another personal favorite is coming to the 'big screen' as a live-action remake of the 1996 animated film, directed by David Henry Hwang. We're hoping to see a retelling of the story we saw in the '90s, with Quasimodo, the hunchback, Esmerelda, his gypsy friend, and, of course, the historical Notre Dame cathedral in Paris. We can't wait to find out who they choose to cast for this remake.
The Sword in the Stone
Expected release: October 2024
Rumored to be written by Game of Thrones writer-producer Bryan Cogman, we have high hope for this revival. If it's anything like the 1963 animated film, we'll see a young boy named Arthur learn about life and his destiny with the help of the wizard Merlin.
Snow White
Expected release: 2024
The first ever fully animated film released by Disney, Snow White and the Seven Dwarfs gets the live-action remake treatment with the casting of Gal Gadot and Rachel Zegler! We're excited to see how the writers reimagine this tale and bring it to life in a modern way.
Lilo & Stitch
Expected release: 2024
As perhaps one of the most exciting on our list, as we can't wait to see how they recreate Stitch, is a remake of the 2002 animated film directed by Jon M. Chu. We're excited to see more of our favorite Hawaiian Ohana and see the adventures of Lilo and her alien companion, Stitch, in a whole new way.
The Aristocats
Expected release: Late 2024 or 2025
There is not a single movie mentioned on this list that makes me more excited than this one centered around my favorite curious cats. Directed by celebrated musician, Ahmir "Questlove" Thompson, we can't wait to scat with the Aristocats and see what he does with this anticipated revival. The 1970 animated film followed a group of dignified cats who were set to inherit their human's fortune. Upon learning this, a greedy butler takes them out of the house and leaves them on the streets of Paris. Here they meet a jazzy street cat named Thomas O'Malley, along with some other funky characters, who help them get home.
Moana
Expected release: TBD
While not as old as the 'classics,' none of us, especially our little ones, were able to get enough Moana when it came out in 2016. Now, Dwayne 'The Rock' Johnson, shared the exciting news that a live-action remake is in the works! We can't wait to have the songs stuck in our heads all over again.
Hercules
Expected release: TBD
While the specifics of the Disney live-action remake of the 1997 film is still very much in the early stages of development, it's been speculated that it will follow a similar plot to its animated predecessor. A young Demi-god is raised by mortals, and though he doesn't know of his destiny yet, he knows he doesn't fit in among society. While searching for his true place, his evil uncle Hades is determined to keep him from claiming power.
What's Next for Disney Live-Action Remakes?
Some of us get excited each time we hear one of our favorite classics is being remade, while others prefer not to risk messing up a good thing. While we value both sides, we don't think live-action remakes are going away anytime soon, and we're suckers for nostalgia. So, you'll know where to find us whenever we can see our favorite stories in a new light.