Before kids, rainy summer days may have meant extra relaxation or uber-productivity. An open window with warm air, rolling thunder, and the soothing sound raindrops offered the perfect excuse to stay in bed. Or maybe a rainy day was just the nudge you needed to tackle an organization or indoor home project.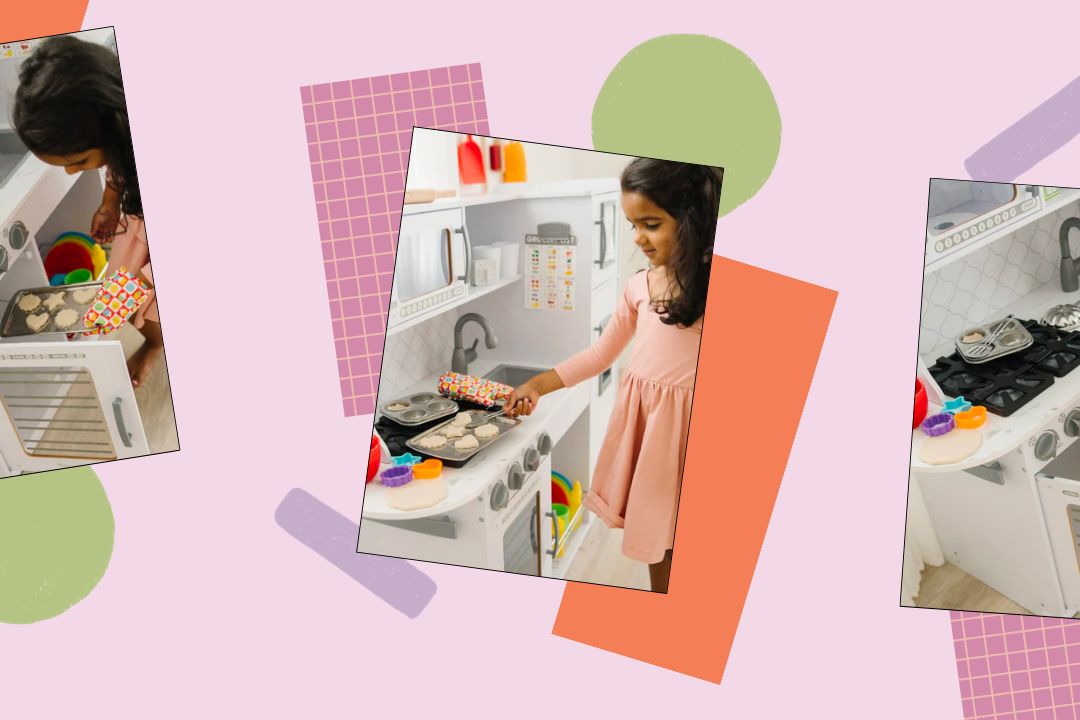 But rainy days as parents can be anything but relaxing and productive when surrounded by the pitter patter of little feet. A toddler on the move or a chorus of "I'm bored" from your littles may be more of the standard. Of course, you can venture out for indoor activities for kids of all ages—like a trip to the children's museum or the library—but no doubt many other parents will have the same idea. So if a day at home is in order, we put together this list of our favorite rainy day activities for kids.
The Best Rainy Day Activities for Kids
1. Do an Indoor Scavenger Hunt
A scavenger hunt is the perfect way to keep the kids busy and entertained indoors. Either make your own list of items to find around the house or turn to Etsy to purchase a cute and easy printable like the one linked below.
2. Host an Indoor Olympics
Gear up for next year's Olympic games—they're taking place in Paris in summer 2024!—by hosting your own indoor version at home. If you have little gymnasts in your family, inspire them to channel their inner Simone Biles during a fun floor routine or create a DIY balance beam.
3. Have a Board Game Marathon
Grab some of your kids' favorite board games from the basement or hall closet and get playing. Winner of the first game gets to choose the next game everyone plays, and so on.
4. Make Music with Pots and Pans
Use whatever pots and pans you have at home, put them outside, flip them over, and listen to the sounds as the raindrops hit each different shaped item. Best for when the rain is coming down a little harder.
5. Have a Dance Party
There are few things as simple and feel-good as a family dance party—and a rainy day is the perfect time to turn up the volume and get grooving!
6. Make Rainbow Art
When it rains, look for rainbows, right? Bring the bright colors indoors with fun rainbow-themed art projects. Use whatever art supplies you have on hand or consider a creative option like the roller art set linked below from Amazon.
7. Watch Nostalgic TV Shows
Don't get us wrong: we love watching Bluey, Paw Patrol, and Peppa Pig—but why not take a rainy day inside to show your kids the TV series you loved when you were little? From Full House and Rugrats for younger kids to Boy Meets World and Spongebob Squarepants for older kids, there are so many nostalgic shows out there to introduce to a whole new generation.
8. Take a Yoga Class
YouTube has tons of free and easy-to-follow kids yoga classes that you can stream right at home. Turn one on and inspire your kiddos to master their downward dog during a rainy day.
9. Have a Puzzle Relay
You probably have a bunch of puzzles lying around your house, so why not have a puzzle relay with them? Have each child select an age-appropriate puzzle and set a timer. When each LO finishes their puzzle, the next one can start and so on until the whole group is done!
10. Enjoy Puppet Theater
Let your kids put on a puppet show for you! A sheet strung across a doorway or a cardboard box can become the stage. It's always fun to watch creative storytelling from your little ones.
11. Go Puddle Jumping (and Worm Rescuing)
Put on the rain gear or, if it's warm enough, let them wear their swimsuits and go stomping around in puddles. Have kids look up to find shapes in the clouds and look down for any worms that need (gentle) help getting back to the ground after the rain.
12. Play 'The Floor Is Lava'
You probably remember this easy at-home game from your childhood and now's the perfect time to introduce it to your kids. Don't remember how to play? Simply pretend the floor is lava and have your kids make their way around the room using couch cushions, books or anything else that prevents them from touching the floor directly. It's essentially an easy way to create an indoor obstacle course!
13. Go Bowling
Bowling is the perfect rainy day activity. You can either venture out to a local bowling alley, or play at home using empty plastic bottles and a bouncy ball you have in your garage.
14. Make Slime or Playdough
Kids are obsessed with slime and playdough—so why not make your own DIY version? There are plenty of recipes for both online that include ingredients you likely already have around the house. (Mom Hack: Bookmark this "how to get slime out of clothes" article for later to clean up after the fun is done.)
15. Build a Fort
Nothing screams a rainy day at home quite like making a fort in the living room, basement, or a kid's bedroom. Pull out some extra sheets and pillows and add a strand of spare twinkly lights for an indoor hangout your littles won't forget. Need a little help in the fort-building department? We love KiwiCo's kit linked below!
16. Have an Art Show
Pull out the construction paper, crayons, colored pencils, markers, washable paint, glitter, etc. and encourage your kiddos to get to work creating a plethora of art pieces. Then, display the finished works around the house and gather everyone together to attend a family art show.
17. Play Kid-Friendly Video Games
If your kiddos are older, introduce them to video games like Animal Crossing, Mario Kart, Hogwarts Legacy, and more. If you don't own a gaming system, there are plenty of age-appropriate video games kids can play on computers or on iPhones, too!
18. Play School
If your kiddos are missing school over the summer, encourage them to set up a classroom and play teacher or student. Bonus points if they actually complete a page or two of an at-home workbook while they're at it!
19. Have a Tea Party
Tea and crumpets, anyone? Cozy up with some real (or pretend) tea, mini sandwiches, and cookies and host an old fashioned tea party with the kids. Bonus points if you save room at the table for a few favorite stuffed animals, too.
20. Practice Magic Tricks
Is there anything cuter than a little kid who loves to wow an audience with some magic tricks? We think not. Watch YouTube videos of card tricks or purchase a beginner magic trick set (like the one linked below) and let your kiddo learn some slight of hands.
21. Decorate Cupcakes
This suggestion is two activities in one, making it an easy way to kill several hours during a rainy afternoon. First, bake cupcakes as a family using a simple recipe or boxed mix. Then, bring out the frosting, food coloring, and sprinkles and have a cupcake decorating party!
22. Play Photographer
Your kids are likely always clamoring to play with your phone, so give them the chance by allowing them to play photographer and take photos of your family and your home. It'll occupy them for a while and might actually result in some fun keepsake snapshots of everyday life.
23. Have a Fashion Show
We're sure your littles have closets full of cute clothes, so encourage them to put together their own outfits and model them during an at-home fashion show. Create a runway, turn up the fashion show tunes, and have siblings act as paparazzi for each model as they strut their stuff.
24. Listen to a Story
Have the kiddos ask Alexa or Google Home to tell them a story. Or, sign up for an audiobooks platform like Audible and listen to a new picture book or chapter book together.
25. Make Ice Cream
Summer is the perfect time to indulge in some homemade ice cream and there are plenty of easy recipes you can tackle at home with the kids. For added fun, use the ice cream ball linked below to make the sweet treat during 25 minutes of active play!
26. Set Up an At-Home Campsite
If you own a tent, help your kids set it up in the living room and have a little indoor camping trip complete with s'mores, campfire stories, and nap time in sleeping bags. If it's just raining and not storming outside, set up the tent in the backyard and play inside as you wait for the weather to clear.
27. Have a Limbo Contest
When was the last time you did the limbo? Grab a broom or yard stick and teach your LOs how to limbo. Don't forget to give the winner a special prize!
28. FaceTime Friends and Family
We're sure there are a few extended family members or out-of-town friends that would love to receive a FaceTime call from your littles, and a rainy day is a great time to do just that. It'll put a smile on someone's face and, hey, we're sure your kids will love the extra screen time 😉
29. Write Letters
Similar to the suggestion above, having your children write handwritten letters to someone they love is a feel-good activitiy that also kills some time on a crummy weather day. The recipient is sure to be delighted—who doesn't love getting snail mail?!
30. Do an Educational Activity Together
Keep rainy day educational activities on hand with a KiwiCo subscription crate. Choose your child's age and interest, and KiwiCo will send a crate right to your door with supplies and instructions to encourage hands-on learning on a rainy day—or really any day! I can also tell KiwiCo was founded by a mom with instruction details like the caregiver involvement required for each activity and easy clean-up supplies—especially for the fun science experiments.
31. Play Hairdresser and Makeup Artist
Just like kids love to get their hands on your iPhone, they also love pawing through mom's makeup drawer when given the opportunity. Make their rainy day extra special by allowing them to give mom (or dad!) a makeover while playing hairdresser and/or makeup artist.
32. Research Something New
Take a poll of what your children are super into lately—safari animals? medieval times? the solar system?—and encourage them to complete an at-home research project on the topic. Read Wikipedia pages, watch a few YouTube videos, and see if there are any kid-friendly documentaries you can watch on the subject. Bonus points if you visit your local library and check out a few new books on the topic, too!
33. Organize LEGOs
Many homes have LEGO collections, but when was the last time all those tiny plastic bricks were organized? Have your littles sort all their LEGOs by color and then store them in separate clear bins for a fun activity that results in an organization project The Home Edit ladies would be proud of.
34. Play Charades
Sometimes there's nothing more classic than an old fashioned game of charades to keep the kids occupied and having fun. If your kids have never played, consider a rainy day spent inside the perfect opportunity.
35. Cook Up Something in the Kitchen Together
Yes, sometimes it's tough to pause meal prep when your kids want to help, but a rainy day is the perfect time to slow down and work on a cooking task together. Be sure your kitchen is equipped with helpful kid-safe tools like the Montessori knives linked below.
36. Make Toilet Paper Roll Crafts
Toilet paper rolls offer endless possibilities when it comes to crafting. Let your kids' creativity soar with a DIY project that includes materials you likely already have around the house. Need some crafting inspo? Check out our round-up of toilet paper roll crafts here.
37. Empty the Piggybanks
If your littles have been squirreling away coins (and maybe a few dollar bills) over the last few years, take this rainy day to sort and count all the money they've accumulated. Practice addition as you add up all the coins and make a plan to spend some on a special toy or treat during the next sunny summer day.
38. Play Library
Your house probably has a ton of picture books that could use a recirculation through the kids' bookshelves. Pull them all out and have your littles display them around the living room as the family browses and picks out a few new(ish) titles to read. Bonus points if you set-up an area for the kids to check books out and create old-fashioned book check-out cards.
39. Make Friendship Bracelets
Teaching your kids about the magic of making and trading friendship bracelets is a great rainy day activity. Purchase a kit like the one linked below that features different designs or simply round up any extra beads you have at home and string them together into a cute creation.
40. Have a Movie Day
What better time to sit back and watch a movie with the family when it's pouring outside? Disney+ has a lot of family-friendly choices, as does Netflix. Or head out to your local theater and catch a new movie!