There's no denying that Disney makes excellent and memorable children's movies (still crying over the ending of Toy Story 4), but I wholeheartedly believe that some of the most magical movies for kids were made during the '80s.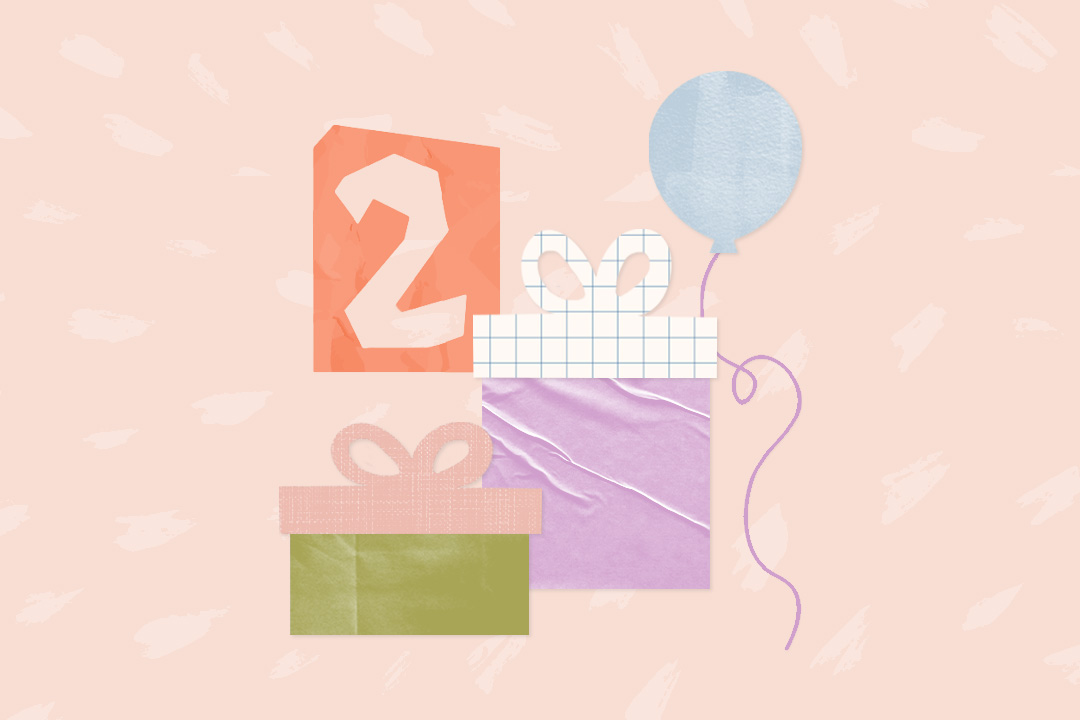 a LO in your life will love these! 🎁
I say this because it's absolutely true and also because I idealize my childhood—one where there were no scheduled playdates, MTV was everything, and nobody knew what gluten was. In fact, if you look closely, you'll notice there's one thing missing from most movies of this time: parents. Where are they? Living their lives, perhaps, but most importantly, giving their children space to have the individualistic experiences every child deserves.
Self-appointed 1980s pop culture expert Adam Garcia (aka my husband) also agrees with me. As he pointed out, "In the '80s, helicopter parenting wasn't a thing. Kids were free to take on adventures independent of their parents, and movies reflected that. Kids were the main characters of movies, and they were the ones saving the world—or the day—with their own grit and determination."
Below, we've put together a non-definitive list of 40 nostalgic movies from my childhood in which kids build upon their self-reliance, take on teamwork, and save the day.
A note for parents: A PG rating in an '80s movie may look more like a PG-13 rating by today's standards when it comes to violence, language, thematic elements, and nudity (the PG-13 rating was introduced in 1984). If you're concerned, we suggest watching it without your kids first.
BEST FAMILY MOVIES FROM THE '80S
Comedies
Honey, I Shrunk The Kids (1989)
Rated: PG | Where to Watch: Disney+
When a couple kids sneak into an inventor's lab to retrieve their rogue baseball, his experimental shrink ray accidentally shrinks them to teeny-tiny size. When the inventor returns, he destroys the device and throws it in the trash in a fit of despair—throwing the kids out along with it. Now, the four children must survive the treacherous journey back to the house through a yard where sprinklers are more like rainstorms and worms are giant monsters.
Big (1988)
Rated: PG | Where to Watch: Disney+
When 13-year-old Josh Baskin makes a wish on a Zoltar machine at a fairground, he doesn't expect his wish "to be big" to come true. In this hilarious and heartwarming film, a young Tom Hanks plays a teenager in a man's body. With the help of his best friend, Billy, he discovers the reality of being a grown up—from working at a toy company to navigating the complexities of adult relationships.
Sixteen Candles (1984)
Rated: PG | Where to Watch: Amazon Prime Video and Apple TV
In this beloved rom-com, angsty teenager Samantha is absolutely dreading her 16th birthday, as it's being totally overshadowed by her sister's wedding. Meanwhile, she's also preoccupied with her crush on Jake—a cool, older boy who she's scared will never notice her—and having to constantly blow off the affections of Ted, one of the nerdiest boys in school who seems to be the only person to take any interest in her. A note for parents: This movie includes high school drinking, brief nudity, and racial stereotyping.
Adventures in Babysitting (1987)
Rated: PG-13 | Where to Watch: Disney+
What should be a quiet night of babysitting turns into an unexpected adventure when high school senior and babysitter Chris Parker takes the Anderson kids into downtown Chicago to rescue her best friend who just ran away from home. A note for parents: There are quite a few swear words and scenes you might need to explain to younger kids, which explains the PG-13 rating.
More Kid-Friendly Comedies From the '80s:
Animated Movies
The Little Mermaid (1989)
Rated: G | Where to Watch: Disney+
In this beloved Disney classic, rebellious 16-year-old mermaid Ariel is fascinated with life on land. During one of her visits to the surface—which are forbidden by her controlling father, King Triton—she falls for a human prince. Determined to be with her new love, Ariel makes a dangerous deal with sea witch Ursula to become human for only three days—but the star-crossed lovers' plans soon go awry.
The Land Before Time (1988)
Rated: G | Where to Watch: Amazon Prime Video and Apple TV
Littlefoot, a young plant-eating dinosaur, is orphaned after his mother perishes while protecting him from a vicious carnivore. With her last breath, she tells him how to get to the legendary Great Valley, where he will be reunited with others of his kind. Along with his friend Cera, Littlefoot sets out on an adventure to this mystery land and meets a variety of new friends along the way.
An American Tail (1986)
Rated: G | Where to Watch: Amazon Prime Video and Apple TV
In this heartfelt adventure, a young mouse named Fievel and his family move from Russia to the United States by boat after their home is destroyed by cats. But Fievel is thrown from the ship by a fierce storm during the trip, separating him from his family. Luckily, he manages to sail all the way to New York in a bottle, where he meets an Irish mouse named Bridget, an Italian mouse named Tony, and a friendly cat named Tiger who are ready to help him reunite with his loved ones.
The Fox and the Hound (1981)
Rated: G | Where to Watch: Disney+
After his mother passes away, Tod the fox is taken in by the kindly Widow Tweed, and he soon befriends the neighbor's new hound dog, Copper. The two are inseparable, but their friendship is hampered by their masters and the fact that they're enemies by nature. The friends must work to overcome their inherent differences in order to salvage their friendship.
More Kid-Friendly Animated Movies From the '80s:
Adventures & Dramas
The Goonies (1985)
Rated: PG | Where to Watch: Amazon Prime Video and Apple TV
Treasure maps, pirates, booby traps, secret caves, the beautiful backdrop of Astoria, Oregon—this movie has it all. This ultimate adventure flick follows a group of kids on a quest to save their hometown from developers by finding the hidden treasure of "One-Eyed Willy."
The NeverEnding Story (1984)
Rated: PG | Where to Watch: Amazon Prime Video and Apple TV
On his way to school one day, Bastian ducks into a bookstore to avoid some bullies and ends up sneaking away with a book called The NeverEnding Story. As he begins to read it later on in his school's attic, he learns it's about a fantasy land that needs the help of a human child to survive an evil darkness threatening its existence.
E.T. the Extra-Terrestrial (1982)
Rated: PG | Where to Watch: Amazon Prime Video and Apple TV
After a gentle alien becomes stranded on Earth, it's discovered and befriended by a young boy named Elliott, who gives it the name "E.T." After bringing the creature into his home and introducing it to his brother and younger sister, they decide to keep its existence a secret. But when E.T. becomes sick, things start to get tricky.
Rated: PG | Where to Watch: Disney+
When 12-year-old David Freeman goes out into the woods to look for his little brother in 1978, he falls and hits his head, knocking him out. When he wakes up, it's 1986—and though David hasn't aged at all, his family has. He takes on an adventure to try to get home to his real family in 1978.
More Kid-Friendly Adventure & Drama Movies From the '80s: