Ahhh fall, we love you. Maybe it's a Midwestern thing, but fall always seems to breeze in like an old friend. It reminds us it's almost time to snuggle up and settle in for winter, so we better get outside while the weather is crisp and the outdoors are colorful. And, with that in mind, now's the perfect time to plan some fall family activities to ensure you savor the season before it's gone.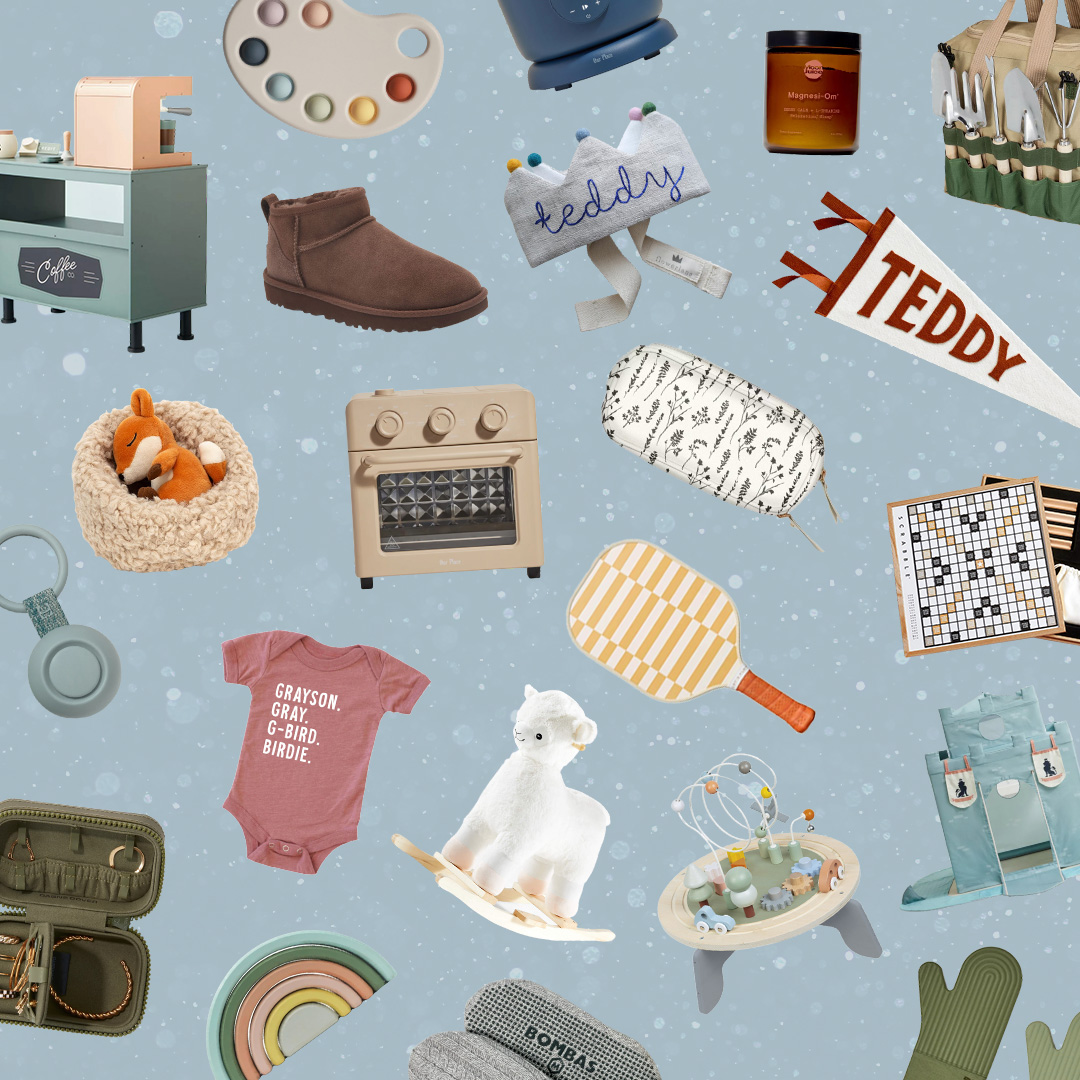 everything you need to ace holiday gifting this year 🎁
While we love partaking in some quintessential autumn activities like heading to an apple orchard, picking out pumpkins, and prepping costumes and front stoops for Halloween, you might be looking for some new and unique fall bucket list ideas, too. We hope this fall bucket list sparks some easy ideas to slow down and truly enjoy this time with your family between back-to-school season and the chaos of the holidays. Read on for 15 fun fall family activities to consider.
15 Fall Family Activities to Celebrate the Season
1. Take a fall colors nature walk without your phone
Play eye-spy or look and listen with your kids as you crunch through the fallen leaves and take in the color-changing trees around you. Enjoy the moment without the pull of your phone to capture everything and allow yourself to be fully present.
2. Attend a fall festival
Outdoor fall fests are great for families, often with kid-friendly music, crafts, food, and more. My plan is usually to go early before the crowds get too thick for a stroller or wagon and the spiked cider hasn't yet been flowing through the other attendees all day.
3. Do a seasonal closet clean-out
Whether you're motivated to do a Marie Kondo-style purge or you want to simply store your summer duds in favor of easily accessible sweaters and leggings, take the time to make the switch. Gather coats, sweaters, and shoes in good condition to donate or host a clothing swap party with your friends. And when you're ready to add a few new items to your freshly-purged closet, shop The Everymom's 2023 fall capsule wardrobe!
4. Deck out your front door and porch for the season
Walking or biking around the neighborhood is still good old-fashioned family fun, and now is the perfect time to keep the neighbors (and your kids) entertained by decking out the front of your home for fall or Halloween. Try making handcrafted leaves into a colorful wreath for your front door, decorate a fall-themed front porch or entryway, or stick a kid-friendly spooky surprise in the windows like bats, ghosts, or a witch's silhouette.
5. Thank your mail carrier and delivery people
Say thank you to your neighborhood's hardworking mail carriers and delivery people for bringing a smile to your household this season. Plus, with the holidays on the horizon, we know they'll continue to be working long hours all fall and winter. Add a note in chalk on the sidewalk or set out prepackaged snacks and bottled water to help them know they're appreciated.
6. Plan a weekend getaway
Fall is a great time to plan a mini family vacation to explore a nearby city or town that's close to your home. There are so many awesome locations for leaf peeping and apple picking across the country and it's always fun to check out local shops, playgrounds, and restaurants with the kids in a new-to-you place. Need some trip planning inspo? Check out our list of 10 perfect fall getaway destinations from popular U.S. cities.
7. Make a Crock-Pot recipe bucket list
Our family has some slow cooker staples like shredded beef tacos, Crock-Pot whole chicken, and chicken pot pie. Collect recipes from around the web you want to try this fall and plan them out. An additional plus side to Crock-Pot meals? There are (almost) always leftovers.
8. Sip apple cider and watch a fall movie
From football flicks to Halloween favorites, there are tons of kid-friendly movies or shows to enjoy as a family during the fall season. Make it extra fun by sipping apple juice, apple cider, or mulled wine for the grownups.
9. Try a new way to decorate pumpkins
Channel your inner Martha Stewart and explore a new non-carving way to decorate pumpkins. Ideas are just a Google search away, but some of our favorites are toddler-friendly finger-painted pumpkins, heirloom pumpkin towers, and painting the pumpkin stem with sparkles. Consider also painting one pumpkin teal to participate in the Teal Pumpkin Project to bring awareness and inclusion to food allergies.
10. Have a fall craft-a-thon
Fall's bounty is full of so many natural craft supplies: pumpkins, gourds, leaves, acorns, and pinecones, to name a few. Paint pumpkins or pinecones, collect leaves for crayon rubbings, or another nature-inspired fall craft. Endless ideas are just a quick Pinterest search away.
11. Start a family book club
Fall is the perfect time to cozy up with a good book—so why not start a family book club to do just that? There are so many cute fall and Halloween picture books for littles to add to their bookshelves and read together. Or, if your kids are older, choose a chapter book or popular series to read independently and then plan a book club discussion as a family!
12. Decorate your home for 'Falloween'
I don't know about you, but I'm basically ready to decorate for Halloween right after Labor Day. While there's no shame in decorating for spooky season whenever your heart desires, don't forget to add some cozy fall touches to your home during this time, too. Instead of decking your halls for Halloween right away, why not spruce up your space with a 'Falloween' theme instead? Think plaid blankets, textured throw pillows, colorful faux stems, and more.
13. Make a new recipe with pumpkins
Did you know pumpkins are a superfood? They are filled with tons of nutrients and antioxidants the body craves such as vitamins A and C. Thinking beyond pumpkin bread or pie and try to get adventurous with a new recipe using pumpkins.
14. Send an unexpected thank you note
Have someone you think about often but never actually tell the person? Forgo the text and send a handwritten note thanking your special person for being who they are. It's an easy way to make someone's day.
15. Holiday shop early at small and BIPOC-owned businesses
Holiday shopping is coming up quickly. Make an extra effort to support small businesses, including BIPOC-owned brands, by shopping early so you won't need to rely as much on expedited Amazon Prime shipping.