Though I first read the Percy Jackson series when I was 12, still, about 10 years later, I think it's one of the best book series I have ever read (as an avid reader and all-around book lover, I feel like I am allowed to say this). I typically reread the series every few years. Even as I've grown older than my favorite characters, I still find new ways to love the series and find myself laughing at the jokes and crying over the sweet shared moments between the characters.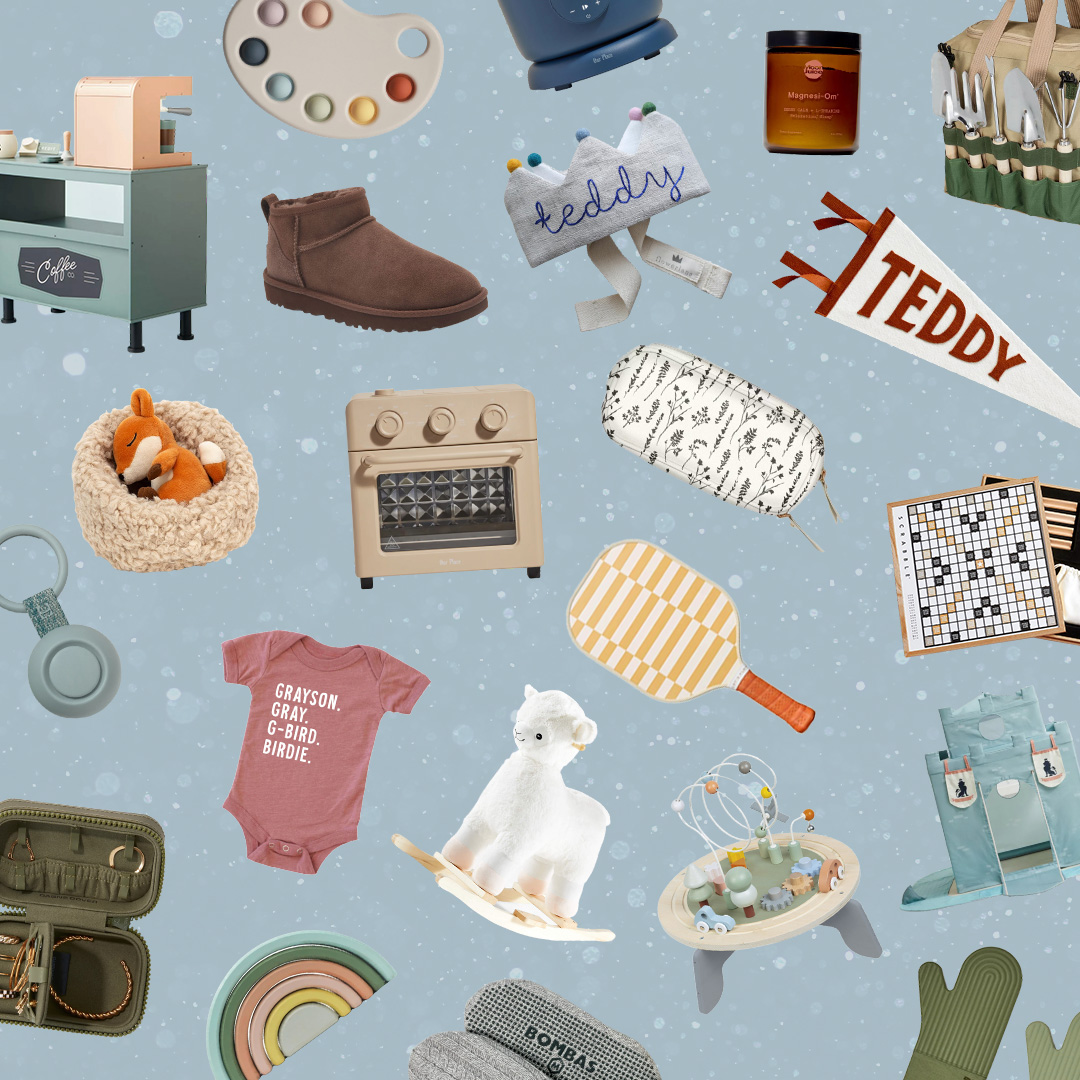 everything you need to ace holiday gifting this year 🎁
Percy Jackson & the Olympians spans five books, written by award-winning author Rick Riordan. The first book of the series was published in 2005 and follows the main character, 12-year-old Percy, as he learns that the Greek gods are in fact real and that he is a demigod, the son of Poseidon. A native New Yorker, Percy learns that "Olympus" is located in his hometown, atop the Empire State Building, as the Greek capital changes with modern times.
The first book, Percy Jackson: The Lightning Thief, introduces Percy, his new friends, and how he adjusts to this life-changing news. We get to see Percy become a true hero as he balances normal adolescent adjustments (bullying, home drama, and navigating friendships) as well as demigod dilemmas (fighting actual gods, upsetting ancient deities, and having to battle monsters).
If you and your family haven't read these chapter books just yet, I can't recommend anything else more than the Percy Jackson series. Here are my top reasons why it's ideal for you to read them this summer.
1. It shows the importance of friendship and loyalty
With his two best friends by his side, Annabeth Chase, daughter of Athena, and Grover Underwood, a satyr, Percy is truly never alone throughout the series, even through his darkest of times. The two support him no matter what he's going through—whether it's fighting with Ares, the god of war, or being turned into guinea pigs by Greek sorceress Circe—and Percy's relationships and connections with Annabeth and Grover are admirable. Even when he is going through friendship breakups or experiencing betrayal, a constant throughout the entire series is the love and support Percy receives from his two best friends. In my opinion, Percy, Annabeth, and Grover are the ultimate trio of all time.
At Camp Half-Blood, the camp where all demigods stay and train, we also see Percy interacting with other minor characters, portraying different types of friendship that vary from his main group but still exemplify the importance of connecting with and maintaining relationships with others who can relate to you.
2. It highlights representation and diversity
Riordan does an excellent job of highlighting different identities in his novels that provide representation for a range of groups. From mental health struggles to characters with different racial and LGBTQ+ backgrounds, the series shines a light on people—and heroes—of all identities.
Percy, as well as other demigod characters, are diagnosed with ADHD and dyslexia. The novels show explicitly how these two diagnoses are what make Percy himself and how it's never seen as an ailment to him or his friends.
Along with the candid conversations about his neurodivergence, the series also digs deeper, showing abusive domestic relationships between Percy's stepfather and his mother and how that has an effect on Percy himself.
Throughout the entire series, Riordan makes it very clear that a demigod can come from any background, oftentimes having characters in the novel that come from a variety of races and cultures and allowing their cultural identity to be brought to the forefront when it comes to that specific character.
3. It portrays Greek mythology in a modern way
Revolving around Greek mythology, Riordan portrays classic Greek myths in a way that young readers are able to comprehend and understand in a modern way. Most of my Greek mythology knowledge—other than learning about it in school—comes from reading these novels at a young age. If you're looking for a Greek or Roman myth fact from me, I can spit these out without even opening up Google. The god of wine? Dionysus. The name of the golden coins Greeks used? Drachmas. Don't get me wrong, Riordan gave me silly ways of remembering some aspects; for example, calling ancient hippocampi beasts Sea-Ponies and portraying Hermes, the messenger god, as a mailman. He did it right, though, because these facts stuck with me years and years later. Who knows? Maybe you and your family are also going to be Greek and Roman myth-buffs come the end of summer.
4. It's age-appropriate for the entire family (literally)
Despite the novels being aimed for school-aged children, the series is genuinely entertaining for all ages. Whether your kids want to read it on their own or you're reading it aloud to your little ones, I guarantee the whole family is going to be hooked. It's enough entertainment to last the whole summer long!
5. The series is easy to find
Back when I read the series for the first time, I purchased my entire collection from used book stores or secondhand stores. The series has been out since 2005 and is very easily accessible at any bookstore—whether they're new or pre-loved. The search for the next book in the series is fun, especially since multiple styles of cover art have been rotated as the years have passed. Turn the search for the books into a fun game with your family, and try searching for older editions or mix it up and get a new style for every novel.
6. A Disney+ show is set to come out next year
Right now is arguably the best time to read the series, as Disney+ is currently in the works of casting and producing a TV series based on the books. With Walker Scobell, recent star of The Adam Project, playing Percy and Leah Sava-Jeffries playing Annabeth alongside Aryan Simhadri as Grover, the Percy Jackson series is going to be portrayed with age-appropriate actors. The original Percy Jackson movies were great but not entirely accurate when it came to the novels. With Riordan at the helm of writing, the show is currently set to come out some time in 2023. The series adaptation is a major win for the fans and just goes to show how great the series is, as it's being hyped up almost 20 years after its debut.
7. There's so much more to love
After the Percy Jackson & The Olympians series, Riordan wrote another series, The Heroes of Olympus, which feature new characters along with fan-favorites Percy and Annabeth. I highly recommend reading the second series as well; though the audience is slightly more mature, it's still very kid-friendly and still introduces important topics to the reader. If you just simply can't get enough of Riordan and his writing, he's written an array of Greek-myth spin-offs from the Trials of Apollo as well as Egyptian (The Kane Chronicles) and Norse (Magnus Chase and the Gods of Asgard) mythology novels.
Ready to Start the Series?
Rick Riordan
Whether you want to reserve copies at the library, shop your local bookstore, or grab the whole series here, Percy Jackson books are easy to find and enjoy!