Just this morning, my youngest daughter chased me down the driveway in rain boots, a tutu, and a costume dragon head. It was a delightful, if unexpected, sight made all the more lovable by the confidence the outfit clearly gave her.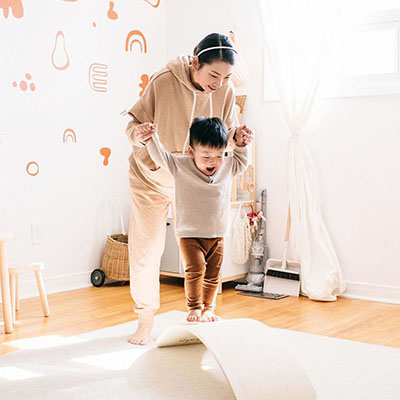 If your kid is turning 2, get ready for hilarious conversations, much more involved play, and lots of sweet, sloppy kid hugs and kisses. As for what you'll need? Leave that to us.
And while this isn't an outfit I would have picked myself, there are many times when I catch myself envious of my children's dressing habits. At 7 and 3-years-old, they have yet to be bound in by what's appropriate or proper. By which I mean, their daily outfits boil down to three things and three things only: imagination, comfort, and playfulness. They wear what they love and, while the effect is sometimes outrageous, the practice is always admirable.
To keep my little ones feeling sartorially inspired, I have been looking to small, indie brands for well-made, affordable, and fun pieces. That way, not only do I get the satisfaction of supporting small businesses, but my daughters also find one-of-a-kind items to make their closets sing.
Want to follow suit? I'm sharing a handful of shops below that promise to pique the interest of your well-dressed kid, (though I can't promise you a costume dragon head).
Sizing: NB – 14, with options for mom, too.
Home to some of the softest pajamas around, The Elephant Organics also offers a wide selection of everyday apparel in the most inventive and adorable prints. While once exclusively for girls' clothing, the line has since expanded to include the same high-quality finds for boys as well.
Sizing: NB – 10, with options for mom, too.
I love the line at Kate Quinn for its butter-soft fabrics, sweet old-fashioned prints, and timeless silhouettes. From onesies to pajamas to tops and leggings, this online boutique can easily outfit your little one from sun-up to sundown.
Sizing: 2T – 16, with options for adults, too.
Princess Awesome, and its companion line, Boy Wonder, aims to offer kids fun-to-wear clothing that's not hemmed in by their gender. In these shops, all children are encouraged to don prints that make them smile, featuring everything from dragons to cats to unicorns and beyond.
Sizing: 6-12 months – 14
Appaman has always been cool. But now we're doubly impressed to see the brand expand its offerings to include a full line of adaptive clothing, too. So whether you need wheelchair-friendly pieces or items that accommodate braces or prosthetics, Appaman has stylish picks that fit the bill—offered right alongside its original clothing line.
Sizing: 2T – 14
For clothing that inspires, look no further than Piccolina. While the shop sells a full range of tops, dresses, PJs, and leggings, at its core, this indie brand is a t-shirt-lover's dream. Piccolina's "Trailblazer" t-shirt collection features darling illustrations of notable women throughout history. My favorites include Ruth Bader Ginsburg (naturally), Mae Jemison, and Marie Curie.
Sizing: 2T – 14
Patti and Ricky bills itself as the "Adaptive Clothing Marketplace," offering a curated selection of pieces for both kids and adults. From compression vests to wheelchair-accommodating pieces to sensory-friendly items, Patti and Ricky offers a host of cute clothing options for kids with special needs.
Sizing: NB – 14, with options for adults, too.
Everything from Primary is sustainable, soft, and infinitely wearable. Designed for comfort and cuteness, the entire Primary collection—full of simple mix-and-match tees, shorts, dresses, PJs, and leggings—is bright, rainbow-hued, and perfect for kids of all stripes, including those with sensory issues.
Sizing: NB – 12, with options for adults, too.
Every piece of clothing Pact releases is made from certified organic cotton in a fair-trade facility. It's also shipped to you with the option to offset your package's carbon emissions. Cool, right? But if you think these eco-friendly practices tally up to budget-breaking totals, think again. Pact is as affordable (think: $15 – 20 tees) as it is adorable—which is to say, very. 
Founded (and named after) two friends, Joy and Ahyoung, Joah Love is also a nod to Ahyoung's Korean heritage. The word Joah means "to like something." The pair set out to create a kid's clothing line that was cool and fuss-free, avoiding snaps, zippers, and buttons. The brand has grown since its 2008 beginnings and we love some of the new offerings including their soft face coverings—the perfect masks for back-to-school—as well as new mom wear!