Fall bucket lists will soon be out in full force and no doubt you can find some version of a hike, stroll, or nature walk on most of these lists. Fall is the time when the air is crisp and cool, the colors in nature are unique and interesting, and you probably want to prioritize more time outside before winter really shows up and shuts your front door.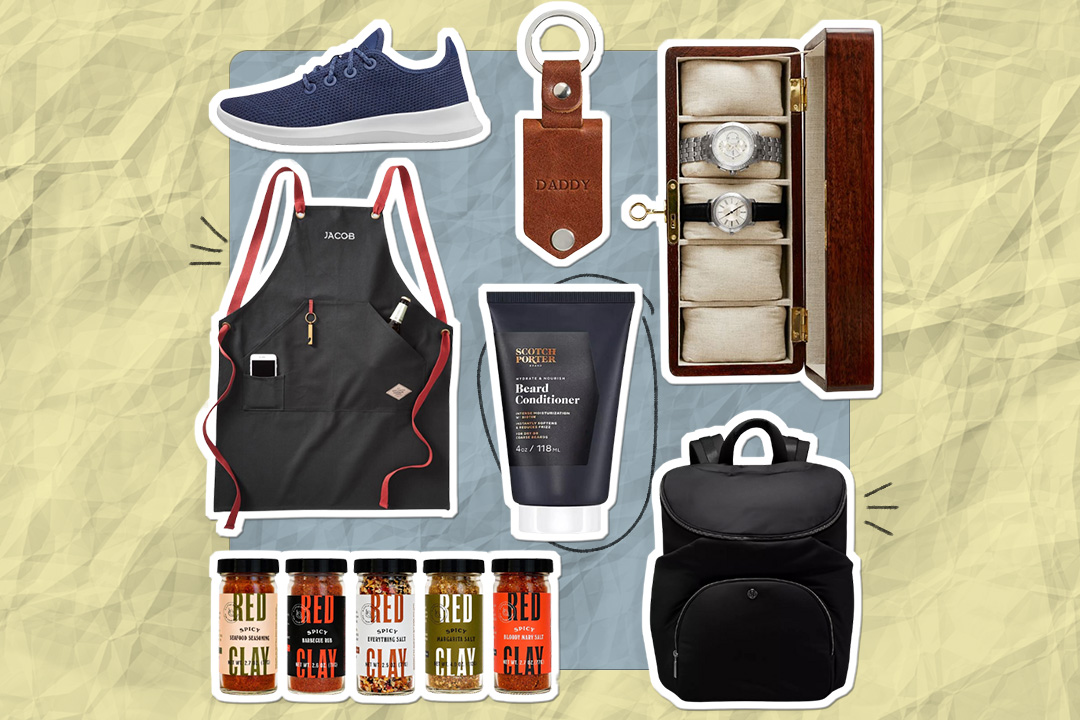 june 18 is coming up fast — have you started shopping yet? 😎
A year ago, I moved with my husband and our three boys from downtown Chicago to Denver, Colorado. This time of year, we miss Midwest apple orchards and the fairly reasonable guarantee of no snowstorms before Halloween, but Midwest homesickness aside, the Rocky Mountains have become an incredible playground for our family year-round.  
When we lived in Chicago, we had a family rhythm of "adventuring" out and about in the city on Saturdays. We turned over every corner of the Windy City that we could, first with our red Vespa, and then three babies later with our red double stroller and Micro Mini scooters. When we moved to Colorado, we carried this spirit and practice with us, which means pretty much every Saturday, you can find us buckling up three car seats and heading into the Rocky Mountains for an adventure.  
Spoiler alert: for every incredible high of this experience with our family, we've had many lows and challenging moments. I'm here to share the reality of our experience, what we've learned, and what tips we've gathered and tested and tried for hiking with very small children in tow. Whether you'd like to visit a state park, a local forest preserve, a hiking trail behind your home, or a national park, I hope these tips can serve as a sort of trail guide for your family.
Practice makes you better
You know those family travel accounts on social media where you can watch a family with small children document their travels around the globe? Have you, like me, ever completely puzzled over how their kids fly for such great lengths of time and so frequently, while you barely survived the two-hour domestic flight you took with your kids last year? 
What I've learned since moving to Colorado is the reality that kids are just like adults in that they can get better at something they do repeatedly. If you want to enjoy more outside time with your kids hiking in some form or another, try to do it regularly and repeatedly—be that once a week on the weekend or maybe a particular weeknight evening. You'll be amazed to see their progress!
Have no agenda
My biggest tip for hiking with kids ages 6 and under is to go with no agenda. The fastest way to not have a good time is to take your little ones hiking with a rigid goal, like We have to make it to the top, to the lake, to this mile marker, etc.  
Adults and older kids can set out with these types of challenges and feel fulfilled by completing them, but for the most part, little ones are more there for the in-the-moment experiences. My boys love to go "off-trail" as they say, which means they want to stop 50 feet into the hike and climb the rocks that are off to the side. They want to spend 10 minutes crossing the little stream back and forth before moving on. My husband and I have spent many a hike in the winter standing in sun patches hoping not to freeze to death while our boys simply play in the deep snow off the trail.
The larger goal is always to enjoy time outside with our family. If we push an agenda too hard with little kids, no one has a good time, and no one wants to come back and do it again.
Engage positively
Our kids do need us to be leaders, and if we weren't, there were many hikes where our boys would have quit five minutes into the hike. When hiking, my husband and I try to lead by engaging with our kids positively. We talk with them on their level and try to use the time to listen more about what's going on at school, strike up a conversation about what they're into (sharks! firetrucks!), or talk about what we're observing along the trail in nature.
When the going gets tough for someone, we have taken conversational deep dives into subject matters that that person likes to talk about as we put one foot in front of the other. We try to keep the mood encouraging, affirming, and light even if we feel frustrated inside.
One great thing I've noticed is that other people out on trails tend to be encouraging towards our kids. Countless times, hikers that pass us have taken a moment to offer an uplifting word to the kids, "Wow, you're crushing it! You guys are tough! I'm impressed." This simple kindness of spirit from other hikers has touched and inspired me many times.  
Snacks are the answer to everything
Snacks! You know this had to be one of the tips coming. Yes, one of the best ways to extend the life of your hike with small children is to pack a backpack of fun snacks. I try to pick at least one snack item that they don't get to have every day or to pick something that they love and will look forward to on the trail. 
Here are a few ways we have used snacks to help: if we've driven over an hour to get to a hike, we have a quick snack before we start hiking, just to wake up and fuel up everyone after sitting in the car for a long time. Once on the trail, we try to go a good bit before stopping for a snack break. This helps us get some hiking time in while giving everyone a sense of a break coming up.
Never underestimate the power of a snack to save your hike. There have been many times where one of our kids is complaining or not having it and then after a snack break, goes on to do well and have tons of fun.
Embrace a growth mindset
It took no more than two or three hikes into our move to Colorado for me to realize that if we were going to hike together as a family, this was going to be a growth opportunity for each of us, kids and parents alike. Tough moments on the trail are not fails; they are a time to problem solve, to support, to get creative.
I once heard someone say that traveling with kids is just parenting in a different place, and I think that applies perfectly to hiking. You're parenting on the trail, and we all know parenting delivers both incredibly challenging and incredibly joyful moments.
You could say that hiking with kids is just parenting with a view.