There are two things I distinctly remember from mealtime as a child. First, being encouraged to become a member of the "clean plate club" by finishing every bite of food on my plate (whether or not I was hungry). The second was being told not to play with my food. Can any other adults relate?
Things are very different now, and with children of my own, I take the exact opposite approach. I allow my baby and toddler to eat when they are hungry and stop when they are full (no clean plate clubs in my house), and playing with food is encouraged. Thankfully in this current generation of parents, I'm not alone with these tactics. Sure, when my parents happen to be over for mealtime, I deal with a lot of eye-rolling from their side of the table, but I can handle it.
When it comes to playing with our food, our playtime food of choice is from Little Bellies, an Australian-owned baby and toddler snack brand that we recently discovered on Amazon. Not only do these snacks make for safe and fun play, but I can also trust the ingredient list when giving these to my baby and toddler. They check all the boxes: safe for babies thanks to melt-in-the-mouth puffs, the right size and shape for little hands, certified organic, non-GMO, and contain no artificial colors, flavors, or additives.
Little Bellies
These puffs are perfect for babies 7 months and up.
Shifting mealtime mindsets
Initially with my first baby, I was always stressed around mealtime. Should we do purées or baby-led weaning? Was she eating enough? How many baths a day did I have to give this kid when each meal resulted in a face (and often times head and hair) covered in yogurt?
I quickly realized that meals were stressful because of my approach. Instead of worrying about every detail and letting my anxiety take over, I decided to make mealtime about having fun. I focused on the joy my child got by taking a fistful of applesauce to the face and let go of how much was ending up on my floor and somehow in my own hair.
I also made mealtime easier on myself by having a variety of baby and toddler foods easily available. You can have snacks that your little one loves, foods that offer unique flavors and textures, and ones that encourage play—and even hand-to-mouth coordination. Whether it's a mid-day snack or a dinner side dish, we love to reach for Little Bellies, a brand built around playing with your food.
Benefits of food play
Encouraging little ones to play with their food makes mealtime a space for exploration and trying new things without pressure. Babies and kids can taste new flavors and textures, which can encourage palate development. With a playful experience, children are less likely to feel pressure (pressure can lead to a resistance to try new things).
Food play also helps your baby learn to self-feed. During the early months and years, it may seem like you'll be feeding your baby forever, but allowing them to make a mess and play with their food will eventually lead them to self-feed.
Mealtime is the perfect opportunity for family bonding time, whether that's with a baby trying to grab for a puff for the first time or gathering around the table with older kids to hear about their day at school. By making mealtime fun in the early years, it sets the stage for positive mealtime experiences as your children grow.
See mealtime through their eyes
How did I change mealtimes from stressful to fun? I shifted focus away from my point of view (and that of the worrying mother) and looked at it through my child's eyes. What might be an annoying mess to mom and dad was a sensory opportunity for baby. It was a new way for them to explore.
Still not sure how to encourage food play? You can sort foods by colors, count puffs, finger paint with yogurts, or get even more creative. Here's one idea from Little Bellies: a game of Blueberry Baseball!
Looking for new snacks that your babies and toddlers will love and that will encourage healthy and happy play time? Try these snacks from Little Bellies. They are available on Amazon Prime, making it an easy "add to cart" decision.
Plus, Little Bellies foods and snacks grow with your child through different ages and stages. Baby Bellies products, for example, range from "Tasty Textures" (for babies 7+ months) to "More to Explore" (for babies 10+ months) to ensure your little one's tiny tastebuds experience different tastes and textures during their food discovery journey. And, as they get older, you can easily introduce more Little Bellies snacks in the different age and stage ranges the brand offers.
Playful Snacks for Babies
Little Bellies
These puffs are perfect for babies 7 months and up.
Little Bellies
Just in time for fall, stock up on these pumpkin flavored Os, which are sure to be a hit.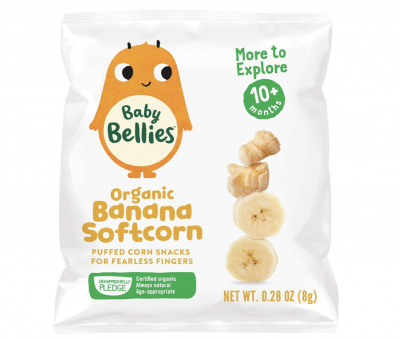 Little Bellies
If your little one loves bananas, give these soft corn puffs a try.
Playful Snacks for Toddlers
Little Bellies
It may be universal that kids love animal crackers. These are organic, so you won't mind when your little one snacks on them by the handful.
Little Bellies
These tomato sticks have a slight tang to them and are a great way for toddlers to explore more unique and complex flavors.
This post was in partnership with Little Bellies but all of the opinions within are those of The Everymom editorial board. We only recommend products we genuinely love.