In the throes of the newborn phase, it's very normal for your self-care and beauty routine to get a little derailed. This absolutely happened for me. As much as I wanted to look like the put-together, stylish new mom, I instead became the, "When was the last time I washed my hair?" mom. And honestly, that was fine with me for those first couple of months. I had a lot on my mind, and taming my hair was not a priority.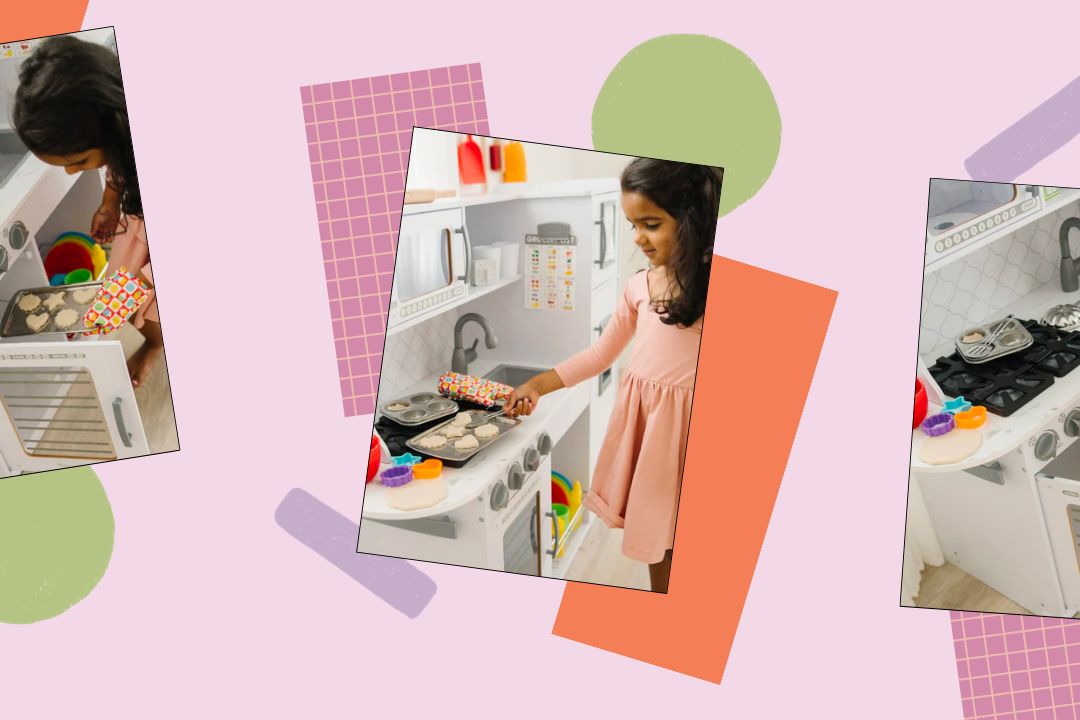 I'm now well out of the newborn phase and a couple of weeks ago realized that it was time to put a bit more effort back into my own routine.
My postpartum hair situation was the first task on my list. I've been dealing with the dreaded and unavoidable postpartum hair loss, and on top of that, my hair has become brittle and lifeless, thanks to the lack of attention I've given it over the past few months.
As a new mom, I strive to feel good in my own skin. It can be a challenge to find the time for myself, but I've learned that when I put a little bit of effort into getting myself together (meaning putting on real clothes, doing my hair, and applying minimal makeup), I feel so much better. I feel more alert, and this translates into a more productive day and a more outgoing disposition (which is super important as I work on making more mom friends).
My hair has always been difficult, and over time, my bathroom has accumulated quite a collection of products. This one to repair, that one to soften, another to straighten. With so many options, I often resulted in using nothing because it all became too overwhelming. Tossing my wet hair in a messy bun had been my go-to move.
I was ready to work on repairing my hair, but me-time is currently very limited. I was on the hunt for simple, multi-tasking products that would improve my hair situation without a lot of steps or fuss. And that's when I found Eva NYC.
I added two Eva NYC products—both available for purchase at Target!—to my haircare routine, and though it only adds about five minutes to my overall routine, it makes a huge difference.
Here's a glimpse into my current hair routine:
I wash my hair two times a week. I have thick, dry, coarse hair, so for me, this is sufficient.
After shampooing, I use the Eva NYC Therapy Session Hair Mask to tackle my dry and brittle hair. While a 20-minute deep conditioning hair mask sounds lovely, I swear this mask gives me the same results, and you only need to leave it on for 2-5 minutes. I use it in place of my regular conditioner. After each use, my hair is noticeably softer and smoother. The mask also increases hair's strength and elasticity, which is great when dealing with breakage.
After towel-drying my hair, I spritz on the Eva NYC Mane Magic 10-in-1 Primer. Products that multi-task are a must during busy days, and this one is pretty magical. The primer detangles, nourishes, strengthens, softens, cuts down drying time, adds shine, reduces frizz, and protects against environmental damage. The argan oil and sunflower seed oil protect and nourish hair. I have pretty wild hair, so all of these benefits are greatly appreciated.
Then, I wrap my hair up in a hair towel (I use one by Aquis) and let my hair mostly air dry before tackling it with a hairdryer (I use the Revlon Salon One-Step Hair Dryer and Volumizer, which has dramatically cut down drying time).
And that's it! My hair is left smooth and tamed and holds its look for about three solid days.
This relatively quick routine has slowly been bringing my hair back to life after being neglected during the foggy newborn months. I'm happy to say that every day I feel a bit more like myself, and some days, I even feel like that put-together mom I dreamed of being (only some days though!).
While my hair is still on the rebound from everything I've put it through, I love that something as simple as a five-minute change to my routine is making a huge difference.
If you're short on time and dealing with hair challenges, here are 4 tips to improve your routine:
1. Seek out products that multi-task: You don't need tons of time to make hair improvements, you simply need the right products, like Eva NYC's hair mask in place of your conditioner and a styling product like the Magic 10-in-1 Primer that has multiple benefits.
2. Wash your hair less: By washing your hair only 1-2 times a week, you are saving a lot of time. If you are worried about greasy hair, you can actually train your hair to be less oily over time.
3. Preserve your styling: Since you're washing your hair less, you want to make sure that the work you put into styling lasts. Use hair bands that don't leave a crease (like the Invisibobble), sleep on a silk pillowcase, and wait as many days as possible before you use dry shampoo.
4. Eat well and take your vitamins: Eating a balanced diet and taking a postnatal vitamin may improve your hair quality, especially following childbirth.
It's fair to say that as a mom, your beauty routine might not be your first priority. Even so, it's nice to know that small changes to your routine can make a difference. By adding two power products to my routine, my hair quality has improved, and those positive vibes carry over into other parts of my life.
This post was in partnership with Eva NYC, but all of the opinions within are those of The Everymom editorial board.