Believe it or not, it's that time again – time to think about those family photos for your holiday cards. If you're a constant procrastinator like me, you always miss the amazing Black Friday deals on holiday cards because your cards are not ready. This year, I'm determined to not let it happen again (narrator: she, in fact, did let it happen again).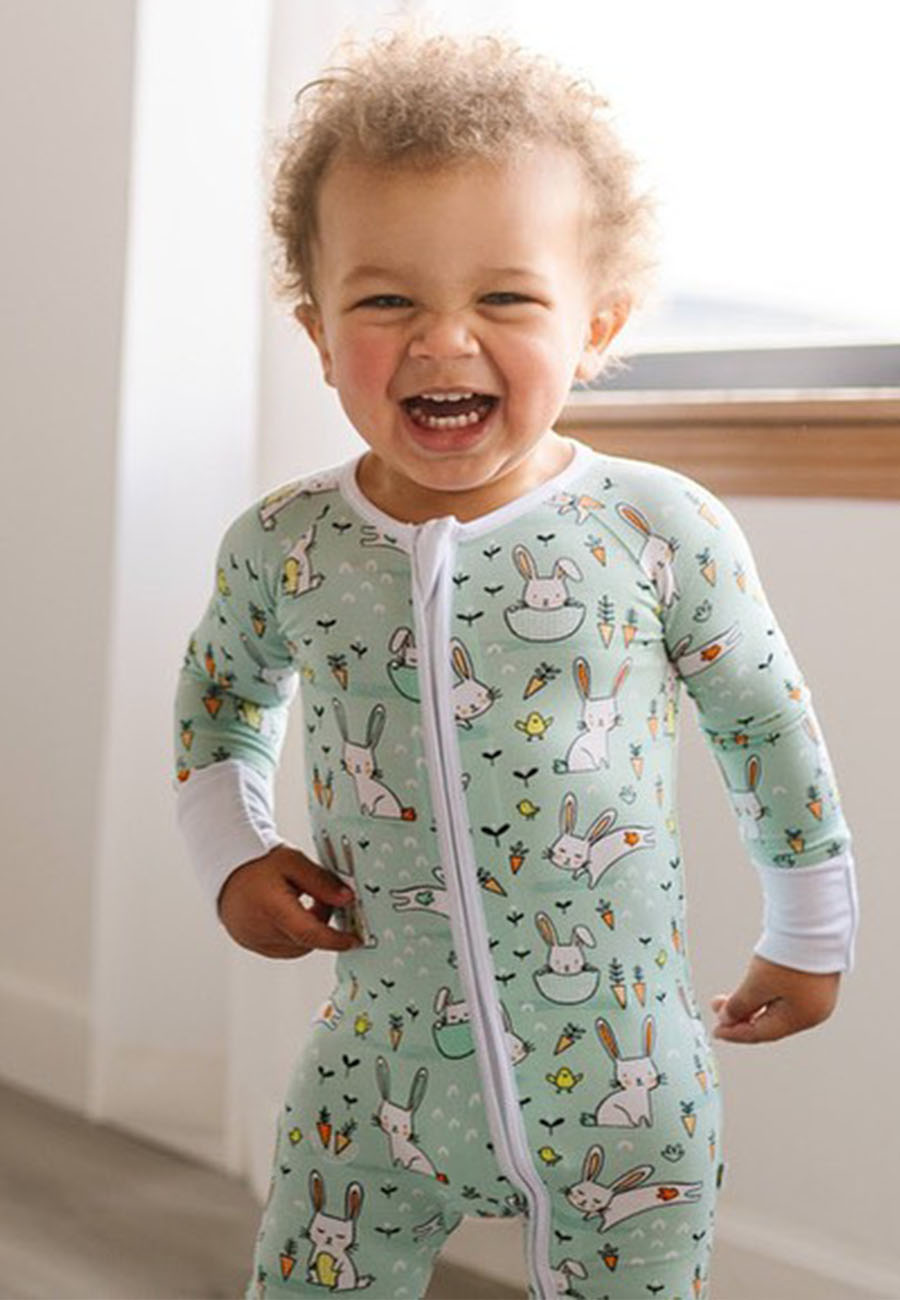 Our Favorite Easter and Spring Pajamas for Babies, Toddlers & Kids
Planning outfits for the family is always the trickiest part of the equation for me. You want everyone to look put together and coordinated with just the right amount of trends and accessories, but not totally matchy-matchy. For someone who leans on the side of fashionably-challenged, this is a true predicament. Factor in the time it actually takes to gather all of the pieces, keep an eye on sales, and then, get everyone dressed on the same day at the same time – enter: complete overwhelm. You might as well be talking about training for a marathon.
Well, we're making it easy on you this year. We put together coordinated-but-not-matchy separates to make simple, aesthetically-pleasing outfits for the whole family that will photograph beautifully. Not only can you choose from one of six themes (or mix and match as you please), but our graphics let you see all the outfits together so you know exactly how it'll look on the big day. Take our word for it, all the guesswork is done.
All that's left for you to do is make sure the fam is smile-ready on photo day. My trick? Bring along a non-messy bribe, ahem, treat – my little ones will smile on cue for mini gummy bears any day of the week. Hey, you do what you have to, right?
Classic Fall Outfits
Fall is the time for warm, deep tones and complementing neutrals. These outfits would be perfect for outdoor photos at golden hour.
Mom: V-Neck Sweater / Slip Skirt / Pointy-Toe Flats
Dad: Crewneck Sweater / Twill Pants
Son: Quarter-Zip Sweater / Corduroy Pants
Daughter: Turtleneck Sweater / Corduroy Skirt
Babies: Plaid Poncho / Corduroy Overall Dress / Chevron Sweater / Corduroy Overalls
Festive Family Outfits
We'd be remiss if we didn't include a traditional holiday theme – what's better than really getting full-on festive for your photo cards?
Mom: Fuzzy Sweater / Earrings / Midi Skirt / Booties
Dad: Checked Shirt / Twill Pants
Son: Shawl-Collar Sweater / Corduroy Pants
Daughter: Babydoll Dress
Babies: Knitted Sweater / Red Jeans / Corduroy Dress
Neutral Family Outfits
You can't go wrong with neutrals for the whole family. Outfits like these would work in almost every location – from a photography studio to an urban backdrop to a wooded forest.
Mom: Mock Neck Sweater / Black Pants / Calf Hair Loafer
Dad: Shawl-Collar Sweater / Slim-Fit Jeans
Son: Mock Neck Sweater / Jeans
Daughter: Sweater Dress
Babies: Sweater Dress / Headband / Knit Overalls
Cold Outside Outfits
Worried nothing cute will keep you warm enough for the actual photo taking? Don't worry, we have you covered – these coats, boots, and accessories will keep everyone comfortable while still looking perfect in photos.
Mom: Sweater Dress / Wrap Coat / Scarf / Tall Boots
Dad: Down Jacket / Scarf / Cord Pants
Son: Faux Fur Trim Parka / Hat / Duck Boots
Daughter: Teddy Coat / Pom-Pom Hat / Suede Boots
Babies: Duffel Coat / Striped Hat / Booties / Pile Overall / Pom-Pom Hat
Family Beach Outfits
If you're of the lucky few fortunate to live in warm weather and/or near the beach (not jealous or anything…), these are for you. Just the right amount of casual and coordinated to bring out the beauty of your family against the natural scenery – in two color options.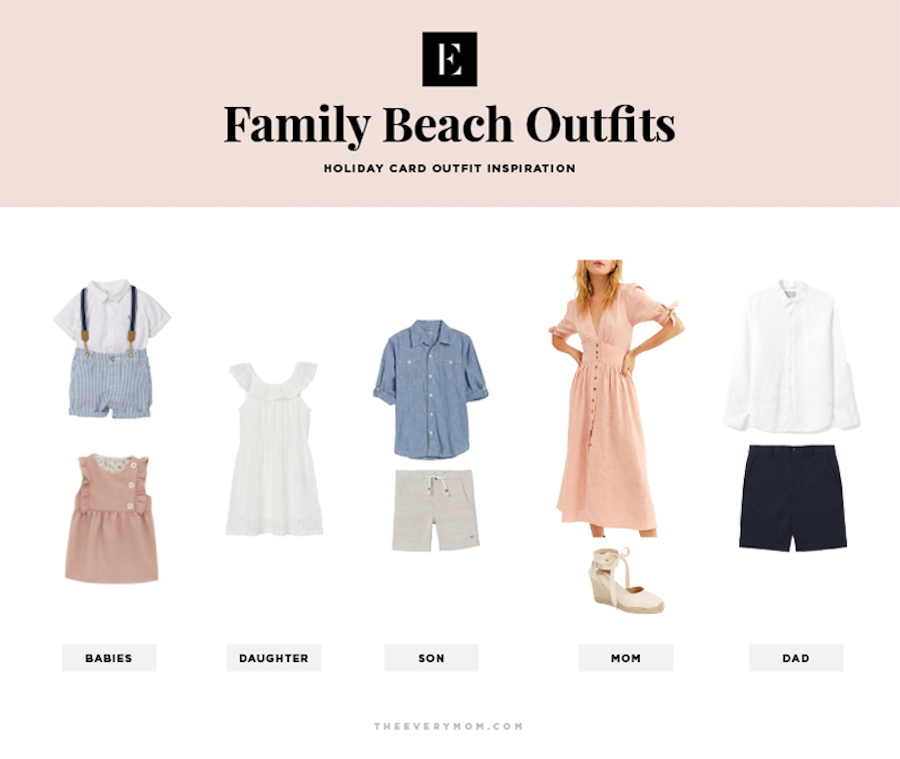 Mom: Midi Dress / Espadrille Sandals
Dad: Linen Shirt / Chino Shorts
Son: Chambray Shirt / Woven Shorts
Daughter: Lace Dress
Babies: Shorts, Polo & Suspenders Set / Pinafore Dress
Mom: Striped Dress / Espadrille Sandals
Dad: Linen Shirt / Chino Shorts
Son: Chambray Shirt / Woven Shorts
Daughter: Lace Dress
Babies: Shorts, Polo & Suspenders Set / Striped Dress