One of the big items on our fall to do list is getting new family photos taken for our holiday cards. While we did get a few good at home shots last year, it's been almost two years since we were able to do a proper photo shoot that felt holiday card-worthy. And if you get only one chance to get a great family photo for the whole year, finding the perfect holiday card photo outfit is key, and maybe even a little stressful.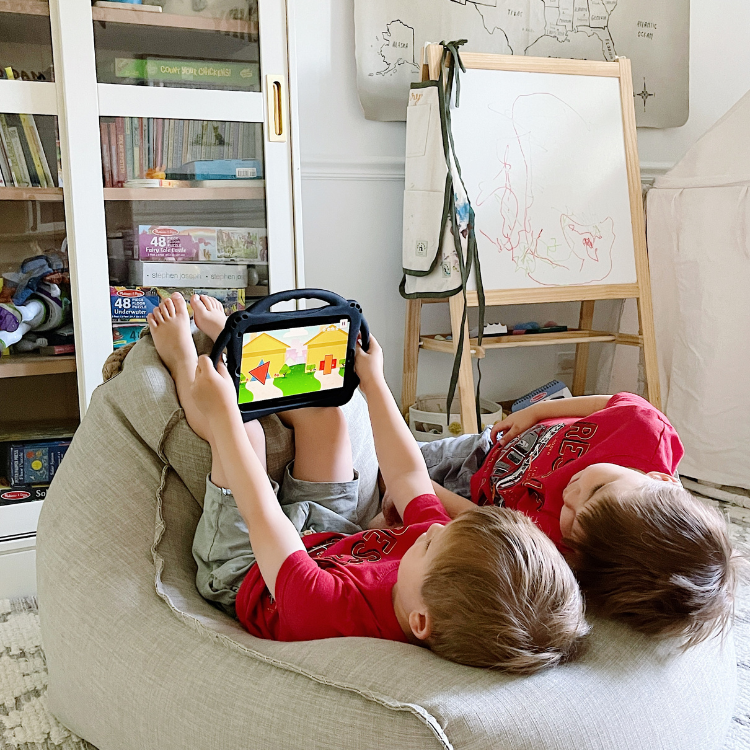 a pediatrician shares what she *really* thinks about LOs and screen time
Not to worry, we've taken the stress out of choosing what to wear for your family photo session. "The best tip for all ages is to wear something that fits well," says New York-based lifestyle photographer Ana Gambuto. "You'll be uncomfortable the whole time and that'll show on your face! For kids, be sure bunching clothing won't block their faces—ruffles are guilty offenders!"
While we're narrowing down our shopping list for the best family photo outfits, we tapped Gambuto for some advice on how a family should (or shouldn't!) coordinate their holiday card looks. "I honestly don't hate coordinating outfits, in a loose version—all choosing complimentary colors! Gray and blue? Where everyone picks versions of gray and blue that basically just don't fight with each other visually," the pro photog told us. She also suggests avoiding wearing stark white if shooting in bright sun, or overly bright colored shirts to minimize color cast on the subject's face.
We took this stressful step out of the process and put together a few holiday card outfit ideas for the whole family. From classic fall colors to, yes, beachy vibes, and a classic holiday color scheme, keep scrolling for some of our favorite family photo coordinating looks.
Meet the expert
Ana Gambuto, Lifestyle Photographer
Ana Gambuto has been in love with photography since she was a child. As a New York-based family photographer, she shoots all over the East Coast and her work has appeared in Parents magazine, Cup of Jo, Goop and MINI Magazine. She is also the creator of Shelter Isle loungewear.
Fall Neutrals
What better way to show off those fall vibes than in semi-coordinated neutral hues like khaki, a lighter brown, beige, and even dark grays.
Parents: Sweater / Jeans / Belt / Hair Scarf / Clogs / Sweater / Jeans / Boots
Kids: Plaid Dress / Striped Sweatshirt / Pants
Babies: Dress / Sweater / Pants
Autumn Hues
If you're the type of family that schedules pumpkin picking for the first day of fall, this color scheme is for you! Bet on tones of burnt orange, brick, and pumpkin, mixed with a little fall green for good measure.
Parents: Sweater / Pants / Boots / Dress / Necklace / Bracelet / Heels
Kid #1: Ruffleneck Sweater / Corduroy Skirt / Sweater (similar) / Skirt (similar)
Babies: Romper / Button-Down / Pants
Cozy Neutrals
If you're all about feeling cozy and want a color scheme that's modern yet lives on, choose shades of grays and beiges for an ultra chic color palette.
Parents: Sweater / Jeans / Dress / Earrings / Boots 
Babies: Jumpsuit / Cable-Knit Sweater and Pants
Mixed Prints
While prints may not stand the test of time, they make for a fun and very authentic family photo. Let your kids get in on the fun and choose their favorite patterns to get them excited about the shoot.
Parents: Button Down / Jeans / Dress 
Beachy Blue
If autumn and winter are not your chosen seasons, it doesn't mean you have to force your family to lean into those themes. Go for beachy and nautical in stripes, loose knits, and shades of blue. Even better, take the photos early on so the weather and the outfits are in sync. "Take the photo over the summer!" suggests Gambuto. "Feel the sheer joy of being THAT ahead of the game." We couldn't agree more, one less thing on that long fall to-do list!
Parents: Sweatshirt / Pants (in grey matter or wish bone) / Dress / Necklace / Earrings / Sandals
Kids: Chambray Romper / Polo / Shorts
Babies: Romper / Striped Romper
Classic Holiday
Yes, many retailers are just beginning to release their holiday collections, but we still wanted to pull together festive options you can buy right now for your holiday card looks. Lean heavy into plaids, a little bit of shine, and deep greens for a classic holiday look that never goes out of style.
Parents: Sweater / Skirt / Headband / Heels / Sweater / Pants
Kid #1: Sweatshirt / Skirt / Headband 
Kid #2: Plaid Button-Down / Pants
Babies: Dress / Sweater / Pant and Top Set