If you think you can't accomplish minimalism with kids, think again. Kassandra DeKoning — a mom of three to Jack, Max, and Scottie and a blogger — found the perfect medium between adding color and keeping her Scandinavian style while adding a little modern and bohemian twist to her space. Keep reading to see the gorgeous mural in her daughter's bedroom, learn about her love for DIY (with the help of her dad — we all understand!), and her favorite places to shop for decor (Canadian friendly!).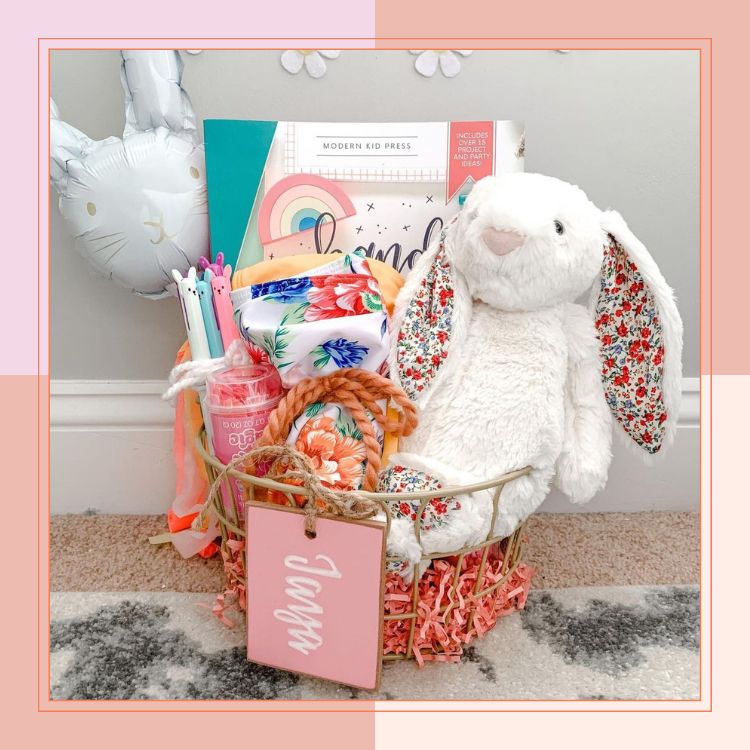 everything you need to get ready for the Easter Bunny's visit on April 9th! 🐰
Name: Kassandra DeKoning, Mom and Blogger
Location: Mapleton, Southern Ontario
Sq. Ft.: 3,400
Years Lived In: 2
Rent or Own: Own
What was your first job and how did you land it?
Started our family when I was 21, so career and job were and still are on the back burner!
Your family made a big move from the city to the country back in 2017. What prompted this decision?
Both of our families are from small rural areas in Ontario. Brent and I both grew up in the country and wanted our kids to grow up within a farming community like Brent and I experienced growing up! Plus moving into the country brings us much closer to our parents and the kids' grandparents.
Let's start with the exterior of the home. It's so beautiful! Can you give us a little more detail on your design concept?
We wanted the best of both worlds: farmhouse yet still classic and modern! Our stone with thick mortar brings out the classic old charm of a farmhouse, and the dark board and batten siding keeps our home modern. Dark exteriors and windows are becoming slightly more popular in our area over the past few years.
SHOP THE LOOK
What's the best piece of advice you would give someone who just decided to build their home instead of to buy?
Make it your own! That is the number one benefit of building. You are able to pick the colors and finishes, and if you're designing the whole house from a floor plan, that is even better! Also, think about how your home will serve you in 10, 20, or 30 years down the road. Will it still provide you with everything you need?
Your life looks so perfectly curated to fit your personal style. How would you describe this aesthetic?
I'm a little bit of a minimalist, so Scandinavian design resonates with me. I love neutral earthy colors with a modern flair.
How much of your professional background in visual merchandising came into play when designing and styling your home?
I think just having a creative mindset and being a visual person allows me to dream up ideas I want to pursue!
SHOP THE LOOK
Since you're planning on this being your forever home for your family, how did you find a design balance between the latest trends and styles that will last a long time?
Sticking with classic finishes that cost a fortune to replace is a good start! Keeping things like our engineered hardwood, floor tile, and cabinetry neutral allows us to have fun with the decor in our home. It's much easier to play up a different rug and pillows seasonally than it is to change out your kitchen backsplash. Also, another way to change the look of a room is with lighting — it's an affordable way to keep up with the trends!
What's your favorite room in the house and why?
Probably Scottie's nursery because it's fun and whimsical and the most colorful room in our house. When we found out we were having a girl, I was SO excited to design a little girl's bedroom since, having boys, a floral mural was never something I could do. Scottie's room feels lively and refreshing, just like her 🙂 Or currently our dining room — it feels classic, warm with a modern scandi vibe!
Scottie's nursery is so adorable! What was your inspiration? What is your favorite part of the room?
When I saw the "Wildflower" Wall Mural on ANEWALL's website, I knew that if I had a little girl, I was going to base her room around that mural! I love the mural because it has all my favorite colors in it! I'm not a huge pink and purple fan.
SHOP THE LOOK
Do you have any advice when it comes to how to create a consistent style flow throughout a home?
Creating a color palette with your top four colors is a good start! I also like to keep wood finishes similar so everything feels cohesive.
Where is your favorite place to shop for furniture?
I have a few!
Structube: trendy and affordable

Mobilia: beautiful furniture and decor pieces from all over the globe

HomeSense: affordable and there is always something new to be found. 
You have a huge passion for DIY! What has been your favorite DIY project for your home so far? Tell us a little bit about it.
My dad is my number one DIYer! I usually share my ideas with him, and he helps me create my dream DIY designs. Currently, my favorite DIY is the barn doors that cover our pantry by the dining table. 
SHOP THE LOOK
Now that your family has been living in the home for a year now, is there anything you wish you would've done differently while designing?
Yes, I wish we would have put in a wet bar just off from our kitchen/dining area. I also wish we would have extended the roof above our backyard patio a bit farther. It would have been nice to sit outside even when it's raining!
Were there any quirks or big hurdles you had to overcome when designing the home? If so, tell us about them.
Yes, finding the perfect combination of stone for the exterior that didn't cost a fortune! That decision took months to decide. Thankfully, I had all that time to make up my mind, and I'm so happy with how it turned out!
SHOP THE LOOK
What's your favorite thing about living out in the country with the kids?
That our kids have so much freedom to play and be creative. There are minimal restrictions, just rules and boundaries that Brent and I have put in place for the kids. I love that we live at the end of a cul-de-sac; therefore, I'm able to watch the boys out the front windows when they are biking with the neighbor kids. We also have such a great neighborhood in the country — our neighbors are steps away if we need anything!
What has been the biggest difference you've found so far as a mother between raising two boys and now a little girl?
Boys are crazy!! But in all realness, it's hard to notice a difference between boys are girls now. I do think Scottie lights up even more than the boys did when she sees Brent. She also LOVES her big brothers! She makes sure she doesn't go unnoticed. Oh yes, and I definitely think Scottie is the most spoiled because she's the baby sister!
What's a typical day in your life look like?
Boys wake us up between 6:00-6:30 am, breakfast and send the boys off to school. Take care of Scottie, do blog/IG stuff/ housework. Boys come home from school around 4 pm. Then, dinner prep and spend some time outdoors. Brent comes home between 5:30-6 pm. Then we have dinner, play with the kids. Then, our nighttime routine includes baths and prayers before lights out around 7:30-8 pm (summer bedtime is later).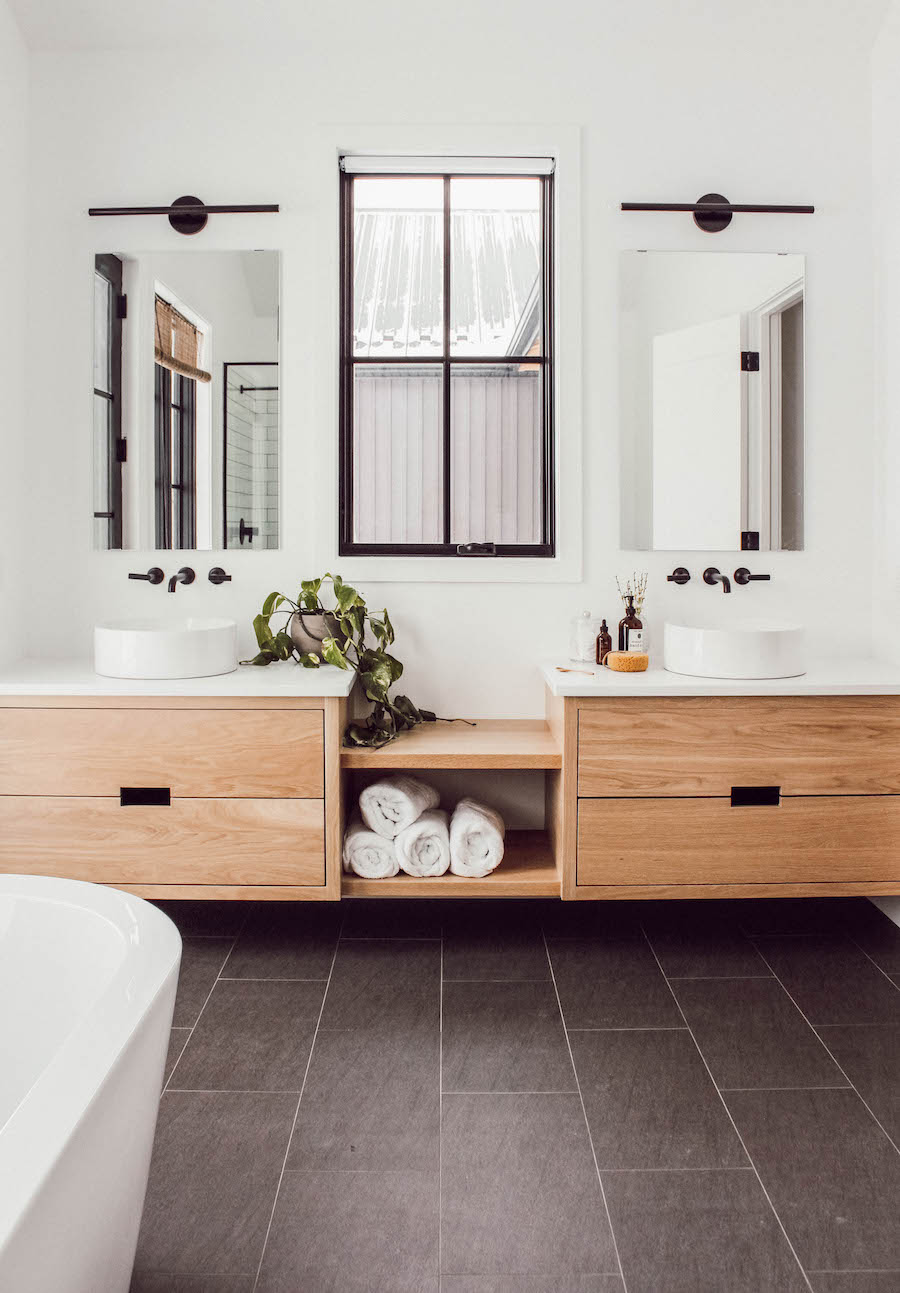 SHOP THE LOOK
How do your kids inspire you?
They keep me young! I'm always chasing after them. They love exploring and learning about new things in the world. Seeing them care so much about the world also inspires me to be a better person. They love on their sister something fierce, so seeing them have so much love for one another makes me a proud mama! Watching the boys grow up over the years really puts things into perspective, that these are the days I want to remember and enjoy the most. I want my kids to have the best childhood, so they inspire me to really just enjoy the little things, even if it's just a simple trip to the beach, ice cream after baseball, or having huge bubble baths in mom and dad's tub. They love the simple things!
If you have to pick just one, what's been your favorite moment from motherhood so far?
Watching all of my kids' personalities evolve and watching them become their own people!
Kassandra DeKoning is The Everymom…
Go-to meal to cook for the family?
Taco salad — so easy!
Favorite date night activity?
Dinner with friends!
Coffee order?
Coffee with cream — that is all!
How do you end a long day?
Netflix in bed! And, of course, sometimes a glass of wine.
Most embarrassing mom fail?
We were in the middle of building our house, and I forgot to put Jack's lunch in his backpack and the school tried to call me a few times, but I didn't have their number in my phone so I didn't notice! Thankfully, the class came together and gave Jack some of their lunch — phew!
Last book you read?
The Pact
Kids movie you secretly love?
Sing and The Lion King!