Journaling is one of the most accessible ways to prioritize your mental health. It's the perfect way to reflect on your experiences, let out all of your pent-up feelings, and take a break from the hustle and bustle of everyday life. But let's be real for a second here— no one really talks about how hard it can be to put aside the time and energy to sit and write pages upon pages that thoughtfully detail your life on a consistent basis. Between school pick-up and drop-off, working, practices, appointments, and every other duty that being a mom can throw your way, journaling can easily (and rightfully so) be the last thing on your mind by the time your head is about to hit the pillow.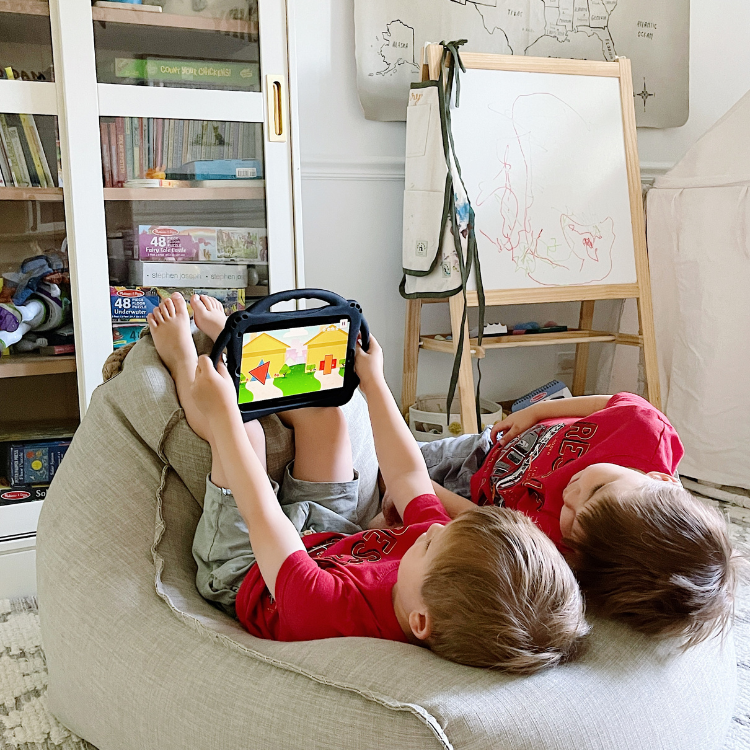 a pediatrician shares what she *really* thinks about LOs and screen time
So, what if you didn't force yourself to commit to super detailed and lengthy entries every night but just a sentence or two to acknowledge the biggest moments and feelings of your day as an act of self-care? That's where a journal of days comes in—and from first-hand experience, I can confirm it's quickly become one of the best things I've done for myself in a long time.
What Exactly Is a Journal of Days?
Well, it's pretty much exactly what it sounds like. I recently finished reading 101 Essays That Will Change the Way You Think by Brianna West (a book I seriously cannot recommend enough), and she mentions the concept of the journal of days in the essay "Goals to Set That Are More About Enjoying What You Have Than Chasing What You Don't."
West goes on to explain that even though it's totally understandable why people don't write out detailed descriptions about each and every day, it can make us miss out on the opportunity to see how far we've come and the small moments that ultimately compose our lives. So, if we just commit to jotting down a sentence about the most memorable parts of our days, we can look back in a year and be so grateful for it.
Why a Journal of Days is Perfect for Moms
As I mentioned, it's completely normal to not want to sit down every night and fill a notebook with an in-depth analysis of all the day's details. The reality of it all is that being a mom is tiring, so when you finally have a second to yourself, you probably just want to lay down, relax, and get ready to do it all over again tomorrow—not spend a whole lot of time reliving your chaotic daily schedule. 
But, with a journal of days, your daily writing commitment can look a little something like this: 
"I felt more tired than usual today, but my morning coffee was extra good with the new creamer I tried. [Child #1] forgot her soccer cleats on the way to practice for the fourth time this month. I drank wine and started the new season of The Bachelor, and it was one of my favorite premieres yet."
See? Nothing crazy, and nothing too deep—just a quick run-down of everything notable that happened. Maybe it seems insignificant at the moment, but imagine yourself doing it every day for a couple of months or even a whole year, and then getting to go back and read about times you maybe would've never thought about again. You can appreciate how something as simple as a good coffee made your day a little more manageable, laugh about the small things your kids say or do all of the time, and remember how something so minute as taking the time to watch your favorite show is a way you showed yourself some love.
Upon going back and reading through your days, it also allows you to ask yourself questions like, "What do I need to do more of during my day-to-day?", "What are the little things I do that consistently bring me joy?", "What's something that keeps happening that I want to change or fix?", or anything you think of that can help you reflect on areas of your life that you want to pay more attention to or improve. And even on top of that, you'll get sweet reminders of something you may have completely forgotten that can bring you even just a little bit of happiness and gratitude in the moment.
Getting Started 
It takes about three weeks for an action to become a habit, so it's totally OK if your journal of days is, well, missing some days in the beginning. Life happens, especially as a parent, so forgetting to pick up the pen simply means that we're human. But, pushing yourself to stick to it as much as you can will, without a doubt, benefit you in the long run. I definitely struggled a bit at first, but now getting to look back on the little pieces that make my life the way it is is very comforting, at times entertaining, and has genuinely helped me stay grounded and focused on growing as a person. 
Ready to Begin?
Even if it's just 30 seconds or a couple of minutes, take the time to reflect on the days, because it's so easy to forget the little things in the midst of the craziness motherhood can bring. Your future self will thank you!