One day last summer, on an evening stroll through town, my then nearly 3-year-old daughter noticed a brightly-colored toy in a window display. I didn't know what it was. It looked like a silicone baking tray of sorts, but my daughter was immediately attracted to the butterfly form and rainbow colors. She had to have it. In my head, I thought this was a waste of $7. What could she possibly gain from having this toy—which to me just seemed like a flimsy piece of silicone? Turns out, there was a purpose to this toy, even if I didn't yet know it.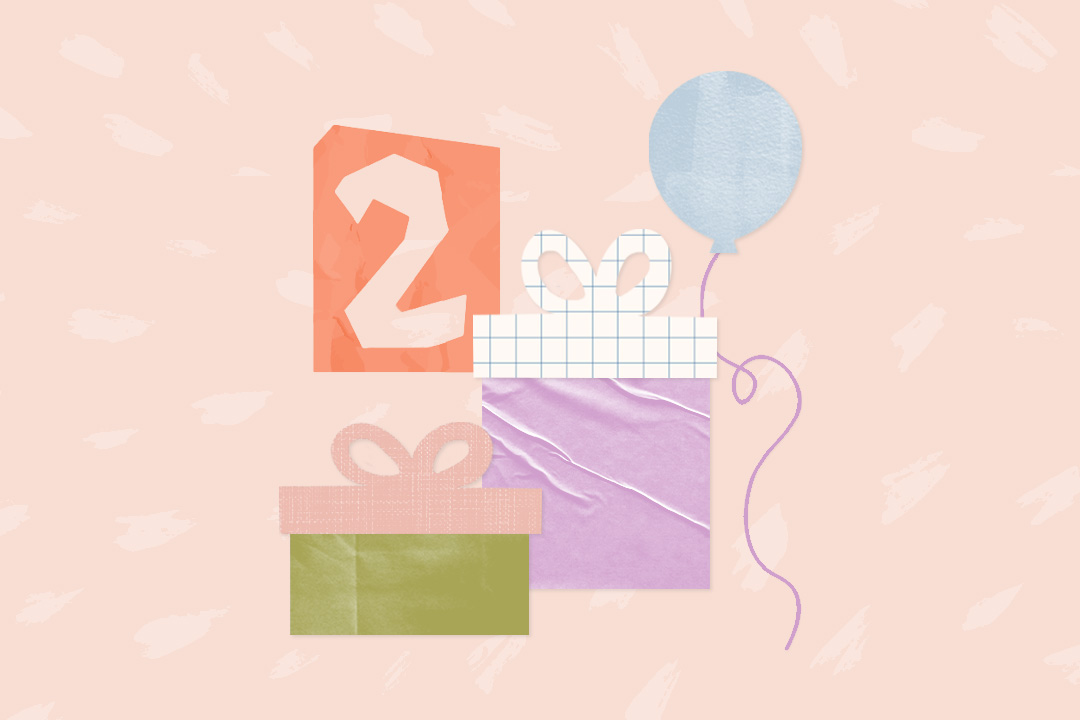 a LO in your life will love these! 🎁
On the car ride home, my daughter played quietly with her new toy. She was calm and peaceful, and it was the most relaxing drive home at night. For weeks, my daughter continued to bring her new toy with us wherever she went. It became a most welcome companion, keeping her happy and occupied—and, most of all, calm.
This toy turned out to be a "Pop It," a fidget toy that is composed of pokable bubbles on a colorful silicone tray, usually in the form of something appealing to kids, such as a heart or dinosaur. A fidget toy is a small object or toy usually to help with, you guessed it, fidgeting. They're designed to keep your hands busy. In keeping your hands occupied, the thought is that the mind will follow too, helping to keep you relaxed and calm. They're also meant to help fight against anger, frustration, or boredom.
Seeing how calm and relaxed this toy kept my daughter, I felt like I finally understood what was behind the fidget-toy craze.
The Benefits of Children Playing with Fidget Toys
Fidgeting is a sensation done in response to stress, anxiety, or boredom. "Brains all require a certain condition for learning, focusing, and sitting still," said Dr. Robin Hornstein, psychologist and Master Prepared Life & Health Coach. "These toys can provide a remedy for stress, which also allows for better concentration and learning. Just as some people, like myself, need quiet environments to focus, some need noise or stimulation to manage their own focus. If we don't give a more formal fidget toy, our fidgeting kids can make them out of pencils/balls of paper or paper clips and rubber bands."
A fidget toy can be an excellent way to provide stimulation and improve attention in a less disruptive and noticeable way, as Dr. Kristi Phillips, PsyD, psychologist with Kennedy Krieger Institute's Child and Family Therapy Clinic, pointed out. "When a fidget toy is used in the classroom, a child's body may be less active, which can help them better follow along with the lesson. The most effective fidget toys will help support attention and productivity without being distracting."
Meet the expert
Dr. Robin Hornstein
Psychologist and Master Prepared Life & Health Coach
Meet the expert
Dr. Kristi Phillips, PsyD
Psychologist with Kennedy Krieger Institute Child and Family Therapy Clinic
How Fidget Toys Can Help Children with Anxiety or ADHD
Just as I noticed what a positive effect my daughter's Pop-It toy had on her, it seems there is something to be said about how children with anxiety or ADHD may reap the benefits of playing with fidget toys.
"These toys help by relieving anxiety and attentional issues by creating outlets for energy, focus for worry, and balance for the mind as it attends to something that might produce stress in a child," Dr. Hornstein said.
A child diagnosed with ADHD may engage in hyperactive behaviors to improve attention because external stimulation, like moving the body, can help them focus better. Dr. Phillips noted that a fidget toy can be a good outlet for a child who may suffer from ADHD.
When children feel an increase in anxiety, they may experience physical symptoms including increased heart rate, dizziness, rapid breathing, and an upset stomach. "Many children will engage in motor movements (e.g. twirling their hair or biting their nails) due to their discomfort from these physical symptoms," Dr. Phillips said. "A fidget toy can distract them from what is increasing their anxiety and may help to reduce their symptoms when used mindfully. This, used along with other strategies like progressive muscle relaxation and deep breathing, can effectively decrease anxiety in the moment. Additionally, some children with anxiety pick their cuticles or bite their nails. A fidget toy can block the ability to do these behaviors because their hands are occupied doing something else."
A fidget toy can distract them from what is increasing their anxiety and may help to reduce their symptoms when used mindfully.
However, Dr. Hornstein said we need to be careful, as we might also find kids who lose focus and only focus on the toys and are not getting the benefits. "Consider that if your attention is wandering in a lecture and you decide to write more notes or stand in the back of the room for a while. As kids cannot wander as freely as adults, having a way to release the urge to move or not to worry if you are understanding the material can be quite a help."
Types of Fidget Toys
Fidget toys can create a positive outlet for children with a lot of energy. My daughter is a firecracker, with loads and loads of energy from morning till night. But her Pop-It toy gives her a calming activity—one that can be done on her own, in the car, or in her stroller.
The best fidget toys allow a child to use them mindfully and do not distract or disrupt the child or others. "A squeeze ball or putty can be helpful fidget toys for children with anxiety," Dr. Phillips said. "By squeezing and relaxing the ball or putty, a child is engaging some of the same muscles used in progressive muscle relaxation. Progressive muscle relaxation is the gradual tensing and relaxing of the body from head to toe to support relaxation and to relieve symptoms of anxiety."
Dr. Phillips also said that some children may want to use fidget toys that are less noticeable and draw less unwanted attention in the classroom. Fidget rings or necklaces with moving parts are discreet and simply appear to be jewelry.
While there are multiple types of fidget toys out there to consider for your child, such as a Pop-It, a fidget spinner, or a fidget cube, Dr. Hornstein said, "Our goal here is less the object and more the result of having something to regulate nerves or attention with during the day." Dr. Hornstein even suggested that a more personal item, rather than a specific toy, may make more sense in a classroom—especially as a way to avoid children who do not need a fidget toy becoming upset.
Fidget Toys for Toddlers and Kids
If you think your child could benefit from a fidget toy, go for it. Try and test them out at home first. If you see that a certain fidget toy can have a positive effect on your child, especially if they suffer from anxiety or ADHD, consider letting them take it to school. Of course, be sure to discuss this with your child's teacher first. See if the same benefits they experience from playing with their fidget toy at home can be transferred to the classroom. You may be pleasantly surprised at the results of your child playing with a fidget toy, just as I was. I still consider it the best $7 I ever spent.