Whether you live far from your relatives or they live down the street but are currently practicing social distancing, it can be hard to feel connected. My husband and I live far away from our parents and our siblings. Our family isn't huge, yet we are scattered, and when we had a baby last year (the first grandchild on both sides!), we had to get a little more creative—and that's why we gifted our families Portal devices.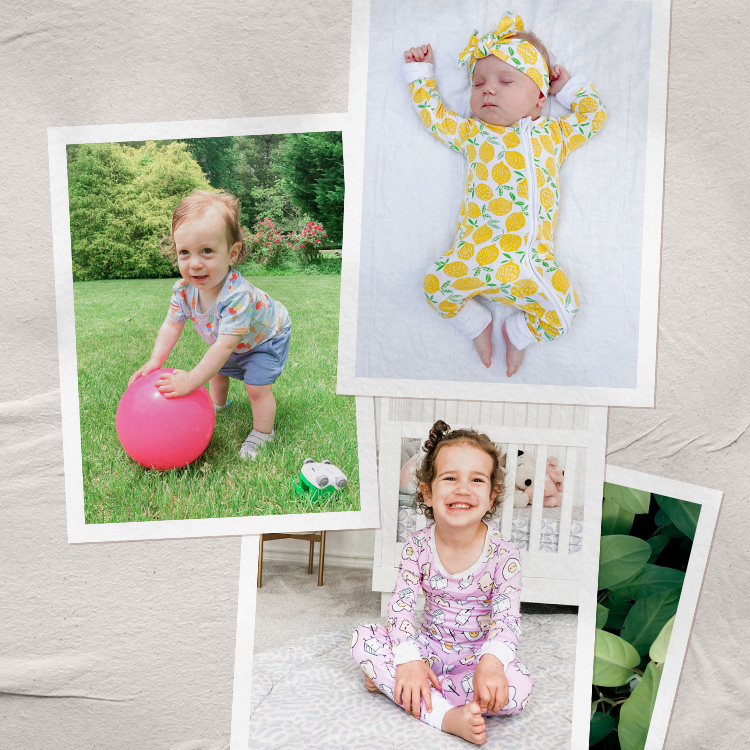 it's more than just their cute PJs... get ready to add to cart! 😍
My parents and in-laws wanted to see my daughter at least once a day. And I don't blame them, she's pretty cute, and they only get to see her in person about once every two months. It's amazing how much children change, seemingly overnight, and my parents didn't want to miss a thing. It was also really important to us that our daughter knows her grandparents and that they feel included in her life.
To encourage more face-to-face chats, the whole family got devices provided from Portal from Facebook. As a person who doesn't like talking or video calling on the phone, I wasn't sure how this new device would fit into our lives. Now, I'm the first to admit I love it, and it has made staying in touch with our family easy and far more enjoyable than I ever thought possible.
So, why does Portal improve family chats so much? There are a lot of features that make our conversations feel more natural than they used to, including group calling and Smart Camera, which allows you to move around the room seamlessly and connect with people across the country, spanning the East Coast, Midwest, and Pacific Northwest. Though I haven't lived in the same state as my parents since high school, as I get older, being so far away gets harder and harder. Especially as huge life events, like the birth of our child, intensifies the feelings of distance.
I love my family, but I admittedly do not enjoy talking on the phone. With family so far away, it didn't matter that I hated talking on the phone, it has always been necessary to stay in touch. Regular phone calls used to be fine for quick check-ins, but now we can go about our day without holding a phone or chasing anyone around. When we use our Portal device, it doesn't feel like we're speaking long-distance; it really feels like we're in the same place, simply together at home, hanging out as a family.
We keep our Portal in our kitchen, and as we talk, we can move around as we naturally would and the camera moves with us. The Smart Camera automatically adjusts to keep us in the frame. When there are multiple people on screen, the Smart Camera widens to show everyone. Because of these Smart Camera features, it feels more natural and like we're going about our day while keeping my family included.
When we use our Portal device, it doesn't feel like we're speaking long distance. It really feels like we're in the same place, simply together at home, hanging out as a family.
As for my parents, I know that they love having a bigger look at their granddaughter without me sticking a phone inches from her face. The large screen makes them feel like they aren't so far away, and they can really interact with her.
We often call my parents as my daughter is eating a meal. They can play and talk to her while she throws food around and waves to her grandparents. It might seem like a not-so-exciting scene, but my parents love it and it's these everyday moments that they want to be a part of.
The high-quality screen also allows my daughter to get a good clear look at her grandparents. Not to mention, because you can stand further away from it, my baby isn't constantly grabbing at the screen like she does with the phone.
Portal has other fun features, including Story Time: a feature in which both parties can participate in an animated story and AR masks. Portal also offers Alexa built-in—a key feature when my mom's hands are full. You can also have group calls, allowing us to have a seamless family chat with everyone at once. And lastly, when you're not utilizing it for calls, Portal lets us display our Facebook and Instagram photos as a picture-perfect photo frame. As you would expect, I have thousands of pictures of our baby and love that they can be displayed this way.
I now use my Portal every day. Feeling connected when you're so far apart is hard, but it's also incredibly important during these uncertain times. Though we may be living thousands of miles away from each other, we want our daughter to have a close relationship with her grandparents, aunts, and uncles.
With Mother's Day right around the corner, Portal is the perfect gift to keep generations feeling close and connected. As a new mom, I love it, and as a new grandmother (or Grammy as she prefers to be called), I know my mom always looks forward to our daily video chats. Now through May 10,2020, get Portal models starting at $79.
Eventually, we may all live closer to each other. For now, we're so thankful that Portal allows us to easily stay in communication and feel connected.  Many people think tech items and screens keep us apart, but this is one that truly makes us feel closer together.
This post was in partnership with Portal from Facebook, but all of the opinions within are those of The Everymom editorial board.