If you are trying to get pregnant or are currently pregnant, you may be in the process of setting everything up for the arrival of your little one: picking out nursery colors, sorting through adorable onesies, picking potential names, and, of course, getting ready for the birth. Many mothers are opting for a more personal birthing process—that's when hiring a doula can come in handy.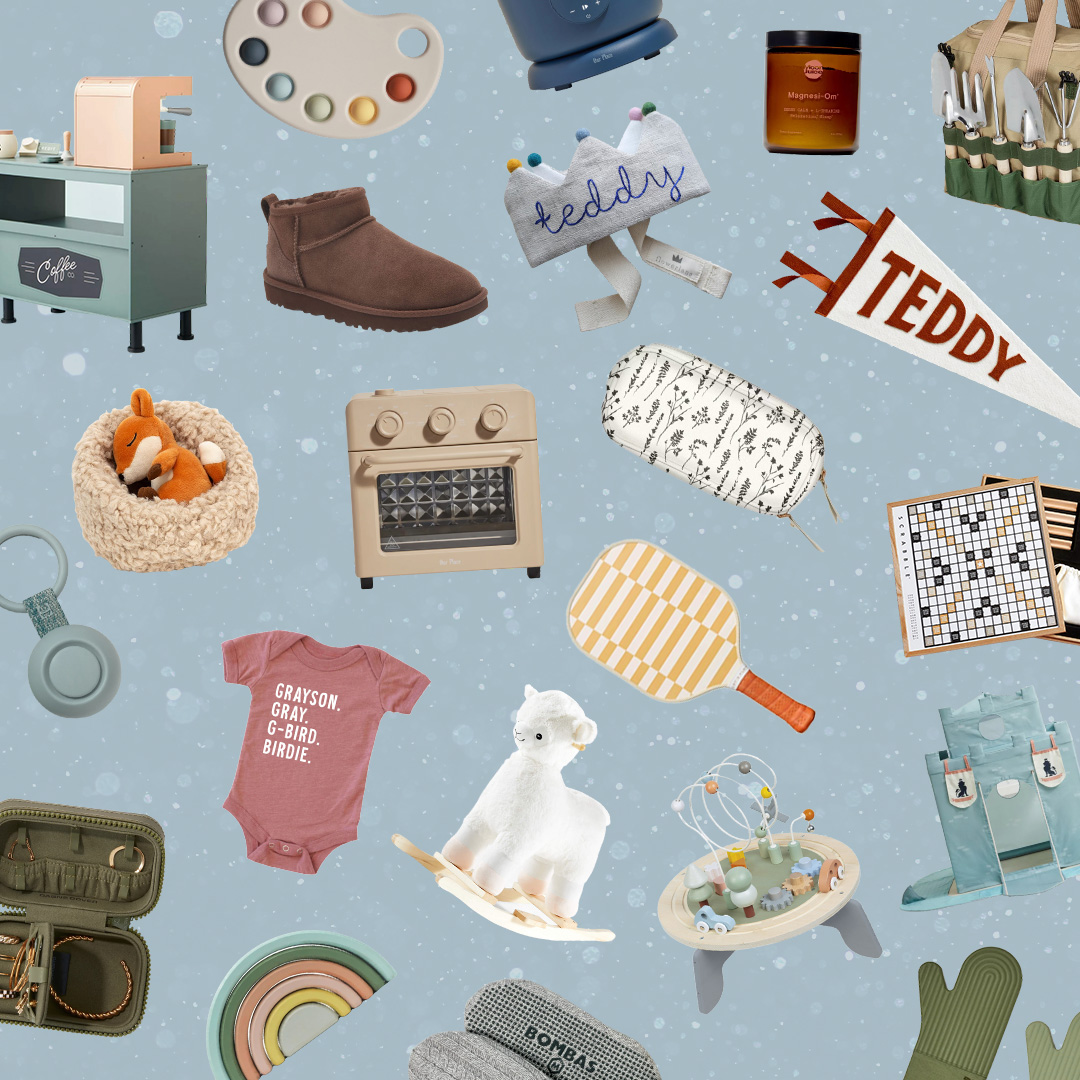 everything you need to ace holiday gifting this year 🎁
A doula is not a health care professional but rather a trained companion/professional who provides moms-to-be with informational, emotional, and physical support before, during, and even after the birth. A doula is meant to help the mom achieve a healthy and satisfying birth experience.
If you are looking to hire a doula for your birth, you may be wondering how exactly to go about it. Here, we will discuss everything you need to know to begin the process.
When to Hire a Doula
If you are thinking of hiring a doula, you should begin searching for one when you are around four or five months pregnant. This will give you time to get to know your doula and for them to become more accustomed to you and your needs.
Using a doula has become quite common, so start by asking for recommendations from mom friends and in local online mom groups. For such an intimate experience, there is nothing better than going with the trusted word of a friend or someone local who had a positive experience.
Another option is to use one of the many doula services available online. Many of these sites will allow you to narrow down your search for a doula by location, the type of doula you are looking for (birth doula or postpartum doula), their certifications, and the services they may offer. Certain sites to consider looking at are Childbirth and Postpartum Professional Association (CAPPA), DONA International, International Childbirth Education Association (ICEA), and National Black Doulas Association (NBDA.)
Questions to Ask When Interviewing a Doula
Giving birth is one of the most intimate and beautiful moments in life. Having the right doula by your side can further enhance the experience.
"Your doula should act as a partner to guide you through the practical, emotional, and even spiritual aspects of childbirth," said Nicha Cumberbatch, a Black doula and director of Maternal Health Curriculum at Spora Health (a telehealth provider for People of Color). "For this reason, it's important when you're first meeting with a doula to ask questions that demonstrate whether or not you will connect on a personal level."
Meet the expert
Nicha Cumberbatch
Doula and Director of Maternal Health Curriculum at Spora Health
Coming with a prepared list of questions for a doula will help you get a sense of who they are and how they align with what you are looking for.
Cumberbatch noted that every doula approaches the birthing process differently and offers different services. Therefore, you shouldn't be afraid in your first consultation to ask honest questions about the specific services they can and cannot support you with—whether it's hypnobirth, lactation counseling, or photography.
Questions to Ask a Potential Doula
Julie Six, a doula and owner of The Birth Haven, highlighted certain questions to consider asking and why they're important:
Why did they become a doula? Asking this question allows a person to understand whether or not the doula has bias with regard to the birth process.
What training have they had, and have they maintained certification? Some doulas will say that certification doesn't matter. However, the only way a doula can be held accountable is by being linked to an organization with a grievance policy in place as protection to consumers.
How will they support you during your birth? A doula should support the goals and wishes of the person having the baby. A doula should be non-judgmental and be able to enter a birth being on board with the client's chosen birth team, hospital, and preferences.
Do you have preferences on an illness policy, masking, or vaccination status? In the wake of COVID-19, many hospitals opted to take an approach of requiring vaccination status. Knowing policies for your chosen place of birth in the event of another wave of illness is an important aspect of ensuring your doula's presence at your birth.
Meet the expert
Julie Six
Doula and Owner of The Birth Haven
Six also recommended reviewing their social media. Does their social media presence seem like they have a preference toward or against a certain kind of birth? If you are seeking a doula who will be supportive through all circumstances, changes in plans, and your wishes, make sure their online presence reflects your preferences!
As with hiring anyone for professional services, Cumberbatch pointed out that you should find a doula that fits into your budget and lifestyle. "Do they accept your insurance? Offer telehealth visits? Do any of their services come at an additional fee?"
Rachel Taylor, founder of Mama Did It, a blog written from the perspective of a registered nurse, and prior labor and delivery nurse, also pointed out that it is essential to make sure that anyone present is part of a team.
"Most doulas collaborate well because they know they are advocates for the patient and part of a team, but there are many cases where birthing centers or practices will refuse work with certain doulas because of poor collaboration or choices for the patient," Taylor said. "Do they work well as a team, with the patient's well-being and experience as the #1 priority?"
Meet the expert
Rachel Taylor
Registered Nurse and Founder of Mama Did It
Unique Doula Needs for Women of Color
Sadly, Black women are three times more likely to die from a pregnancy-related cause than white women. Unfortunately, there are multiple factors that contribute to these statistics, such as underlying chronic conditions, quality health care, and racism. If you are a Woman of Color who is seeking a doula, you need to know that your doula understands your unique needs as a Woman of Color.
"Women of Color are too often paired with health providers who don't take their health concerns or birthing preferences seriously," Cumberbatch said. "As a doula, I always encourage my clients to advocate for themselves when seeing their health care provider and feel empowered to make decisions that feel right for them. This often means offering them resources to make their own informed decisions about alternative birthing processes not often discussed in traditional health care settings—like at-home or medication-free births."
The voices of People of Color are overshadowed all too often in the birth room, Six said. "We need to stop, listen, and truly hear what our Black clients are saying. As a doula, the goal is to help facilitate an environment that fosters open communication between the person giving birth and the entire care team."
Cumberbatch also encouraged Women of Color to feel empowered to express their cultural heritage during the birthing process if they choose. "Cultural traditions, religious songs, and spiritual practices all have a place in the birthing process, and doulas should be there to support Women of Color on that journey."
Also, while doulas are an integral part of the birthing journey for many mothers, you may find that you need more support along the way. "Programs like Spora Mommas that connect Women of Color with other expectant moms and culturally competent birthing courses can be a great place to find a community that will guide you through your birthing journey," Cumberbatch said.
Enjoying the Process
Looking for a doula should be a positive part of your journey—from pregnancy to delivery to postpartum. While it can take some time, know that the right doula for you and your birthing needs is out there. With patience and time, you will find the doula who will be the perfect fit for the most beautiful and memorable day of your life.