When Nebraska mom and interior designer Tara Miller set out to create the perfect nursery for her son Wesley, she looked outside to nature for inspiration. Tara had plenty of experience designing spaces for clients but wanted an extra-special space for her son to inspire his creativity—and sleepiness (something every new mom wishes for). What developed was a calming green nursery filled with natural textures, meaningful photos and artwork, and shapes and patterns to encourage her baby's development.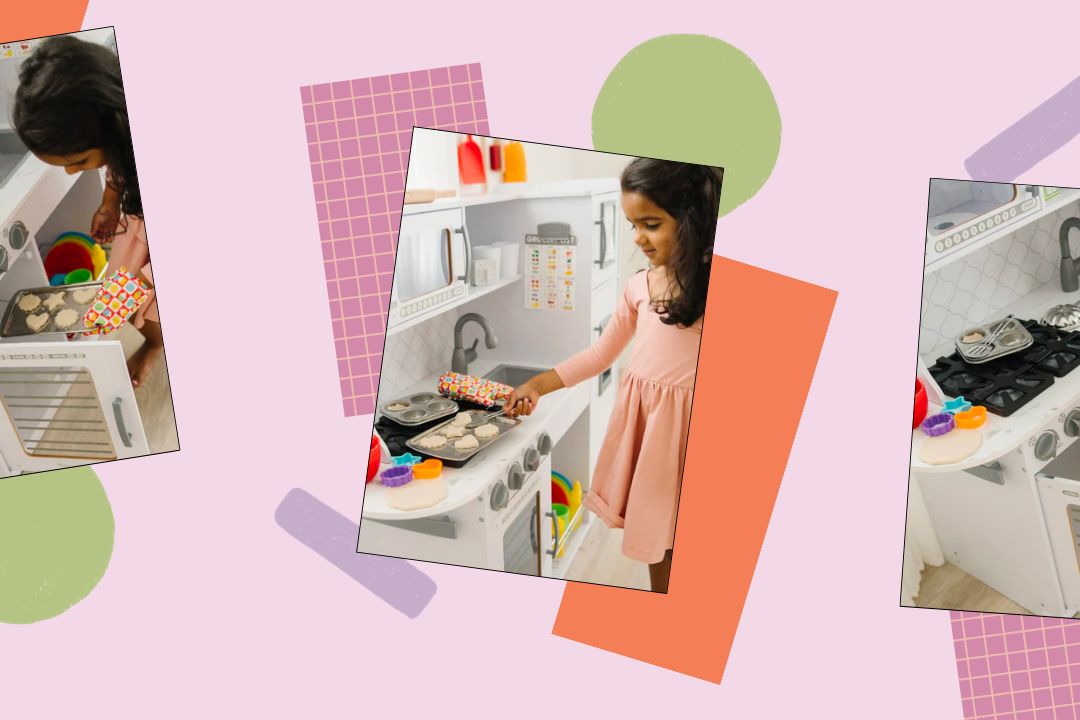 Read on to learn more about the intentional elements Tara chose for her son's nursery (and shop similar styles) and get the design advice she gives to clients again and again.
Name: Tara Miller
Age: 31
Location: Omaha, Nebraska
Home's Square Footage: 1,842
Years Lived In: 6
Rent or Own: Own
Children: Wesley, 19 months
Before we peek inside your son's nursery, can you tell us a little bit about yourself and your family?
I own The Heartland Interior Design in Omaha, Nebraska. But we work on projects all over the country through our virtual and full-service design packages. I was born and raised in Nebraska, [so it feels like] the perfect place to now raise my family. I'm married to a structural engineer and we have a sweet baby boy who is going to turn 2 this year! Time flies! Our son's name is Wesley and his recent obsession is anything with wheels. He loves cars, trucks, luggage—and the vacuum cleaner!
You're an interior designer bringing your client's visions to life. How do you start a design project for your own home?
When I'm working on my own home, I'm actually working for my toughest client: my husband. I have to simmer down the big dreams I have in my head to fit into something more palatable. I alter both the style and the budget to a point where he feels comfortable. It's both of our homes, so I want both of us to like the design we end up with.
How would you describe your personal design style?
My personal style for home and work are two very different aesthetics. I want my home to feel earthy and tranquil, but I want my office to feel vibrant and colorful because it gets my creativity flowing.
You recently finished your son's nursery. How would you describe the nursery's "theme" and what inspired the design?
The color scheme and artwork were heavily inspired by nature. Nature is timeless, so I knew the space would be able to grow with my son. That's why I chose green nursery walls, a painting of the Nebraska Sandhills, and a star mobile.
Get the Look
What were some of the intentional choices you made based on your baby's development?
I intentionally designed this nursery to promote sleep and creativity. The walls were painted dark green to create a dark environment, which is relatable to the dark and cozy environment the baby just came from: the womb. High contrast in fabrics and finishes was strategically implemented to help the baby's developing eyes see his surroundings more clearly. Sculptural shapes were used to stimulate curiosity and creativity.
What's your favorite part of the nursery? Does any of it have special meaning to you?
My favorite part of the nursery is that my son enjoys spending time there. I also particularly love our little gallery wall with pictures of us as a family. My son loves pointing up at the pictures and saying, "Dada!"
Get the Look
You were working with a small space. How did you prioritize what needed to be part of the nursery?
I start every project by looking at the measurements of the room. I draw out the ideal size of the rug, furniture, and lighting before I ever look for products. I want to make sure everything fits in the space and doesn't feel too big. After I land on the size of the pieces I need, I then start looking for products. With a small room, it's easy. You can only fit so much in there. [For my son's room, we included] a crib, rug, chair, ottoman, tiny bottle table, lamp, and dresser.
We love the green walls. Green hues are so popular right now. What are some of your favorite green paint colors?
Thank you! We went with Oakmoss by Sherwin Williams for our son's room. Some other greens I'm loving right now by Sherwin Williams are Dried Thyme, Vogue Green, Mountain Moss, Forestwood, and Artichoke.
How do you recommend clients design a nursery or play space that can grow with their child?
Start by looking at the rest of your home. Make sure your child's space fits in with the overall aesthetic of your home and isn't an island by itself. Bring in similar colors and textures. For us, our home has a lot of inspiration from nature, so we brought that into our son's room [too].
What design advice do you find yourself giving clients again and again?
Trust the design process and don't be afraid to take design risks you haven't seen on Pinterest [or Instagram] before. People hire a designer because they want something unique and different. That authenticity is what makes your project special to you!
Tara Miller is The Everymom…
Last book I read… Becoming Bulletproof by Evy Poumpouras.
Kid's movie I don't mind watching on repeat… The Little Mermaid.
Favorite place to travel with your husband… Italy for sure. We can eat pasta all day and drink wine all night.
Favorite place to travel with your kids… To grandma and grandpa's house so we have some help, haha!
Most random thing in my purse right now… Two coins from our honeymoon in the Bahamas back in 2016.
Most laughable (or memorable) mom moment… Oh my gosh, this is too hard to choose! I feel like our son is at that age where each day, he's saying and doing something new. Yesterday, I was working out in the driveway and he started copying the moves I was doing. It was so precious and funny to see his chunky little legs doing side squats!