Our kids are so darn cute that it's hard to not take a thousand photos of them. But, be honest, what do you really do with all of those photos? If you're like me, you have hundreds of photos sitting on your phone and computer that haven't yet seen the light of day. You're constantly dodging your in-laws as they not-so-patiently wait for photos of their precious grandbabies from last summer's family vacation. The thought of sorting through photos to print a family album gets your heart rate going fast enough that you can probably consider it cardio.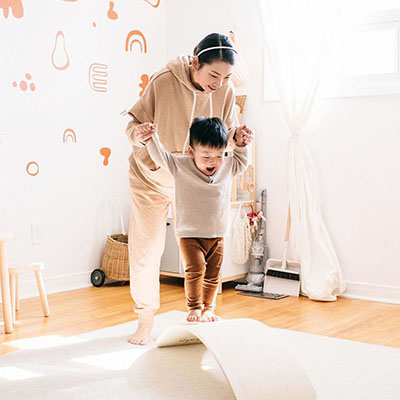 If your kid is turning 2, get ready for hilarious conversations, much more involved play, and lots of sweet, sloppy kid hugs and kisses. As for what you'll need? Leave that to us.
Here's the first step – give yourself permission to forget the past. It's daunting for me to think about re-organizing the epic mess of photos already sitting on my hard drive. So, I just focus on what I can do to relieve that stress going forward. When I have a chance to deep dive into those baby photos, it'll be a sweet day (or month, if we're being serious). But, that day is probably not going to come anytime soon.
If you find yourself searching for an efficient method of managing your family's photos, check out our guide. And then, let us know how you keep track of all those beautiful photos of your babies in the comments!
How to organize all those photos:
Forget organizing old photos for the time being, and just thinking about implementing a system for the next batch you take. Try this simple process and you'll be so relieved to have a true method for gathering and organizing all your photos.
Upload: Try setting aside some time each week to pull all the photos off of your devices, point and shoot, and DSLR. Upload them all to one place (I use an external hard drive on our desktop computer to house all photos).
Delete: This step is key, friends! Take a few minutes to delete duplicates, awkward poses, or blurry shots. If you do nothing else, DO THIS.
Edit: If you are the editing type, here's your chance. Make your basic color corrections, straighten your horizons, slap on a filter or two. Don't stress over them or try to make them perfect — when you choose what photos to print, you can take some more time to edit, if you wish.
Sort: Come up with a basic system to organize your photos into folders. What works for me is Year > Month > Event. So, photos from our last vacations would look like: 2018 > June > SC and 2018 > June > FL. Simple, but efficient. You'll always be able to find what you're looking for.
Backup: This is one you don't want to forget. The thought of losing our photos makes me shudder with deep anticipated regret, so I make it a point to back up our photos often. They live on an external hard drive that gets backed up to a cloud service regularly. And, every so often, I make a copy of our main Photos folder and put them on a second external hard drive. Obsessive? Maybe. But I appreciate that extra peace of mind.
15,000 photos from last year? Here's how to store them:
When it comes to storing and sharing your photos locally (say, on your smartphone), there's a number of options. We checked in with The Everymom Tribe to what their favorite options were for storing and sharing their kids' photos with family and friends. Here are five of the most used apps, according to our readers:
iCloud: For Apple users, this seems to be a favorite. Your photos are on your phone already anyway, and iCloud makes it easy to create private albums for all of your various social groups and share exactly the photos and videos you wish to share. Easy, easy.
Lifecake: Lifecake keeps photos, videos, and journal entries all in one place. Our readers love that it tracks your kids' ages through your photo timeline and allows friends and family members to like and comment as they would on social media, but it's a private and secure space.
Chatbooks: Chatbooks uses the photos you already have on your phone and social media and creates photobooks that ship to you each month. Just decide if you want a series based on Instagram, Facebook, or the photos you're favoriting on your camera roll. And since they're only $10 each, they're perfect to send grandparents, too.
Tinybeans: Tinybeans is similar to Lifecake — it keeps photos organized within the app and allows family and friends to like and comment in a private space.
23snaps: This app is like a private social network for your family and friends. The best part? You don't need a smartphone or tablet to keep up with updates — users can sign up for email updates, as well. Perfect for including those mostly-tech-free grandparents of yours.
You can't let all those photos sit on your computer. Here's how to display them:
How you print your photos is going to depend a lot on your home, life, and style. Fortunately, there's a ton of options now that making getting those photos off of your phone or hard drive and onto print products really simple. Here are a few of our favorites:
Artifact Uprising
Artifact Uprising offers beautiful photo books, prints, frames, cards, and gifts. Their website is easy to navigate and all the products impeccably designed. And, if you need something easier than that, their app lets you order photo products right from your phone. For quality photo prints and ease of use, this is a no-brainer.
Blurb
Our readers love Blurb books for their quality and range of pricing options. You can design your photo book from scratch and decide exactly what size you want it and what kind of paper you want to print on. Blurb has desktop, browser, and mobile options making designing your book simple regardless of your tech abilities (advanced users can also choose Adobe InDesign to design their book). You can also share your completed design for friends and family can order their own copy.
Framed & Matted
Framed & Matted makes it easy to have professionally matted photos to hang in your home. With a range of frame sizes and styles and 30 mat colors, you can get the exact look you want with a super simple process. If you've been avoiding custom framing because it seems overwhelming, Framed & Matted will take the reins.
Your turn – what's your favorite way to organize, share, and display your family's photos? Tell us in the comments!